Investors sue Nokia for fraud surrounding the Lumia 900 and Windows Phone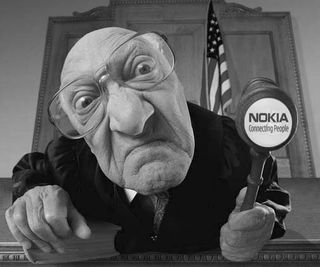 While Nokia has filed a patent lawsuit against HTC and RIM, the Finnish company is now on the receiving end of litigation. Robert Chmielinski, a Nokia investor, has filed a class action suit in U.S. Federal Court claiming Nokia made false and misleading comments on its Windows Phones and how the new phones would effect the company's position in the market.
The complaint was filed in the Southern District of New York and cites several statements from Nokia's CEO Stephen Elop where he spoke of the company's plans for success with the Lumia Windows Phones. The claim also cites industry experts who claimed Nokia had all the right tools to win the smartphone game. Chmielinski sees these as false statements and fraud because Nokia's market shares have declined and the Lumia 900 had a software glitch which resulted in $100 credit to customers, making the Lumia 900 basically a free phone for most consumers.
Chmielinski feels that due to this fraud, he and the class suffered economic loss that could have been avoided. While the complaint doesn't place a dollar amount, the plaintiffs are asking for damages, interest and costs from Nokia as well as equitable, injunctive or other relief the Court may deem just.
Nokia has issued a very brief response to the litigation saying,
So, what do you think? Did Nokia overstep it's bounds and falsely predict the Lumia's success? Or did Nokia simply have a positive outlook and investors knew the risks? Does the term caveat emptor come to mind?
You can find the full complaint against Nokia here (opens in new tab).
Source: PCMag (opens in new tab); Thanks, Andrew, for the tip!
Windows Central Newsletter
Get the best of Windows Central in in your inbox, every day!
George is the Reviews Editor at Windows Central, concentrating on Windows 10 PC and Mobile apps. He's been a supporter of the platform since the days of Windows CE and uses his current Windows 10 Mobile phone daily to keep up with life and enjoy a game during down time.
Some real powerful people want WP to fail...

Exactly. I wouldn't be surprised if they had people invest and hoped for failure so they can do what this guy is doing.

People need to give Nokia a break. It was and is still impossible for Nokia to become no. 1 smartphone seller overnight, even with the Lumia 900. Patience is called for here just as I'm patiently waiting for the Lumia 900 to go on sale in Germany so I can get myself one.

Talk about kicking someone while they're down...

Was gonna say EXACTLY that haha

I'm sure the investors knew the risk they were taking even I a common American citizen knew the risk. You simply cant pretext the future duh! Even if all the stars do align in the right place things could quickly change sheesh. They need to stop complaining unless Nokia told them it was 100% for sure -_-

even if nokia promises 100% its an investment and RULE #1 of investing is .. NOTHING is guarantied…. lol this int gona make it to the end .


If Nokia had promised 100% this would be an open and shut case (and Nokia would loose). Investors use guidance from companies when evaluating investments and companies are held to a higher standard about that guidance.

This one should last all of five minutes in court. Nokia has the vagueness of their statements to back them up. "We said it would be a successful move. We didn't say what that level of success would be or when it would happen."

He wanted Elop to say Lumia was going to fail and people shouldn't invest in Nokia. Ffs... Smells like shady business..

Knew not new... Anyway, this is ridiculous. No returns are guaranteed as an investor and its only been a month.

The credit makes the phone free on a three year contract. I am pretty sure that doesn't mean a Total loss on the phone.

Might want to wait for the quarterly results post sale of the Lumia 900 even with the $100 credit. They still made profit through carrier subsidies and plenty of people who bought it off contract. My local AT&T store can't even keep it in inventory.

All Nokia would have to do is show this article and the case would be dismissed:
http://wmpoweruser.com/windows-phone-is-saving-nokia-in-finland/
It shows that even before they announced the switch to Windows Phone that Symbian was tanking fast. Once they released the Lumia line it halted the free fall. That alone is proof that they had to do something drastic otherwise they would be in a worse spot and it shows that the new strategy is helping.

Not only that, but recent comments by Jorma Ollila to talloussanomat.fi, and the comments by Lee Williams (formerly of the Symbian Foundation) to CNETUK, confirms when Symbian's decline started and that Symbian was tanking fast. The Lumia line is the rudder, and has changed course for Nokia, but it is simply going to take more than 7 months for this ship to steady itself.

Shareholders/Investors know that investing is risky. Stephen Elop never promised them a time frame/or exact point in time on when the upswing in Lumia sales would be sustained, only that Lumia sales would increase over time and be distributed in more markets; and sales have increased and will continue to do so especially if they deploy devices faster and to more markets.

I hope the courts finding is that this lawsuit has zero merit, and throw it out!

Another lawsuit troll. Pretty sure this investor has been an investor for a few months.

three words: "business judgment rule." this case is not going past summary judgment. The lawyer who filed it should be embarrassed and subject to 12b6 sanctions for bringing a frivolous suit.

For a moment I read "12d6" sanctions...That would be a lot of sanctions! /d&dGeek

This going no where. He probably paid $10 a share. Haha.

Wtf kinda shit story is this ??

Cry baby. The guy has no idea how to invest. It called taking chances. Nokia made the changes they said they were going to do, and they are supporting their products and decisions very well. The only valid law suit would be if they did not move to Windows Phone and did not follow their plan.

This guy is trying to get some of the marketing money ms gave Nokia & Samsung to advertise.....ive not seen any good advertising here in the US. If it's not selling well, its because of this fact. I am more than happy with my white L900

I think Nokia totally deserves it, I exchanged 6 Lumia's in 3 days, I went thought hell and most of the time they refused to exchange, even contacted Nokia they said it's not our problem check with ATT.

http://forums.wpcentral.com/lumia-900-ace/190965.htm

I was expecting some sort of corroboration. It just seems like you had a insane amount of bad luck. It also seemed that you were saying that reviews for the phone were false. Could your review be false? Did you really go through all that with the Lumia? I have heard of a few problems but none as bad as yours. I hope you did get a chance to get the phones you and your fiancee wanted. Good luck out there!

Ridiculous, there was nothing beyond measured confidence that just about every CEO shows. Nokia should sue this turd to recover the legal fees.

Wow, Investors are getting desperate these days. Hey, guess what, part of being an investor is taking risks. Not all things pan out as planned. Nokia in no way that I have seen presented false claims or attempted to mislead their investors. Its just the name of the game. Anyways, its only a couple months after the release of the Lumia 900 in the US, its doing pretty well and things like this may take time.
That investor needs to have a hard dose of reality shoved down his throat.

The phone may have been "essentially free" to customers, but carriers paid Nokia up front for the phone before the customer even got there. Device subsidies and all that.
I don't understand... is this dude trying to imply that Nokia made no money due to their software glitch?

If they paid Nokia upfront, they sure don't act like it, with one measley commercial (ATT). How can you really sell something without adequate advertisement and unwilling store employees???

I can after with the unwilling employees to an extent (it is getting better), but advertising has been growing. I've seem many lumia commercials

Give Nokia till the end of the year before deeming the conversion to WP a success or failure.

This is like suing Las Vegas for loosing!
Investments are a gamble and they need to be able to ride out the valleys to come out positive in the end.
The phone was free to customers but ATT still paid something for them. They give the breaks on the phones to tie you into another two year contract. That is where they make the big bucks.
I noticed there is another similar one going around today about Yahoo.
Everyone knows that stock market is a rich man's vegas!


So your saying I can sue companies who's stock foes not perform well... Yeah, that will work... In that case I think Half the people on the planet could sue half the companies. Great day for lawyers!

I was going to come and comment on this story but everyone else has pretty much taken the words right out of mouth (hands?).

This is totally ridiculous. I think Windows phones and Nokia have a great product, future planning and the community to be successful. We have just started and we are not going to stop. I have used all three OS's and so far Windows has impressed me the most. They are all great, but Microsoft's own has captivated me the most. Lets ditch this guy out.

Frivolous as hell. Elop was supposed to consult with the Physic Hotline before making a move? This will be successful.

The thing that makes this really silly is that the Lumia 900 is the second best selling phone at AT&T after the iPhone.
http://wmpoweruser.com/canaccord-genuity-analysts-find-nokia-lumia-900-t...

Not that the suit would have had any merit if it had been about moving to Windows Phone in general, but the fact that he's suing Nokia over their biggest success in the U.S. in almost a decade just makes this all the more ridiculous. If Nokia has done one thing right in the past year it is the Lumia 900 on AT&T.

I agree even Nokia can prove easily that the Nokia lumia 900 release was a complete success. By the amazon sales and by AT&T. Ut's to early to know how much were sold. But this person is suing them when they didn't even release numbers. Bet this would be a apple or a android fanboy

"MOMMY! Elop told me we was gonna make some money and things were good...but it didn't happen...WAH WAH WAH!"
This stuff ticks me off so much!

And this is why we need the British system, where losers pay the winners' legal fees.

Same happens in the US bro...

What we really need is the everywhere-else-in-the-world-but-America-system, where everyone isn't suing everyone over malarkey like this. There ought to be written laws about bogus lawsuit trolls like this Scheissekopf.

This guy is a filthy Worm.

Umm ok, but what exactly did Apple do with iP4's death grip? They made a new iPhone and added S on it. At least the lumia 900 only had software problem and was easily fixable, and it was only on some handsets, not all.

So they just screwed the rest of the stock holders who didn't file for the class action nor within that range of period. Does this mean we can have another class action suiting "them" for screwing us over?

Seriously. I own stock in Nokia and I think this guy is a fucking moron.

I wasn't aware success depended on the launch day and the few days shortly after. I know plenty of people that went to see a movie opening night and thought it was total shit, but all that gets reported is "how many went". Whether or not the Lumia 900 makes a difference takes some time to gauge. Not everyone is contract free and even aware of the 900 on the day it launches. Give it a quarter or two.

I had to comment on this one.. Robert Chmielinski should have known the risks. First of all, the flagship phone just came our recently. Its out in a crowded, saturated, iPhone and Android market.. If you bet on Nokia and things didn't pan out, then that's the risk you take. If you were in a casino and you lost all your money at the poker table, you don't go after the Casino. This is going to go no where.. Nokia needs to have a positive out look, its going to take time for Windows Phone to take off in the US.. The states are full of iPhone and Android owners who have invested in their phones.. Unless Microsoft comes up with a whole new innovated phone need seen before and come up with a blow your mind ad. Microsoft will have a long way to climb.

I sense a sore loser right here, not an investor.

Still don't see the point behind this, he is basically upset because Nokia lost marketshare? and he is saying that is unacceptable and misleading because Nokia claimed its new Windows Phone backed line up would be successful? Well, here's some news, Lumias have been selling well overall and the loss of Marketshare is inevitable as people phase out those old Symbian running smartphones. While not exactly the best spot for Nokia to be in right now - it is completely understandable. Absolutely idiotic to invest in a company that WILL continue to lose marketshare, for the aformentioned reasons, and then sue them claiming that they mislead you by saying that a newly launched line up will do well.
As for the $100 credit - that's great. People who haven't been completely satisfied with the 900 have been giving Nokia great reviews just because of this. It's really a gesture of goodwill at the cost of a short term loss - makes business sense to me. Certainly more acceptable than pretending the issue doesn't exist and then sending out free $2 bumpers to make up for it. And furthermore, the issue has been fixed and the credit is no longer applicable so why the hissy fit? Is his life really that empty or he is just too dam lazy to find a real way to earn money?

People like this who are ruining the world of technology.

It bothers me that Nokia did the right thing by their customers (the credit) and is being sued by an investor. Makes me wish I had bought stock so I could justifiably defame the plaintiff.

I think you all are crazy. Every Nokia phone has been lackluster at best. Operation rolling thunder should have been operation rolling trickle. The plethora of devices when they hit the US never happened and I still havent seen Nokia commercials that weren't online or for another country. The 900 is beautiful but they should have made all the big promises for Apollo and now they are feeling the backlash. I hope the best for them.

I think you haven't been paying attention. Even up here in Canada we have seen all the Nokia and AT&T commercials.

...seriously? Kick em some more while they're down...

Something people don't realize is that the smartphone market takes time to grow... What I mean by this is that people are bound by two year contracts to their phones, and no matter how bad I want the Lumia 900 I have tow ait until my current contract is over. I'm sure there are many others in my situation. Measuring the growth of a smartphone's business can't be apropriately done in such a small timeframe... what has it been like a week since the 900 came out?

What where they expecting ? an iPhone level success outta the batt ? It took Apple a 59 days to sell a Million iPhone (the 1st gen.) which everyone said its a failure & look at the iPhone now , Its the best selling phone of all times It also took Motorola 74 days to sell a Million OG DROID What were they expecting ? a Million units in two weeks ?

Everyone knows there is a risk in investments. No win for him. As far as the Nokia, at&t & wp7 I really thought I would see more advertisement. I rearly see commercials on tv.

Profit does not come without risk. This guy is a first class idiot.

They're on their way to number 1. They're recovering still. They said that before for Gods sake

What idiots. Why would you ever sue the company you own shares of? It's ludicrous.
If you won't go long, then back out. You made a poor short term investment decision, get over it.

If I were a lawyer, I'd take this one for Nokia, pro-bono. What an a$$.

People are so litigeous in our country. The Plaintiff's should be sued for human idiocy.

What a jerk. Everyone knows that
Investing = taking a risk
Marketing = bullshit

it's a class action suit lame brains, he isn't the only investor in the lawsuit, many investors are on the suit feeling the company mislead them. As shareholders, THEY have much more info on the company, then anyone here, so we'll see what the courts do with it and the information they submit.

Everyone these days wants instant gratification with guaranteed results. Symbian was in decline anyway. Android wouldn't have netted them anything since they were losing money anyway. Google wouldn't have supported them like MS has. So the guy is a baby with unrealistic views of the world. I weep for this generation. ;)

I've seen plenty of commercials for the Lumia 900, both on the internet and tv. You guys are probably just looking at the wrong shows, they're targeting the Dancing with the Stars and Glee crowd which have the main buying power (parents of tweens, young adults).

I've seen plenty of commercials as well. I've even seen the Lumia 900 in multiple magazines.
Windows Central Newsletter
Thank you for signing up to Windows Central. You will receive a verification email shortly.
There was a problem. Please refresh the page and try again.