Justdial brings local discovery to Windows Phone users in India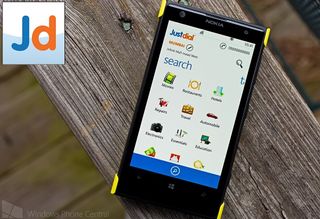 Justdial is a leading Indian local search service available over the phone, Web, mobile, and SMS. After being available on Android on iOS for long, the app is now available for Windows Phone 8 devices as well.
The Justdial app works as a one stop solution for all your search queries about movies in your area, restaurant next door, or the ATM or petrol pump near you. The app gives you access to millions of ratings and reviews by other Justdial users to make an informed choice.
The app auto-detects your location using the GPS, and allows a 'Near Me' search to find options within your proximity. You can sort your search results by different attributes like ratings, distance, or popularity. If you are a business owner, you can add your business listing free of charge from within the app.
For a particular listing, you can get directions through an interactive map. You can call the business by just one tap or get their business information through email or SMS. You can also mark the business listing as favorite to bookmark it for later use. While you can rate and review businesses, you can also see reviews from your friends.
Download the Justdial app for free from the Windows Phone Store. It's a great app for all your local search queries, and the app is nicely designed with an intuitive user experience. Give it a whirl, and let us know how you like it.
Thanks for the tip, Lance_WPCentral!
+925 to India for supporting WP. Thanks for the love.

Abhishek,y dun u sleep? :P

Hah! WPCentral is a great indulgence.

I'm glad to know that I'm not the only one who likes to work late night or maybe dawn.

you live in gurgoan ? if so have they removed the toll tax :-p

I'm a bit envious of India's WP users. They seem to be rapidly getting better support from their countries services than U.S. users.

you have bing services to enjoy :(

this service is not by microsoft , i will use skype ;)

No wonder majority of the Lumia Users are from India.Btw u guys have a lot there which wud take light years to come to India.

Lightyear is a unit of distance not time -_-

This was one of the apps I was waiting for in a long long time. I was so thrilled when I found it in the store. It's one of the best apps giving you a wide range of information. The UI is really nice and its a very useful app for Indian citizens. It's great to see India showing lots of love towards WP. Hope to see plenty more Official apps flow in during the coming months. :)

I said 1 month ago, that official just dial app is coming on wp, but it come little bit late, anyway it is awesome app.

It indeed is a useful app.

Yeah ...this app is amazing and really wanted on wp..cheers!!

JD is life saver. Intigrated direction with GPS is nice addon. Here map is always handy but local service is always best

Now banking apps left ICICI axis. And the updates of the existing apps.

I had my business listed on JustDial., under a contract of Rs.5000 for 2 years or 200 leads, whichever is earlier. Since then i hate them.. They listed me in a wrong category and i got 170-180 odd weird calls within a month.. And by the time they added me in right category, my leads were over. I asked for refund or extra leads, the customer care exec cheekily said 'Amitabh Bachchan ka bhi to payment karna hai, woh aap hi ke paiso se hoga' (We have to provide remuneration to our brand ambassador Amitabh Bachchan from the money u paid) and hung up.. Nothing with the app though, just venting out my frustration here :P

And this is my first app starting with 'J' :D

My 2nd app with 'J' after "Japanese Hub Free" :)

Used it and i like it. The live tile is pretty neat too

Thanks for the update Abhishek.

WOW., great to have this app in my Lumia. I was expecting this app for a long time. I frequently contact Just dial for business. Thanks Dev.

India getting all the local apps on Windows Phone. Even better experience on Wp compared to Android. iOS is out if comparison here.
Windows Central Newsletter
Get the best of Windows Central in in your inbox, every day!
Thank you for signing up to Windows Central. You will receive a verification email shortly.
There was a problem. Please refresh the page and try again.