Kantar's latest smartphone market report shows Windows Phone on continued decline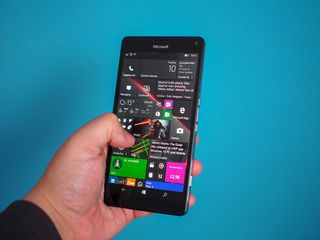 (Image credit: Windows Central)
According to the latest smartphone market report from Kantar, Windows Phone, unsurprisingly, continued its decline in both the U.S. and Europe in the third quarter of 2016. Specifically, Kantar's numbers show that Windows Phone's sales share dipped to 1.9% in the third quarter of 2016, down 2% from its 3.9% share during the same period a year ago. Likewise, Windows Phone dropped 5.6% to a 3.8% share from 9.4% during the same period a year ago.
Interestingly, the European countries that saw the biggest drops were France and Italy, which both saw Windows Phone's percentage share drop by over 7% each. The Chinese and Japanese markets, meanwhile, remain relatively stagnant, with Windows Phone holding onto 3.0% of the sales in China while dropping for 0.5% to 0% compared to the same period a year ago.
Though things look grim for Microsoft's mobile propositions, particularly as Microsoft is likely ending sales of Lumia devices in December. Microsoft has made clear that it is looking forward to the next "paradigm shift" — something that may involve the rumored Surface Phone (or whatever it may be called).
In any case, be sure to check out Kantar's full report for more, and let us know your thoughts in the comments!
Windows Central Newsletter
Get the best of Windows Central in your inbox, every day!
Dan Thorp-Lancaster is the former Editor-in-Chief of Windows Central. He began working with Windows Central, Android Central, and iMore as a news writer in 2014 and is obsessed with tech of all sorts. You can follow Dan on Twitter @DthorpL and Instagram @heyitsdtl.
I'm a supporter of Windows phones here in Greece, not changing Windows phone for anyhting.

Send e-mails to Piraeus Bank, Germanos and others asking them to build Windows apps. I do it frequently. If we τους πρηξουμε enough they may actually do it :P

Pipe dream. No marketshare, no apps.

But Windows has PC market share, and if they make a store/UWP app it can be simply adapted for phone. Store apps help banks with secure distribution, and simple updates for users. UK banks have some fabulous Windows Mobile apps, Nat West has a superb app - totally equivalant to the iOS and Android versions.

No App, no customer. This was one of two reasons i gave my old bank as reason why left.

Me too, whole family on Windows Phone ... from Slovenia :D

Same here, whole family on Windows 10 Mobile from India. I've been a fan since the days of Windows 7 and Nokia's Lumia reign. It's sad msft retrenched its mobile market and mobile plans from India and Brazil. I hope OEMs that support W10M adapt to Indian preferences.

It wasn't just India and Brazil, the entire planet has been given the cold mobile shoulder

Ljubljana, Portorož & Piran, all great towns. I love Ljubljana though...

I did the same thing, and now they're all cursing at me for the lack of apps, now they're all android.

germany, also whole family and recommended device in the company.

I also live in Greece and I am the proud owner of a Nokia Lumia 1020, which I wouldn't change for anything in the world.

I get why this might bother some people, but WC asked for our honest opinions and I actually don't care what the market share is. An issue that would affect me is my bank dropping their app, but they just released a brand new UWP so hopefully there's no real chance of that anyway. Until that happens I couldn't give a toss about the market share as I cant do anything about it and its Microsoft's problem to deal with

Same here 4 Lumia 950's here in US on AT&T never leaving either.

Yeah yeah, it's been the same report for years. What else is new? Can't wait for the surface phone.... If it doesn't come out, then the HP is my next bet. I currently own the 950, but may buy the XL before Christmas. Just in case....

go hp before 950xl. so muchmore stable.

Really? I'll see, money does play a factor in my decision. If I get the hp now, I won't be able to get the XL. Besides, who knows how long the XL will be on the market. It'll be nice to have both.

its a little larger then the xl, but has been so much more stable. x3 has quad core, while xl had an octo core. the x3 has been performing much faster yet without the heating or restart issues that plagued the xl. I read up in it, turned out that chip had a lot of issues in multiple phones. the one draw back on the x3 is the camera is no lumia thats for sure. but its not that bad. windows hello ws much faster with the camera, and even faster with the finger print reader. hit me up if you have any questions. But I had the xl and I am much happier with the x3

Go for the HP. There won't be a Surface phone.

Any time soon, at least. There may not be a phone at all, but in stead a new type of a mobile device with celular capabilities.

I want to replace my L1520 with 950xl, should i go ahead, or is it a dead end?

Hard to say really. My battery ended up going bad in my 1520 and when I went to take the screen off it refused to release the latches up top and I ended up break the screens backlight. So I upgraded to the 950 (Not as big as the 950XL and a little less powerful), and I like it but it's not the upgrade I wanted with the 1520 update. I think the HP is a better bet but it's a little pricey and the thing I wasn't happy about was no dedicated Camera button. My suggestion would be, if they 1520 is working out for you, I would say hold out for a bit, see what's coming and better yet with the holiday season hitting you might find a nice deal on the 950XL.

I pretty much did the eact same thing with my 1520 and have been on the 950 since about Easter, I wish I'd gone for the 950XL but at that point it looked like a surface phone announcement was imminent (to launch with redstone 1) and i planned to pass the 950 on to my mother to replace her old 920 and the XL would have been too big

The 950xl is more than capable. At least you will have access to the upcoming redstone builds, should they cut the 1520 from it. Also the XL is a bargain at present and is a good, now cheap, alternative to the X3, which in IMHO is just to damned expensive As for a dead end, who knows, but why would they maintain developement of something that is a dead end?

I replaced my 1520 with the 950 XL. I didn't have much choice, because my 1520 was starting to have issues. I couldn't justify spending approximately$300 on a replacement 1520, when the phone has been around for three years or so. MS is selling the 950 XL for $450 and it comes with a free dock. So...yeah. Look, as long as the phone does what you need it to do and you still enjoy using it, go ahead and upgrade. I assure you, you will enjoy the 950 XL just as much...probably more. I don't let the lack of apps or sales discourage me. I still enjoy Windows Mobile and it works for what I need it to do. Otherwise, I just enjoy having an OS that is different from the norm. Besides, MS is still updating the OS. So, you will continue to get fixes and new features, when they are pushed out.

Lol.
Long term WP user I see.

HP Elite X3 would be a better option if u don't mind abt the money

There's no real reason to buy an Windows Phone these days.

Or a Vauxhall, Seat or most Nissans but weirdly they're all doing ok sales-wise..

Astute observation, thanks for your input. What I was alluding to (which it appears I may need to explain) was that although Vinicius' statement is partially correct, the reasons for investing in any product are wide and varied and sometimes emotional and not always immediately discernable by a third party. And also that it is possible for a product that is not the greatest design, the greatest performance, the greatest experience to be very successful in a congested marketplace. The (well known) issue is that all of the products in the marketplace must meet a minimum standard. In the case of cars that is be able to drive reliably, comfortably and safely on any surfaced road in the Country of sale. Windows Mobile currently does not meet a minimum standard for it's marketplace. It is comfortable, secure and has some unique and appealing design features however it is unreliable (even on Microsoft's own latest hardware) and unfortunately just cannot drive on a small percentage of very popular roads. There are some alternative, lower quality routes to some of these roads but a tiny but very significant few roads are just not available to it.

Just switched to an iPhone 7 after 3,5 years on the Windows Phone (Mobile) platform. It's over guys...

How do you reach that conclusion? If it is all over, why are you here passing judgement?

You and a lot of Windows Phone users have switched to the iPhone. Even Rudy Huyn switched to an iPhone. I'm having trouble deciding between the iPhone 7 or the Pixel.

Nutella is also using an iPhone and he's very proud of it.

If you're going with Android, don't waste money on the iPixel. The phone is an overpriced piece of sh*t.
You have much better offers - for cheaper prices - from Samsung, LG, Sony, Honor, etc.

If you'll Android route, better check OnePlus 3. Better specs than Pixel at lower price. Well no CDMA support though.

I also bought an iPhone, but I am still using my L950 as my daily driver (for now).

I got a 1520 gonna wait till the Nokia Android comes out . If I like it I'll get that one. If not I'll probably get a iPhone 7plus or galaxy 7 edge

I switched to a Galaxy S6 after being with Microsoft since Windows Mobile 6.1. I love Windows Phone/mobile (even had a few Zunes here in the UK) but the app gap got to me. Still come here daily to keep an eye on the platform though. Bring back Zune I say!

@zurikuk. If you look at the groove music package entry in power shell it's referred to as Zune not Groove lol!

Stop talking about it like its a religion or some sort of movement. It's a phone OS, use whatever you prefer and be happy

Same here...got the 6S Plus. Miss my Lumia especially Cortana Intergration. Siri aint half as good. Plus side, got all my Microsoft apps which are better on IOS. Oh and changed all the tones to that of Microsoft. My band 2 is also misssing the full experience so will still consider WP10 later if things change.

Great move! I went Android and never regretted it.

I was hoping that WP would have the same luck as the Donald trump's one ☹ a proud owner of 950xl

Dead end for the moment... I am a long time fan of Nokia since 2000, now owning an 950 but will soon switch to a Samsung s7

Nokia phones are coming soon, you might want to hold on a bit longer ;)

Shifted from android to windows phone and simply fell in love with the OS.. It's bit disheartening to hear all this but still wanna stick to windows phone. Waiting for surface phone...

Well done Microsoft, continued success in the mobile arena continues as the plan to reduce market share and sales are bang on target (/S)

Declining share, dying of Lumia and scrapping of Surface "Phone" and coming up with some different concept of "Phone" say only one thing... DEAD. For sure, Windows Phone is going to see the same fate as that of Blackberry's.

it doesnt help when there arent any phones to buy.

950, 950 xl, 650, 550, Elite x3, Acer Jade, Alcatel Idol,...

Are they all available on a global scale?! NO!! Are they advertised? NO!! Is their a full fledged line up of quality Windows Phones available in ever price range (like the Lumia brand provided until a year ago)?! NO!! That's why market share has been plummeting. If only every market on the planet had a wide range of options in Windows Phones supported by carriers and retail outlets! But sadly that's not the case!!

any of those work on verizon? seriously we only released 3 windows phones this year? the 50 series came out last year if I am not mistaken and all lumias are being pulled from MS stores.

Windows Phone in decline. Windows Mobile to rise soon.

Not really. Windows "Phone" is based on the old concept: a cordless telephone first then added with multimedia capabilities. Windows "Mobile" will be a productivity device first then with phone and multimedia capabilities.

Waiting to see what the figures will be at end of year with the much more affordable Alcatel due out tomorrow. I realize it won't be much, but even if it's .1% positive, that would keep me from bailing on my next phone. Stopping the negative trend, even slightly, should be a top goal at MS.

Why are you so determined to stick with W10M... ...Microsoft clearly aren't.

If Microsoft cared, they wouldn't have purposefully started the negative trend. They are not interested in selling Windows phones. They only keep it to develop ARM for a future platform.

FOLKS it's logical for people to not buy Lumia Windows smart phones because the word has been put out Lumia Windows smart phones will soon no longer be sold. There 5 non Lumia Microsoft made Windows 10 mobiles smart phones that have "Continuum" Mode on sale in the market Place but for Windows smart phones sales to really TAKE OFF ! MICROSOFT HAS TO DEBUT THE "SURFACE BRAND WINDOWS 10 MOBILE SMART PHONE IN 2017 for several reason which are 1= The Surface Windows 10 mobile smart phone will show the World and Microsoft's OEM partners it has abandoned Windows 10 mobile. 2=MICROSOFT must have it's own smart phones to sell to the Enterprise, state and local institutions. 3=MS has to have a Surface smart phone for it's Windows smart phone fans and users to upgrade up to. 4= Windows 10 mobile smart phones are the best smart phones to use with the 400 million Computers of variuos types that the run Full Windows 10 operating system

Still rocking an unlocked 1520. It's beginning to show its age, but I don't see anything in the Windows line presently to motivate me to upgrade yet. Don't want to jump ship to iOS or Android. Windows Mobile OS has a very unique UI, and in MHO the best one also.

I love the home screen and the UI, too. I am one that will eventually switch, and I am coming to terms with the fact that while, the apps will be far better, the home screens will be so much worse. Really wish the iOS bridge would get its ass in gear to bring quality apps to the store so I could avoid switching.

It was certain for Windows Phones. People lost their interest on Wins Phones. I think they are at extinction. True survey, coz i don't see WPs in any of my friends' hand except me. Even my friends suggest me to sell this Phone at lower rate and buy a new android phone. WPs are developing quite slowly that it caused it to collapse at the market. While Nokia could evolve phones more better than MS at global mobile phone market. Aren't they learning from their decline? Make what that automatically attracts people to you not that which bores people. Hope! They would learn from Kantar's Report.
Thanks Kantar

Well, they know it better than us... It's not easy to crack the market and make some space for yourself especially when other mobile environments are sitting at top with share over 90%. All you can do is either give up or change the strategy (again) and its good to know that they chose the second option.

Stop the press! This news is bigger than Trump winning, thanks for this amazing insight.

I'm goin android and back to Verizon. I have a 950XL and Love it, I only wish I could run it with Verizon. O Well, I held out as long as I can stand it. $700 for a phone I love and can't even get in on a carrier I want. I want that phone Samsung U take camping and use it to start a campfire.

When you owe a great name( as MS) , fabulous popularity, in the fileld of Marketing it is not too hard to make place at market to put other new produts (WPs). MS failed to do so. Nothing left for MS only hope that may heel their wounds in future to develope. One more thing 'I AM NOT A BLIND SUPPORTER'. I say very transparenly.

We must admit my dear Windows fellas, we're abandoned it, it's time to return the favor, I'm about to buy an Alcatel Idol 4 but I think I'd better buy a One Plus 3 or LG G5. I feel weir because in more a year I do not see to enaybody to carrye any windows phone, When was the last time that you see other guy with a windows mobile?

I may be the only guy with a Windows phone Lumia 950 but the look on people face when I use my phone quite funny. Some didnt know there was windows 10 mobile and honestly I'm proud to be apart of that community. Regardless of what others say. Go enjoy your android or iPhone or macs and let us windows fan enjoy what we have. Not to sound like I'm attacking just saying in general :) I like choice not be a sheep.

Exactly the same and you should see their face when I put my 950 on my Hp desk dock at work :)

I just replaced my galaxy s6 with my first windows phone ever. A 950, and wow. I really like this phone. As long as MS continues to support the os, I will be on board.

What do you like about it over the s6?

I like the os much better, better keyboard, dedicated camera button. Maybe my s6 was bloated in the end but it seemed very slow, and bucking the trend; the core os apps are much better on WP, OneDrive, outlook, OneNote and word.

Wait till you need an app for something and find none. I'm am L950 user and trust me, it looks great for a couple of days, but YOU WILL regret this decision... Soon

Maybe, maybe not. Be aware that not everyone necessarily uses lots of apps outside of the stock ones and a few common stuff. I myself just use the built-in WP apps, myTube, Facebook and 6tag... Hence why the "app gap" doesn't bother me. I'm sure I'm not the only one...

This survey thing should stop right here, seriously! What's a market share without adequate range of Windows phones to compare with other Operating Systems? It has been what? 2 years since a decent budget Windows phone? Droid is in millions of budget phones and ppl still buy it no matter how well it hangs, ppl get iPhones to prove they can afford something iNO-vative (iCan buy it, but i don't want that ****). Msft is long done battling out with them in the phone market, why is this still on?

It is hard to have sales when there are hardly any products to buy.

Surface Phone should come soon.

Mobile first! Lol... Actually there's no reason to buy an Windows smartphone those days. The system still isn't stable. The lack of apps is real. I can't find any decent app for my wife track here's anticonception pills and cycles'. Also I can't find any good app for tracking my cigarettes - I'm just quit smoking. Ps: We decided it's time to be parents :D That's just 2 simple apps I've searched for my L950 this week. Got my wife's 4 year old Samsung Galaxy running the old KitKat Android and in seconds a simple search in the play store show me dozens apps. I'm now going to drop her actual L930 and buy a new android phone. I'm a stupid MS fan, but I'm not able anymore to argument with my wife...

...seriously you think you can quit smoking with an app...oh my god

No! I'm already completely stopped a week ago. My doctor prescribed Champix, with is very effective. The apps are just to control results, how your body is reacting, how your heath is improving over the time, even how much money you are saving. Some good information's and a little bit of motivation. Nobody can stop smoking using an app.

Is anyone else annoyed by the constant talk of a rumored surface phone? It seems every few months, something is coming out soon to save windows mobile. Unfortunately I doubt, any one product will turn the ship around. I love windows mobile, and have only used windows phones. However I think people need to accept the fact that windows mobile will always be a niche product

Surface phone Surface phone Surface phone Please shut up. It is never coming. MS is done with mobile. They are nobody.

youre a big basket of ghey

Why are they still checking for that? It's obvious!

Why did you yanks vote for a loud ,brash bloke who's never held political office with stupid hair and a crap business record ?

It's called freedom of choice, you know, DEMOCRACY.

His question was why, not how.

Because the rest of us are quite tired of the PC culture and being told how we should think.

What i can never understand is the neglect Africa gets from stats. It is the biggest continent able to fit Americas and Europe and most of Australia in it. On top of that, most Africans buy phones over laptop and in full! Not on contract like most here. Yes android dominates with I phone but those few who use a Lumia, love the **** out of it. They get their Lumia from work but prefer it over their iphone 6, Samsung s5, etc.. The only complaint in Africa in mho is snap chat! Period! Although most use windows 8 not 10. Bottom line is, with proper Advertising of product bigger Sales. I cannot find a l950 anywhere here though since launch.

Terry Myerson says that it's super super hard to restart this type of stuff if you exit the market. Well guess what, developers have left in droves over this fiasco and MS are going to find it all kinds of hard to get devs to restart support for windows mobile. A strong continued presence in mobile hardware was/is mandatory in order to expect any kind of support froms devs. This dev support itself is vital for the UWP to be successful. I can't be the only one that thinks the current "strategy" is going to jeopardize more than just mobile.

What strategy? They keep trash-talking about ideas floating around to make good for a lack of vision.

MS will have to go into the app business themselves to have the essential app portfolio. It will be more on a closed ecosystem, I guess.

I use a 550 since it launched from Saudi Arabia.

Just recently purchased the 950 xl with a 70 percent discount on contract. I love this phone and everything looks beautiful. Microsoft should really have a bigger budget for marketing.

I just switch to android yesterday, 4 years using windows phones. now no more windows phones here to buy.. so sad. I really miss windows.

All that work to get double digit growth in some countries then kicked to the curb.
Should have kicked the US market to the curb and focused internationally for now instead.
Madness.

Well... If you do NOTHING to promote it in anyway... it is going to keep dropping...and dropping....more apps will be going away... and it will die in a few years... Great job Microsoft with a great product and you just sit on the sidelines and watch it fail...

Windows phone are great but the thing is no promotion no ads. Also people are not buying windows phone saying that there are no popular app on windows store like retrica,snapchat and many other games. Also many app are lacking behind the features which they give to anroid and ios

At this point Windows Central is holding to the "Surface Phone" and the "paradigm shift" like those people holding on to the hope of seeing Elvis return. It's just sad.

MS admitted they missed the smartphone war. The next pradigm shift might be around the corner. It also might be decades away. I feel like they're building a smartphone into the Hololens, like Google Glass. Sounds awesome on paper until put into practical use. I do like the prospect of using AR though. Don't need to carry around a screen, keyboard or mouse. Just use AR in Hololens and hand gestures, KB and Mouse optional. MS should call it "M-Spect" or "MSpect". No need for a dial nor pen, but optional if you still like the tactile feedback of holding an instrument and turning, pushing, knobs and buttons. I can watch pron whlie riding the subway and in meetings. "Yessir, that chart looks, uh, very attractive." LARPing would be pretty awesome. Fixing stuff would be a breeze. The tech is still in infacy, but brain chip and occular implants would be nice. That would a pradigm shift. Test taking would be a breeze. Anyone can be a professional of anything. Like Trinity from The Matrix learning how to pilot a helicoptor. Brain hacking becomes annoying though.

It's like the economics of suburban sprawl. The convenient local gas station, grocery store, or hardware store near your home, charges a little more. You like the convenience but you patronize them rarely and typically drive further to pay a little less. You love the great local, easy to use, stores but support them rarely, so they close up and go out of business. You didn't shop there often enough. It turns out, obviously, that you lose, what you don't support.
Said another way, if you like something, for whatever reason, and if you want it to survive, you should support it.
.
Now, I know, the other argument is, you are powerless and it's the local, convenient stores fault for not enticing you enough. You had no choice.
.
Just my thoughts.
Best Wishes.
I'm headed out to my local grocery store 9 blocks away. It costs more, but I like it and I can walk.
I use and support Windows phone.

How come the article is so poorly written? Was monsieur Dan out in the town when he wrote this? The second paragraph especially is atrocious and reports FALSE information (the bits about China/Japan). Onto the matter at hand, why is Windows Central even bothering with these? It's obvious the Windows mobile platform is on its very last legs... if that. Europe was the only region where the platform had a mediocre success (thanks to Nokia) but it's clear now that Europe is giving up on it in droves. The only revelation here is that Windows Phone was ever a thing in Australia.

Can anyone give me a link of the background image used In the article photo

Microsoft purposelly killed the Lumia brand and Windows Phone/Mobile. I still don't get the strategy here. Maybe they get more money from android (through patents) than from windows mobile? I miss the days of stunning Nokia devices and "smoked by windows phone" campaign. At least Steve Balmer tried, and if Microsoft had kept the effort, things would have been different. I mean, see above figures, Windows Phone had almost bridged the gap with iOs in some markets (Italy, france...).

Here in Italy w10m was doing quite good, better than apple imo, and in EU in general as data suggests; still not clear why MS completely ended manufactiring and advertising its platform, i'll try to stick to w10m because i really like it.

Even Nadellas Sabotage of Windows Mobile can not hide Microsofts Need of a mobile OS if it wants to exist in the Future.

Many of us here are WP fans, who have either one or two WP device/s. However, many of us also are using the same phone that was 2-3 years ago. It started when I got a Lumia 920, from then on I became a WP fans. Prior to that, I know nothing about Windows Phone. I have no idea about the WP 7 and the 7.5 (Mango whatever). After the the L920, I got the L930, then get me a secondary phone for Insider build (L630, L640XL, then the L540) Now I have the L950XL and 950 for Insider. I never had an Android phone since 2012. It is very hard to sell WP to other people who have already used Android or iPhone despite admitting that it looks more beautiful (UI-wise) than Android or iPhone. For them it looks complicated and the sales person in any electronics store doesn't know how to sell it.

News about market share dropping to new levels, but just wait because soon(TM) you will see the next Windows Phone that are going to change everything ... I think I've read this story several times the last 3-5 of years.

I brought a Lumia 640xl because Microsoft told that windows phone will support android apps but turned out to be it will never happen.

The current phone market in its entirety is still over 10 years on small. Tiny. It's currently based on a model of free upgrades every 12,18 or 24 months. When mobile devices move away from carriers to people having to pay £600 for a device, then the mobile industry will show its true colours. It's currently a false industry where people get all devices up front and pay over the contract time. Next mobile phase should be interesting.

It was 2014 when I stated that Microsofts only chance to get a real entry into the mobile market was to offer an own hassle free network with top notch support. This would mimic how they made Internet Explorer the browser of choice, it was through cheap dial in internet not coming from Compuserve or AOL.

No marketing - no customers - no customers - no markedshare - no markedshare - no apps - no apps - no customers - no customers - no Windows phone.
Windows phone have never been better than Lumia 950 is today

Am so in love with w10m don't panic Microsoft move on, because I don't want to loose my Lumia 640, the phone is sexy design. I don't care about apps it really phone cute even the surface phone will arrived don't trush Microsoft Lumia 640..

I still don't get, why they are not licensing the Lumia designs and its technology to other phone makers, to effectively stay in the lower (650) and medium (950) price segment.

With L 640xl my experience is awesome, I am addicted to use Lumia. My colleagues even impressed with Lumia performance n looks. I had to suggest them not to buy L as production been stopped.

No new phones to replace lumia line in europe. Without new phones market share is going to drop. If they wait for surface phone for 2017 WP wil have market share of 0.0000001% (statistic eror)

Windows in smartphones has become a rounding error. It is time to put it out of its misery for good.