Kantar's latest smartphone market share report sees Windows Phone dip below 1% in the U.S.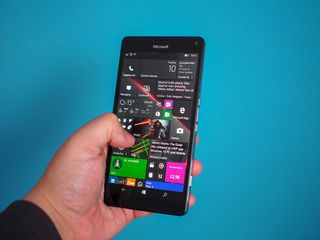 (Image credit: Windows Central)
Kantar has released its monthly report on the smartphone market for the three months ending in November 2016, and things continue to look down for Windows Phone. Compared to the same period in 2015, Windows Phone's share of the market decreased across the board. Perhaps most notably, Windows Phone's share of the U.S. market in particular dipped below 1%, dropping to a 0.8% share from 2.3% during the same period the year prior.
Kantar reports that the biggest drops occurred in Great Britain and Italy, which saw declines of 7% and 5.2%, respectively. Meanwhile the 5 European countries tallied together ended up seeing an overall decrease of 4.1% compared to the same period a year ago.
Windows Phone has been on a steady decline for a while now, and that's likely to continue as Microsoft winds down its Lumia production and switches focus to whatever the next big thing could be.
If you're interested in more, you can check out Kantar's full report, and let us know your thoughts in the comments!
Get the Windows Central Newsletter
All the latest news, reviews, and guides for Windows and Xbox diehards.
Dan Thorp-Lancaster is the former Editor-in-Chief of Windows Central. He began working with Windows Central, Android Central, and iMore as a news writer in 2014 and is obsessed with tech of all sorts. You can follow Dan on Twitter @DthorpL and Instagram @heyitsdtl.
yep .. the "next big thing" could be 30 years away! remember PCs ruled for 3 decades before smartphones took over.

They're just "retrenching". It's not dead at all...

Android dropped in usage more in the UK than Windows Phone did in the US. At this point these percentages are pretty moot.

Still above BlackBerry 10 though.

BB might make its way back into the market now that TCL bought it.

You're referring to BlackBerry Android.

No surprise. It's hard to build market share with no products.

Or Commitment, or vision, or leadership...

Or gimmick, rumor has it the next Galaxy S will have a Chrome OS on the phone also like continum.

Having full fledged Chrome OS on a mobile will be the end of Android or even Google's phone visions. Merging Chrome OS with Android to form Andromeda gimmick isn't going to help, that's just plain stupid.

You mean it is the end of Continuum and Microsoft's mobile plans? If Samsung releases a Galaxy S8 that runs Android then switches to Chrome when docked to a monitor and keyboard, then that will be it for Microsoft. If Continuum is actually a good idea, and I would argue it isn't at all, Samsung will literally leapfrog them in one day. Samsung will be able to get developers onboard almost immediately and x86 emulators are already available in Google Play.

I understand you the point you are making. Continuum is a good idea. Unfortunately, like many things Micriosoft had come up with, others have taken it and ran with it,because MS took too long to bring it to market, it had too many bugs, or just not enough interest to further push it. If the market share was there for Windows Mobile, Continuum would be a no brainer. As much as I love Windows 10 Mobile, I can see that this will be a very difficult battel for MS, if Samsung's Galaxy 8 runs full Chrome OS. Whether or not it will be the end of MS's plans or not, still remains to be seen. But, I can be honest enough to say that, whatever there next move is, it better be outstanding and undeniably great.

Or with people that take negative positions, only because don't understand that the "windows10 project" is really wide and complex to implement...and after that they installed insider builds on their devices, they said that smartphone don't work doing bad advertising

You forgot CEO's stuck in the cloud? How can you?!!

Or keeping promises. ( Lack of W10 update for some of the lumia's, but it has been promised at first) .

At this rate if it was for Google or Apple, they would have killed spending on mobile long back. This is msft planning for years to perfect something... Something worthwhile.

These are the market share of sales of new devices right? What about the usage share of current devices?

Yes, share of sales for Kantar. comScore publishes usage share data but that hasn't been looking good either (current sales are not sufficient to maintain existing usage share).

lest wait for the new focus of Microsoft. So lest say that we will have a new "small pc" and a phone too. It looks like great idea. I don't think is dead..... Patience!!!!

Yep, wait for the next great savior! /s

So, same thing we have been told for 6 years...wait for a vague savior.

I don't think there is anyone on the planet that is more patient than a Windows Mobile supporter.

Hahahahahaha indeeeed!!!!

Now, where have I heard that a million times before over the last decade?
Oh yeah, right here.

And the surprising part of this is... C'mon, nothing new about this report

I'm known as the "Windows guy" in my workplace. I tout the benefits of my SP3 over traditional laptops/Macs quite often through its versatility. However, this past June, I had to finally make the switch from a 950 to an iPhone and I'm having a 75% Microsoft experience through its support in the iOS app store. I still use Cortana, Outlook, Onedrive, Office, etc but now I also have access to many apps that I need on the go (Lyft, Pix, Final Draft and while I don't NEED it: yes, Snapchat). I have no doubt I'll be back to the Windows mobile ecosystem in the next two years when the paradigm shifts but, for now, an iPhone with Microsoft services is doing just fine.

Problem with an iPhone, which I have one for work is, it is extremely obtuse to navigate through. I hate it. I prefer my 950.

There is a home button that takes you to the homescreen. The homescreen has icons on it that you click to open the app. It is straight forward and easy for anyone to learn and use. It isn't obtuse at all.

Try backing out of attachments in an email. The "done" icon is not always present. That's just one example. You don't always want to go home with the home button, sometimes, you want to back up. In fact, maybe YOU should go home to iMore with your iPhone.

I have never owned an iPhone or any Apple product really, but navigating them has never been an issue when picking them up. I am not sure about your specific scenario. Can Windows Mobile even handle attachments? Last I heard, it was only pictures and even then it was rough.

If you have to ask if WinMo can handle attachments, you must not be a WinMo user. It handles all attachments. I use Android too, but iOS is the worst. I handed my work phone to a colleague today to make a call, but he needed to check an email I had, he starting yelling at it because it was not easy to navigate. He is a droid user.

I don't have this problem using Outlook for work email, and I deal with all sorts of attachments. For some reason, Outlook on iOS for my work account (with InTune) is far better at handling attachments than Outlook for Android, which requires additional apps for pdfs, photos, etc.

I prefer my 950 also. What I don't prefer however is the $hitty maps since MS took the helm it has me driving through side streets all the time for no reason at all. App support continues to erode give or take. I am not particular fan of the iPhone I use one for work also, I can see myself upgrading to a iPhone 8 down the line though if this continues.

I've heard that OneDrive automatic photo uploads is an absolute disaster in iOS. Is this true?

No. As long as you have background app refresh on for it, you should be fine. The only funny thing about it is that it only uploads from the camera roll folder.

No screenshots? That's annoying.

My mistake, it does upload screenshots because they are also included as part of the camera roll.

But background process works on the basis of GPS - photos are uploaded when you changed your location and have WiFi on - it's quite strange...

I use it and its 'workable kludge'. This is probably because there's no direct linkage or APIs for OneDrive to look at the local Photos, so the hack is OneDrive required it have it's location awareness enabled even when the app isnt running, and when it detects a big enough location change the badge on the OneDrive icon signals how many photos need to be uploaded. For as infrequent as I use it (have iPhone 6 and a trusty 830) I cant recall if you have to go into the OneDrive app for the photo upload to start. So I'll let you determine if thats a disaster... :)

Yes. I turned One Drive off permanently about a year ago, MPITA !

Yes, the automatic download is a piece of crap. Instead of downloading the full photograph available in iCloud, it rather grabs the small mockup in the iPhone memory. Apple has appropriate APIs to allow downloading from the cloud and Google photos does it perfectly, thus there is no reason why OneDrive could not do it too.

Mattmillerwastaken, I can tell you there will be no magical "paradigm shift" that MS touts. Enjoy your iPhone...you will be on them for a long time.....I love mine.

Same here except I went Android. There aren't many apps that I use (but dont need) so I will be happy to shift back when the hardware is right. I have been flirting with the HP but I'd rather wait it out and see if MS brings the next big thing. Lifes not so bad in mobile regardless these days

I'm known as the windows guy in my circles too but the mobile offering has really been one blunder after the next. I Dropped my lumia for an lg v20 and haven't regretted one minute! I use all my ms services, hell, even have one drive backing up all my photos videos just like WP did...but oh yeah , I have access to over a million apps and games I would never have on my WP. I'm hoping ill be back too one day but windows 10 mobile needs some serious support/work and they have to start answering for the app gap one day.

Soon we'll have collectors item XD

"Retrenching" and "mobile space". Words I don't want hear ever again.

Finally! I am in the top(?) 1%...

Top 0.8%
Be proud.
#bestwishesfromms

Nadella thought he could defocus on Windows Phone and bolster all other areas of the Microsoft ecosystem and just have consumers want Windows Phone to complete the Microsoft "pie".
Instead, that mobile market pie slice is going to overtake everything else. Not releasing Surface Phone in 2016, or even early 2017 will kill off Microsoft's mobile market.

Microsoft's mobile market is already dead, mate. No phone, surface or otherwise would have made any difference in 2016, 2017 or the year 3000.

Microsoft mobile market in 2017 is an oxymoron

Talking about the Surface Phone release in 2016! There wasn't even a Surface Pro in 2016!!

With Surface Phone in November 2017!

And I used to laugh at the 'blackberrians' what goes around comes around....

And I used to laugh at the 'blackberrians' what goes around comes around....

There's not many phones to choose from Nadella screwed over mobile

Am I the only one slightly amused that it only went up in Japan, which doesn't even have many Windows phones to start with? It seems like a joke.

No surprise at all, except if they market Lumias as aggressive as their Surfaces.

I serioulsy considered getting an Android (Galaxy Edge S7) after I managed to destroy my 950XL. But, my wife needed a new phone and I got her an Edge first and played around with it. The app issue is real. There are a number of useful apps I can't get (yet) on WinMobile, but the phone itself wasn't all that thrilling. So, when HP put the X3 on sale around Christmas, I snagged one with the dock and the leather flip wallet. Gotta say, it is an absolutely fantastic phone, as phones go. Definitely could use a better camera, but the rest is pretty solid. Feels good, battery lasts for a couple days, literally, screen is big and bright, and even running the Insider releases, it is pretty stable (actually the Insider builds are worlds better than the build it shipped with, which was nigh on unsuable). Now, if they can jsut release an update with that sweet X86 emulation, I'd be in Nerdvana, and the whole paradigm shifts.

I use continuum as my main general PC. My PC is my gaming rig. It's definitely the future. It's just not ready for the average user yet. Heck having apps that can't be launched in continuum and graying them out is messy. Single window, etc. I've learned to deal with it for the time being as the convenience outweighs the issues for now.

Even though I know that it's coming, this should have been a no-brainer since the beginning.

I will have to admit that over the holidays I was responsible for two users switching from Windows to Android. The issue was not so much the hardware but the fact that my wife and daughter could not participate in most of the social and retail store apps that are used now a days. Like me, they preferred the functionality and design of Windows mobile, but the lack of application support had pushed them to a need to change. We had all been Windows mobile users since day one October 2010 I am looking forward to what Microsoft has to offer in mobile, but until they get 3rd party app support on the level of iOS and Android, they will never grow in market share.

Microsoft is making it hard not to switch. In my family 4 out of 5 of us have Windows Phones and it looks we'll all be switching soon enough. I hate that it's come to this but it's hard to support a company that puts so little effort into their mobile platform.

I'm the last holdout in my family of 5. All were windows, now 2 on android and 2 on iPhone and my 950. I'll be next, would do android but corporate forces use of an mdm mail application there so I guess it will be iphone and outlook for me. Will really miss the interface and live tiles.

That's what I'm going to miss as well. I really don't know how I'm going to feel about not having live tiles and what not but we'll see.

Some theory eh?
Let's can mobile completely, let the consumer get entrenched in another OS, then bring out a PC in your pocket, that'll work.
Numb nuts.

Agree, just learned from friends how important SnapChat is for their social life.
Keep up with the lifes of many friends & families etc etc etc. I do not miss SnapChat, but for many people it is an app that is really very important for them.

You reap what you sow. How stupid can you be to throw away 10% market share in several european countries after you had such a hard time getting there. It really blows my mind. MS does not need competition to kill their mobile OS, their management does a much better job.

10% market share selling $30 phones in a small market isn't worth it. They weren't selling anything but the Nokia name on the 520.

520 was something like 130€ when it released in Europe. Only in the US and perhaps UK did they have those ridiculously low prices. They also sold quite a lot of mid-range phones, but it's quite natural that the cheapest sells the most.

I don't know why I always find myself in these situations. I was with Crackberry until the last day and now I'm here :/

The difference is that Blackberry actually tried hard to maintain shares, MS didn't. But MS will likely grow in the hybrid categories which new phones will eventually fall under. And anything growing in those categories will share the same ecosystem. The ARM tablets/hybrids will make sure developers publish to both ARM and x86.

You are here because momma didn't raise a quitter.

At least they gave it a good try right to the end, new Microsoft CEO came in and basically just threw all the progress made in mobile out the window with a fancy word while spouting how "committed" they were to mobile. Big difference.

That's what you get when you don't try.

Same news article different month. Nothing new to see here!

If it wasn`t for my 1020, i would havemoed to Apple. To live the dream!!!

"Kantar reports that the biggest drops occurred in Great Britain and Italy, which saw declines of 7% and 5.2%, respectively. Meanwhile the 5 European countries tallied together ended up seeing an overall decrease of 4.1% compared to the same period a year ago."...
.
This could probably be people naturally shifting to other OS's because of lack of apps but ALSO, a really buggy OS (till the mid Anniversary release builds - it's better now, but not perfect)... The buggy OS is an important factor that people don't consider because they keep making the app argument which is somewhat too much at times. Being a W10M fan, it hurts me. But this is what it is.

For Britain, I think it was more to do with a serious lack of advertising. Phones from the Nokia Lumia era were decently marketed, on TV and in shop windows etc, and it had a market share of around 10% at its height a few years ago.
Since MS took over Lumia, there's nothing on TV and barely any real push to get them noticed. OS issues didn't help.

This is the same story everywhere. Or rather was...

I've moved on a while ago and so has my family who nearly all had WPs. With no compelling phone options and the app situation being unchanged I felt there was no reason to stay. Very unfortunate because I still like the UI and experience on Windows. Maybe one day in the future I'll look at a new WP device.

Not surprised that Windows Mobile marketshare is less than 1% in US, the HP Elite X3, the Acer Jade Primo and Alcatel Idol 4S all have Continuum, they could be great in the enterprise thanks to Virtualization tech, but the question is, is Continuum the answer to increase Windows Mobile marketshare?

I actually don't really care about smartphones like I used to. Thanks Microsoft. You made me realize that I'm always going to be looking for the next latest and greatest gadget. It doesn't matter what platform you're on, looking at a newer phone will always make you a little envious. I really don't know what I'm going to do when my contract expires but I really don't care anymore smh. I'm actually a little happier now that I'm not always on my phone

Nadella didn't throw out any progress in mobile. That ship sailed long before he took the helm. I think he has streamlined the entire Microsoft world to continue It's climb, lighter and faster. Competing in an already fading world of smartphones is like banging your head against a brick wall. Do something innovative. That's what MS is and always has been about. In the meantime, my HP x3 does everything I need it to for work and personal and with style and function. I'm cool waiting to see what they drop. I'm thinking out will be something for the others to try and catch and copy. Look what Surface did. For the first time in a long time others were copying something revolutionary that MS created... Which they never did quite catch. The same will happen in the mobile world. It will.

Based on the numbers in this very report, that ship didn't entirely sail by the time Nadella took the helm. I mean, 7-10% in some European countries is nothing to scoff at. Losing more than half of that share in a year is nothing to scoff at either -- that takes some real determination. Also, I'm glad your HP X3 does everything you need. I'm glad you had other options too. I don't. I had to stop using WP because Microsoft went out of their way to make sure distribution was handicapped, and I simply don't have any options. The point of my stating this is not to say I'm mad at Microsoft or their chosen strategy, but I don't think you can take the onus off of Nadella for his role in sinking the ship. It is, after all, ultimately up to him what strategy they execute.

They only reached those numbers in small European countries due to having a very cheap and well performing device at a time when Android was a bit rough on low end hardware. That coupled with Nokia's name in Europe helped them. The issue was the next year when Android had caught up on low end devices and all those L520 sales didn't turn onto L930 or L730 sales. The platform was not going anywhere and Nokia knew this. Microsoft was forced to buy them out or kill Windows phone. They probably should have killed it as they quickly learned it was pointless.

looks like im the only one in the world left with a windows phone! Je suis 1%

So I'm in the minority !! My choice and I love it, will stick with my Windows phone because I want too !!

I don't know how, as all the big companies and public services are pushing windows phone as the go to work phone. Northumbria Police in the UK recently issued
640xl phones to every officer and has embraced the system to provide on the ground technology for all officers.

Which big companies would those be

Like what? Since when did a couple of police departments count as 'every big company?'

where are those data come from? they count sale from number of phones manufactured from all companies? not all phone manfactured are passed to retailers, not all phone retailers in stock are sold to users, there are used phones sold through ebay, amazon, craigslist, consumer exchanges, people using windows phones right now. Kantar collect all those numbers?

They get money from ecosystem and it laid dormant. They even invested in companies to pay for apps hoping that they would return on the investment but nothing. It was all wasted money. Seriously why aren't you ceo of ms. It would be the best company because you're a genius?

The main purpose of this data is to tell people dont buy any windows phone even they are in market?

I switched to Android in early December 2016 (Nexus 6), after being a WP/WM user since 2009, and I am fully satisfied and even though the Nexus 6 is older than my Lumia 950 xl, the experience is way better. I tried Android in 2012 and was disappointed back then, but I am amazed by how far it has come. I've had no lags, no freezing, no random rebooting, and there're apps for a lot of services I was unable to use before. I still have access to all my Microsoft services in a seamless way. So other than live tiles I really prefer Android at this point. I foresee myself in the immediate future just being a casual Windows Mobile user just to test new features

I am In a similar position to you, my 950XL broke and I had to exchange and got a apple iPhone 6 plus. I hate apple and its set up, but I do like the fingerprint id for apps. however I have to say the apple is not without it's freezing and crashes. I am now hanging on till an apt windows phone comes along, or I can afford the 950xl again when this fails. I keep looking enviously at the phones I articles waiting for it to gain traction.

However, the Lumia 950 camera is better than the one of the iPhone 6 plus.
A friend has an iPhone 6 plus, and especially in low light conditions the Lumia 950 runs circles around the iPhone 6 plus. If you get a newer iPhone or Galaxy the camera is probably on par or better I guess.

This is so true. I have both.

I got this nexus 6 just because it said to be first ones get android N in august when N suppose to be released, the update did not come, after months delay it came in december said come 7.1.1 but came 7.0, then finally came out in january. Not only this disappointed delay also those android N is just as androind 1.0, not super features. It is slow and buggy. I had all android phones before, sony, HTC. They all same. I am using 950Xl and nexus 6 at same time. 950 is much better, nexus 6 is useless. I feel would not give up windows phone until MS totallly give up it.

I have a Nexus 6 and it had N at the same time as the other Nexus phones. 7.1.1 came a bit slower due to a bug supposedly, but now I have it and the phone is bug free and is much more feature rich compared to WM10. What bugs do you have? I do have some performance issues occasionally, but nothing crazy. It has to do with Google forcing software encryption in this device. I wish they allowed you to unencrypt it. I don't need the security.

It's slow but not bugs found. All I heard is new from http://www.phonearena.com/news/Some-Nexus-6-owners-are-experiencing-call-audio-issues-after-Android-7.1.1-update_id89859 But I have see problem because I dont use the phone. It is useless for me unless I really need to android stuff on it.

Could never go to Crapdroid or iShine. I just hate their GUIs too much.

I wonder if Microsoft is going to be pissed when they find out their market share is still greater than zero.

Nadella will be furious! It's unacceptable still to be over 0%.

I'm surpised marketshare is still that high. Here in Norway, the only windows phone still available in the MS store is a Lumia 650. The only way you'll find another windows phone is if some store/site has a few forgotten lumia's left in storage. We never had any alternatives to the Lumia's, now we don't even have those. I just broke the screen on my 1520, but I was lucky enough to find a replacement screen, otherwise I would have had to buy one of the last 650's or go back to Android.

MS is letting down its customers, and they concentrated on certain markets where they were not needed ignoring where their phones were sold in numbers

No. MS failed when phones became big during Balmer era. You can't recover when you come that late to the game. You need a premium group of users that hold down the ecosystem like Android has. Android may have a lot of cheap users but they have enough premium ones to hold down the fort. Not as much as Apple but good enough to be a second alternative. So now Satya is future proofing MS so that same mistake Balmer made isn't made again and you're blaming him for everything. MS will NEVER be big in smartphones, remember that. They have a chance with some new paradigm. They already have an ecosystem to piggy back off with win32. They are slowly building their newer ecosystems that would let them catch up. Apple/Google ecosystems were built over years. They didn't get all their apps out within 1 year. MS is using their strengths with the desktop market and tablet/2-in-1's to build theirs out. And they will. But the best part is that ecosystem will be ready for any hardware initiative that becomes popular because windows 10 is hardware agnostic. Apple has separate ecosystems they need to merge. Android is attempting to merge there's too. But MS has a head start with their OS. Android has a lot of work to do and it's mostly hacking their current OS. MS not only has all the dev tools, the apis, the kernels and everything done. It's simply in the refining process now and feature process. And of course part of that is getting new hardware out there and support for different hardware.

Mostly true. If Microsoft would have admitted to themselves that many mobile users (especially our parents and grandparents at home) are using mobile devices like tablets specifically to escape the Windows desktops and laptops that they feel overwhelmed by all the [rightly] confusing popups and forced-reboots and lack of reliability and settings even MCSE's can't stay on top of...
...then they might have instead renamed it and released it as "Windows Mobile" rather than "Windows Phone".
That would have competed with Android and iOS, coming nicely between the (in 2010) "too confusing" Android and (in 2010) "too limiting" iOS. Instead, Microsoft was, and still is, stuck in the 1990's, truly believing "Windows on everything!" even as the market not only tells them "No!!!", but virtually throws up their middle fingers in exasperation with Microsoft. I'm a 20+ year IT veteran, and I bought my own Chromebook this year, with the consideration of twilighting my home PC after one too many times where I wanted - needed to use it urgently - but couldn't, because of an unexplainable near-hour "Don't shut off your computer" forced update, or Windows 10 wouldn't produce the menu when the start button was clicked (twice - and with two different unexplained causes, different resolutions!). No one needs that in their life, when they have alternatives, that will ALLOW them to do a quick lookup of a price or product for their parents who called them from out of state.

Android doesn't have to merge because it has never been separate and the apps have scaled to the device for years now. Android is available for phones, tablets, watches, cars, TV's, PCs and many other things. It isn't true that Microsoft has a headstart in this.

This is what happens when folks step in who know what they are doing.

You know what's also rare? Aston Martins, doesn't mean they're bad cars. That said those figures pretty much couldn't be worse, though they aren't really significantly worse than they've been for a few years, so nothing has changed. Though MS should have made a clear commitment to keep the 950 series in the marketplace until there is a replacement. Instead, there's been an article every week for a year saying they have been discontinued, even though they never were and to date they still haven't been (they've just repeatedly and temporarily been sold out).

It would if they required refueling at special Aston Martin only refueling stations. ...I mean ecosystems.

That's a lousy analogy. An Aston's capacity to drive or work its bells and whistles aren't dependent on things called apps, the quality of which are very much determined by how many other Aston Martins are sold. Also, Aston Martin is a luxury marquee which doesn't sell in volume because its products are priced several times that of the industry average. WP is not. If anything, it's cheaper since the bulk of units moving are budget 5XX and 6XX handsets. Comparing phones and cars is like saying Mercedes sells 15% of all cars but Kia can barely sell 1%.

Microsoft knows what they're doing. Let's wait and see...

Do they? They ended the free upgrade for Windows 10 and look what happened.

It was obvious! People alwasy try what's free. After the free upgrade was over who would pay for windows 10? when it's a failed OS tested by insiders, full of buggs, still buggy...use it every day at work and hate it. Windows 7 was way better.

I have no problems with it.

Windows mobile users: We're just gonna run?
Nadella: Only until we can find a way to fight.

im still on my 950 xl and band2 but the lack of support from microsoft is obvious. makes me cringe

We will fight !!!until then I'll use Android.

Do they still measure the WP market share? Who cares, as long as I continue to get updates for my Lumia 950, I'll be fine :-)

This is just sales report for selected countries. Somethings doesn't add up here. How come Lumia 950(xl) keep getting sold out every time there is a price cut?
Medias do not always present true representations of things. Medias are smart and always get paid for their job.

Because Microsoft doesn't make very many. Sales are not high at all in any regard. They sell out because they are not manufactured in high numbers.

Come May 2017, come new information. http://build.microsoft.com/

Are there any sales numbers for the HP X3 Elite?

As I recall the last Adduplex numbers I saw (Paul Thurrott regularly reports on these) had the Elite's share of Windows phone devices at just 0.3% (basically inconsequential). https://www.thurrott.com/mobile/87073/windows-device-stats-december-look...

With 0.3% of the market share, People still have more Old Blackberry devices than Windows Phone devices and that is sad..

OF course it's only at 0.3. Who on earth would be stupid enough to pay that much for that phone?? it has zero to offer besides a very good hw, but with what use when the software on it is mediocre? The X3 does not appeal to businesses as many fanboys here said it would, and for good reason...The X3 was DOA anyway...

Remember back in 2010, when Blackberry was failing, and iPads and even Android tablets were surging as people were finding alternatives to the unappealing complexity, kludginess, and crashiness of Windows Desktop?
Remember how Microsoft knew their marketshare was bad also, and had this perfect opportunity to come right up between "too restrictive" (back in 2010) iOS, and "too complicated" (back in 2010) Android? And remember when they rewrote their mobile OS entirely into this truly great mobile OS that seemed to be just that compromise - but instead of releasing it as the next generation of Windows Mobile, they confusingly named it Windows Phone, then said it wouldn't be on tablets, then didn't have tablets - then stranded all their early-adopter Windows Phone customers on an island, telling them "We'll never upgrade your phones to Windows Phone 8!"? And remember when they put that confusingly similiar interface over Windows Desktop? And came out with the "What was that, exactly?" Windows RT? And then told tablet customers (the same people who had been buying up tablets to avoid the kludginess and complexity and crashiness of Windows) the very 1990's statement that "We're putting Windows on EVERYTHING!"
...which went entirely against why people were adopting nice, simple, sleek, [and RELIABLE... and MANAGEABLE...] mobile OS's? Remember how Microsoft's mobile phone marketshare just continued to plummet?
Rember how simple mobile devices and Chromebooks - and pretty much anything NOT running Windows - continued to break sales records? Remember that?? ...Sure enough, Microsoft still seems confused as to why.

Wp UI is pretty bad for non blind fanboys... The font sizes aren't consistent across the board. This chases normal users away... Apps is just on of the issues but not the core issue... Problem is Microsoft wants to operate like in the 90s when they were monopolizing the tech industry.. When you NEED DEVELOPERS SUPPORT but you want to take a big chunk out of their income (i think around 30%) compared to the already existing and market owning players like apple and google what do you expect? When YOU NEED DEVS but you are selling your tools IDEs what do you expect? I remember when was studying VB at college and was told I had to buy an IDE for that while JAVA got lots of free IDEs for free me and many students dropped thing and chose JAVA over VB. These are just some of the issues that affects MS and they don't know or care because they think it is still 199s. And the users who are supposed to provide feedback(you guys) are too blind to point out issues REAL ISSUES and only siting APPS and MARKETING as the issues only remember ANDROID while a niche product was facing BB when BB was a thing and WINDOWS PHONE and IPHONE and with no apps but managed to rise to this level they are right now! As a developer i really wonder on how windows is poorly designed not consistent at all and to normal users these things are bigger than APPS. You guys need to wake provide good feedback and things could change you never know

Folks when the word came out that the lumia 650 was the last Lumia smart phone to come to the market place. People who buy smart phones in America considered Windows smart phones "DEAD" until the "Surface" brand Smart phones come to the market place. Folks a China industry news report says Pegatron which makes Makes Microsoft "Surface" products is setting up trial production of the Microsoft "Surface" smartphone. which means 1=the Surface smart phone exist. 2=at least one model of the Surface smart phone's design is so complete trial production runs can be made so they can given out and be tested in th real world before nadella give the Go ahead to have them manufactured and sold to businesses and the Public

Did anyone actually expect anything less ? For real. No new phones, No promitions...carrier selection sucks for most carriers. Apps are going away, one by one, or 5 by 5... and where is Microsoft in all this ? Hello ? Anyone listening ? No Microsoft isn't.... This is joke for support, I paid for 6 Windows Phone devices and even more almost 7-8 WIndows Mobile/PocketPC...THOUSANDS of dollars over the years and what does Microsoft do for every fan out there ? NOTHING at all. Thanks Microsoft

Yeah! In my country, I am in the top 0.06%!
I feel so lucky and proud!
#S***

ROTFLMAO! And MS has zero products in the pipeline for all of 2017. OEMs are fiddling, for the time being, with high-end phones which leaves nothing for us lower to -mid-range consumers. I'd bet there are zero new W10M phones launched on any U.S. carrier in 2017. That's not a retrenchment. That's embarrassment. And, it looks like MS will not take a worthy, divergent approach of letting Panos rollout a quality Lumia replacement line that precedes the launch of a possible Surface in early 2018 which will be two years later than what it should have shipped. The Nokia purchase was 10x worse than anything MS had done before.

:))) how pathetic. No surface phone will ever save this mobile fiasco from MS. it's dead, burried, toast!

Nobody wants to save Windows Mobile, it seems you are living under a rock. Surface Phone it's something else. It's like saying "iPhone will be a flop because it doesn't have a rotary dial".

I want this start screen wallpaper.

1- The table is not about market share but "os sales share". 2- you talk about a 4.1% decline, not so bad afterall, 4% is nothing. But it is false. You should say 4.1 point on 6.9, which is huge (60% decline).

I'm surprised its that high. Such a horse **** OS.

Nadella to blame on this. Gave all the cool stuff that made a Windows Phone over to Google and Apple. I dont see an official YouTube app in the store. It will never happen. I was one of the very first Windows Phone adopters with a Samsung Focus (stood outside an ATT store on day 1 of launch). Stayed on Windows Phone for about 5 or better years. I finally had to switch over the a Galaxy Edge phone. I am considering coming back to WP but the app situation is bad. Windows Phone has the most fluid and sexy UI.

Now they have write Windows phones are less than 0.001% of the market share. Even 1% number looks very big for us. Thanks M$ ruining Nokia brand....

windows phone had a lot more going for it even at 3% market share US and higher than 3% in other countries. let it be clear that microsoft ie satya nadella killed windows phone because he was unhappy having 3% share and so what he had an installed user base he had fans he had die hards and he just abandoned them. shame on nadella

Exclusivity. Many strangers commented how lovely my Elite x3 is, and asked what phone is it.

with less hardware...
there is less support...
so fewer apps, which makes people go to the other platforms.
What are we supposed to do?
if the others have the apps I need, why should I stay with windows phone?

I am happy with my 950 - important to me removable battery, NFC for my bluetooth speaker, quick wireless charging, good camera, competetive price, regular updates therefore high safety, easy , well arranged OS, glance screen ......

Only the loyalty (stupidity?) of us few remaining fanboys keeps this from going to zero. No thanks to Nadella.

It seems not catastrophic as I thought. I reaches 9% in GB.