Kik hits 50 million users, but do Windows Phone owners care?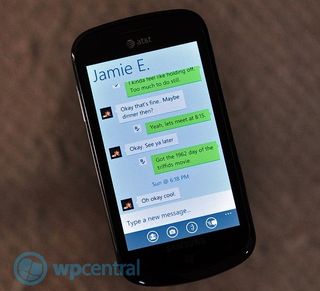 Kik has announced the company (and popular messaging service) has crossed the 50 million user marker. Congratulations to them indeed. The only issue is their lack of support for Windows Phone. Those of us who have used the service on Windows Phone in the past have enjoyed a strong experience, but the company has no immediate plans for a Windows Phone 8 version.
For that very reason, we're being left out. Consumers on iOS, Android and BlackBerry are bringing out the bottles of champagne, while Windows Phone owners are left on the side. It's a real shame as we know many who actively utilise the service (we did until WhatsApp stepped up its game), and many were rightfully looking forward to seeing what Kik could bring with its new developer platform (building on its Kik Cards product).
This developer platform would introduce web apps, including games that could be sent, received and opened in conversations. This would help Kik differentiate itself from competing messaging services, as well as monetise the product. So what's contributing to the quick growth of the service, which launched in 2010? Kik CEO Ted Livingston said the following in an interview with Financial Post:
It's noted that the latter (the meeting of random strangers) is what's really pushing the service forward. Think Chatroulette, but without the visual nudity and on the mobile. There's also the fact that mobile numbers aren't used, in favour of usernames which is believed to have also helped build a strong following. The numbers are fairly staggering with an estimated 200,000 new users registering for Kik each day, entirely through word of mouth. It's just a shame they're not focusing on Windows Phone.
But with alternatives like WhatsApp and more, who needs 'em? You can download Kik from the Windows Phone Store.
Source: Financial Post
Windows Central Newsletter
Get the best of Windows Central in your inbox, every day!
Rich Edmonds was formerly a Senior Editor of PC hardware at Windows Central, covering everything related to PC components and NAS. He's been involved in technology for more than a decade and knows a thing or two about the magic inside a PC chassis. You can follow him on Twitter at @RichEdmonds.
Shame indeed. I liked kik. Now I use Rooms or whatsapp

Yup don't care at all... When's instagram getting here...

kik is for horny teens, lol.

TBH i don't personally care, i don't personally require that sort of app, if i want to talk to friends and family i have texts and phone calls and if i want to connect to strangers i have twitter

Amen my friend. I posted about Whatsapp the other day and I still just don't get it. I have apps built into my phone to talk. Why do I need an app like this? They sure seem to get a lot of press on all of the Windows Phone sites.

Not everyone uses Facebook or Twitter.

Hey Jace...
To give you an example of how very useful WhatsApp is for me, I work at a mine. We don't have normal cell phone coverage but we have WiFi accessibility...
With Whatsapp and Kik etc I can continue to send and receive texts similar to sms but are accessible via WiFi. Plus another feature is these use your data allowance rather than cost sms mms or international charges by using data.
:)

I suppose you don't have friends or family from other countries that you communicate with regularly. Instant messaging apps like WhatsApp and Kik are great for keeping in touch regularly with people from all over the world. It's also great for things like group messaging and sending multimedia (pictures & video).

Because people don't want to pay for 5000 text messages and phone calls? I get an allocation of 100 texts a month, then I have to pay something like 50 cents for each one I send. I could go on a more expensive plan to get more texts, but it'll cost more money either way. I'd much rather use my data plan or free wifi to communicate than paying a fortune in calls and sms fees or a higher monthly fee.

Is there a need for yet another messaging service? Isn't aol, icq, yahoo, skype, facebook, twitter enough?

AOL?? ICQ?? Yahoo??? People still use those?

ICQ?!?
Where's Napster for Mah music...?

whatsapp is getting better compared to kik. Last kik update more than a year ago, no WP8 support of obviously.

Grammatical error in first paragraph. Should be 'their', not 'they're'.

yes, it's a very disturbing typo...like 7th grade level

I use Skype and mms text and so for me I could care less...however I would like my outlook contact to actually show on Skype WP app and my iPad for that matter, any suggestions?

Switched to Line after a spade of spam messages on Kik.

As everyone I know are using WhatsApp (100+ contacts vs 10 on Skype), I am still using Whatsapp.

Incidentally, I never have battery problem with Whatsapp (on HTC 8X), so I don't know why some people here have that problem.

I don't care about kik. Whatsapp is the best.

If they didn't so bluntly stopped support for wp8, I would care and would even use their service, but shamefully they did. So right now I use wechat, line, and whatsapp

I really don't understand these services like Kik and WhatsApp. I don't know a single person who has ever used them. Seems to me everyone uses Skype.

I have 100 contacts on whatsapp and atleast 20-30 communicate with me using the app, Whatsapp is based on your phone number and others in your phone book, so no need of adding contacts and you can send unlimited free International texts, pictures, videos.

I love Kik, but Kik does not love WP8. The fact that it is SO buggy, but not on other OS's is annoying.

WhatsApp is stepping up their game? Last I checked using that app for 20 minutes drained my battery on Lumia 920 by a good 20-30%

I loved kik on Android and all my coworkers used it but now we had to switch over to WeChat because of problems with WP8 notifications. No issues now.

What's app on windows phone sucks, I put it on on Monday, in two hours my Lumia 920 battery was less than 50% and I hadn't used the phone at all. If kik is abandoning us, I'll be forced to use Skype and SMS.

Someone please explain to me... I have Kik on my HTC 8X, so what's this about them not having a WP8 app? I don't understand. thanks for any explanation you can give.

Do you see a black bar on top of the app? How're you liking it? :p

I don't use the app much tbh, but that's not a huge issue is it? It still works, there is definitely a Kik app available on the WP8 Store?

I do not have a black bar on top of the app on my Lumia 920. That said...I use Kik to communicate with a friend who is on iPhone, and we don't want to use text messages. What's great about Kik is that it behaves itself. For instance, we can disable audible notifications. But Kik absolutely kills battery life on my NL920. When I leave the office for lunch, I have 100% charge, and by the time I return an hour later, it's down to 80%. Prior to installing Kik, I would probably be at 98%. Any app that wants to maintain a continuous connection is going to drain the battery this way. Doesn't matter what it is; Kik, Whatsapp, etc. Skype isn't so bad, but the problem with Skype is that it is peer to peer, and the phone doesn't seem to act as a true peer, more like a leaf. As a result, there are times when I won't receive a message for 20 minutes, then suddenly tens of messages arrive. The purpose of an instant messenger program is that it's instant....

My experience with battery discharge is same as yours. WhatsApp/Skype/WeChat etc... it sucks up % very fast. (I use L920, but its the same on my old C7-00)

I had it on my HTC 8x also. The problem I had was with the notification. They weren't reliable at all. I'd have to open the program to get them half the time.

I pretty much only use Skype.

That's a shame because I use it all the time and I've noticed the difference between what I can do and my friends on IOS and Android. I thought we helped grow the service which is what they said in the beginning about the Windows Phone app. Now their attitude is like who cares. Well with Viber and What's App I'll just get my friends to switch. Take that Kik.

Uninstalled and never used again when heard they dropped support for WP.

Same. When I heard that I just uninstalled and moved to whatsapp.

I don't see what the problem is. Windows Phone owners CAN download and install Kik. Unless this article is referring to Windows Phone 8. Again another article that continues to ignore Windows Phone 7.

Rich I care because my kids have ipods with no phone numbers and I need kik to communicate with them when they are at home. I can't use whatsapp because iPod touch doesn't have a phone number. We need kik to work!

Last I remember, 49% or so (including me) where still using WP7 in some form where Kik is a GREAT app, so no, WinPhone is not "left out" nor left to the side, especially if it is actually available and usable on WP8. For heaven sake YOU, Rich Edmonds, wrote the story about how much Kik loves Windows Phone because it was a major boost to their user base.

They may not have issued any updates, but Kik works great on my Titan II and I continue to use it so yes, it's great they've hit 50 million. This whole article sounds like a whine to me along with an advertisement for WhatsApp (which I find Kik to be better than) simply because there isn't an update yet for WP8.

I think these articles should ALWAYS show us the mechanism for communicating our thoughts to the developers/companies. Twitter: @kik
Email: support@kik.com Let them know that you'd love to have KiK on your WP8 device and remind them that they credited WP users for helping them grow on all platforms.

Is that a first gen focus??? :-o

February of 2012 is the last time Kik updated their app. No one can claim they care much about Windows Phone. They might have at first. I wish they'd update their app.

I remember using Kik on Wp7 for all of 2 mins, talking to my 2 contacts who also used Kik.

I'm using whatsapp, but from my experience LINE is superior in every way. They even have VoIP on other platforms and should hit WP soon. I don't get it.

I don't care, never used Kik before. Whatsapp is my primary IM app, with more than 300 contacts (yes, almost everyone here in Singapore uses whatsapp), and sometimes if I need extra functions, I use wechat (much more convenient for sending voice messages and also has video call support). I don't see any reason for me to care about Kik

Whatsapp FTW!! Who needs other things when you have whatsapp. But whatsapp needs to update and add music and video share from phone library. :) then it will be complete

Hi folks, I don't understand why nobody mentions the advantages of privacy that you get with Kik on Windows Phone. I personally don't want to upload my address book, so that other people can see that I have this app. I would rather like to choose my friends. Thanks to Windows Phone security restrictions, kik cannot read your phone number so that kik cannot match this information if you do not enter it manually. I really like choosing what information I would like to share with someone. I did not find an app that is available on all platform and having those privacy "features".

#screenShotsWp8 use this hash tag on twitter along with your screen shot. Microsoft won't show off the features of this great device then I think we should.

I use Kik and its alright for a messenger, but the problem is that it zaps the battery and that most users are basically just people asking for dirty chats and nude pics.

50 Million? Big deal......Look at QQ, over 100 million users........

I'm going to be devils advocate. Sometimes the WP community can be too punitive. I use it, primarily for talking with relatives and it does the job. Live tile bugs are annoying...but that works well on few apps anyway. A proper notification center is the fix. I'm at least glad they have a functioning app available. Makes sense to de-prioritize the platform with the least users.

Looking back at things a year later, I'm glad this app finally came to Windows Phone. Honestly one of the few things that frustated me when I got my first WP7 was a lot of the social networking and messaging apps were not on WP. Now there is KIK. There is also a Badoo App. There needs to be a Skout app. The Plenty of Fish app hasn't been updated in like 3 years.