Kill ads from your Windows-based DVR with MCEBuddy
If you'd rather not see ads in your Windows-stored DVR collection, there is a fairly easy way to get rid of them.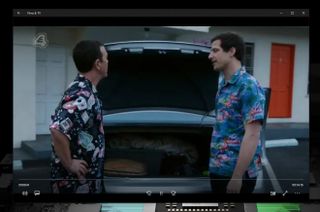 MCEBuddy is a rather nifty application for Windows PCs that can detect and remove ads from your recorded shows then convert them to a video file of your choice.
The latest versions going forward will be acquired via MCEBuddy's premium access program which costs $30, but there are older versions still available which at least let you try out the core package for free.
Setting up MCEBuddy
The one thing you want most of all from an app like this is that you can just set it up and leave it to get on with things in the background. Thankfully, MCEBuddy fits that bill, and most of the time you don't need to look at or interact with it in any way.
Looking at it in its most simple terms, you tell it where to look for videos, where you want it to export the new video files and your preference of ad removal tool between Comskip and ShowAnalyzer.
And that's it. You can add files manually if you want to, but you really don't need to. You can create multiple profiles that you want it to act on, too, for example monitoring a series of different folders on your PC.
You hit start, leave it running in the background and every time a new video appears in the monitored location MCEBuddy will run it through the converter. As with anything that involves rendering video, it's resource intensive, so maybe don't indulge in a gaming session or anything if you know it's doing something.
On my Core i7 6700 MCEBuddy was using up to 30% of the CPU with multiple conversions happening at once. Your PC is still perfectly usable, but obviously, with less powerful hardware you'll probably suffer more.
Does it work?
I'm going to call this as "mileage may vary." On one hand, yes, MCEBuddy absolutely works and works well. But for me, it hasn't worked everytime. That might be down to location (U.S. may work better than the UK), which ad-detection tool I was using at the time or perhaps even the DVR I was using. I've tested across Plex, Emby and Channels (an Apple TV product) and had mixed results across the board.
Generally, ads within TV shows were removed more often than they weren't. It's not a 100% success rate but it very much did what it said it would do. In my experience, ads at the beginning and end of a show are where it falls apart. I have my DVR set to record a minute either side of the scheduled airing and if there's ever a problem, it's that ads in this period aren't removed. I'm not sure why, but that's how it is.
It does also work seamlessly in the background. There are many more options available that the ones I mentioned above to tweak your settings to meet your demands, but the app just works out of the way and gets its thing done. You can also set it to just detect ads and create a chapter folder, rather than attempt to remove them entirely.
I've also found Comskip generally produces better results than ShowAnalyzer.
Building it into a home DVR system
The thing to overcome in terms of your DVR system and any attached media server is that you're creating a new, (hopefully) ad-free video file. This probably means you can't just watch it back using the program you recorded it with unless you're using something like Plex or Emby.
Whatever you're going to watch these videos with just needs to be pointed at the output folder for your MCEBuddy videos. So in the case of a media server like Plex or Emby, you just need to add this folder to your server to pull in your new, ad-free shows.
Also, take into account that if you're pulling files from and then sending back to a NAS the whole process will likely take a bit longer.
The bottom line
MCEBuddy does a mostly great job at pulling ads out of recorded TV shows. It's not perfect, but it's one of the best solutions you'll find and once it's set up to your liking you'll barely have to touch it again.
There are plenty of more advanced settings to tinker with and things to do, but on a basic level, it's a very good way to remove ads from recorded shows so you don't have to skip through them. For me, that's well worth a one-off spend of $30.
It's worth trying out the older, free versions first at least though before dropping the cash. These are no longer supported but offer an easy way to check it out before parting with any cash. If you're happy, throw the developers the money, it's a tool you'll get a lot of use out of.
And if you're interested in learning more then check out the MCEBuddy forums where you'll find all kinds of useful tips and some more advanced projects some of its users have undertaken.
Richard Devine is an Editor at Windows Central. A former Project Manager and long-term tech addict, he joined Mobile Nations in 2011 and has been found on Android Central and iMore as well as Windows Central. Currently you'll find him covering all manner of PC hardware and gaming, and you can follow him on Twitter and Instagram.
I use MCEBuddy all the time. Once you get it working, it works perfectly, however it takes a while to get the settings just right for your needs. The free version is garbage compared with the paid version. It usually cuts the ads wrong. I use the paid version and the ad detection works much better and is almost always accurate.

Mandatory "donation" with no trial except an acient version which fails to remove ads as often as it removes show content. Pass.

I mean, sure, if you don't like paying developers to make software then don't. For someone who wants a product like this, such as myself, I'm happy to throw 30 bucks their way.

Yep an app that was designed for WIndows Media Center...

But still serves a good purpose with a plethora of other dvr/pvrs. I'm with you - detest the short-sightedness of MS in killing (or, rather, not upgrading) media centre, but we have to move on (likely to other platforms).

Re: aka AbstractKiller,
Certainly nothing lasts forever, but no, we don't have to move on, now, when Microsoft Windows Media Center still works. No need to panic and quit. Admittedly, I'm taking steps toward a backup solution that I will need someday. I'm also expanding my Windows Media Center (WMC) in my new home to add televisions and an over the air tuner to serve my whole house WMC system set up.
.
I've never tried MCEBuddy but maybe I'll give it a try. I just use the WMC "30 second fast forward and 10 second rewind" features to skip through commercials.
Best Wishes

I've always preferred to keep the original broadcasts intact so that I can decide where the commercial breaks are. I still use Comskip to get a baseline, but I use the Comskip output as a simple cut list rather than remuxing or re-encoding the video file itself. From there, I just load the video in MediaPortal and it immediately recognizes the cut list so I can skip as needed. There used to be an awesome tool that allowed you to visually inspect a video and assign (or edit) cut lists. I cannot recall the name of that tool (DVRMSToolbox?), but it was very helpful and I wish there were something around today just like it. Also, last I checked ShowAnalyzer was defunct software. Comskip is definitely current and maintained so stick with that.
Windows Central Newsletter
Thank you for signing up to Windows Central. You will receive a verification email shortly.
There was a problem. Please refresh the page and try again.