More than a decade later, King of Dragon Pass is now on Windows Phone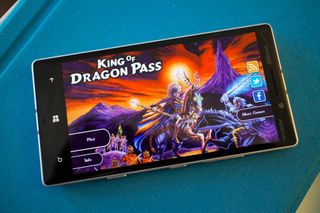 King of Dragon Pass (a-sharp.com/kodp) is now on Windows Phone. Originally a computer game published in 1999, it was updated for iOS in 2011, and then ported to Android just a month ago. Now, Windows Phone gamers can start playing it too. If you prefer graphically intensive games, this might not be for you. King of Dragon Pass focuses more on the story. As a clan leader, you have to make decisions based on various needs of survival and prospering, as well as manage the problems presented by your surrounding or clan members.
The official trailer gives you a good idea of what to expect in this game. Go watch it before you decide to buy the game for $11.99. Nope, that's not a typo.
Features:
One of the Top 100 best mobile games of all time according to Metacritic
Epic saga of conflict, mythology and community
Immensely replayable
Hand-painted artwork
Interactive story with an ultimate level of complexity
King of Dragon Pass is like a multiple-choice test. A situation is presented to you, and you choose what to do next depending on the choices available. The first full year in the game is a tutorial. They tell you which menus to go to, how many cows to sacrifice, and even what decisions to make. After you become a little familiar with the tutorial, you can choose to keep playing with the consequences of the previous decisions, or start a new game.
The left side of the screen is the main menu. Navigate through different aspects of the clan that needs actions like farming, magic, relations, trade, and war. The Clan menu shows the overall mood of your clan and the population.
A good leader usually has advisors. In this game, there is a group of people called the Clan Ring, which offer good advice. Keep in mind that they might have their own agendas and may provide advice that serves themselves instead of the clan. When there's an interactive scene that requires action, tapping on an advisor highlights the decision they prefer. You are able to swap counsel members if you are not satisfied with the results coming from their advice.
King of Dragon Pass is a unique mix of RPG and strategy: everything in the game is about choice and control. It is not the type of game I usually play, but I'm intrigued. I like that decisions I've made in the past can haunt me later on in the game. It's not the most visually appealing game available, but the story will keep you hooked. Are you always eager to go to war or are you more interested in being more diplomatic? You decide what happens in this game.
King of Dragon Pass is available at the Windows Phone Store for $11.99. There's also a free trial, so you can test it out before buying the whole game. Is it worth checking out? We think so. Let us know what you think in the comments!
Get the Windows Central Newsletter
All the latest news, reviews, and guides for Windows and Xbox diehards.