Latest NVIDIA driver update brings ray tracing to GeForce GTX cards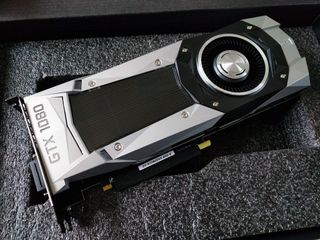 NVIDIA announced last month that it was bringing ray tracing to GeForce GTX cards, and the manufacturer is now rolling out the feature in the latest Game Ready driver. The Pascal-based GeForce GTX 1060 6GB and above can now run ray tracing instructions on traditional shader cores, and while the performance isn't going to be on par with RTX cores — which have dedicated RT cores — it unlocks new functionality for NVIDIA's last-gen cards.
As a refresher, here's the full list of GPUs that are picking up ray tracing today:
GTX 1060 6GB
GTX 1070
GTX 1070 Ti
GTX 1080
GTX 1080 Ti
Titan X
Titan XP
GTX 1660
GTX 1660 Ti
Not sure what the deal is with DXR? NVIDIA's explainer goes into the basics on how ray tracing is currently being implemented:
NVIDIA also shared a few benchmarks to give those running GTX GPUs an estimate of the kind of performance they will get. Metro Exodus on an RTX 2080 Ti at 1440p with DLSS enabled gives 65.7fps, whereas on a GTX 1080 Ti you get just 16.4fps. It's a similar story with the rest of the benchmarks:
In addition to the drivers, NVIDIA is rolling out a trio of tech demos that showcase real-time ray tracing's potential:
Atomic Heart RTX tech demo – Atomic Heart tech demo is a beautifully detailed tech demo from Mundfish that features ray traced reflections and shadows, as well as NVIDIA DLSS technology.
Justice tech demo — Justice tech demo hails from China, and features ray traced reflections, shadows, and NVIDIA DLSS technology. It is the first time that real time ray tracing has been used for caustics.
Reflections tech demo — The Reflections tech demo was created by Epic Games in collaboration with ILMxLAB and NVIDIA. Reflections offers a sneak peek at gaming's cinematic future with a stunning, witty demo that showcases ray-traced reflections, ray-traced area light shadows, ray-traced ambient occlusion for characters and NVIDIA DLSS technology.
You'll be able to view the demos on NVIDIA's website (opens in new tab), and grab the latest Game Ready driver from the link below. If you're looking at a GPU upgrade, be sure to check out our best graphics card picks.
What will performance of ray tracing be like on last gen cards.. Hmm.

This is a pointless addition to these cards.

Nope, there is a point to this. So people can see what Ray tracing will be like and so make them want to upgrade to an RTX card. This is a sampler, it is clearly not meant to be a practical gaming solution.

at least, the owner of GTX 1080 can run ray tracing effect on 1080p at High and still get respectable FPS (maybe 30 to 40fps) considering the benchmark is on 1440p with Ultra settings.

Well, your non-RTX cards don't "RUN RAY-TRACING" as the article says as much as they "painfullly crawl through broken-glass" Ray-Tracing.
Which, after all, is the point from Nvidia, to show how much of a leap forward the RTX cards actually are.
Windows Central Newsletter
Get the best of Windows Central in in your inbox, every day!
Thank you for signing up to Windows Central. You will receive a verification email shortly.
There was a problem. Please refresh the page and try again.