Leaked Windows Phone 8.x dev build screenshots reveal notification center and more
The first screenshots of what looks to be the next major build of Windows Phone 8.x have been revealed. We show you what's new.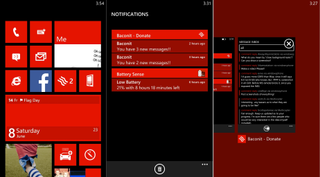 A reddit thread posted just over 8 hours ago tells the story of a user who has purchased a Nokia Lumia 920 from eBay only to discover they are in possession of a device that seems to have once belonged to a Microsoft engineer.
Said user has posted several screenshots from the device which appear to show off a brand new calendar design, the ability to organise apps by frequency of use, and perhaps most interestingly: a notification center.
Whilst we can't be 100% certain of this information, the quantity of screenshots that have been provided, as well as the presence of what appear to be internal apps still in development definitely lends some credibility to this rumour, in fact we're going to go ahead and give this a 7 on the rum-o-meter. Check below for a few of the screenshots and a list of the revealed features so far, or head over to flickr to see the originals yourself.
New Features and changes
Notification center
Ability to close apps from the multitasking window
Sort apps by most used
New calendar interface with a week view
Data sense available
Initial analysis suggests that this is all very early stages, and the keen eyed amongst you will notice that the notification center appears to be launched via a separate tile. Whilst what is shown here is certainly not the final production ready OS, we can expect that features to be very different and possibly integrated in completely new ways if they ever make the finished product.
This story is developing so keep checking back to see if any new information comes to light. What do you make of this information? Are you excited by notifications and more granular app control? Discuss in the comments below!
Update 9:30am ET: We'have had some more information come forward to us via a trusted source. They confirm that these shots were from an "earlier" build of the next-version of the OS, but that subsequent releases since have had the Notification center removed. In addition, before it disappeared, its look became more inline with the People Hub design. What does that mean in the long run? Just that Microsoft is experimenting with different feature sets and some may or may not make it to the final build. So take these screenshots as being accurate, but only as a snapshot within the development process.
Get the Windows Central Newsletter
All the latest news, reviews, and guides for Windows and Xbox diehards.