The best way to discover Facebook events with Windows Phone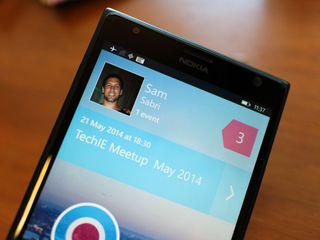 Depending on your circle of friends, Facebook might be the primary way for getting events organized and planned. Leave your feelings about Facebook at the door, it's a great platform for getting an event up and running with a group of friends. The official Facebook app for Windows Phone is certainly serviceable in handling events, but what if there was something better? An app that just focused on a killer experience for events on Facebook? There most definitely is. LocalEvents for Facebook is a brand new app that deserves your download.
LocalEvents for Facebook brings Facebook events to your Windows Phone in a gorgeous, beautiful and fast app. The app is beyond useful for discovering events, exploring where your friends are going and can be used to manage what events you're going to.
Here are the main features of LocalEvents for Facebook:
Discover Facebook events: concerts, parties, conferences, sports events and tons of other good reasons to be with friends. Thousands of new cool events added each week.
Explore, where your friends are going: specify where, when and with whom you want to go out or just look through the most popular venues.
Share and invite, invite and share: find the right company in a few clicks. All of your friends are already here, so just go on.
Keep your plans under control and don't miss out: receive invitations and reminders of upcoming events on time.
Beautiful Live tile? Check. Beautiful app design? Check. Good functionality? Check. LocalEvents for Facebook has it all and really is the best way to interact with Facebook events on Windows Phone.
LocalEvents for Facebook comes to us from the AppCampus program. We're big fans of the app and highly recommend it to anyone who uses events and Facebook. Clicking on an event gives you all the info you could possible want. You can get directions to an event, view what friends are going, how many people were invited, check out the message board and more.
This is a great app for version 1.0 and we can't wait to see it evolve. Anyone using Facebook events needs to download this.
Download LocalEvents for Facebook from the Windows Phone Store.
Sam's hot... how about a pic of those gun (arms) ???

Anyone else feel like Sam was selling this to Daniel more than anyone else? Lol

Just kidding dont ban me.... please or ill tell my mommy

I hope that you're a girl. :)

One day, after apocalypse!

Why ? It's pretty good on Xbox already, it's coming for the one and it's perfect on Windows PC... I don't want it on Windows Phone

I Just want to discover my news feed, without missing posts.

Try the browser, or wait until an update deal with this problem

Yes, I'm just waiting for 3 years now...

Joe said that there is an update on June

Yes, I know, but as far as i know he said nothing specific about fixing the news feed unfortunately.

Can someone please answer my question about changing your FB pic using the ME tile... Is it a bug that's preventing it from updating? It just updates the outlook photo and leaves the FB photo as is. Any help?
. Thanks!

That's no longer available in 8.1

Oh nooo.. Are you serious??? That sucks.. So the only way to change my profile pic is by using a laptop??
(I have no idea how you change it using the FB app... )

You also cant even change the cover pic or edit your profile from the facebook app..

In 8.1 you can now select the social network you want to show the photo of. Before, it took the latest photo you uploaded on any network which was annoying. Now you can manually choose... Which I love. You can't change your FB pic from here anymore though.

Best way to discover Facebook == use Twitter.

I'd really like to be able to edit things like the Description for events I am an admin of in Facebook using an app.

Your friends just don't want you to join

There's always one who thinks they're clever.

Great find. Downloading! By the way, the QR code worked, but the link seemed broken.

One problem, every time i open the app starts from the tutorial pages, need improve of loading time

It's a pretty rare problem, but we are working on it. Please, submit an error ticket thru the Help screen (within the app), if this bug will continue to appear.

Its ok, fixed after opening and closing the app several times, now loads almost instantly on the main menu,i have to say it's one of the best well done apps i stumbled upon in a while, I'm very happy with the effort you put on that app, people like you make windows phone platform shine,i hope you keep up the good work you got five stars from me mate

I'll have to try this. Im wanting to use my WP calendar like I use to with WP8, but the new calendar is showing multiple FB entries for the same event and after declining, wont go away. Use to be able to see all the invited people too and specifics in the calendar. now its all unplugged. Im bumming from all this. :(

Does it take a while to populate events? It linked my account, but isn't showing anything. When I search for events its only showing 3 in my city over the next few months (which is definitely wrong).

Yes, the app does not scan the whole Facebook to collect all possible events at once. It is almost impossible to do it so. The app is filling up with new events with every user, joining it, piece after piece. But it doing it pretty fast, even if a small number of people from your city will install it.

My own events are not showing either. Public events only?

No, if you're going on these private events. But it is possible, that your events are not fully fit to the current "event quality" policy, that applyed in the app (i.e. event has picture, description, address and so on). These restrictions helping us to keep our event base clean from poorly represented events and other garbage, but also may lead to the situation, when not all of your events will be available within the app. For now, we are collecting additional data and working on improvement. I think, the fix will be ready in a few weeks.

Right on, thanks for your replies. The specific types of events are private ones from groups im in, an example is: my soccer team creates events for each game with the location and whatnot, but rarely is there a photo. Its a nice, aesthetically pleasing app and really like the idea. I will continue using it and hopefully a future update makes it a bit more useable for me.

I mostly delete facebook events.

A lot of advertising in this article ... Someone knows the dev Haha

Nope. Don't know him. Just a free, high quality app that's new and deserves the publicity.

Doesn't work if no one has the app

Not true! When you joining the app, you get access to the whole app's event database (more than 100k events worldwide at the moment and growing fast) and to your Facebook friends' events and sharing options. Yes, your local events' coverage depends on how many users from your city joined to the app, but it is not only possible scenario to using it. If there only a few events in your local area, you still can get a profit from travelling with the app and finding exciting events in your trip :)

I CANT VIEW OR MAKE PHOTO COMMENTS ON OFFICIAL FACEBOOK APP! OR EDIT MY COMMENTS OR CHANGE COVER PHOTO
Windows Central Newsletter
Get the best of Windows Central in in your inbox, every day!
Thank you for signing up to Windows Central. You will receive a verification email shortly.
There was a problem. Please refresh the page and try again.