Lucky Lanes Bowling Review: Roll some spares and strikes on Windows 8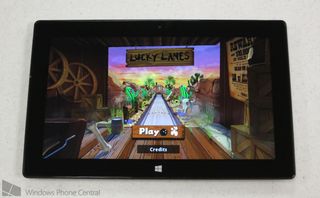 Windows 8 has a great free bowling game from Microsoft and Babaroga called Shuffle Party. Well, technically it's a shuffle board game that plays like bowling. That leaves plenty of room for a regular bowling game. Hence Babaroga has adapted their Windows 8 and RT game engine into a straight up bowling game called Lucky Lanes Bowling.
Actually, Lucky Lanes does mix in a little something that you wouldn't find in the average bowling alley: a Wild West theme called Death Valley. Yup, the default alley takes place in an 1880s-era western setting, complete with cow skulls, scorpions, and desert. The romantic setting doesn't affect the gameplay in any way, but a cowboy-style bowling alley is far more interesting than a sterile realistic one. Babaroga tells us they have more alleys planned for the future, too.
Knock them pins down, cowpoke
The first thing you'll do when starting a game is choose the number of players. Lucky Lanes supports up to five-person multiplayer via pass-and-play. Each person is automatically assigned a period-appropriate character which appears as a still image at the top corner of the screen. Players don't get to input their names, so everybody will need to remember which number they are when passing the device around between turns.
Whether you play by yourself or with friends, you're going to bowl a standard game of 10 frames. You get two attempts per frame. Knock down all of the pins in two tries and you'll get a spare, designated by a wooden half-X onscreen. Get a strike and a full wooden X pops up. As long as all ten pins get knocked over, an instant replay will commemorate the event from multiple angles.
Flick your way to victory
Lucky Lanes supports both touch and mouse controls. Before rolling the ball, you can adjust the ball's position left or right or rotate the angle of the lane. Do this by touching the appropriate arrows with your finger or mouse pointer.
When you're ready to let the ball go, flick it up with your finger or the pointer. If you're lucky, it'll go straight down the center and send the pins flying. Mess up and the ball will have a date with the gutter. Between the two input methods, touch is a little easier and more natural. But Shuffle Party and Lucky Lanes are perfectly playable with a mouse as well.
Slim pickings
Once the game ends, Lucky Lanes displays everyone's scores and gives the option of replaying with the same number of players or returning to the main menu. From the main menu, you can start another game or watch the credits. That's it.
Lucky Lanes would greatly benefit from a few more modes, options, and unlockables. I mean, Shuffle Party offers multiple game modes and lots of stuff to unlock. And the original Zune HD version of Lucky Lanes offered a lot more content than this one as well. The good news is that Babaroga does plan to add a bunch more stuff to this one via updates:
All of the lanes from the Zune HD game available via In-App Purchase (IAP)
Bowling ball packs via IAP
Teams and social challenges
Puzzles and more modes (similar to Shuffle Party)
I'd rather some of those lanes and bowling balls be included for free instead of IAP, but at least players will have the option to get more content. The extra modes and social features won't cost anything, at least.
Other features I'd like to see added:
User selectable variables like game length or number of pins.
Leaderboards
Selectable characters
Player name input for single- and multiplayer games
Slap on your bowling shoes, pilgrim
Unlike Shuffle Party, Lucky Lanes Bowling is not free, nor is it Xbox enabled. But it still sells for fairly cheap and doesn't have ads, which I consider a win. A Windows Phone 8 version will be released soon as well. As long as Babaroga updates the game with more content as promised, Lucky Lanes should become a must-have game for bowling fans.
Lucky Lanes Bowling – Windows 8 and RT – 85 MB - $1.49 – Store Link (opens in new tab)
Windows Central Newsletter
Get the best of Windows Central in your inbox, every day!
Paul Acevedo is the Games Editor at Windows Central. A lifelong gamer, he has written about videogames for over 15 years and reviewed over 350 games for our site. Follow him on Twitter @PaulRAcevedo. Don't hate. Appreciate!
Paul wat about crazy taxi :( when is sega going to release it in the wp store ?? :'(

I'm afraid SEGA dropped their mobile PR company and hasn't been too friendly with information lately. But they were never that forthcoming before that, either. We don't even know if SEGA will ever released Sonic 4 Episode II as promised. Would love to see them bring all of their iOS games to WP and Windows 8 though - maybe they'll have a change of heart someday,

We should fill an adress for sega about bringing all their iOS games to WP :)

I'm sad no one has mentioned that this was originally one of the only apps on Zune HD

But I do mention the Zune HD in the review.

this is off the topic, but am i the only one who feels that the background music was removed in the last Shuffle Party update for windows 8/RT?

Need this on WP8...Xbox Live version!

Hi, comment from the developer -
Once development can be done for free, we will make IAPs free. There are only so many nights Rama noodles are exciting..