Lumia Pusher gets pulled but NOKIA COLLECTION takes the baton to keep your apps up-to-date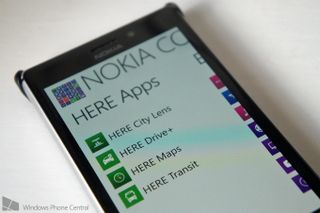 Nokia Windows Phone owners will have used Lumia Pusher in the past to see if the plethora of apps and system apps installed require updating. The app has unfortunately been pulled for some reason, but fear not as another developer has picked up the baton and launched NOKIA COLLECTION.
The new app shares similar functionality to Lumia Pusher in that you can hit multiple entries to be beamed to the store. It's a solid replacement.
NOKIA COLLECTION also integrates into the lockscreen, though we're still not entirely sure what it's meant to display, except for altering the background. We could well be looking at pushing notifications, displaying counters and more, which would make the purchase well worth it (all three options are available). While the app comes at a cost and there's not a whole lot to it, should you be looking for an easy way to stay on top of Lumia updates, this is the app for you.
As touched on above, the only issue is that it's not free and you have to fork out $0.99, which is slight cheeky since the app isn't exactly feature rich. You can download NOKIA COLLECTION from the Windows Phone Store for $0.99 (Windows Phone 8 only and you'll need a Nokia handset).
Anyone else think Nokia should just release their own Nokia Collection management app? We do.
Thanks to Anthony and Jonatan for the tips!
Windows Central Newsletter
Get the best of Windows Central in in your inbox, every day!
Rich Edmonds was formerly a Senior Editor of PC hardware at Windows Central, covering everything related to PC components and NAS. He's been involved in technology for more than a decade and knows a thing or two about the magic inside a PC chassis. You can follow him on Twitter at @RichEdmonds.
I knew it! I searched for it everywhere a few weeks back and couldn't find it, though i still have it installed. This makes much sense, and I assume this would soon have the same fate?

Probably got pulled because he made this one. And charged for it. It's not hard to open a new account , especially for $19 right now. This was also made by Microsoft's new web app tool. The lockscreen icon is the default one from App Studio.

Just enquiring. Was Lumia pusher a free app?

Here's the reason PUSHER was pulled: now the dev can replace it with this PAYED and NO-TRIAL version. Yeah...I won't fall for that. I'll keep the pusher.

Um, different devs. So if he's replacing his app with a paid one, he's doing a real bad job of it.

It wouldn't be the first time that happens.

Hi Dan,
I'm a big fan of Windows Phone 8 (especially Lumias), and I love Formspring (see formspring.me web page). Formspring has over 30 million active users from all over the world. And I'd like to see a Formspring app on Windows Phone platform since it's already on iOS.
Could you please make a review or write an article about that as it most certainly encourages the owners of Formspring and other companies and make them more aware of our platform.
Thanks for all the efforts you make during the development process of the Windows Phone platform.

Doesn't sound like a good buy, seems like it could be removed just like Lumia Pusher.

Another great free app bites the dust, only to be replaced with a paid for app. No thanks, I'll stay with Lumia pusher

What the world so we gotta pay a dollar to keep our Nokia more easily managed up to date....eh I'll wait

Or, you can wait a couple of hours for software to propagate through your region's servers, like... virtually everybody.

Some people (like me) have a bugged Store which doesn't show updates unless you download them manually.
So for those people, apps like these are very welcome!

I just check here they always tell me before my phone does

As far as I know the Windows Store tile was designed to inform me of updates. And it's free...

This.
Even though I'm never really sure if it works properly....

That's what I thought. I started to think that maybe I didn't really understand the true purpose of this app.

It supposively shows the update after 12 hours of it being out.

Exactly...why do we need an app? Use the store tile!

Nokia needs to release a tool like this..Not going to fall for it and pay for it..

Easy people, you can download NokiaUpdates (check in the market store) for free same than Lumia Pusher or Nokia app. Now deweloper add to this app Here colection and links to Cam Pro, Smart Cam, Video Trimmer, You Tube upload. For 1 or 2 days update app.

Thanks will check out NokiaUpdates

I would like give a link, but I can't - wpcentral cannot paste links. Sr

Ah, but not avavilable to all users - "App not compatible - App only supports the following resolutions; WVGA (480x800)"
I am refering to NokiaUpdates here

Wait one or two days, I sent email to deweloper, suppoert for other resolutions incoming.

too bad it doesn't support lumia 920 resolution =(

I paid for an app that not only notifies me of Nokia updates, but every other app in general too. Anyone interested in knowing when their apps need updates should consider buying the windows phone central app. This is my go-to app for all of my app updates!!!

How is this better than the store tile?

Who can give me a reason to pay for it?

Look for NokiaUpdates instead does the same but without having to pay for it.

It needs a WVGA screen so it won't work on Lumia 920

Based on that icon on the lockscreen, it looks like this was built in App Studio Beta in about 20 minutes max. That's not worth a buck.

As soon as I saw the lockscreen that was exactly what I was thinking.

I'm sorry for sounding ignorant, but what advantage does an app like this have over the store notification of an app update? Could someone shed some light on what exactly these apps do? I've never heard of them before this article.

These apps offer the ability to manually check for updates to system apps for Lumia phones. You can't search the store yourself to check on system apps such as Display + Touch and waiting for the store to notify you of an update may arrive days late or not at all in some peoples experience.

Seriously.. We need to pay to keep our apps up to date? Isn't it suppose to be free?

You don't need an app to keep the installed software up to date and really you don't even need one to find and install them!

Try this one. just like Lumia Pusher, even better, the only thing is Chinese, but easy to figure out......
http://www.windowsphone.com/en-us/store/app/BBE4B69B%B496%B0A3%809F%A5/6ccb0aa1-2101-4231-84a8-3e88ce2eaf60

Dude, this link SO helped me out! Did a hard reset after the amber update and wiped all the new features (glance, flip to silence, double tap, etc). Thank you!

We have wpcentral to give us info right. What is the point to having this app then?

go to windows phone store, go to nokia collections, here you can download and check for updates.
so someone took the nokia collection ssection of the store and said you guys should pay $0.99, hilarity ensues

No thanks. One app gets pulled, the other published.. If the developers are reading this, I still have Lumia Pusher on my 620 and I will keep using it for free.

Pssh! I'm NOT a cheapskate by any stretch of the imagination considering that I often pay for apps I don't even use just to support a developer (ie. ALL of the Instagram/Vine apps), but I'm NOT going to pay for "bookmarks". Thanks, but I'll just bookmark the pages for the Settings apps myself and call it a day... or just wait for WPCentral to publish an update notice and link from the app.

I'm with you on this one.

Its the only way to know and get any updates. MS wp store flaw, hard to if update exist or not.

Thanks, but Ill stick with my lumia pusher for now

Can't one just check them selves or wait for the marketplace update alert or faster yet wait for the WPcentral article?

Or you can use nokiaupdates http://www.windowsphone.com/en-us/store/app/nokiaupdates/4744ea7d-2792-4a42-b1cd-907a81c09842 which is free :)

Or you can make the same in App Studio for free :D

Mesage from the developer of Nokia Collection App
HI All,
Thank you WP Central for posting about my app. I have been reading the coments and i thank everyone for their opinion. I am not the developer of Lumia Pusher and i am in no way associated with the developer. I developed this app to fill a gap that is needed by many inclusing my self. It takes quite sometime for us in several parts of the world to receive updates. And having a container that houses all the links to the apps on the store is needed. I know that many have critisised that the app as a chepo app and made on App Stusio, indeed it is made on app studio and was made in a couple of hours. the purpose of the 0.99 cents is not to become a milionair and that was never my intention. The pricing is there for the mere fact of supporting me and my Blog The Lumia Blog in growing further. I am sure that many of the readers here would rather spend 0.99 on better apps and i agree with them fully. I would just like to tell you that i have already posted a version update for the app and it is under certification on the store. I will be also updating it further. I do appreciate if you could post sujjestions to make the app better.
Thank you and regards to all.

I recommend you change the name, caps is unpleasant.

Thank you lonbraj for the post. I agree with you and i have already amended the name. The app is updated and submitted to the store and should be online in a couple of days after its certified by Microsoft.
Thank you again for your sujjestion.

So if you have the app already will it still work?

here are some links to the QR codes....don't like to pay for something which is suppose to be free....

http://forums.wpcentral.com/nokia-lumia-822/210445-force-nokia-app-settings-updates-qr-code-links.html


It's just an application made with app studio, all is static... no alert, no notifications, nothing, just static links...

(App Studio is a new tool to create applications when you don't know how to code, and this is the case here)
http://apps.windowsstore.com/default.htm

The developer used FollowMyFeed for its previous app, now App Studio, so don't waste your money guys ;)

Too bad the Lumia Pusher was discontinued... I havent even got a chance to try it out. Ive always needed some kind of capability/app to enable me to check app updates... Unfortunately the Store app doesnt have that capability.
Maybe Nokia/MS needs to update the Store app to include the ability to check for app updates...

There is nokia updates and it's frew

I go by the name of herg62123. Ya'll may remember me as I am one of several developers that ported Touch 3D and 2D. I also created Herg-A-Fied Roms for a lot of older HTC devices.
I have created a version of this app called Nokia App Updates, very similiar to NOKIA COLLECTIONS, but mine is free without ADS.
It is in the certification stage but when it shows up I will post back.
Mine has every Nokia Link Current.
I also plan on creating a Samsung and HTC version of this app as well.

Just found "Nokia App Updates" by Herg-A-Fied. It has large buttons and easy to use. Best one so far.
Windows Central Newsletter
Thank you for signing up to Windows Central. You will receive a verification email shortly.
There was a problem. Please refresh the page and try again.