Lumia Touch update for Windows 10 Mobile fixes some sensitivity issues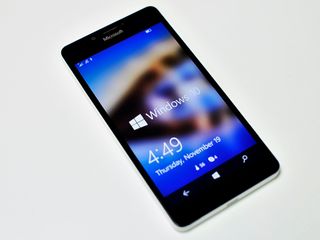 Lumia owners on Windows 10 Mobile can update the Touch app with a new version. This appears to be a minor update that apparently fixes some sensitivity issues in previous versions.
Officially the new verison number is 2.3.0.7. This update does not add the much requested "double tap to wake" features on the new Lumia smartphones from Microsoft (Lumia 950, Lumia 950 XL), but hopefully that will be included in a new version in the near future.
Thanks to everyone for the tips!
Download Lumia Touch for Windows Phone
Bringing one blue and magenta box on the bottom right corner. This is the changelog people!

iOS had those blue and magenta boxes ages ago, Microsoft needs to assign loads more staff to make sure that Windows Mobile is getting these amazing features such as the blue and magenta boxes at the same time as other OS's

Amazing! Let's hope they bring a green box soon!

The blue box was already there, only the magenta one is new.

Haha yes! Came here to say that. Will have a palette of pixels to match the Start colours soon.

Dunno. Maybe it's a Build Your Own Microsoft logo. You can add the one from the corner of the 950XL boot screen too.

What do the blue and magneta box signify?

They are code errors. This people are making some fun:).

Double tap to wake already works...
Edit: or do you mean just the 950 and 950xl?

Offtopic. Is it me or at this moment Glance doesn't work on 950/XL too?

It's you. Glance works on my 950XL.

Glance works just fine on my 950 :)

Glance is working fine on my 950 XL

Glance works fine but it would be good if they would bring back glance background pictures.

I have background on my Glance. Choice of B&W or color. 950 XL

Glance works, but it's nerfed. No backrounds or anything special. Just shows date, time, and notifications.

Thanks. It started to work after 3rd-4th restart. I don't know why. Also I have background feature? but still on 10.0.10586.​0 build :(

Backgrounds work on Galnce exactly as they did before. You can't use the Glance Background app but that never made it out of beta and was never actually supported on Windows 10 Mobile anyway.

I was not worried at all about double tap coming to my 950XL, especially with it mentioned before on wcentral that it's just a driver thing, but the time and sudden eerie silence about it from anyone is starting to worry me!!

does gestures beta work on the 950 or 950 xl?

Just searched and installed it.... opened it, said it doesn't work on this version of Windows Phone

Not working and not listed in specifications for 550, 950 and 950 XL :(

I have Double Tap to Wake on my Win 10 Lumia 930. Posted via the Windows Central App for Android

That's not a new model of the Lumia line...

How do you have Doube Tap to wake on a 930??? Its the same phone as my Icon and I do not have it.

Ehh icon doesn't have double tap to wake where as 930 does? That's interesting

Works on my unlocked 930. Didn't Know the Icon was at all different

Got into Settings > Extras > Touch > flick the switch under Gestures - 'Wake up the phone when I double tap the screen'

I do not have Gestures at all... Just 2 options, better response with gloves and vibrate when i touch nav keys. :/ Am I missing something?

Same here with the icon. I've read somewhere that it's for to do with the carriers blocking certain features. I think the icon was exclusive to Verizon? Let me know if I'm wrong

The Icon is exclusive to Verizon. Not sure how the feature is locked when I have Windows 10 .29 on it via insider program.

Yeah, i really don't get that either. They always say the the icon and lumia 930 are identical in all but name, but if the hardware really indeed is identical, why don't we get double tap to wake??!

from what i recall verizon blocked double tap to wake on the icon over battery life concerns. glance screen on the icon was blocked by a hardware oversight.

Is there a way to un-block that? I don't get that they wouldn't just leave the decision up to the customers, and let us turn on or off the double tap to wake based on our preferance. Especially that the l930 has it. Doesn't make any sense

not a oversight, a budgeting decision, remember... nokia wa sgoing under when they made the 930, they needed to save money where possible, and a 1080p AMOLED screen isnt cheap, so they opted to just not put the display memory on it, which is what glance relies on.

Doesn't work on Icon. Never has.

my lumia 930 has double tap 2 always worked with insider winodws 10 builds. I have no idea why the icon wouldnt have it. I would say its a carrier thing but im guessing not as your probably a insider using windows 10 on the icon.

Would be nice if they fixed the touch issues with the 1520... Its only been over 2 years.

It can't, it's a hardware issue with the screen itself.

That issue is a hardware one, not software.

Everyone keeps saying that, but it is amazing that the issue goes away when I install the insider preview on both the units I own. And if it is a hardware issue, there should have been a recall issued long ago, or at least a turn in offer.

Mine still has issues with preview. It gets really on my nerves sometimes!

I htink the issue is that it will drain your battery life as the other lumias were set up with a way to drain little battery while in that mode. Yes, software will fix it so it works, but the battery drain is probably preventing the funcitonality from being delievered to those devices since it might negatively affect the battery life to a point that MS deemed unnacceptable. They should probably just create the option and default it to "off" for specific devices and also make an option to allow it when charging.

its the placebo effect/conicidence, it is a hardware issue, more specifically, its caused by the device flexing, when the device flexes it can mis-align the digitizer and screen, creating the touch issues. whats happening for you is either you are not noticing the issue for a bit because you think its fixed with an update, or coincidentally, it's settled back to the position it should be in to work properly. It's not a software issue. If it was, it seriously would have been fixed ages ago.

I have kept both 1520's in Folio Cases (very unsexy for such a sexy device) since Oct 2013. Neither have had that issue.
I also take care NOT to ever sit on them. :) I'm completely happy with the 950XL. Really great device. But double-tap to wake is a nice feature that I am learning to live without.

Well Daniel Rubino, surprisingly if its a hardware issue, then my touch issues in lumia 1520 wouldn't have been solved. Yes you heard me, ghost touch issue solved.

... I don't think he heard you.

Well, i got lumia 1520 and after this touch update it git amazingly fixed.

I wish mine was :( Still pretty unusable. I bought it a couple months ago, used. Supposedly was just refurbed by MS - it was pristine. It's been in a folio case since new. Perfect for a month, then phantom touch started. Initially just a minor annoyance, turn off screen and back on. Now totally unusable. This fix didn't help. I assume there isn't a sensitivity settiing in Windows Phone 10? I can't find one, but it's kind of hard when the phone works on its onw...

My 535 now has double tap to wake... I'm not sure if it was already there, but I think not...

Well someone else fave this issue that due to your sweat the touch doesnt work ..well apart from my phone i havent seen this issue in any other :/

Haha srsly?? The new lumias have no wake up function ?? Good to know. Wont buy one now. Even the 520 has that function,but high end phones wont get that.. Why? - because rushed out too soon like the whole win10 mobile os >.> , which i totally understand why ms did that ,but anyway.... Those tiny things

Well, based on how I read it, the feature has now been added. So...

Nope, not added yet. No guarantee it will either. Although, I do think (hope) they will add it later.

Double tap to wake will be added later

It will be added once firmware update will come to 950..(probably)

Mine will not install for anything...

Mine either. I submitted feedback and hoping they fix. Motion Data will not update either on my Lumia 640--does your Lumia have SensorCore?

Same here. I get the error with Lumia help+tips, touch, rate your device, and motion data. I give it permission to install to internal memory and just get the message again.

Same issue I have with a fresh install of 10568.29 on my L1520. It's annoying, but being patient

Before this update when I pressed a tile near the right side of the start screen the device would swipe right to the App list 75% of the time, annoying. Not anymore, which is an improvement.

I had this issue but I think the recent OS insider update fixed it and not this touch update.

Had this issue with 10568.29. Hope this fixes it.

Had this update twice. First one had strange boxes at the bottom right and the second one too.... Strange

Fixed issues on my L640 with double tap to wake. Now it's much more responsive and consistent.

Wish this was updated before I ripped off my tempered glass screen protector is a furious rage.

Isn't it amazing how these little devices can have such a big impact on our state of mind?

Off topic but has anyone noticed the Little Blue Square and now the purple one too hum

The new, software only, 3D front facing camera

Is the latest build stable on 512 MB devices? I own Lumia 720. Not planning to buy new Lumia yet. I went back to 8.1 in October. So I wanted some information regarding latest build stability and battery improvements on 512 MB devices.

Running pretty good on my 520 a little loading but not much

So, are you guys ever going to give us that Windows 10 wallpaper? lol Or did I miss you giving it out in the other thread everyone asked for it in?

whats up with the color squares on the touch menu!?!?!

Close an app in task switcher is not pain, all app close with out extra swipe down 1520-640

Anyone else getting and error with this update? "needs to be installed on internal hard drive".

tap on the error itself, a pop up "should" come up saying it can override your settings and install it internally. tap OK.

Tried that and still won't update. Have a couple others with the same issue. Trying to avoid a hard reset

I had to move the application from SD storage to internal to get it to update on my 640. Settings->system->storage.

I owe you a beer, a BIG one: I've been trying to fix this problem for more than a week with no luck and this finally solved it. Thanks!

I can't wait for double tap on my 950 XL. I'm very used to it after having it on every other Windows phone I've used.

What's up with those blue and magenta boxes?

Does anyone know where can I find that blurry wallpaper?

Should be on an app somewhere.

I'm looking for it too. If anyone knows, pls share it with us, thanks :D

Have to see how much better it works. It was mostly in the keyboard, lagginess, maybe some of the ⬅ button too.

Don't have the screen sensitivity option anywhere in settings on my L95\XL. Is that normal? Had the option on my 930 for normal and high sensitivity (for use with gloves).

Yeah, I noticed that too, no other option other than vibrating keys.

The only thing Touch does on my 950XL is turn vibration on or off for the navigation buttons.

My theory regarding double tap is that the phones are too thin and they don't want people to start punching on them.

Fix the **** glance crash.. :(

Can't install keeps giving install error.

Lumia 640 LTE, W10M,
Frustrating error from the begining of when I installed W10M with touch and Lumia motion data apps.
​Every day I try to install those apps, but it gives me an error: "touch needs to be installed on your internal hard drive " C'mon, it's not even an error, and there's two options "OK" and "Cancel", but there's no point of pressing "OK" as it'll give me again the same "error". I tried removing SD card, but those apps didn't install anyway but this time showed no errors. Ridiculous. Any suggestions?

In some way you installed those apps in sd card...so move that apps in "this device" and you can update...

I can't belive it worked, thank you very much!

What she/he said... You moved all your apps to the SD, thats okay. Some apps just need to stay on the device's drive. Move it there and it will fix your issue. I had the same issue. They probably should explain it to users a little better.

Tried everything, except sidewalk

Ugh! I should've known..... I wonder what the problem is for 950 and 950 XL to have double tap to wake