Maestro email client for Windows Phone 8.1 is coming this Monday!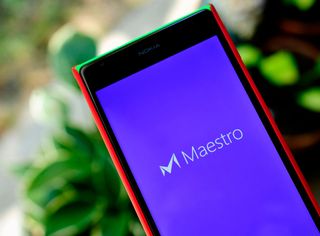 For a few months now, the team behind Rowi Twitter have been teasing us with their forthcoming email client dubbed 'Maestro'. Running with the slogan "A better mail experience for Windows Phone 8.1", the app looks to shake up the native client on Windows Phone with a new, aesthetically pleasing one. In addition, we can expect a few more email tools for the addicts out there.
Today, the team has announced that the Maestro app for Windows Phone 8.1 is finally launching this Monday at 10 AM PT (1 PM ET). The app is considered a 'preview, so do not expect every feature to be enabled, as this is more about the core experience. Over the coming months, the team will add planned features and work with the community to improve the experience.
Initially, the app supports Gmail and Outlook, including multiple accounts.
A few weeks ago, a demo of Maestro was teased on YouTube. If you missed it, you may want to peek at it again, as you won't be able to see more of the app until this Monday.
We are of course putting the app through its paces and when it goes live in the Store, you can bet we will be the first to tell you! Stay tuned…
If you have not yet signed up for their email list, you can do so at maestroapp.com!
Source: @getmaestro (Twitter)
Windows Central Newsletter
Get the best of Windows Central in in your inbox, every day!
Daniel Rubino is the Editor-in-chief of Windows Central, head reviewer, podcast co-host, and analyst. He has been covering Microsoft since 2007 when this site was called WMExperts (and later Windows Phone Central). His interests include Windows, laptops, next-gen computing, and for some reason, watches. Before all this tech stuff, he worked on a Ph.D. in linguistics, watched people sleep (for medical purposes!), and ran the projectors at movie theaters because it was fun.
Whats the email list for? Sounds like a neat app. Hate that the email writing and reading default theme is light and cannot be changed on the OS clients.

Get the Store link first, updates from the team, etc. Totally optional.

You can change the theme...open your inbox, tap the three dots in the corner, go to settings, and about halfway down you'll see "use light background for email". Uncheck that, and you have dark theme

No, you have a dark inbox with light reading/writing of email, like he said.

Yes. Inbox view with white background is pulled from OS theme background. Switch it there. But it would be nice if they made the background app specific.

You can't have the background black, because white is the universal background colour for web and email. When building styled email, everyone caters for a white background by default so they would look wrong on black. The most you could do is have a black header and app bar background, but the email content area would still have to have a white background.

Ahh sounds reasonable, thank you. At least now I wont get angry since I'll have an explanation when my eyes are being bombed by photons when reading mails at night. *first world problem*

I know what you mean. Having the keyboard, header and app bar dark would be nice. And text-only emailed could be white on black, though many textual emails still come through in HTML format and therefore would need to have a white background just in case.

Yeah that'd be nice to be able to set, although it does seem kind of hard to get that level of customization. Maybe a read mode like in IE and if you can't visualize a graphic or pic or frame or whatever from an email you can switch back to default-white background. Guess that's too much to ask atm haha. Anyway, thanks for the info, never thought of it that way.

I need an OWA app for WP.

You'll need to switch to iOS or Android if you want that.

No thanks. I'd rather have no phone at all.

Lobbie1978, Does the app OCOWA Pro- One Click Outlook Web Access from Circulardot.com not suit you?

Which features are you missing that you don't get by setting up an OWA account in the native client?

Why would you need this when pretty much any phone supports EAS?

I'm very interested in this App. Metromail is a very good alternative too, however feels a bit sluggish at times when it comes to fetching new mails. But I'm not sure there's anything you can do to speed up fetching mails as a third party. Anyway, the more the merrier!

It doesn't fit the Windows Phone UI, really. And I don't find anything missing from the native Windows Phone Mail app.

How about missing rich text formatting and the ability to edit forwarded messages?

For those content with the built-in mail app, Maestro isn't for you. It was the same for Rowi. There's a perfectly fine, free, official Twitter app there too. Maestro is for those who want/need more. Cleaner design, features that should be in the official mail app like attaching any files, productivity features, etc. We most definitely are not shooting for something to replace the built-in mail app for everyone. Not our goal.

Can you edit forwarded messages? That's a huge need for business users.

Yes. Though we're still working out the details of how exactly, but even the first preview will let you (though there are also some known bugs right now).

Yep, that's one of the reasons I stick with WP. Though others may feel differently, and it's always good to have options. Also, The drag-to-the-corners thing looks cool, but I'm not sure that it's actually better. I find tap-tap-tap much easier. But in any case, thanks for the heads-iup and coming on here to answer questiosn. I'm always more likely to try something when I see responsive communication from the developers.

You're welcome. Swift edit mode (what you refer to as corners) will continue to evolve as we and you use it, so if it's not that great to start, we'll change it so it's better. Also, multi-select will work too if you want to do things that way still. :)

I like Swift edit mode, pretty cool use of design language.
Edit: Re-read your post and there is multi select, awesome. Can't wait to use this app!

How about enabling custom alerts (via sounds) for specific senders? That would be most useful to me. Its the reason I've been eyeing a TouchDown for WP, since all my Android friends use it for alerting and sophisticated handling of messages.

That's a great idea. We'll consider it. We'll be opening up a UserVoice site on Monday too so you an make that suggestion and people can vote on it so we can gauge interest.

I hope in this app we could atach files when you are responding an email.

You absolutely can. Any file type too.

Yes (unless you referring to the big huge Nokia raw photos or whatever format they're in...those require a special SDK and don't have plans to support them as most email providers wouldn't even allow files that big anyway).

just share from onedrive? They will get a link?

That swift edit mode is pretty clever , it needs polishing though

Yup, that feature is most definitely going to evolve as we (and all of you) use it.

Looking forward to this as well

Looks interesting. Maybe the time has finally come to bring good gmail client to Windows Phone :)

Once they add exchange support, this will definitely be on my short list to buy.

v1 will not have Exchange support, but we know this is a huge one for lots of people and will be looking at doing this as one of the first things post-v1.

Yeah I'm an exchange user also. No good for me until that's supported

I too need EAS support for my Office 365 service... Consider this post a +1

Looks nice, but for those with an exchange account, windows phone's email client is already great. I think it's the best one out there.

About bloody time. They were supposed to ship it back in July. Then the first week of August. Then at the end of August. September comes and is almost over..and finally we get it. Well atleast its better approached than VLC. -_-

This looks pretty damn cool!

Finally! Was expecting the release for months.

Can we attach a file on a existing email? (with filepicker?)

Oh man, will be great! Take my money!

Only Microsoft leaves such obvious features out of their platform but I would bet this probably does.

No. It's not possible on iOS too.

Visually, the app is very reminsicent of Google's Material Design instead of Microsoft's Metro/Modern Design. I am not saying that it's necessarily a bad thing, but I personally would have preferred a Metro /Modern aesthetic. That being said, it's really all about how the app functions. Hopefully it will provide a quality alternative and maybe motivate the Windows Phone team to upgrade the default app.

I think you'll find it's a nice mix. It's definitely based on Modern, but we've taken some queues for other design philosophies and added some of our own. Functionality is definitely key.

Does it support IMAP and POP-accounts?

Just IMAP and the first release is only Outlook.com and Gmail (though generic IMAP in the future for sure).

Useless for me with no pop3S :-(

We will have a UserVoice site where you can suggest POP3 support. Other people can then voice their opinion on how important that is for them too. If we hear from enough people that it's important to them, we'll add support for it.

Are there really still email providers who only provide POP?

Until 6 months ago Hotmail/Outlook.com didn't. Now that it does, to the best of my knowledge all the major ones do. I'm sure there are lots of little ones that still don't.

Outlook.com had IMAP a few months after it launched. And it (and Hotmail) have supported ActiveSync forever. I was referring to providers who *only* provide POP and nothing else (not counting ISPs).

Will emails come in instantly like they currently do with outlook accounts? "as they arrive"?

Unfortunately, that is not possible in Windows Phone 8.1, though it is in Windows 8.1, so we're hoping the next release of Windows Phone will add the right APIs for us to be able to do that. Very high on our priority list, just not possible today.

Is there a difference between generic IMAP & "just IMAP" ? None the less, finally a mail app that is superior to metro mail. Even though I'll be on prepaid soon, having access to a good email app, whether I'm in a wifi environment or not is crucial. More Love for Windows Phone, especially more Free Love.

How do you know that it is superior to Metromail?

Metro Mail gave me nothing but problems, it's my best guess it will be superior to MetroMail.

IMAP is a fun one. It's really old, which is both a good thing and a bad thing. While all the common things work across all IMAP providers (that we've tested) they all also have little differences so supporting generic IMAP is on our list, but for v1 we're specially only supporting Outlook.com and Gmail.com. We'll expand this as we go. (if that's what you were asking)

There will be no IMAP support in the first version of Maestro ? I know most people do have Outlook or Gmail accounts. Those who have their own personal email accounts, IMAP is usually, it is for me, the way I like to have everything linked to check my email quickly when not at home.

Most probably paid. But I'm not sure

The preview releases will be free, but once we "ship for real" it will be a paid app.

Awesome app can't wait til it arrives.

I hope it can overcome (at least gradually) the shortcomings of the native mail client. I also hope that MS make the Mail app updatable like the Windows 8.1 app.

Out of the gate we've got things that the native email app doesn't. Biggest one probably being the simplest one, which is being able to attach any file type you want.

That's really good. I wish you all success for this app. Cant wait till Monday.

I paid for Rowi and they pulled the app. Why should I pay for Maestro?

You, of course, don't have to. Pulling Rowi was because of Twitter rules though not because we just didn't want to do it anymore.

Although I understand what Twitter did, I would appreciate more effort put in fought against those rules like Tweetium does now.

What is Tweetium doing? They haven't hit the token limit (and likely won't anytime soon).

They merely exist for me (I bought Tweetium too) and so far that does the job, but if you care we can discuss somewhere less off topic.

Right, but if they continue to be popular, they won't in the future as well. Sure, I think I'm already emailing with you, yes?

This looks like a decent mail app. Can't wait to try it. But the first big issue I see is that the only options to start will be google and outlook. I have my gmail set up as an exchange so I can get push notifications. Hopefully that option will come fairly quickly.

We're looking at Exchange support as the first thing we do after v1 is released. We understand it's a big one.

Awesome:) can't wait to try it.

Try 1mail. Its definitely better than metromail

Haven't tried MetroMail, but 1Mail is awesome. Great UI...just needs to add Exchange Support. They say it should be coming soon.

Hope it allows attaching files to email replies. It is the most embarrassing weakness in WP. How tough can it be for Microsoft to add that to one of these GDRs?!

Sorry didn't read earlier comments.

:) No worries, but yes, even in the first preview you'll be able to attach any file to any email. As it should be. ;)

MS will see a significant drop in thw OS' mail app after this.

Yaaaay. Can't wait to try it out :D

Hopefully they are quick to add the ability to have "other" email addresses. I've got too many business emails that need tending to. Looks like a great app otherwise!

What do you mean by "other"? Support for more email providers or being able to reply via aliases?

Support for other email providers. Like an IMAP account other then Yahoo, Google, etc..

Absolutely. We just kept it narrow for the first release so we could make sure we ship something great. We plan to add generic support for IMAP and Exchange support after v1 is released.

Yeah looks pretty BUT how is the performance, no way it comes close to the native mail app...

You'll have to wait and see, but it's not far off for sure. The native app is built using something completely different (closer to the metal) than what 3rd party apps are built on. That said, perf is looking pretty good. In some areas, because of how we're handling syncing mail, we're much much faster (for inbox syncing) depending on your inbox size. The initial load of the app (first time only, every time after that is fast) is definitely slower, but still fast. We know perf is a feature and are always working on that.

@HumanCompiler thank you for you support! And for these features, if you need any help with translation, I can help you :) ( Brazil - Portuguese )

You're welcome and thank you very much. We will definitely be translating to other languages after v1 is released, so thank you for the offer.

Nice. Let's keep in touch, just followed you on Twitter.

I can help translating too. (Spanish - Latin America)

I've been wating for this app for a while, but can someone tell me any news about POKI 2? should not be available at this time??

Looks interesting. Will keep a watch full eye on this now. Speed will be of essence when using the app.

Will download since I think original is boring

Ditto that & missing a few features like saving sent email to a specific folder.

Who the heck needs email app? The mail app on windows Phone may not have features but is the best out there in terms of usability and reliability compared to Android and IOS mail apps

"For those content with the built-in mail app, Maestro isn't for you. It was the same for Rowi. There's a perfectly fine, free, official Twitter app there too. Maestro is for those who want/need more. Cleaner design, features that should be in the official mail app like attaching any files, productivity features, etc. We most definitely are not shooting for something to replace the built-in mail app for everyone. Not our goal." Best regards, the developer LOL

Yahooligans are waiting...

Noted! We'll have a UserVoice site up on Monday for you all to vote on stuff like support for Yahoo. :)

But Yahoo! ISN'T waiting for Windows Phone.

Gonna get that. No hard feelings

I wonder if they'll support exchange?

v1 will not support Exchange, but it's one of the first things on our list after v1 ships.

How does this app address WP's built in limitation for the number of email accounts that can be setup as push-notification?
Will you be able to recive email from all your email boxes in realtime or will some be realtime and some not? Thanks!

Unfortunately, there will be no real-time notifications at all until Windows Phone supplies APIs for us to do that. The APIs are already in Windows, so we're hopeful the next release of Windows Phone will have them so we can do this. There are no limits on email accounts you can setup (that is, until your phone runs out of processing power and memory).

And Poki 2 is coming on Thursday! :)
2 awesome apps in the same week. :D

We need new Windows 8 mail client!!!!!!!
On phone is alright .... still I will definitely try Maestro ...

If Maestro is successful on Windows Phone we will be bringing it to Windows next. :)

"Coming this Monday". (and this time, I really mean it.) :)

Yes! For realz! We already have it published, but are fixing a couple bugs first and want to give the store time to have it available for everyone worldwide. There's no backing out on Monday! :)

I'm anticipating a great launch. Even the name of the app is impressive. But go ahead and get ready for ARM/X32/x64.

So this article is a preview of a preview! Of a not fully functional application. Think I'll give it a miss. I have 10 email accounts set up on my windows 8 phone native email app and it's a breeze to use. I have a mix of outlook.com, hotmail, gmail, yahoo.com, ymail small business and pop3 etc. Can the new app do all that?

Nope. As we've previously mentioned we're only supporting Outlook.com and Gmail.com in v1 and will be adding more providers after that. That said, we're not trying to replace the built-in mail app for everyone. Some people won't need Maestro. We're ok with that. :) Our target audience wants a nicer design, more features, especially based around produtivity. Also, this is the first preview. We'll continue adding to it quickly (unlike the built-in app) based on user feedback.

This preview of Maestro will be free. The final release will not be free, but we haven't announced pricing details yet.

If a user deletes an email from within Maestro, will it also delete from the Gmail server? With the stock mail app on Windows Phone, when I delete an email, it is still in my Gmail account when I access it via the web. Though it's highly likely I just need to tweak some settings for that to work. I'll definitely take a look at Maestro regardless on Monday. Posted via Windows Phone Central App

Maestro uses IMAP for Gmail so everything synchronizes between them. If you archive a mail, it will archive it on the server. Same for delete, read/unread, etc.

i prefer an app from cloudmagic for wp, i have one in my ipad and it works great for office 365 emails compared to the default one

I would like to see a side by side comparison to the major advantages and disadvantages between the native microsft email app and maestro. Currently I still use the native email app by microsoft and works fine for me.

That may continue to be the case, but we'll see. We're NOT targetting ALL mail users. We're specifically targeting those that would like a nicer design and more features, especially around productivity. I side by side comparison is an interesting idea though. This preview doesn't do a whole lot more than built-in mail, but it's just the first preview of many before we ship v1. We'll ship new releases a lot faster than what's built into Windows Phone too. ;)

In the demo I like the functionality that a mail can be dragged and dropped into a container to determine its next action. The functions demoed in the video are basic ones, ones that I would prefer to just be main actions in the app bar. compared to the native app, a drap and drop to predetermind "move to" email filecontainers would be a great value and be worth a highly needed functionality missing in the native app. It would increase productivity and organization on a smartphone immensely, in my honest opinion. Another option I'm missing is the option to link an email as a calender task item or appointment. This is currently (still) not possible in the native email client on windows 8 and phone 8. It's been a feature in the outlook program for the desktop for years. If this function would be part of maestro, it would be yet another reason for me to swtich apps.

I use currently metromail, will compare to it

Not work by me ( Lumia 925 )

I've had on my phone for 24 hours and a couple of reboots. LOVE the design, but the performance is too laggy to be useful as a workable email client right now. Also, can't get right swipe to delete or the corners to work. Running on Lumia 1020 with Cyan firmware and latest Developer's Preview updates installed. Definitely looking forward to more updates and eventually replacing out my native mail app with this, but it's not ready..

Word's out. It's garbage. Check the ratings!
Windows Central Newsletter
Thank you for signing up to Windows Central. You will receive a verification email shortly.
There was a problem. Please refresh the page and try again.