Magic Realms for Windows Phone suffers a game-breaking update [Updated]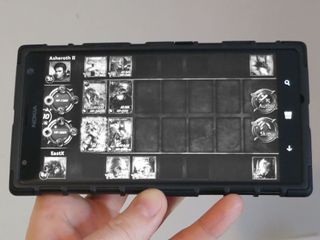 Last month, we reviewed a collectible card game called Magic Realms. The game impressed me with its lengthy single-player campaign, a massive arsenal of cards featuring beautiful fantasy artwork, asynchronous player-versus-player battles, and clan support. The actual in-game clan chat is awful (especially compared to Cloud Raiders), but our site's official clan (WPCentral) continues to thrive anyway.
Magic Realms just received a new update, which is normally good news for a game. But whereas the previous update made the game slightly worse by adding annoying loading times and graphical glitches, this new update literally kills the game. Current players will want to avoid it, and new players simply can't play the game. Find out more after the break.
Map gone awry
To be fair, the latest update (version 1.0.0.6) didn't break the entire game. Just most of it. Players can still participate in their daily PvP battles (and you'd better be knocking them out, clan members!) , engage in real-time chat, enchant cards, and the like – all the side stuff, basically. Magic Realms for Windows Phone suffers a game-breaking updateponents. The game offers a total of twelve maps (though hardly anyone will get past the tenth or so due to the late game's overwhelming difficulty), each with several battles and mazes for players to choose from.
Post-update, players just get a black screen when trying to access the map. You can't start any battles or change locations. The map is where you'd normally spend your accumulated energy, so everyone's energy is going to waste right now. The problem affects most or all Windows Phone users, as evidenced by our own forum thread and numerous reports on the Magic Realms Facebook page.
This game-breaking update is part of a worrying trend. After all, the last update mostly made the game worse instead of better. We've reached out to the Magic Realms team about those previous update issues as well as the current killer update. Hopefully they'll be able to restore the campaign to working order soon. We'll keep you updated!
Update 06/15/2014:
The Magic Realms Facebook page has now posted the following bulletin:
Update 06/17/2014:
The game works again! Looks like the problem was server side, as there's no need to download an update.
Magic Realms – Windows Phone 8 – 46 MB – Free – Store Link
Windows Central Newsletter
Get the best of Windows Central in your inbox, every day!
Paul Acevedo is the Games Editor at Windows Central. A lifelong gamer, he has written about videogames for over 15 years and reviewed over 350 games for our site. Follow him on Twitter @PaulRAcevedo. Don't hate. Appreciate!
Stay with Lies of Astaroth. No problem at all.

People still play Lies of Asteroth? 'o O"

Since it's the same game, why not. Fun fact is if you change your password on LoA, it changes the one of Magic Realm... Maybe I can't play RM for the same reason (infinite start loading) :/

Following MSs trend. Trololol.
*tear*

This game is an awful waste of time and money. Addictive? Yes. Worth spending money on? No. Competitive without spending money? No. Freemium crack at its finest.

I've never spent a dime and have a very competitive deck on there...

Is there any chance for the REAL Magic: The Gathering game for WP8? I'd really love that, and would certainly pay for it.


Idk, Wagic (The Homebrew) was made for the psp and it was awesome. That was also about 4-5 years ago. I'm sure someone could make it happen.

I used to play Wagic on my Nokia N900... Ahh, those were the days... :)

I'm looking forward to Blizzard's Hearthstone. Perhaps a version with characters from Diablo as well :)

Heard that. My mtg cards are just collecting dust.

Are you a first time user or playing with FB account? If not, you just lost all your experience with your uninstallation. :/

I Always use facebook. Since that's the standard in most games. But I don't care anyways.

Thanks paul, for the article. Its seems, only the WP users are having the problem i guess, coz the Blackberry users who got their update on June 12th didn't whine like us. :lol:

Same happened with minion rush.

But that didn't crash the game, only unlocked the dev mode for superpowers :/ I would be happy, if same thing happens in Magic Realms to acquire 5* cards. :lol:

Blackberry update is just fine Paul, but yes, our windows update is a killer one. XD I wish there were some magic cards to better the game. :P

Aww,too bad :( I really liked the video review you did of the game but had to delete it after I found out that it requires an internet connection,same goes with Angry Birds:Epic >_<

I see people complain about games requiring an internet connection quite a bit here. Do people use smartphones without a data plan?

Hmmm.. without a data connection, I think I would simply purchase a dumbphone to make calls on and a small wifi tablet for everything else.

That wouldn't solve his problem of being able to play games that require a Wi-Fi connection though.

A lot of building and subways block cell coverage, which means no data connection for some people at work or commuting. It happens :/

And also Cloud Raiders UJ xD

Tetris blitz also broke following its 30th edition update. On dev preview it wont connect

Turned off auto-update so I'm still good (: Btw when are you guys getting more space for clan members!!

We're like 4 days away from unlocking two new clan spots. I have one inactive player to kick though. So just request to join and let me know who you are in the forum. Then I'll get you in.

This update is terrible! I ended up trying to create a new account to see if it would let me into the maps...it didn't. To make things worse, I'm in an endless tutorial loop now and can't even get back to my main account. So this update truly did break the whole game for me. DON'T TRY CREATING A NEW ACCOUNT.

OR you could just play Lies of Asteroth.

Their Facebook page just announced compensation and acknowledgement of the bug

Thanks Slick! Updated the article.

i want brave frontier on wp so bad :( my friends are hogging me to death to install that game.

I know I can't play until they fix it, but who has an invite code?

I play the android version of the game (Elemental Kingdoms) and the update messed up the game pretty good for us too. I looked the Windows phone version and they are identical. Hopefully they patch it soon. I run one of the top clans on the Legacy server. I'd hate to stop playing because of crappy programming. As for the authors comments about the top levels being too difficult. You just need to learn to build good decks.

@Paul: Update is out for Magic Realms.. :D

New update costs 70MB, but the game is still the same apart from the Map bug fix.

Yeah, they fixed the bug server-side so I'm not sure what the new update actually does. I don't think it warrants a new story.