Major carriers partner to bring LTE to Chicago's subways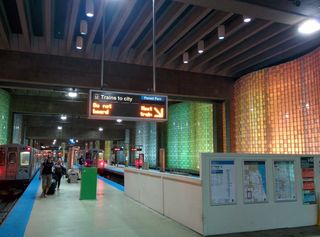 Chicago Mayor Rahm Emanuel has announced that the city has reached a deal with Verizon, AT&T, Sprint, and T-Mobile to bring 4G LTE from all four carriers to the Chicago Transit Authority's subway system. The network, which will replace the decade-old system currently in Chicago's subways, will provide continuous coverage for 22 miles.
Mayor Emanuel expressed his hope that this upgrade will help make Chicago a more competitive city in the official announcement:
The network upgrade began in early January, and is expected to be complete by the end of 2015.
Source: City of Chicago
Windows Central Newsletter
Get the best of Windows Central in your inbox, every day!
C'mon Boston!!! Boston needs this, we have the oldest subway in America and thus the first (i assume) plus its a total dead zone, we really need this. Funny thing is they were thinking about doing this a few years ago..idk what happened.....

ctOS will be there soon, don't worry

And I'll volunteer as the hacker.

Now I can sleep at night knowing people can post on facebook for the short time they are on the train.

For business riders this adds key productivity time to the day. I ride a Chicago subway for my work commute and it takes about 35 mins each way. Not having access to email during this time just adds about an hour of dead time to my already busy schedule.

They're signing the deal and getting it all done in a year without all the red tape and politics that NYC is going through, kudos to them. NY started a pilot program at select subway platforms and it's been stalling ever since.

London needs this, zero signal atm....

WiFi is getting better at least. Never understood why the platforms got that though and not the trains. I mean, how long is anyone on a Tube platform?

How about T-Mobile expanding its coverage, period. Works perfectly in metro areas but sucks in the country.

Yep. City population 10,000 or less, don't expect coverage

I live in Chicago! I'm sure this was done as a political move since his numbers aren't doing so well with less than a month before the election. Dammit though, this is good news...

I'm in Chicago to he only did this to help his campaign I hope he doesn't get elected mayor again

(Also in Chicago, and a Metra Electric and Blue Line rider) This network will be stable 50% of the time and eventually just fade to flat out not working at all anywhere in the subways in 2 or 3 years. Anything involving the CTA isn't maintained if there isn't a direct revenue stream.

Same for the red line. It's only 4G, but I remember when they first launched it, it was stable and consistent. Now there's gaps of service between stops, like Chicago and Clark/Division.

You spelled "mayor" wrong...

This is pretty cool for Chicago. Here in Philadelphia only AT&T works in the subways.

About time. I literally lost 10% of my battery searching for a signal on the red line this morning.

I just don't know how they can be without Facebook and YouTube while riding the subways /sarc

Can't say if ttc ever pushed the big 3 in Canada to do something like this

Cool. I'm surprised more cities haven't done this yet. I can get LTE on my 925 in certain stations in NYC and now in parts of Queens, which surprised me. Not long ago, there wasn't even service in Queens in the subway!

Ahh the days of the dropped signal as soon as the redline would hit the tunnel... Cool for those that ride cta.