Measure light with Lux-o-Meter for Windows Phone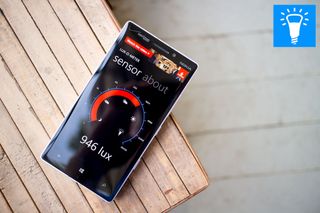 You can now use your Windows Phone device as a lux meter thanks to a new app that has just released called Lux-o-Meter. It measures brightness or illuminance using the built-in light sensor. The sensor is usually next to the front-facing camera on your device. Go ahead and check where it is on your phone.
Head past the break to watch our hands-on video and walkthrough with Lux-o-Meter.
Lux is the unit of measurement displayed by Lux-o-meter. It goes from 1 all the way up to 65,536. A lux meter can be useful in photography and videography as it can help make sure scenes filmed in different light levels have a consistent brightness on screen. It can also be used to check whether a room is bright enough to meet any rules designed to protect workers, for example.
Lux-o-meter is a free download from the Windows Phone Store. It displays ads on top that can be removed by upgrading to the Pro version. The upgrade costs $1.49. What would you use the Lux-o-meter for? Let us know in the comments!
Windows Central Newsletter
Get the best of Windows Central in your inbox, every day!
That sounds interesting, I am an interior designer and this is going to be a useful tool for my projects

Tried it, as I said great idea to use the light sensor but it is very inaccurate. On a flat surface between 3cm I get about 500-800 lux difference, maybe its the sensor of the phone. Uninstalled though due to the absurd requirements like phone dialer, media libraries etc.

Cool gonna trying out the same on my device ill let you now if my findings are similar. I am using a NL 925.

I hope it is not my phones sensor ;-)

it works fine for me, L620...

The required capabilities don't seem so absurd when you understand why they are there. http://forums.wpcentral.com/windows-phone-8-guides-how-tos/238805-why-so-many-capabilities-why-does-x-app-use-location-media-etc.html

Awesome thread...thanks hopmedic. :)

Thats a good start for skeptic people like me :-) I posted a couple of questions for you when you have the time to have a look. Thanks

* skeptic (sorry... Spelling nazi)

Very informative, thanks for the post; but I would advise the devs to then have 2 versions of the app in the marketplace, one add suported that Data mines the user, and one paid that only has access to the stuff it actually needs. It does not matter that only the add requires the access, it only means that the adds are data mining you not the actual app, not much of an improvement if you don't want to be data mined.

No, you're not being data mined. It only uses the very minimum to provide the ad. And if the ad isn't used, the ad network doesn't even get called.

Interesting. I wouldn't have imagined the light sensor would be sensitive enough for this.

Got it from the cool peeps at @nokiaconnects. Hmm, we should ask them for a few of these shirts to give away to WPCentral readers

Anyone knows an app to pin the cellular transparently?

Try Quick Settings from colourful studios..

I use Connectivity shortcuts, from the store.

Definitely for indoor photography.

8.1 only. Some of us haven't yet you know

Yea I was heartbroken to see it 8.1 only

Didn't start on Lumia 920 with 8.1 :(
And I think it needs too much permissions like the photo and music library :o

same here, won't run lumia920 with 8.1. reinstalled, rebooted. same thing

Did anyone caliberate it with an actual hardware lux meter?

Good question. Like to see this compared also.

Work for a company that makes display technology. Will check it against a calibrated meter Monday... If its accurate it could be useful.

Is there any reliable app for light meter for photography?

BTW, the app can go much higher than 65536. My record so far is ~180000 (with an LED flashlight right on top of the sensor).

I keep wondering why you're constantly promoting apps that want an endless number of permissions they don't actually need. All they could possibly want with these permissions is our data... Does anyone at wpcentral care for privacy?

You are tottaly right, firstly microsoft should be more strict about the apps that are allowed to be in app store, we need quality not quantity, also websites like wpcentral that are trusted by so many people should push developers to be more ethical about WP ecosystem by promoting only ethical developers. We didn't buy android for these reasons.

+1 WPCentral needs to stop promoting Data Mining apps. Expected better from you guys.

Doesn't work for Lumia 822 with 8.1

Works for me. 822 with 8.1

... I'm going to compare it with a real lux meter

Works on 820 Very useful is accurate and very responsive.

How did you test it ? My 820 gave me very widely different readings in a few cm distance the first reading from the rest in various locations, but always in the same angle towards the light source

Very useful! Light meter cost a lot and this one is free.

Well I managed to get 4294967 lux out of my side bed light...and I think I'm on planet Earth... :P

Would have loved to give this a try, but it says "Incompatible with your device". Lumia 1020 running 8.0. :(
Oh, and the permissions thing is kinda crazy. What does a lux meter need access to the music and photo library for??

+1 I stay as far away as possible from apps that want access to everything, i.e. data mining apps.

Works with Windows Phone 8.1

I would not trust this versus a true meter, but it is great to have as a photographer and optics reviewer CRAP! Nothing in the article said it was exclusive to Windows 8.1

I hope its more accurate than all the decibel sound meters. They are all wildly wrong when I compared against a sound meter. Unlike my friends iPhone app which was spot on.

An iteresting app; but it seems like a data mining App from all the crap it wants access to, so no thanks, until it's updated to use only stuff it actually needs. owner identity music library photos library media playback data services phone dialer movement and directional sensor web browser component internet connection videos library

LOL. Not available for 925 or in Russia.

can not even install it nNokia 820 black 8.0 GDDR 3