Meru Cabs: The largest radio cab service in India releases official app for Windows Phone 8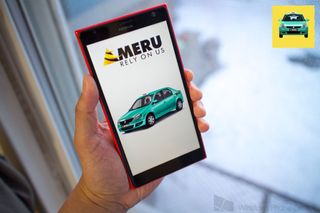 Meru, the largest radio cab service in India, has just released their official app on Windows Phone 8. The company operates around 7,000 cabs in six key cities of India: Mumbai, Delhi, Hyderabad, Bengaluru, Jaipur, and Ahmedabad.
Meru serves more than 1.8 million passengers, so it's great news that their official app is now available for Windows Phone users.
You can choose the pickup address through various options:
Based on GPS/GPRS location services, the app can identify your location.
Home/Office tabs can be saved
If any address from previous 5 bookings is close by, it can be selected through 'Nearby' tab.
Multiple addresses of frequently used locations can be added for quick bookings in future.
Manually enter pickup address
The drop-off location can be manually entered or selected with the Home, Office, Airport, or Favorites tab. When the cab is assigned, the app provides real time tracking on the map with estimated distance and time of arrival. After pickup, real-time route information is displayed on the map with estimated time of arrival to destination. At the end of the trip, you can rate the service and get an e-receipt.
The Meru Cabs application for Windows Phone 8 also provides the ability to check details of previous bookings and fare details in each city. You can also send feedback through the app.
Another useful feature is In Case of Emergency (ICE). Once the user saves the number of a family member or a friend, this feature can be used to trigger an emergency buzzer on family member's phones in case of emergency situations. They will also receive an SMS with location details of the user and see the location of user on the map.
Meru Cabs is a free download from the Windows Phone Store. Check it out if you're currently in one of the six cities being served. Were you waiting for this app to release? Let us know in the comments!
Windows Central Newsletter
Get the best of Windows Central in in your inbox, every day!
India knows what's up! Sterling support for WP, nice.

WP's the second most popular phone platform in India, don't forget that. Companies need to support WP or be left behind.

Ppl are leaving android here and chosing WP for its smoothness. Main competitor will be Samsung new galaxy device and the nexsus

Very usefull app... works fine

It would be nice if we could get Uber here in the US.

This is big! India is giving all the love to WP and you call her "emerging market"? I bet she has more developer efforts and user support going for WP than most premium markets.

Cool! official apps raining on WP just as predicted. Thanks

The app is awesome, really a big win for Windows phone as Meru Cabs is the biggest name in the Indian cabs bussiness.

This is awesome! I had to use the website to make the bookings, whereas my friends on iPhone and android had the app on their phone which made things convenient for them. This is big win for WP in India, indeed

Wow I was surprised to see this when I woke up this morning. Nice to see lotta official apps pouring in. :)

Hope Nokia X will not steal that momentum in India!

If it does then google will get affected adn I want that as they have been selfish towards microsoft

It wont, they're just trying to get you used to MSFT services like outlook and one drive till they have a competent app store and then you'll prefer to upgrade to a Lumia.

Was waiting the app to release. Good to see more official apps

LIC India app has been released too. Too bad you didn't cover that.

This app is just awesome. Waiting for a few more official titles to launch, like ngpay, Deccan Herald and hopefully Citi Mobile... Is it too much to ask???
Windows Central Newsletter
Thank you for signing up to Windows Central. You will receive a verification email shortly.
There was a problem. Please refresh the page and try again.