Metrotube for Windows Phone gains video page redesign in new update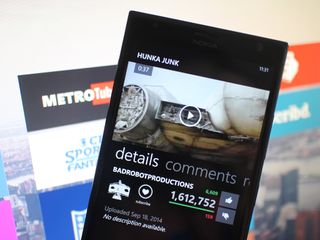 Popular third-party YouTube app Metrotube has just received an update on Windows Phone. Head into the Windows Phone Store and you'll find version 4.2.0.0 live and ready for you to download. Today's update is notable for a redesign of the video page redesign.
Here's the full list of changes in version 4.2 of Metrotube:
Video page redesign
Portrait gesture scrubbing
Grab Metrotube for $0.99 in the Store. A free trial is available if you wish to check it out before buying.
Thanks for the tip Koen G!
Windows Central Newsletter
Get the best of Windows Central in in your inbox, every day!
Is it worth buying? I only had free YouTube HD until now.

It is a super awesome app. The one dollar is well worth it.

Thanks for the support Deejohdumb and snakechia! The app actually has a free, unlimited, unrestricted trial and has been ad-free since 2010. You don't have to pay a cent really, we just have that option available for those who really love the app and want to show us their support. We are hugely appreciative of everyone who donates 99c or writes us a positive review as it's how we guage our success and is what keep us motivated to keep going!

If you're going to buy a YouTube client, you might wanna check out myTube, Tubecast, MetroTube and toib. So that your options are increased.

You just listed MetroTube. This article IS about MetroTube. That's like saying "If you like chocolate ice cream, you may also be interested in Vanilla, Chocolate, Strawberry and Banana."

The trial version is full featured

Is it? So the 1 buck I'd for rewarding them just?

I think all of them have free trial but not sure about Toib

That buck is just if you wanna help the developer.

As I thought, thanks mate :)

A shame you're hand-wringing over 99 cents.

Definitely worth it, I don't usually buy apps but this is good, I have been bugging them to add the feature that allows u to like comments

As soon we we're able to do this via YouTube API's we'll implement it. I believe it's currently a limitation imposed on us but we'll keep looking into it :)

Are you able to download a video on the app? Can this video be saved to the SD card to watch later?

We have plans to look into this after a rewrite for 8.1. Have a few more features to implement first. Cheers

Rewrite for 8.1 that sounds like its going to be awesome! :) But sd card saving is a must, I'm surprised you don't have that already

Yes it is. I have both metrotube as well as mytube, and i feel that metrotube does a better job of playing videos. The interface is clean. mytube takes a bit of time to play videos whereas metrotube plays the video almost instantly (It could also be my network connection).

Sorry to hear that, what's so funny about it :D? Always keen on feedback.

I was talking about YoutubeHD not Metrotube. Although I might add since you wanted a feedback, everytime I swipe "fast" on home screen where there are video thumbnails in Popular section for example, sometimes it registers as a tap and I end up going to one of the unwanted video description page. That frustrates me the most about Metrotube since day one
from Windows Phone 7 era.

And this happens to many apps, especially music streamers and news readers

I use both this and myTube, also tubecast! I like my diversity :p

Actually it's free everything in the trail will be available the dollar is to pay them

If you watch YouTube at all, yes its absolutely worth buying.

|mytube| is better than this you should buy that.

I like myTube the best. I have both the Beta and Retail versions and they're both great. The Beta for myTube has a nice redesign coming!

"toib" it's perfect and free, isnt it?

This is the best youtube app for WP. No doubt about it.

Hasn't been updated since launch. Still can't comment on individual comments in it. Not that great

Yes you can comment on individual comments.

It's very worth buying. It is simple and fast. Not to mention the ability to store videos offline. The trail version is the full thing, but the $1 can go a long way in helping them. ;)

Thank you so much for your support b0blight!

Mytube is the best and the fastest , try it and you will know what is the best

I have tried Metrotube, MyTube, and all other YouTube apps, but i kinda LOVE YouTube HD, I think it's the best according to me. :) MyTube and MetroTube are awesome apps too. I even pruchased myTube, but i watch always videos on YouTube HD :)

I personally think that myTube is better at this point however, myTube is being changed alot.

Yes it does, it was the first app I bought on my phone. It's well developed and supported and the design of the whole app makes it look professional. Wel worth every one of those 99 cents, try the demo and if you like it, support the developer :)

Metrotube for Windows 8 (PC) should be updated also with PLAYLIST functionality.

Hey Theo! The app actually has a free, unlimited, unrestricted trial and has been ad-free since 2010. You don't have to pay a cent really, we just have that option available for those who really love the app and want to show us their support. We are hugely appreciative of everyone who donates 99c or writes us a positive review as it's how we guage our success and is what keep us motivated to keep going!

Glad to hear that. I hear a lot of positive comments here for you. I will download this app, try it, and if I like I'll let a positive review and maybe give you 99c :)

Is there any app which allows downloading YouTube video on sdcard instead of app itself,

I'd like to know that too

waiting for Chris Rogers to update mytube.

This. Having used both, I prefer mytube. Can't wait for the universal version he's working for 8.1

I haven't been a big fan of the beta version's redesign but, myTube is phenomenal.

They need to bring dlna streaming to the app.....i switched over to Tubecast because of that very reason

Noted. Thanks for the feedback.

toib is really good. I'm surprised not many people mentions it. I felt it was a bit slower than Metrotube and while I preffer Metrotube, I admit toib is top notch.

MyTube is the most fluid YouTube app available for WP.

still my number 1 youtube app i like it more than i like mytube

Does it have threaded comments yet? Where I can see the replies and actually reply to any of them? Thats the only thing ATM missing where I need a native app or the web page (ugh...)

Possibly a limitation with the current YouTube API, we're looking into it!

Thank you very much! IMHO its the only thing keeping it from being perfect

windows phone has the best u tube apps. Google official u tube app is the same as the browser no difference.

No its not... Posted via the Windows Phone Central App for Android

YouTube app for Android is awesome. Fast, fluid and intuitive. MyTube and Metrotube come close to that but the android app is simply better.

Until I can see all the comments including the replies threaded like the native app and web, I cant name the WP apps better.

extreme music is gonna get updated soon. the respective developer has released private beta now.

Does this allow to play audio in the background like mytube does?

Yes as long as you allow it.

I Switched to tubecast if metrotube gets streaming I will go back because they are a iconic WP brand now.

I never even tryed another app, Metrotibe is just awesome

MetroTube was the best YouTube app on WP for a while. MyTube holds that title now. It's still a good app though.

We definitely dropped the ball a little as we began putting our focus into apps for our clients (3rd party YouTube apps don't exactly pay the bills unfortunately). Thankfully, we're now back in a position to show Metrotube some love and have a dedicated team focused on bringing it back to the top ranking app it was.

They need to bring feature parity with their Windows Store app. Otherwise I'm going with Hyper.

Won't happen over night, but we are working on it!

For downloading directly from YouTube using Internet explorer...after going to desired video page just type ss after m. In the address bar .......it will take you to another page....wait few seconds..... Then choose resolution.. that's it.....

I just switched from mytube to tubecast. So far tubecast is the best imo

I keep hearing tubecast is better. Why?

Welcome update from a very capable and well designed app.

I love this app. I like how I can listen to the music while my phone is locked. I've had this app for a few months.

Hopefully they update their app for Windows 8.1, that thing is buggy. I hate using it, but there are not T many that work on there.

Yes, the Windows 8.1 version needs an update really bad. Definitely on our to-do list!

Good youtube app, and great video from the picture,I like the snyder - abrams teasing.

MetroTube is ok, but doesn't continue background playback when I switch to another app.
Any recommendations?

Did you allow it to run in the background?

myTube is still my personal favourite

It'd be better if apps like NextGen supported more youtube apps - Readit supports Metrorube, mytube and toib.

I think MyTube is the best youtube app anywhere not just windows phone. Ppl I know from Android and ios love it, and wish they could get it. Especially the zipping though the video forward or backwards, so so quick.

I wish this app didn't always try to connect to the internet. I like to use it to watch offline videos I downloaded. But it always checks for a connection. I'd like the option to turn it off. Some of us are on a limited data plan and like to pick and choose what we want to use the data on.

Seems like it's been quite a while since last update (could be wrong, of course). I've never bothered trying others, though, because I purchased this long ago and it's kept working, so.....

We're trying to update more frequently this year and going forward. Is there anything in particular that you'd like to see in future updates?

Getting an error when trying to update on the 1520

If you're still having issues, feel free to flick an email to me at (info AT metrotubeapp DOT com) and we'll see if we can find a solution for you.

Update's not showing up for me.

All these apps are so much better than the official ones on ios and android. I don't want an official YouTube app from google. We'll all lose the ability to download and store videos locally if that were to happen.

I have mytube and metro tube but mytube wins as it has a watch now feature where as metro tube doesn't

This app is fantastic. This is my only youtube app in phone, tablet and desktop. Dev support is superb. Kudos to the lazyworms dev team.

It's awesome the best YouTube app for windows phone

Best You Tube app for Windows Phone IMO

I am using only metrotube. I have bought mytube but not using that after using metrotube. I wanted to know only one thing, can't they implement video download to SD Card?

We have plans to look into this at some stage. Currently our priorities lie with some other big features that are in the works at the moment.

Thanks for your reply. I think video download to SD card is among the most demanded feature list.

Make this app free for one day, in my app free deal....

App is shit compared to mytube. Dont waste your time

Metrotube is amazing, so is mytube. Choose whichever you think looks better. Great developer and we are very thankful for your support!

Best youtube app on win 8 and wp 8

App is broken. I get Oops! An error has occurred loading this video. Play wia website Cancel.
It was also broke in version prior current and is broke with the current one. All videos have this error massage

I dont seem to ne able to see replies to comment in MetroTube!
Anyone can confirm this.

YouTube Downloader lets you download videos and audio of youtube veds directly to SD card...i paid 2.49$ for it and it was worth it...

Check out "YouTube Downloader" for Windows Phone http://www.windowsphone.com/s?appid=67a3a21b-d520-4cb0-9ae8-c80539666ce0

Hi I can't sign in to Google with this app? After agreement screen there is loading screen for eternity, is it just me? Posted via the Windows Phone Central App for Android

Love Metrotube. I have myTube but don't use it much cause it drains battery considerably faster than metrotube.
Windows Central Newsletter
Thank you for signing up to Windows Central. You will receive a verification email shortly.
There was a problem. Please refresh the page and try again.