We get some hands-on time with the newly announced Micromax Canvas Win W092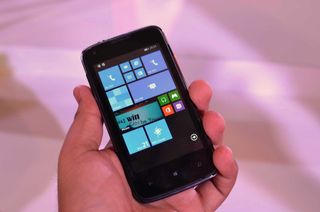 Micromax Canvas Win W092 is one of the two Windows Phone devices launched by the company this week, and is the cheapest Windows Phone device to be released in India. The Canvas Win W092 is priced at INR 6,500 ($110) and will be available in the market starting early July 2014.
The budget smartphone aims to compete with the Nokia Lumia 520, another popular affordable Lumia available in the region. I spent some time with the device at the launch event, and here are my first impressions of the phone.
Design
The W092 features a 4-inch IPS display. The build quality is decent and the body is all plastic, which is okay for a $100 phone, but looks cheap compared to its premium sibling, the Canvas Win W121. It's quite boxy, and thicker than all Lumia and Asha devices. Despite that, it's not very heavy, and fits very well in the hand. The phone's a fingerprint magnet though, both on the back panel as well as on the glossy display.
The bottom of the phone sports the regular Windows Phone buttons – back, home, and search. Unlike the Lumia 630, these are not virtual, soft buttons. The two spines sport one button each, the volume rocker and the power button, while a dedicated camera button is missing on this one as well.
Hardware
The Canvas Win W092 is powered by a quad-core Qualcomm Snapdragon 200 processor clocked at 1.2 GHz and packs in 1GB RAM. The specifications are identical to the Canvas Win W121, and quite great for a budget phone. The 1GB RAM is a great choice since some of the budget Lumias include only 512MB RAM, which keeps a lot of gaming enthusiasts or spec enthusiasts away. The 8GB internal storage with a memory card slot is decent too.
The phone includes 1500 mAh battery, which is less than the W121, but should be good enough for a 4-inch device. Of course, the dual SIM phone misses out on most sensors which is understandable for a budget device.
Camera
The phone packs in an 5MP rear camera with LED flash and a 0.3MP VGA front camera. Again, Micromax brings in a differentiated advantage against several budget Lumias which do not feature front camera or flash. The camera is the major difference between the two Canvas Win smartphones.
The few photos I took in the well-lit ballroom didn't turn out to be very good. I'll not dismiss it entirely, and would like to try it in different environments, specially outdoors, once I get a review unit. For a phone of this price, my expectations are low, and just an average snapper should be enough to impress me.
Software
The Canvas Win series is the only one other than the Lumia 630 which comes with Windows Phone 8.1 out of the box. The Windows Phone 8.1 operating system is nicely optimized for low-end devices. There's the usual signature experiences from Microsoft, but you'll obviously miss the huge catalog of Nokia apps and experiences.
Like for the W121, Micromax has chosen not to bundle any of their own apps or from their Indian partners. Although, this could change for the retail box since I've only checked out the demo devices as yet.
The Micromax Canvas Win W092 is a decent budget smartphone. While the design is average, Micromax doesn't cut corners on hardware and camera which would deliver a fine Windows Phone experience. I'm not sure if it hurt low-end Lumias, but it's definitely a tough competitor against sub-$100 Android smartphones.
What are your thoughts on this new Windows Phone?
It's good to see another phone out there. I think we really need this kind of phone to boost the volume of WP device

Not bad for a budget phone and you get 1GB of ram aswell!

Yeah.. And it's got the same specs as that of Moto E. Not bad..

These Micromax devices are much better value than the new low end Lumias for the RAM alone. And they're cheaper too. No brainer purchase.

Well, Nokia offers so much more on other areas.

well that's one thing, won't have +sms call filter,Glance support among other few tweaks that Nokia offer

Better to have support for all the OS's features and available apps than extras like glance, nice though they are.

Well you're completely wrong there. Everything and all that comes under the brand name "Nokia" have been shifted to "Microsoft mobile". It will have every app that a "NOKIA" phone has to offer.

Well when nokia devices came out the OS was not free !

But MS also gave Nokia a buttload of cash to help out with..........everything

Haha it seems micromax people read wpcentral comments n the need of 1gb ram devices... There low end fone has also got 1gb ram

Not impossible!
But again, most of their low end Android devices posses 1GB ram as well, for the similar price so i'd not be surprised ;)

+1 Haha..She prefers the 1520 and urges MRST to make a bigger one..

Indian users knew a lot about micromax hardware !!!! Budget model Micromax is always quite risky to go (andriod) because hardware will disappoint for sure.I would be happy if WP series does not disappoint like android models of micromax.

Windows never disappoints on performance

Yeah! Hardware is nothing as compared to the finnish giant's.. Its only looks premium in pictures.

That's what we all believe, but I doubt if WP experience can change the way we look at them. Remember, software does affect the hardware and durability depends on usability. In case of Android, it suffered working on low/mid hardware as it was much much more resource hungry than WP and often ended up in service centres due to hardware failure and sometimes software (now if your say your home key ain't working, that's different) But I'm really hoping for a different experience for these phones, only reviews can tell.
*fingers crossed*

Tough competitor indeed. I like the name. MicroMax = Microsoft to the Max. I wonder if they are planning on a flagship device. Interesting.

I hope they come up with one. We need more flagships!

I like the logo too. Like a grab of hand

It sucks. Micromax is known for making cheap phones. Its like buying a cheap china phone. I wonder why Microsoft gave this is to these companies. Hope they don't suceed and stop making phones like this. Let them stick with android. Its like making the platform cheap. Will you take a phone for 45000 which has the same interface as a 6500 phone. Nokia=Windows phone. Hoping for a day like that.

Its the only way to make windows phone famous!

I hope they succeed. Increased WP market share is good for the platform. The mobile world is not about manufacturers and OEMs, but more about the OS. What increases WP sales is good for it. Low cost hardware may be the need of the hour.

Watch out, an iStatus over there.

Nokia's fascist fanboys cannot dissolve the fact that the company has failed massively and want everyone else to fail just for their ego. Nokia = Windows Phone but Windows Phone =/= Nokia. Windows Phone is for all, unifrom experience accross devices.

you forgot nokia and microsoft are the only companies making quality hardware and software for WP ask the samesung users and the HTC (8x) users who got burned(check the forums for rants,even nokia has its share of rants but not as much as samsung and HTC),they all will agree nokia is the best in WP only samsung is a tad bit interested compared to HTC and gives decent hardware and a bit of apps here and there

Nokia is out of the phone business, mate.

Microsoft we need apps like axis bank app,flash transfer,ocr converter, and new games specifically. On 512 ram

So why blame Micromax for this? Micromax has just started and it is looking like it is going to put decent amount of promotion into WP, something that HTC and Samsung never did, something that is the primary reason for WP's low market share. Why wish someone to fail just because your darling brand could not bring in the numbers they expected? Sorry but this sounds sheer jealousy to me.

Okay Arunlobo, you're going to have to justify the word fascist. In what way are Nokia fanboys like Italian fascists, because I'd really like to think more of you than of a moron with a terminal case of verbal diarhia. Really, right now you look so stupid it beggars language. I'd also like to know what you mean by 'dissolve the fact', because as it stands that's grade 1 gibberish. As for Nokia having failed massively, they did so to the point that Microsoft paid $7,000,000,000 for a failed devices devision. I wish I could fail like that.


Seriously 1gb of ram on an entry device, they can run more apps than the lumia 520, 620, 720, 630, and its variants, its like a budget phone with less limitations... Nokia/Microsoft should take a note here when they release their next mid/low end device. For a late entry, they are already teaching other manufacturers how to roll...

Well FIY I know how feel about mmx phones I also hate then but their new phones are good I guess I don't know how they got to be the "10th largest phone maker in the WORLD"

I bet you can't say the same about 520.

Can't you make a hands on video?

This one is meh!. The other model is quite impressive ,both design and specs wise. Hope they both preform well

Would like to see in depth head to head with Lumia 520 and 630 for that case

Yup! A video to compare how these little guys perform in the real world would be interesting!

From where can we order them?

Hey buddy you can go to micromax site and purchase it....though they start selling it early june....they also plan to launch their wp8.1 in Europe as well as in American continent soon....have a great day buddy...

Why they still have the ARROW MARK like thingy in the bottom of the menu? It reminds me of WP7.

Its at the bottom of all wp8 &wp8.1 start screens they moved it from the side to the bottom in wp8

Lol what you talkin bout Willis. WP8.1 has it too

Ah! Now i got it. It's in the bottom of start menu. The image has tiles on only one screen, so the arrow appears odd.

Oh!! Dont compare Micromax now with Nokia otherwise you will be cursed Lol..

Nokia is far better than micromax in each and every area clear example the apps that nokia provides to the Lumia users and camera technology,build quality etc people compare micromax with nokia are one of the biggest fools of all time!

This is a great budget phone for a great price! I hope Microsoft learns from this.

I just hope they don't make a 512mb ram device ever after...

I have two 520's as backup to my 820 and my wife's 925. If I could (usa) I would buy one just to try it out and see how it compairs to the 520. For that little bit of money its worth the effort. Still waiting for a Microsoft upgrade of the 820 which I like alot.

That's my thing, I have T-Mobile and,these phones are already better than any windows phone tmobile puts out. I looked at a couple vids on YouTube. It looked smooth like any other windows phone

I thought three column support was limited to phones 4.5inches and larger?

I have 3 wide on my 4.3" Windows Phone 8X by HTC..... Awesomesauce!!!!!

No,it is present in every WP 8.1s even in 3.8" 620.

Now Micromax should use Hugh the wolverine Jackman to advertise these mobiles!

Hugh Jackman is currently the brand ambassador only for Micromax Canvas "Turbo" not for the other canvas or some other Micromax series phone!

In have a Micromax Canvas Blaze that I won in a competition and while most of the problems I had in the short duration I used it could be put down due to it running Android (The music would lag if I opened another app, home screen icons would fail to load, battery lasted 3 hours among others) my main issue was that the touch sensitivity of the screen was sorely lacking. It would skip taps and swipes often. This mostly was a huge annoyance to the keyboard. If they did manage to put on a screen as good as the 520 then Id have no problem recommending this to someone searching for a phone in this price segment. Also the camera's probably crap as they just love adding MPXs and not actual quality and their Micromax logo while quite creative is fugly.

Well that's good enough to compete with Moto E

again cheap phones for cheap indians!

what the fuckkkk u said han.....cheap indians...????

Well, you can't predict MMX.. They make a crap like A70 Ninja and then come up with a rockstar like Canvas 2.. But we will for sure miss Nokia's apps like MixRadio.. Though it's no more a Nokia, it's Microsoft Mobile, a separate entity from Windows Phone division. I don't see these apps coming beyond a Lumia in near future..

I must say this is impressive. Unless Microsoft Mobile releases a Lumia that isn't huge and includes a microSD slot, 2gb RAM, and a quad-processor by February (The month I can upgrade) then it looks like I'll get myself a new Micromax device.

1gb RAM.. I think it's great phone

Get a Lumia 525 35-40$ difference

I think we all should be thanking micromax for these WPs. Now at least we have strong competitors to moto E and G with the specs and pricing. Good for Windows phone OS. More users will attract more developers. These phones will let spec hungry android loving people explore what WP OS can do better than androids with same specs. With these hardware specs, WP OS will definitely kill cheap androids with its performance and reliability. Count the days to glory WP users.

i dont know about their Support like what Nokia(Microsoft Mobile) do.

Great specs... but the design looks cheap for me... :/
Windows Central Newsletter
Thank you for signing up to Windows Central. You will receive a verification email shortly.
There was a problem. Please refresh the page and try again.