Micromax Canvas Win W121: Hands-on, First impressions, and Photos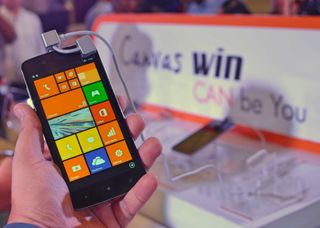 Micromax Canvas Win W121 is one of the two Windows Phone devices launched in India by the company, the first domestic smartphone manufacturer to do so. The Canvas Win W121 is priced at INR 9,500 ($160) and will be available in the market starting early July 2014.
The budget smartphone aims to compete with the Nokia Lumia 520 and Lumia 525, as well as the latest Lumia 630, the only other Windows Phone 8.1 device in the market. I spent some time with the device at the launch event, and here are my first impressions of the phone.
Design
The W121 features a 5-inch HD IPS display, and despite the size, fits pretty well in the hand. The phone is quite slim and has rounded edges which makes it comfortable to be used with one hand and give it a solid grip. That of course is aided by the nice leather-finish back it sports.
The back panel and the metallic edge along the sides gives the phone quite a premium look and feel for a budget phone. It's fairly light too. The bezel is thin as well, which enhances the phone's aesthetic appeal.
The real estate at the bottom is dedicated to the regular Windows Phone buttons – back, home, and search. Unlike the Lumia 630, these are not virtual, soft buttons. The two spines sport one button each, the volume rocker and the power button, while a dedicated camera button is missing.
Hardware
The Canvas Win W121 is powered by a quad-core Qualcomm Snapdragon 200 processor clocked at 1.2 GHz and packs in 1GB RAM. The specifications sheet looks pretty well for a sub-$200 phone and the Windows Phone 8.1 operating system is nicely optimized for low-end devices.
The 1GB RAM is a great choice since some of the budget Lumias include only 512MB RAM, which keeps a lot of gaming enthusiasts or specs buyers away. The 8GB internal storage with a memory card slot is decent too, and so is the 2000 mAh battery on paper.
The dual SIM phone also features a Proximity Sensor, Gravity Sensor, Light Sensor, and Accelerometer rounding off the device's capability nicely.
Camera
The phone packs in an 8MP rear camera with LED flash and a 2MP front camera. Again, Micromax brings in a differentiated advantage against several budget Lumias which do not feature front camera or flash.
The few photos I clicked in the well-lighted hall at the event looked decent enough. The color reproduction was good, although some of them were a little grainy. Of course, we'll know more when we review the device and try out the camera in different environments.
Software
The Canvas Win W121 is the only phone other than the Lumia 630 which comes with Windows Phone 8.1 out of the box. There's the usual signature experiences from Microsoft, but you'll obviously miss the huge catalog of Nokia apps and experiences.
Micromax has thankfully chosen not to bundle any of their own apps or from their Indian partners. Although, this could change for the retail box since I've only checked out the demo devices as yet.
The Micromax Canvas Win W121 is a pretty good budget smartphone with a great design and decent specifications offering a smooth, and consistent, Windows Phone experience. It's got a tough competitor in budget Lumias and some decent budget Android smartphones, but looks like a good alternative on paper.
Hope performance should be like lumia ;)

Don't worry for the performance as long as it's Windows Phone ;)

I agree, WP8.1 will perform very well here. The only question is if the hardware is good enough to last for at least two years. I just wish they would darken the color of the Micromax logo at the back.

Yup, and that logo could be a bit smaller as well. Or just the text "Micromax" would be enough but they always use that :/

beautiful phone for the price but if only after sales etc were improved otherwise a great buy nevertheless ,beats most android phones in my eyes including moto

Once their logo is as famous as Apple's logo.. They will stop mentioning the text. Posted via Windows Phone Central App

you can darken it with a black permanent marker :P

Or get 3d printed back cover in colours you like :P

It's just like an attached sticker :v

It's sounding better than most low end Lumias already! How've they managed a better spec'ed 520 for this price?

Not cheap at all. Its because Microsoft made the WP OS Licensing free...remember the Build 2014 last April...free liscensing from 9" and below devices

It costs $60 more than the 520...
The 520 pricing also factors in Windows Phone licensing costs...(these licence fees have been dropped for the Indian manufacturers).
In short, there is plenty of leeway to make a phone like this for $160

If windows phone is free for normal manufacturers, it's also now free for Nokia (Microsoft Mobile - obviously) as well. They won't charge themselves for the OS. Granted the Lumia 520 came out in a world where it paid licensing fees, although the competitor for this is certainly the 630 instead, in which case, spec wise, it comes out ahead. Software is another story that remains to be told, but their margins are certainly lower than the Lumia's.

micromax uses cheaper quality hardware. thats where they cut it

Windows os ..... Phone, rt and x86 is free for all devices with screen size below 9"

All of the above, and tax too. Customs are high here.

Looks like a good device, hope it sells well.

I'm sure about your second statement.

Great specs but will it be on par with Lumia? Only time can tell

Cheap phone but impressive specification.. Great!

Don't call it a cheap phone which denotes a very low quality. Maybe affordable would be better, right?:)

*Cheep*/*chirp*. Affordable makes it sound dry!

If it wasn't cheap then Nokia would have made the same phone with the same price.Quality matters my friend.That's where Nokia is the best.I'd never trust these phones.Camera Hardware Build Quality and a lot more advantages are there in Nokia.Still this will be good for those who are not looking for quality.

https://www.youtube.com/watch?v=6FsMtWZfDqA#t=178
in this review, at 3:00 this phone has 5 options tiles in the action center, so maybe the Cyan update will bring it to Icon/930 too ? :)

Since this phone has 720p screen resolution, that qualifies it as a phone with "hi-res" screen. Hence the 5 option tiles, much like Lumia 920 and above.

Its not resolution... Its 5" screen... Although it could go either way.

Does that imply that the L920 is likely to get the 5 option tile with cyan update?

Nice features not bad for a budget phone.

Good value WP this one is.

These are the specs and pricepoint Nokia/microsoft need to bring on board more users. 1g ram, flash,front facing camera,SD card are all essential features for a complete experience.

+mclaren but, just 32 gig expandable sd support while even the 520 has 64 gb option, Also a weaker processor than the 525 makes me stay from this phone. Also lack of quality firmware

weaker processor? i guess 525 uses the same SD S4 that 520 uses and it's last Gen for sure

Doesn't mean its faster. An Xperia M (which houses the same processor as Lumia 620 that is dual core s4) out performed Moto G's S400 in gaming. Both have the same GPU btw. So newer generation =/= better overall performance.

Yup. This is the phone I thought the 630 would be.
Gotta say this one looks pretty good to. Wonder how the parts quality is though...

Lost me at no dedicated camera button.

This is a device targeted for the average consumer in India not a US power user.

The 520 and 525 have camera buttons.

Because at the time that they were designed and manufactured, it was required from Microsoft to include it.

That's my point. To "ME" that's one of the main reasons I prefered windows phones. If they drop it on the new high end I'm getting a Sony Z2. Top notch camera with dedicated camera button.

The 930,1020,1520 all have camera buttons and better cameras than a z2

It was mandatory when those were made.

That's true. I'm just hoping some OEM will make one instead of going the cheap route and removing it.

I use my phone to keep in touch with people so Meh! to the camera button.

Hmmmm. Not bad. Not bad indeed.

@Abhishek: Does it support Miracast like the 630?

Just don't understand why the 635 doesn't have this specs and is priced higer?

I think they were being a bit greedy and inconsiderate when they made the 630 and 635. Nokia could've done ALOT better for almost $200

One thing that Nokia could have compromised was on the processor (SD200 vs SD400) and added 1GB RAM instead of the 512MB. The 635 does come with LTE, gorilla glass 3 which the W121 does not, I don't know if that itself could've justified the price difference

Gorilla glass is overhyped, it probably is expensive too

But LTE is *not* overhyped, it's the cat's meow. :-)

u won't find lte anywhere in India

Kolkata, Bengaluru, Pune, Chandigarh, Mohali, Panchkula, Ludhiana & Jalandhar all have LTE, just search it

is it LTE or some other format? Also does it operate on the same frequency as the rest of the world?

its 4G not lte!... that too by limited service provides in limited area

LTE is available in India at atleast 7-8 city.likely to expand in as many as 30-40 cities in next quarter...

look at Zenfone 4, both L635 and Z4 have Gorilla Glass 3, and they have the same price level (sub-$200), so that's not the point. Oh, by the way, both Android and WP are free, right? ;)

You are seriously comparing Micromax with Nokia? Specs on paper look good. But I am pretty sure you will be running to the service center more often with the micromax. If I drop my Nokia, it will dent the floor, if you drop a micromax, it will be in gazzilion pieces.. Micromax are able to keep the price down because of cheap materials. And a nokia 5mp is any day better than micromax 8MP

Don't be like that, dude, and you don't have ever touched Micromax' devices, right? Oh, both are Windows Phones, too.

And how does a random guy on the internet know I haven't touched a micromax device? I have 2 of my friends who have bought Micromax canvas android phones and guess what? Both keep tellin how the display is lively and colourful on my l720 and the camera as well(though it's defintely nothin compared to 920, 1020 and iphone). One has had problem with buttons not working after a while when he dropped it. And it was a minor drop. The other guy has put on an ugly case on top of phone so he doesn't end up with the same situation. Gettin complaints of battery life as well. Just face the facts..Micromax = Cheap phone

Wouldn't mind one of these if it was sold in the States...

Actually it would be perfect for kids with 1GB RAM and hence better compatibility with games.

And a 2MP front facing camera for selfies and video/image chat... Don't understand what Nokia was thinking not including that

also then US can get a taste of dual sims :)

Dual sims is probably something a whole lot of people wouldn't use in the US.

I agree that many wouldn't, but enough would. Especially for people who have a work phone and a personal phone. I know many who had to carry two phones because of this. Who knows, it might fill a void in the US market.

Love the specs but 5 inch and no gorilla glass doesn't fit me

Man did you expect a real gorilla for this price?. Lol

Gorilla glass is so overhyped

I do think that it does work well. I remember having phones that almost anything would scratch the screen. Since then I haven't bought a screen protector yet. It may be expensive and not a necessity, but I am glad to have it.

Do these types of phones sell well enough? I never see them around in Toronto. Anyway cool to see more manufacturers

Well Micromax is an acceptable brand name in India that competes with the market leader Samsung androids with its cheap offerings, and yes they sell well

Impressive... I have watched the youtube video shared in the comments and I must say it is really impressive at that price...:)

Hope it come to Brazil to kill those moto G guys.

Makes my Lumia 520 look stupid. This is definitely a considerable device for me. But lacks support from major carriers which can be a PAIN with its lack of a name.

Micromax like companies only show that 8MP camera, the quality is not so good. Even nokia's 2MP camera will beat it.

I tried my friend's canvas HD (the android one). The camera was decent considering the price.
I believe people have made pre judgements about the company. I myself am a nokia user but I don't envy Micromax. They are doing good and give value for money. You just have to ignore the crappy support.
Yes they are Chinese but most of the phones are made in china. This one atleast looks way better than android counterparts. It's time people accept it and try it. Who knows maybe I'd surprise you.

Exactly..this is what I think as well, and the author thinks it the same way. Coz I noticed the words "on Paper..." has been stressed upon quite a few times...

Because their build quality is actually below par... How else can they offer you all of this in the price they are offering... Think abt it... You get what you pay for... Why does HTC Samsung Sony charge ₹35k above for their flagships while mmx flagships are generally at 17-18... You got to compromise on quality somewhere...

Cuz micromax uses mediatek processors as compared to Qualcomm by Sony, Samsung, etc. Also, the other components are also from a different brand, but that doesn't mean that they don't function well. The build quality is definitely not worse than Samsung's if not better. They are much much better value for money than Samsung flagships to be honest. But the problem is that people in India have started being way too brand conscious, which works against micromax. And I cant help being one of them. I feel gionee s5.5 is amazing buy I don't think I can ever buy one. :D

The 'on paper' thing is only because I haven't had a review device. I can't comment on battery performance by using it for only a while, but 2000mAh looks good. Similarly, the real world performance and camera quality would only be reflected in consistent usage for a few days.

Micromax's build quality is horrible.hardware can't match with Nokia.

That's absurd. Be objective. Don't give so much importance to brand name. Micromax cameras are decent, and the 8mp ones are good enough. The 13mp ones are also good. Don't say that a Nokia's 2mp would be better. Sounds absolutely foolish. :)

One area where such companies compromise is with the speakers and microphone. Many of my friends who own micromax phones and other such phones often complain about them. Need I say how many times they visit the service centers. So I'll be happy with Nokia or Microsoft mobile whatsoever

I also had an android phone from micromax.it made me visiting service center several times.brand name always matters.in India Nokia means trust...

Why is camera button removed? 630 & 930 also don't have it?

930 does, but 630 does not. It is just another configuration to make the platform more attractive to manufacturers.

Camera buttons should be required for all high end devices! :)

a dedicated camera costs them quite a few bucks, also design is a consideration. these companies they want to save those few bucks, to sell a phone this cheap.. a phone at 9500 with HD screen, 1 GB ram, Quad-core Qualcomm, dual SIM. what else is left there to demand for at this price tag??

If it has front facing camera, it is perfect and can sell very well even in US when targeted to teens, new smartphone users and people who break/lose phones before their contract is up for renewal.

HD is quite a vague term....is it 720p?

The design is so good. The price point should make the difference

That could be a competitive prepaid/budget phone here in the US. $160 is a steal. However, I was able to find another (replacement) Lumia 920 in mint condition for $160...on eBay.

I don't know why but I'm a tad envious of the leather shell .. nice touch.

It's more on par with Lumia 1320

Really nice for a budget Windows Phone. I hope it translate well in sales in the friendly Indian country. :)


does it support the lockscreen themes announced with wp8.1 ?

Yes everything wp8.1 offer... It wont offer any thing nokia exclusive... Eg. Glance screen, here maps, here transit and other nokia suite.

My L625, looks old already! It appears the more the merrier.

What?! Leather back, minimum bezel, 5", beautiful display, ffc, 8.1...all under $200? Sounds like a great phone to me!

Great specs at a great price. I am curious to see how the camera handles as well as how the display really is (good viewing angles, clear blacks, etc...). Any mention of the screen resolution? 720p? I hope this comes to the US as well.

Abhishek. Planning a video on this?

My only concern about this phone is whether it will receive updates like the Lumia. Or just like Android, as more and more devices creep into the ecosystem, they will tend to get lost in the crowd. None of the low-end to budget smartphones receive updates on Android.

Isn't there some fine line between Microsoft updates and firmware/manufacturer's updates? Anyways, if the updates get held up there is always the dev channel.

If only the current low-mid end Lumia phones had 1GB of RAM like this one...=/

no nokia specific apps,no clear black,no pure motion,no gorilla glass, are you serius micromax, i mean for gods sake its nokia/microsoft! microsofts gone crazy! anyways theese cheap phones are for cheap ppl in india who belives quantity over quality!

Yeah, it sucks compared to phones that cost 3X as much, no doubt about it.

cheap phones for cheap people... You sound like the spoilt son of a rich father... Which phone do you use Mr. Expensive guy?

http://m.youtube.com/watch?v=gvdf5n-zI14 this.

But it does have 1GB ram, camera with flash, ffc, quad core CPU, etc. You've gone crazy for posting this nonsense. My hats off to Micromax. They got a great AFFORDABLE phone here and that is what they were aiming for.

Aha look at this butt-hurt Nokia fan.... you expect Nokia specific apps on a MMX phone? Pure motion and Gorilla glass on a 10k phone? Why is there only 512MB RAM on 630? Why no front cam or flash? Nokia got over two years to rule the Windows Phone world and what is that they could achieve? 8m phones per quarter? Give a chance to other OEMs too.

Pardon me, but what's the silver component/equipment at the top and right corner of the phone?

That's a lock to prevent people from stealing it. There is a sound alert when someone unplugs that

Colour me impressed! Thanks

Battery performance won't be good like lumia

The Lumia 630 is really a good device and was recently benched against the 1020. Results were outstanding. Higher numbers don't always mean better. Firmware is so important. And I nearly ever use my flash on my phone for photos, it causes abnormal photos. The 512mb of ram is a interesting and with the Lumia 638 reported for China with 1 gb ram Nokia might admit there error.

Flash is not just for pictures... Even I hardly use it while photography... I use it mainly as a torch...

The logo sticks out like a sore... Fist

Don't understand why all the nokia apps are still exclusive to nokia phones. They are property of Microsoft now, right?

No, Microsoft have bought Nokias devices division only. Nokia still own the Here suite of applications and services.

Windows phone now should earn some market share.

Micromax uses cheap hardware. Although it's an Indian company, I somehow can't convince myself to buy one of their devices considering reliability and service. Otherwise, great specs for the price.

With micromax in, its now getting easier to convince my friends to buy WP. Considering those giant specs they have on androids are there on WP as well now at less than 10k.

I am not a micromax fan but i bought the canvas elenza its android which is of the same as the canvas win w121 the features are much same and for those blaming micromax try one of this and you will be amazed except for the brand name which is not so famous but its ranked 2nd best seller in india almost beating samesung
Trust me you wont regret it
Again i am not a micromax fanboy
I try almost every brand if they are exeptional i buy it like the lumia 1520 but it lacks a stylus pen and some apps to set it on par with note 3
Sent from my windows central app for nokia lumia 1520

Absolutely True,, I second the opinion. I'm using W121 for last 1 month and bought it from Univercell Bangalore. I didnt see any problem with HW quality

Looks good. I'll choose this one over Lumia 630. Of course I will lose the software collection from Nokia, but for budget phone, I can life with that.

A good phone. Yet no Nokia specific apps. That sucks..

That's like buying a cheap Kia car then complaining that it doesn't have a Ferrari engine. ;)

Microsoft exclusive apps are not available for Mmx windows phone,Its not true.
Atleast Here map availabe.
Gadgetstouse hand on review show
Micromax Canvas Win W092 features Nokia Here map.

GadgetsToUse is wrong usually. If you notice, the presenter taps on 'Maps' tile which is the Bing Maps app, not HERE Maps. Also, the video mentions that HERE Maps is open source which is another gaffe.

Hi Abhishek, I beg to differ you, both HERE & HERE+ drive available for W121. I installed it and for having that you have to have a MS account and while downloading installing the HERE+ you have to register with Nokia with MS account and all is set.... Thanks, Arindam

Does it have double tap to wake? Or this feature also belongs to nokia?

as Nokia transfered the handset division to MSFT, whether the nokia apps also? if not, whats their future? whether they will be available? free or paid?

I am waiting for the camera review...even if it is as good as the 5 megapixel of 520 I can go ahead and buy it

They just copied a back door from Samsung Galaxy Note 3

Anyone knows any good websites to sell your phone? Or like a recycle program? :D

"The phone packs in an 8MP rear camera with LED flash and a 2MP front camera.The dual SIM phone also features a Proximity Sensor, Gravity Sensor, Light Sensor, and Accelerometer rounding off the device's capability nicely"
This is a killer feature not even the 520, 525, 630, 635,500, 800, 810etc. Dont fully even have

These NL better step up their specs. This phone looks pretty good for its price.

I downloaded MyPhone app from the appstore and when I run that it shows the status of HW configuration performance wise just below N1520 (RM937,RM939 variation). I'm keeping my fingers crossed.

Wow the brand new Windows Phone comes up with Ram 1GB and low price.

Export to the Philippines! Now!

Ohhh...speaking of that...i guess myphone because that company and micromax are partners...most of the Micromax phones are renamed in the Philippines as Myphone

Oh please, SUPPORT like Huawei is very dumb...I hope OEM's except Nokia/Microsoft Mobile will provide proper support and updates to their phones

Dont say that the phone is cheap...just affordable...you give the phone a negative connotation

Micromax is a company that has created a name for itself by tricking people with large screen phones and advertsing phones with quad-core processor, 8mp camera and cheap pricing. The average consumer(who are in millions) falls for this ad and buys it. The overall phone design and build quality, battery life, camera quality are shit and even the after-sales service is shit. After an accidental drop people regret the purchase. I have heard endless complaints like buttons not functioning, screen quality etc.. The phones are priced low because plenty of compromises have been made with overall quality. But props to them for using the right tactics to get in consumers' mind. Nokia's bare minimum = Micromax absolute maximum. Dont buy micromax.

The rear of it pretty much looks like the S4, but I liked a lot the free of logos front of it! Really looking forward to see the new devices from MS loose the logos too... Just like the Surface is :)

The design of the phone remember nexus 5. Hope that the quality be the same than Lumias (and nexus 5 haha)

From some of the review vides on YouTube I feel this is going to really be a phone to look out for. I'd like to use this phone and give it a spin when I do get to India. Seems like a value for money phone. Good build, large screen, dual sim, micro SD expansion, 1GB (allowing me to play games) and the price are exactly what's making me think that I should give this phone a shot. What I dont like is that I may not be able to install hear maps, and I'm not so sure about call quality.

hey abhishek,Here map replay my tweet and say thats its available for all windows phone.
What they say- HERE Maps, HERE Drive and HERE Transit are available for all Windows Phone smartphones, not only
Lumia.

But I don't think here drive is free. Posted via Windows Phone Central App

I am very interested in buying the phone, but would like to know 2 things: 1-Does it record 720p videos? and 2-If I put a SanDisk 128GB SD card, will it work properly?

Micromax has officially announced Canvas Win W121 in June, 2014 which is going to be in the market for sale in July, 2014. The phone is powered by Microsoft Windows 8.1 operating system. The phone is having 8 megapixel camera and Quad-core processor. It is also having Bluetooth, GPS, Wi-Fi and 2000 mAh battery.
http://tech.infopsyche.com/micromax-canvas-win-w121/
Windows Central Newsletter
Get the best of Windows Central in in your inbox, every day!
Thank you for signing up to Windows Central. You will receive a verification email shortly.
There was a problem. Please refresh the page and try again.