Microsoft and Huawei announce 4Afrika, a handset with an African heart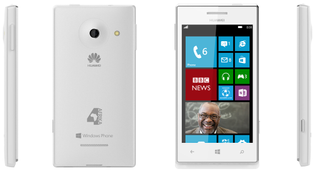 Huawei and Microsoft have had an odd relationship. It first looked like Microsoft was trying to distance themselves from the Chinese OEM due to political factors back in mid-October. It was believed they'd be ready for the Windows Phone 8 launch, but instead the company pushed back the reveal of their Ascend W1 handset to CES 2013. Now, the two are cozying and partnering up for a joint launch of a handset in Africa – the Huawei 4Afrika.
At first glance the 4Afrika looks to be an Ascend W1 with a 4Afrika logo on the back. And to be honest, that's exactly what it is, a variant of the Ascend W1. There aren't many differences between the two, the only one we could spot was the battery. The 4Afrika packs a 1730 mAh battery compared to 1950 mAh in the Ascend W1. Most likely a cost saving feature for emerging markets.
So what is with the 4Afrika branding? Turns out Microsoft has a new initiative for the African continent called, you guessed it – 4Afrika. The goal is to leverage technology to actively engage Africa's economic development and to improve its global competitiveness. Microsoft hopes to use both hardware and software to push forward with its agenda. Devices like the Huawei 4Afrika and Nokia Lumia 510 and 620 are the hardware push, while the 4Afrika initiative itself will develop apps and services specific to that region. The Huawei 4Afrika earns the branding by bundling some of those apps on the device itself – of course you can always uninstall them, but it's a nice feature for the device. Here is a nice little quote from the announcement article summing it up:
Affordable hardware with custom software is a winning combination to sway buyers away from feature phones on the continent, which control about 90% of the mobile market. Microsoft and its partners (like Huawei and Nokia) see huge potential for growth in those numbers. Windows Phone devices that are inexpensive have always provided a minimum level of acceptable performance. It's that fact that makes us believe the platform can give Android a good fight for marketshare in emerging markets.
No word on price for the Huawei 4Afrika, but we expect it to be cheaper than the $258 asking price of the bigger battery Ascend W1. You can expect the Windows Phone 8 device later this month in Angola, Egypt, Ivory Coast, Kenya, Morocco, Nigeria, and South Africa. A variety of colors will be available to consumers: black, red, white, and blue - the usual suspects we saw back at CES.
What do you think of the Huawei 4Afrika handset and the initiative itself?
Source: Windows Phone blog, 4Afrika
Get the Windows Central Newsletter
All the latest news, reviews, and guides for Windows and Xbox diehards.