First look at the Huawei Ascend W1 Windows Phone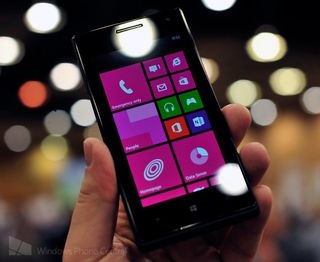 Huawei. We've heard about them in the past year and the Ascend W1 is probably one of the most interesting-but-not-really-interesting phones we've covered. Truth be told, the phone is akin to the Samsung ATIV Odyssey—it's specs don't impress the gadget geeks out here but it's a solid feeling little phone that feels leaps and bound better than some of the LG garbage produced in the Windows Phone 7 days. For that, we're welcoming Huawei to the fold.
The phone features a 4" WVGA display, dual core 1.2 GHz CPU, 512MB of RAM and a 5MP rear shoot (with a 0.3 MP front facing cam). The body has a soft-touch paint feel to it which gives it a smooth, soft texture that's quite nice too hold. While the phone is very square it doesn't feel odd at all seeing as the 4" display keeps things in check when holding it one handed.
Will the Ascend W1 set the world afire? Hardly. But for emerging markets and for those who just want Windows Phone on a budget, we okay with this device taking the reins. Look for the W1 in the coming weeks.
Check our hands on video and photos after the break.
Windows Central Newsletter
Get the best of Windows Central in in your inbox, every day!
Daniel Rubino is the Editor-in-chief of Windows Central, head reviewer, podcast co-host, and analyst. He has been covering Microsoft since 2007 when this site was called WMExperts (and later Windows Phone Central). His interests include Windows, laptops, next-gen computing, and for some reason, watches. Before all this tech stuff, he worked on a Ph.D. in linguistics, watched people sleep (for medical purposes!), and ran the projectors at movie theaters because it was fun.
I guess it's ok for China... Just keep it away from the US ;)

Why? I think this would be great in virgin or boost mobile! We need a wide array of low end - mid devices on prepaid carriers. That will help sell windows phone. Imagine seeing a Lumia 800 or 610/710 or an HTC 8S or even this phone running WP7.8/8 in the checkout isles for virgin, att go, Tmobile pay as you go, or boost??? It would be killer especially a Lumia. They should make the 800 for prepaid carriers.

Dude, Huaweii is suspected of spying for China through their hardware. Read up on it. That is what Carlos is talking about.

ALOT of people here in San Antonio, Texas use Cricket. Most of them have low-end Huawei Accend Android phones or low end ZTE Android phones . I'm pretty sure if they brought this phone to Cricket, alot of people would get it. Out of all the low-end manufacturers, Huawei is the best. ZTE is shit. Lol.

Not everyone can afford to get a contract.

Nobody here remembers the report on Huaweii and how the US government wants nothing to do with them?

I sure as hell do! Spread the word with every Huawei article like this you see.

I do, but I thought they were cleared and that ZTE were the actual only culprits?

Huawei are not a company to be over looked. I had their G300 Android budget phone and it was high quality for the price with good reliability.

Great phone! This comment is also delayed by two years.

This is a great phone, but we don't like the brand.. Hahaha

Huawei actually makes quality products.

Huawei actually makes quality products that spy for China. TFIFY

I'm right there with ya mate!

There's something difficulties to use accessories.

I think the Nokia low end phones look much better than this.

If priced lower than the Lumia 620, this phone would sell well in emerging markets and help WP8 gain market share. If priced the same as the 620, I believe people will pass it over for the 620. And by the way, from the front I think it"s better-looking than the Ativ Odessey.

Here we go again. Samsung makes a crappy Windows Phone with Windows Phone 8 while they have a Galaxy S3 out there. and Please can people stop with this lower price crap. The Galaxy S3 have been sold for free with a 2 year contract. Nokia is selling the 920 on Amazon for $49.99.. These phones is why Microsoft will never be taken seriously.

Nokia 920 went back up to 99.99 on Amazon.com...I was hoping you were right ;(


Here we go again. Another cell Phone developer makes a crappy Windows Phone with Windows Phone 8 while they have a Galaxy S3 out there. and Please can people stop with this lower price crap. The Galaxy S3 have been sold for free with a 2 year contract. Nokia is selling the 920 on Amazon for $49.99.. These phones is why Microsoft will never be taken seriously.

People don't take seriously those who post their flaming comments twice with changed words so that they look differently...

People in other countries have to pay full price for phones, not the subsidized contract pricing available in the U.S. So when you compare prices of the Galaxy SIII with the Lumia 610 you will understand.

The S3 will cost me a minimum of US$540 and the 610 will be as low as US$150. I will pay far, far more on a plan (even if the phone is "free") over a 24 month period. "Free with a 2 year contract" is not the same as "free".

I think its a great thing having a low end, budget Windows Phone, its important for the eco system to grow on all fronts.

It would be a good phone for metro or cricket. I just hope it is not coming to the big three anytime soon.

Wait a sec...did I just see the Datasense app on it??

Looks a bit like the Omnia 7 looking at it straight ahead. He little "sloope" on the bottom reminds me about...was it Nokia Symbian phones or Sony Ericsson?

Hey now...the LG Optimus 7 was not garbage. That thing felt awesome in the hand. Although, that's the only LG WP7 I know of...

And the quantum for the US and Australia.

And the Quantum was actually quite solid, at least for me, but then again I take great care of my things. Never had a problem with it.

I like the look of the phone and I would buy it just like the HTC 8S but it only has 4GB of internal storage so 1.5GB free for apps which makes the phone utterly pointless because as we all know the 'other' folder will bloat in size and then your phone is full and utterly useless.

Isn't it possible to use an SD card to install apps?

That logo on the homepage tile is Straight Talk's.

This is serious. The US Dept. of Defence has declared that Huawei is a threat to the security of the United States. Do not support this company and WP Central, please stop supporting them through promoting them with coverage.

Dude...a lot of people have heard or read about the congressional investigation on Huawei....stop being paranoid!!! Unless you're working on somekind of national security matter or work with an important company, then what is there to spy on????
So, yes this is a great phone for the entry level and for the average Joe.

+ 1
What's wrong with E900?

It's a nice size, small I like that. but pish hardware.

What is up with that metal ring around the camera lens? It doesn't actually look that s***ty and lumpy does it?

I like the Ascend W1... I think Huawei will start with the W1 and quickly add some high end WP8 devices. Huawei is a smartphone manufacturer that has access to the very big Chinese market as it is their market. I think Huawei can make more money with WP8 devices that with Android devices, simply because the WP8 is more stable and most consumers are anoyed by a OS that crashes a lot like Android.
Windows Central Newsletter
Thank you for signing up to Windows Central. You will receive a verification email shortly.
There was a problem. Please refresh the page and try again.