Microsoft dropping operator billing for Windows Phones in India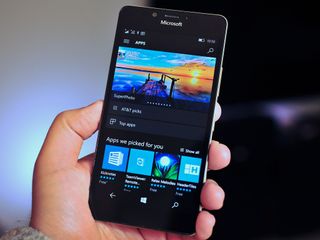 In what's likely to be a frustrating move for users, Microsoft is discontinuing operator billing for Windows Phones in India. The tech giant appears to have started alerting users to the move via SMS, noting that operator billing will be officially dropped as of March 30.
From the text:
For those unfamiliar, operator billing is a service that allows customers to charge things like apps and games from the Windows Store to their phone bill. In markets where credit or debit card penetration is low, operator billing acts as a solid alternative for such payments. There's no reason given for the drop, but it's likely to cause some frustration once it sets in.
Thanks to Ratindra for the tip!
Get the Windows Central Newsletter
All the latest news, reviews, and guides for Windows and Xbox diehards.
Dan Thorp-Lancaster is the former Editor-in-Chief of Windows Central. He began working with Windows Central, Android Central, and iMore as a news writer in 2014 and is obsessed with tech of all sorts. You can follow Dan on Twitter @DthorpL and Instagram @heyitsdtl.
Wen in India? Say no more...

Wow... there is really no good reason to do this at all lol.... plus India has embraced Windows Phone alot more readily than other countries...

Exactly this! It's like a slap in the face.

Welcome to windows moible expericence Libra89. where the customers don't matter!

1 in 1lakh own windows phone. I guess same feature on android makes sense than windows. Each and every Nokia priority shops changed to Microsoft priority shop are now Samsung shop. Samsung pay far superior than wallet, don't know wallet use same technology as Samsung pay.

Your post doesn't make a lot of sense.

@hamplet. Lakh is a unit of measurement, it means 100,000 so Gourav Mopidevi means "1 in 100,000 own windows phone". That Android having this feature makes more sense than windows phone. That all the old nokia priority shops transitioned from Nokia to Microsoft to Samsung shops. Plus that Samsung pay is better than Microsoft's wallet offering (tap to pay is still pretty much US centric).

Thank you Techfreak, I managed to Google (er I mean Bing) Lakh too, but I think that if you're posting on an English speaking website it's helpful to write in English. Makes it easier for everyone. After that Gourav moved on to make a number of points which, while worthy in their own right, had little relevance to the subject.

Tap to pay is also extremely common in Canada. I think it may be more common here than it is in the U.S., actually.

hahaha Indian number systems.. confusing the world since eternity :P :P but TechFreak1 explained it :)

Yup. Got the message some time back.

Showing their commitment.....

Wow, one of the places that needs carrier billing the MOST... Seriously WTF?

again accent, shows what microsoft thinks of the mobile space and their "loyal" customers.

"There's no reason given for the drop, but it's likely to cause some frustration once it sets in." LoL Makes it sound like the reason was to cause frustration. Maybe it was.

I guess it was available only for one carrier(idea!) not surprised it failed

I don't understand Microsoft sometimes. Specially with India. They were doing awesome in India with budget and semi-high end. India embraced Windows Phone like no other country. The penetration was also increasing and local businesses were building apps as well. Now I live in Canada and I know that apps on WP are far more better in India than Canada. Banks, railways, bookmyshow, bus services everyone had apps on WP. Microsoft is just being unfaithful to its customer base in India.

I apparently live under a rock. I wasn't even aware of this until now. Maybe read it during the 8.1 days and promptly forgotten. All this time I've been using the card to buy things lol.

They want it dead, enough said. I'm glad I switched from 950XL to a oneplus 3t. No regrets.
Try whatsapp on an android, you'll be surprised how fast sending pics actually is! Those of you who are going to say that it is a WP8 app, try Microsoft's own apps on android for that matter.

Dont come back to Windows ! Enjoy your One plus two plus three plus WTF 😁

Yes ofcourse! And reply button is not mandir ka ghanta.

Don't you worry. He won't come back. Once you experience how apps should actually work, even you won't come back.

Dont cry here like a baby

Dude! Mind your business. I'm not criticising you, and I'm certainly not the only one here saying it's a bad move by microsoft.

so true so true. I remember sending pics music and vids on my old android. very fast. MS...we wait and wait and wait...

Face it, Microsoft wants Moible to fail and die!

Then why don't they just end it, period, all at once?

They need to keep LTE and ARM support in Windows until WoA is released. It would also be a shock to the stock price if Microsoft announced they were done with mobile.

It's great to see how microsoft stands true to their mobile commitment.
/s

Don't worry, Surface phone, Windows 10 on ARM, etc etc... Everything will be fixed.

Everything will be fixed but people would have left the platform by then

You're still more optimistic than me ;p

people left by then????????They are all gone now except for 10 or 15 fanboys to stubborn to switch.

They are stubborn because they are having false hopes feeded by Dan and his gang (gotta make money somehow).

I suppose if you're stictly focusing on the enterprise, something like carrier billing isn't necessary.

That messaging app looks way different than what I have on my phone!! Is it a change in Creators update??

It's the Skype Preview app in Dark mode

This is the way Microsoft really takes 2 steps back with Windowsphone. As services withdraw you give the impression of a platform in decline.

Some years ago they woke up all of a sudden and enabled 4G on some old lumia series like 1020..etc, Now hoping they would again wake up and realize that they have the HW for VOLTE in their phones like 950xl etc.. JUST ENABLE IT MS!

"So sad and disappointing ...i m a BSNL user...but I use idea sim for purchasing Apps & Games..."

This not only goes against consumers but it also goes against developers who won't see a solid enough platform who offers all the ways for consumers to buy their apps. I think the move will soon spread across the world. It really seems they want to kill all past achievements.