Microsoft expands its enterprise initiative, offers Surface subscriptions to businesses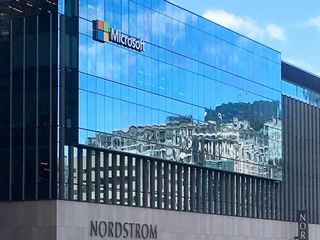 Microsoft has announced the company is expanding its Surface Enterprise Initiative with new partnerships and programs, including industry specific solutions from IBM as well as the option of purchasing Surface as part of a subscription.
The new partnerships with both IBM and Booz Allen Hamilton will aid the company in delivering solutions specifically tailored to industries. Satya Nadella made this a focus during the opening keynote at Windows Partner Conference 2016, confirming Microsoft's commitment in aiding businesses transform their work flow by incorporating technologies offered in the cloud and platforms. Here are some details on the new partnership with IBM:
Microsoft's partnership with Booz Allen Hamilton will allow the latter to develop scalable and secure solutions for government bodies, thanks to Surface meeting strict security and interoperability requirements for use within the U.S. Department of Defense. Not only will solutions be offered to governments, but also public sector and healthcare parties.
Surface and Windows 10 Subscriptions
As well as the new partnerships, Microsoft also announced new programs to enable business partners – regardless of size – the ability to purchase and deploy Surface products in the field. Surface has been introduced as a service, much like Windows, whereby Cloud Solution Partners are able to bundled Surface PCs with managed services to resellers and customers, alongside other Microsoft products like Office 365 and Windows 10.
Also confirmed, starting in the fall, businesses will be able to enjoy enterprise-grade security and management capabilities for $7 a seat per month through the CSP channel. Windows 10 Enterprise Edition is touted as being ideal for businesses with little to no dedicated IT resources who wish to have their systems managed by a trusted partner.
More details on how Microsoft is attempting to make it easier for businesses to go digital with Surface, Windows and the cloud can be found on the official blog.
Windows Central Newsletter
Get the best of Windows Central in in your inbox, every day!
Rich Edmonds is Senior Editor of PC hardware at Windows Central, covering everything related to PC components and NAS. He's been involved in technology for more than a decade and knows a thing or two about the magic inside a PC chassis. You can follow him over on Twitter at @RichEdmonds.
Wow this is amazing news for everyone!

Education sector is key!
MS should make Surface accessible to every school. Hook the kids on Surface/Windows 10 devices. Most of them know only iPad and nothing else.

I know. It is really disappointing that they think that there is just one tablet -- the iPad. In fact, they call all tablets iPads. So annoying...

If they would only finally start to roll out such programs globally, that would be great.

I'm a health care professional in the dialysis field, and the company system is in desperate need for an upgrade. This might be a good move forward.

I was an enterprise client architect for a number of years at a healthcare organization and I can assure you that the issues most hospitals face isn't with the technology/hardware, but rather, with the software developers that refuse to "get with the times" and mandate the platforms you're using. Until pressure can be applied to the major EMR, Radiological, etc software players you're stuck with Windows XP and Dell Optiplexes, lol

agree, but more on the stuck on IE level for web base EMRs

If this would apply to the much awaited Surface Phone, as a package deal (tablet and phone) I think windows 10 mobile will take off real well at least on an enterprise level.

But "surface phone" is still more than a year away

No, latest informed speculation (from this very site from folks with the supposed connections) is ~April, which is ~9mth. Certainly not "more than 12mth away"...

Ah, everyone is speculating at this point. The folks who have the best insight though, are the journos on this site (among some others + MS Staff). Those with the best informed speculation are them, not you.

I'm not speculating, I have my own info that doesn't come from journalism. I don't give a damn if you don't belive me. Let's see next year. They may try to speed up product launch, but I doubt it.

BS, if you had any credibility you wouldn't be an anonymous person with your "special info". Sources within MS have already signalled when they hope to launch the product (~April), it was done in a clear & symbolic way earlier this year, via a series of write-ups here & elsewhere. But even MS engineers can't be sure it'll be launched when they hope to launch it. Apparently you can predict that there'll be issues in the project, which result in their goal being pushed back 3mth or more to July or later, apparently you can predict the future, yeah right. More than a year (e.g. Aug, Sep, or Later in 2017) would be quite the fail... If it does stretch out to more than a year, the odds of the project remaining viable become diminished, the further past 1yr they go, the more likely it is that the project's cancelled.

The surface phone is more than a never away!

Please bring such initiatives to education to replace ipads for our students and teachers :-)

In many classrooms, there are 25 laptops and 25 iPads. Why not 25 Surface Pro 4's?

I have to agree with placing an emphasis on the surface line in education. Hopefully they will give the (possible) surface four a better recharging solution. My non Pro 3 barely lasts a day and that tends to suck.

Ah, the singluar one sided vision of NUTELLA at work more! Enterprise, Enterprise and lastly Enterprise. General consumers get the shaft in microsofts corner. People, time to move on for awhile, and show Nutella that Consumers want more from MS.
Windows Central Newsletter
Thank you for signing up to Windows Central. You will receive a verification email shortly.
There was a problem. Please refresh the page and try again.