Microsoft has a black project for Windows Phone, according to new job post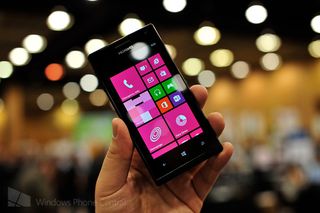 You like puzzles, I like puzzles, and we all like puzzles. So here comes one from a new Windows Phone job posting. There's a new team within the Windows Phone department forming around a very new technology – for smartphones at least. Microsoft is looking for a Senior Software Development Engineer in Test to work on UEFI for Windows Phone.
But what for?
If you aren't too sure what UEFI is or why it's important, you're not alone. UEFI stands for Unified Extensible Firmware Interface and is a software interface between an operating system and its firmware. Think of it as the next-gen BIOS, sorta. UEFI is currently on Windows Phone 8, it's what allows the device to boot securely. The job description for the position reads:
"The Windows Phone team is looking for an energetic Senior Software Design Engineer in Test to expand our engineering team. This is a great opportunity to get in and help shape the next version of windows Phone. This is a senior level position for someone who can take on the challenge of working with a strong team of SDETs and leads. Qualified candidates will possess a strong passion for customer focused testing and the ability to analyze and strategize test efforts. Candidates should be ready to tackle tough test automation projects involving integrating and synchronizing tests across multiple teams and divisions. Ability to maintain a strong working relationship with everyone and perform consistently at the absolute highest quality standards of work is a must. The role will expose you to multiple subsystems across Windows Phone and requires an ability to ramp to new hardware and software technologies quickly.
Core Skills:
Strong leadership skills with the ability to work across multiple teams across multiple divisions
Solid understanding of software quality assurance and processes
Strong desire to join and influence a sustainable, high performance test culture
The ideal candidate will also possess:
Strong communications skills
At least 5 years of development or test in shipping products
Strong C/C++/C# programming background
Strong development and design skills with a proven track record
Come check out this opportunity to be a party of the next generation of cellular computing."
What would Microsoft be looking to do with UEFI and Windows Phone that qualifies it as a "confidential project"? It's tough to say at this point, the job posting doesn't offer any hints for the bigger picture.
Looking across job openings involving UEFI for Microsoft at large does little to reveal any more. The language used is so broad that it can really be anything involving UEFI – like better backups, better recovery, faster boot, cloud stuff, or anything you want the phone to handle before the OS boots.
Your guess is as good as ours, so submit your theories below.
Source: Microsoft-Careers, Via: Twitter
Thanks for the tip Steve!
Get the Windows Central Newsletter
All the latest news, reviews, and guides for Windows and Xbox diehards.