Microsoft has a black project for Windows Phone, according to new job post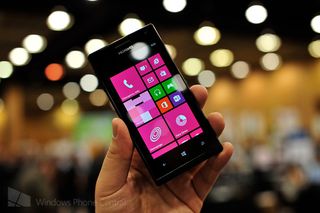 You like puzzles, I like puzzles, and we all like puzzles. So here comes one from a new Windows Phone job posting. There's a new team within the Windows Phone department forming around a very new technology – for smartphones at least. Microsoft is looking for a Senior Software Development Engineer in Test to work on UEFI for Windows Phone.
But what for?
If you aren't too sure what UEFI is or why it's important, you're not alone. UEFI stands for Unified Extensible Firmware Interface and is a software interface between an operating system and its firmware. Think of it as the next-gen BIOS, sorta. UEFI is currently on Windows Phone 8, it's what allows the device to boot securely. The job description for the position reads:
"The Windows Phone team is looking for an energetic Senior Software Design Engineer in Test to expand our engineering team. This is a great opportunity to get in and help shape the next version of windows Phone. This is a senior level position for someone who can take on the challenge of working with a strong team of SDETs and leads. Qualified candidates will possess a strong passion for customer focused testing and the ability to analyze and strategize test efforts. Candidates should be ready to tackle tough test automation projects involving integrating and synchronizing tests across multiple teams and divisions. Ability to maintain a strong working relationship with everyone and perform consistently at the absolute highest quality standards of work is a must. The role will expose you to multiple subsystems across Windows Phone and requires an ability to ramp to new hardware and software technologies quickly.
Core Skills:
Strong leadership skills with the ability to work across multiple teams across multiple divisions
Solid understanding of software quality assurance and processes
Strong desire to join and influence a sustainable, high performance test culture
The ideal candidate will also possess:
Strong communications skills
At least 5 years of development or test in shipping products
Strong C/C++/C# programming background
Strong development and design skills with a proven track record
Come check out this opportunity to be a party of the next generation of cellular computing."
What would Microsoft be looking to do with UEFI and Windows Phone that qualifies it as a "confidential project"? It's tough to say at this point, the job posting doesn't offer any hints for the bigger picture.
Looking across job openings involving UEFI for Microsoft at large does little to reveal any more. The language used is so broad that it can really be anything involving UEFI – like better backups, better recovery, faster boot, cloud stuff, or anything you want the phone to handle before the OS boots.
Your guess is as good as ours, so submit your theories below.
Source: Microsoft-Careers, Via: Twitter
Thanks for the tip Steve!
Enterprise and Azure. You make that secure and transparent, RIM will have a tough competitor. My two Canadian cents.

That's worth almost 3 us cents... Must be credible...

Nah, with what exchange rates were for most of the year, that makes it $0.01 USD ;P

Nah, CAD has been trading higher than USD since about a year after Obama took office and added 60% to our national debt, we've been below CAD and AUD for quite some time now. The value of our dollar is at the lowest ever, as gold goes up the dollar goes down, and vice versa.

Did that lady actually use the hashtag "windowphone" instead of "windowsphone"?

Lol...let's not dwell on that, please.

maybe the wedding viel got in the way of her k/b?

To enable a PXE-boot environment to allow the deployment of OS images onto WP's via SCCM for corporate and government use or any organization that rightfully says "you've got to be fucking kidding me" to the notion of BYOD.

I wonder if this may be Microsoft preparing to migrateWP to the new Intel processors (Bay Trail)...

As long as there's still WP I'll be happy

+1, the UEFI becomes the layer translating WP hardware calls to different underlying hardware, therefore easily porting WP to different phone hardware platform without changing a single line of code in WP.

This is the team bring set up to help kill of Windows Phones by first killing off XBox mobile games.
All kidding aside....who cares about new additions to this platform, if we all know they will abandon it in 12 months time?

Microsoft has emphatically said they're on the NT kernel with this for a long time. No more resets.

I just want to know why does it seem like Microsoft is abandoning Xbox games on wp8.

Go read the WPC article earlier today.

Kinect for WP facial recognition.

That and talk to ur phone just like Xbox when ur phone is in sleep mode "windows phone"...screen comes on "search/call/tweet/ect" and the phone does it nice idea

You really want your mic hot all the time? Battery drain for one, another thing is my Kinect still picks up background speech when watching something and does something negative.

They are going to make the phone harder to hack and flash.

Excuse me sir but I believe it's "I like turtles!"


Pandas are adorable also.

And while they're at it maybe they can add Local Scout and Tellme support to Surface RT.

Correction

UEFI is currently on Windows Phone 8

Gah. Formatting in editor doesn't show in post.

UEFI is currently on Windows Phone 8

should be

UEFI is currently on Windows 8

Microsoft now is working on WP9, the second generation of WP8 users will receive the 8.9 update with limited features.

There is no WP9. RT is the future as they merge WP8 and RT to create the next version. We can call them Windows RT Blue phones.

Don't care. More pics of Ashley Zenner

Wintel Phones. Intel has hinted at it many times.

WP goes to the cloud. The OS is not on your phone but in the cloud. So your like plugging in directly to da internet. :-P nah, I have no idea.

Surface Phone......please!

Lenovo & Intel on board for Windows Phone would be cool.

I have no clue wad dahell you guys/gals are talking about!

Check out the Asus windows 8 padphone concept for your answer.

Looks their planning on a replacement for Zune after all

You gotta have a new UEFI for the new Microsoft Surface PHONE!


All I can say is that Microsoft have quite a few jobs in Windows Phone at the moment... so they must have the right focus here.

I would love to work for Microsoft.... Maybe I can get the ehome team started up again....

Working on Windows Phone next gen ? Would love it and be passionate about it but, I am no no programmer....yet...

Microsoft is already working on Windows Phone 9-what's to come, that is the question?

Sent this to my Brother. Qualified WP8 Developer literally and Experientially. The smarts skipped to him. Worth a hat toss....

Merging of WP8 and WRT. (Windows Blue)

very confidential, when they post it on twitter :D

This is for mass enterprise deployment of a standard image with enterprise applications. This is the #1 wish list item for large organizations, including the government. This way IT can order a phone, install the standard image with a preselected set of apps, including custom-developed in0house apps, and hand it to the end user. This will open up the platform to the enthusiast market as well, which has been largely confined to the few with developer access.
Windows Central Newsletter
Thank you for signing up to Windows Central. You will receive a verification email shortly.
There was a problem. Please refresh the page and try again.