Microsoft HoloLens Development Edition pre-orders begin at $3,000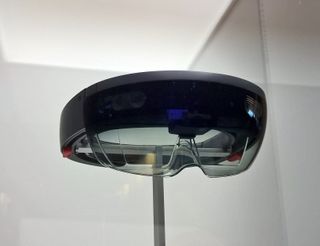 As promised, pre-orders have started for the Microsoft HoloLens Development Edition. Invites are being sent out to people who registered to get the hardware and tool. They are designed to offer developers an easy way to make apps for the augmented reality head set. The tools and hardware costs $3,000 and will start shipping on March 30.
In its blog post, Microsoft's HoloLens leader Alex Kipman points out that the HoloLens headset is a self-contained product and does not need a connection to a PC or other device to work:
Apply for Microsoft HoloLens Development Edition
Source: Microsoft
Yes, it's very expensive. It's also not a mass produced consumer product. So keep that in mind.

Understandable. Posted from Windows Central for Windows 10

I should have gotten this instead of getting the 950XL's I had gotten for my business Posted from my overheating 950XL

This is similar to the Xbox Dev Kits which go for a couple thousand dollars.

This one does... Rip VR stuff

You don't seem to grasp the difference between VR and augmented reality...

Hardware Details:
Optics
· See-through holographic lenses (waveguides)
· 2 HD 16:9 light engines
· Automatic pupillary distance calibration
· Holographic Resolution: 2.3M total light points
· Holographic Density: >2.5k radiants (light points per radian) Sensors
· 1 IMU
· 4 environment understanding cameras
· 1 depth camera
· 1 2MP photo / HD video camera
· Mixed reality capture (link to blog)
· 4 microphones
· 1 ambient light sensor Human Understanding
· Spatial sound
· Gaze tracking
· Gesture input
· Voice support Input / Output / Connectivity
· Built-in speakers
· Audio 3.5mm jack
· Volume up/down
· Brightness up/down
· Power button
· Battery status LEDs
· Wi-Fi 802.11ac
· Micro USB 2.0
· Bluetooth 4.1 LE Power
· Battery Life
o 2-3 hours of active use
o Up to 2 weeks of standby time
o Fully functional when charging
· Passively cooled (no fans) Processors
· Intel 32 bit architecture
· Custom-built Microsoft Holographic Processing Unit (HPU 1.0) Weight
· 579g Memory
· 64GB Flash
· 2GB RAM What's in the box
· HoloLens Development Edition
· Clicker
· Carrying case
· Charger and cable
· Microfiber cloth
· Nose pads
· Overhead strap OS and Apps
· Windows 10
· Windows Store What you need to develop
· Windows 10 PC able to run Visual Studio 2015 and Unity 5.4

2-3 Hours of active use is a big bummer. I knew it would be low, but I'm assuming this will be tied to the brightness of the device as well as CPU/HPU demand. My unanswered question is whether it can be teathered to an external battery pack via micro-USB and charge/run like a laptop. Otherwise, I'm waiting for next gen.

It's still an early product. It will get better in time (I'm talking about the battery)

It says fully functional when charging, so I'm guessing the answer to your question is yes. It looks like a USB type C connection on the charger.

Just looking at the specs you posted, it's says "fully functional when charging", therefore external battery packs are certainly a possibility... Whether such a thing actually exists or uses the connectors you mentioned is a different matter.

3000$ ??? :)))) what the'..???

Dev Kit. If you're not a developer, this isn't for you.

If you're not a developer you have no real reason to want this right now. If you're a developer then hopefully it pays for itself

The price for the dev kits has been known for a long time.

It is by invitation only. You can't even buy it if you are not a developer who gets the invite.

Mmmm...not sure on the battery thing. I'd like to think so as well, however that seems to be the one area of tech that really hasn't progressed in "leaps and bounds" as it were. That said, I like the idea, but hopefully the final consumer product will have a longer battery life...and be cheaper.

Anyone got $3,000 O could borrow?!

There's one thing I was curious about: how can people with visual impairments use HoloLens? Are contact lenses the only option, or can one use glasses?

I think they said it also works fine with glasses, but I'm not 100% sure

I don't think it's any different than using 3D glasses right now. You end up wearing both.

Really quite expensive, once this goes consumer base it's a massive revenue generator for MS

We, three friends, grouping up... none of us developer though... just want to try

You think people get upset over the quality and completeness of the phones, just wait until they get this on their hands. This is the ultimate beta test and an expensive one at that.

It's been this way for ages with first gen products.

Interesting that it's only a 32 bit processor. Don't know why, but that seems low to me. Although you probably don't need 64 just yet. Interesting nonetheless. Posted via the Windows Central App for Android

As a rule of thumb in embedded computing, don't have more than what you need.

If you consider the price of an Oculous plus a capable PC you are running close to $3000... Just saying.. Posted via the Windows Central App for Android

It's easier to justify buying a capable PC if you don't already have one since you can use it for more than VR/AR stuff. You also need a good computer if you're going to be developing apps for the HoloLens (this is a dev kit after all, buying it just for the 5-10 sample experiences makes no sense at all)

I got approved for Wave 2! Now I just need to come up with $3000 lol

Same here... Just woke up and saw my email for it and the welcome video.... Hehehe

I'm in wave 1, so I have even less time to come up with the money...

Going to be fun... Not for the light hearted and being a dev... Well it is always fun... Now we are given more control...
Windows Central Newsletter
Get the best of Windows Central in in your inbox, every day!
Thank you for signing up to Windows Central. You will receive a verification email shortly.
There was a problem. Please refresh the page and try again.