Microsoft Launches Lync 2010, Promises Windows Phone Integration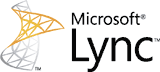 Another enterprise tool hit Microsoft's portfolio today as they launched their Lync 2010 platform. An updated take on their Office Communication Server, Lync provides everything from chat services (text, voice, video) to enterprise level VOIP services. The really cool thing about Lync is that it integrates with Microsoft's other enterprise level products like SharePoint, Active Directory, and Exchange Server, giving an unprecedented level of coordination between all forms of communication.
Microsoft would probably hate this comparison, but Lync offers a lot of the same functionality as Google Voice; except on an enterprise level. Voice mail transcription and simultaneously ringing multiple phones are both features that are shared between the two products.
The best news for us is that Microsoft fully intends to tie the services offered by Lync into Windows Phone 7. As an IT geek and a Windows Phone lover, the possibilities running through my head are exciting. As a consumer, I'm really hoping that Microsoft brings some of these technologies to the Windows Live side of the house.
Source: Microsoft Lync Product Page (opens in new tab); via: Ars Technica
Windows Central Newsletter
Get the best of Windows Central in in your inbox, every day!
As an OCS/Exchange/Network/AD/Everything else Enterprise level 3 engineer/architect, I'm really looking forward to seeing MS pull all of their services together. For so long it just felt like their software and services felt disjointed and separate, but in the recent years, its been fun to watch them pull together and work as a team. It is all very exciting and I'm really looking forward to how Link pulls more of those pieces together. It is called Link for a reason right?

Lync, but yes. I'm an MCSE, so some of the possibilities here are just really cool.

Indeed, windows live needs to see some love. In fact i think is needs a total overhaul so that existing services and future services has a unified platform to extend. Windows live should act like facebook where all their services are apps with-in the site, not on a seperate web address. PS this is my second visit to this site and I love the dedication. keep up the good work.

Thanks for the good feedback! Microsoft is planning on making Lync part of their Office 365 solution, which is a web based version of their enterprise solutions targeted at Small Businesses. I'm really curious what the pricing will be and how much functionality gets lost in translation. http://blogs.technet.com/b/uc/archive/2010/10/19/place-holder-365-releas...

Its MS, so far the whole WP7 launch and availability has been a shambles, dont bet on anything working seamlessly as you would like.

But Servers and Enterprise are what Microsoft does. I'm still hopeful.

Comparisons to Google voice aren't really accurate. It's Exchange server 2010 that provides the voice to text transcription for voice mail in the Exchange Unified Messaging server. Lync server provides IM, presence, audio and video chat, web conferencing, and telephony. It competes with Cisco and Avaya primarily in the Unified Communications space. But it has features and integration with other MS servers that compete with other vendor products like IBM and Google. So far, it's an enterprise targeted application. But with the cloud service in Office 365, it certainly could be presented as a consumer offering but that audience will have to live with the Microsoft Live branded products for now. Live Mail, Messenger, Live Essentials, etc. There's federation capabilities with Lync that will enable IM, presence, audio and video chat with Live messenger so Lync doesn't necessarily have to be isolated in the Enterprise. IM and presence can also extend to AOL, Yahoo, Facebook, Google Talk and others.

True, Exchange does the actual transcription, but Exchange doesn't do voicemail natively; it needs something else to connect to. Also...
"Use Microsoft Lync 2010 simultaneous ringing to have incoming calls automatically ring on your mobile, home, or other telephone number in addition to your desktop client." from http://lync.microsoft.com/en-us/Product/Workloads/Pages/mobility.aspx That sounds a lot like a Google Voice feature to me. It's not a 1 to 1 comparison, but they do share a similar focus and a lot of features.
Windows Central Newsletter
Thank you for signing up to Windows Central. You will receive a verification email shortly.
There was a problem. Please refresh the page and try again.