Microsoft Lumia 640 XL camera sample gallery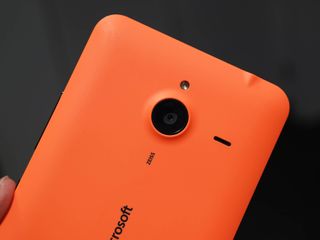 One of the number one questions we've been hearing since the launch of the Microsoft Lumia 640 XL is about how the camera fares. The 13MP Zeiss shooter on the back is, on paper at least. pretty substantial for a smartphone in the mid-tiers.
So, as we did we the Lumia 640, here's a very quick gallery of sample shots.
Again, all we did here is leave Rich Capture turned on (because, why wouldn't you?). That doesn't mean any effect has necessarily been added, indeed in some of the shots below there is absolutely none. The images have been crunched a little for uploading to the site, but clicking on each of them will open a larger copy.
We're reasonably impressed so far. As expected it does pretty well outdoors in good light, and it seems to do pretty well with close up shots such as the flower towards the bottom of the gallery.
We'll be talking more about the camera in the course of our full review, but we wanted to share some quick snaps in the mean time. But enough of our opinions, what's yours? Sound off in the comments below!
Richard Devine is an Editor at Windows Central. A former Project Manager and long-term tech addict, he joined Mobile Nations in 2011 and has been found on Android Central and iMore as well as Windows Central. Currently you'll find him covering all manner of PC hardware and gaming, and you can follow him on Twitter and Instagram.
I want to visit this place. @Richard which city is this anyway?

Looks like Lincoln to me.

I love Lincoln. I am hoping to vet my 640XL this week from Germany. The MS store in Germany says it ships from 16th April so I guess Amazon will do the same. Am soooo excited. The phone will cost about £50 less from Germany

This is without doubt photographed in the little market town of Lincoln UK!

I always dreamt of retiring to a small village or a town.

Well there are some lovely other places that fit that description better.

Just the size.!!! Makes me go no and Lumia 640 it aint up with Zeiss lenses .!!! :/

Probably but its expensive for my pocket to stretch there.!! Lets see probably the prices fall a bit further

Prices for the 830 have gone down. Don't know where you're from, but on Amazon.com in the US the 830 went from $350 to about $270 in the past few months. Kind of want to get another one, been pretty happy with mine.

It's $499 at the Microsoft Store in Canada.

Lumia 830 on ATT $399 now

Exactly! Posted via Windows Phone Central App

Have you got small hands?
You know what they say about small hands, small... :)

Close - it's a small third leg.

Are we in primary school again?

XD no it's just about taste , doesn't love too big phones ..!!!

There's also a saying about compensating with a large phone...

The same. But I just bought the 640 and for now it seems ok.

Same here! I know the 640 will be available in the US soon, I will have to wait for the 640 XL for all the better features. I wish Microsoft would stop being so coy about a US release date

Takes very good pictures. Buying this tomorrow

Where you want see am buy?

E bi like say dem be naija guys oo but the phone never reach Slot.

LOL
Slot don chop guys money foe that side ohh

The phone de slot and jumia, for slot na 49500 jumia na 51350

I think say na only me de wpcentral way be full naija man

Now I'm regretting buying this 535 dual with touchscreen problem

I bin buy that one too, quickly sold it and bought 730. To stop that screen problem stick a screen guard on it, did I on mine and touch issue leave the phone as demon the leave possessed person.

I thank all of una my peoples, I laughed so hard, dem think I de craz for work when I started reading naija broken on WPC. Ayyways, happy wp hunting for you my peoples.

I'm impressed! any news about china version?

Seriously great photos! I notice the sharpness level in these shots. If I am not mistaken, the sharpness is just waaay better than the Lumia 1020.

Not really, the saturation and detail is muted compared to the 1020, but probably faster.

That's one thing I miss about the 920 over my 1020 is the speed it takes images

Agreed, the 1020 is an image beast and the photo grip case is awesome, but speed is definitely not its strong suit.

Not bad. No OIS though - and how does this fare in low light? Camera is probably still not as good as 925/928

The indoors photo of the XBOX controller is looking pretty nice (1600x900): http://www.windowscentral.com/sites/wpcentral.com/files/styles/xlarge_wm...

Quick question? How will this stack up against Lumia 830's pureview!?

I think L830's pureview will perform better. Pixels do not matter much and plus it has OIS.

Thanks, was considering upgrading to 830! 640xl's size is a turn off for me! Good to know! :)

Do consider that you will have spend extra 5Ks for 830. That is nearly a third of 640XL's price!. On top of it, the front caemra is great in this phone vis-a-vis the 1MP shooter in 830. Having said that, I love the looks of 830 so much. I hate it that they can't adopt that phiolosophy of metal frame throughout the lumia product line. It will make phones a bit thinner, lighter and amazingly good looking. The backs should retain their vibrant color options though.

Yea I know, but I somehow find it cumbersome to use such a big phone. And major reason why I'm leaning more towards 830 is the camera and aesthetics!

830 or 640 or 640 XL. One will get similar performance on every Windows device. This is the best thing about Windows platform and Microsoft devices. And by the way, you can use it easily from a single hand.

Probably not as good in lowlight or with motion, but otherwise they look pretty good to me... especially if, like me, you can't get Denim for full Lumia Camera support yet.

I hope this increases Microsoft's sales and thus this plateform may grow because I don't think there's a better camera phone out there at this price point.

I agree after seeing these photos.

Athull man Zenfone 2 wont get regular updates like 640XL...and also this is hell of a newer phone...

Windows phone? Regular updates? Yeah, right.

Im talking about Win10...will Zenfone 2 get Lollipop 5.0.1 ? Nope...will 640XL get Win10 ? YES.

The Zenfone 2 is a brand new phone and not even released in many countires yet. It also comes stock with Lollipop 5.0.1. The specs for the Zenfone 2 blow the 640 and 640XL away. For instance, the Zenfone 2 Antutu scores range from 40,000 - 50,000. The Antutu score for the 640 XL is a pitiful 12,000! However, benchmarks tests don't often corellate with real world use, I understand that and I'm sure the 640/640XL will be a fine phone, I'm even condiering getting one, but the Zenfone 2 is a MUCH better deal for whatyou get for the price. And the Zenfoen 2's camera seems just as good as the 640 XL's in the pictures I've seen.


Thanks for this gallery Richard, makes me look forward to getting an XL.

When will it be available for purchase in US?

Nice camera performance but I'm happy with my L730.

Same with my L735...hope we get LED notification light with Win10 btw :)

Yep, 730's camera is preeetty niiice! ..and screen ..and design and ergonomics :)

How's the low light performance?

The pics look great. How does the XL's cam fare against the 920 back cam?

I have a 920 and from what I can see on these, this new phone is a LOT better. Less grainy and much closer to "real" colours than the 920 :)

925/928 camera is still better. Don't know about 920...

Looks really good... Really surprised

Nice camera...mmm....ok I will buy it to replace my old L520

Any idea when it will be available in the US?

At&t says it is coming soon.

"coming soon." There's a definitive phrase.

Just like the Denim update? :(

Wow, I want this so bad!!!!

It is sad that a mid range phone like this has a better camera than the m8 and m9

Why would that make you sad?? Better for lesser is good, isn't it??

Not bad. Certainly better than the shooter on its predecessor, the Lumia 1320. Where are the low-light shots?

Its miles better than the L1320. Ive got one. And I thought i could've gotten by with the camera on that thing...i was wrong..lol

Quality not bad. Impressive. Still waiting for it...

My 525 can also take such pictures. But speaking about the close-up one, u said true and they are pretty well taken.

but the images are very noisy with 525 due to low resolution

Yeah for is pixels, 525 takes very good photos with sufficient light.

But the design is not so beautiful

That's what holding me back, I like rectangular flat designs.

but if you don't mind using a flip case,then you can find one with rectangular flat desing which will give the phone similar look that we find in high end wps.In my opinion the desing of 640xl is not bad at all.it look stylish way better than L1320.

Using a flip case is not a solution. And it's hard to find a good stuff for Lumia since the Lumia's name is not so popular as Android and iPhone.

Prefer for waiting Lumia 830

The Windows Central app crashes on opening the images section.

Definitely better than my 635 that's for sure. Maybe if this thing drops ill get it in the fall

You should have taken an underwater pic. it's sad you didn't do that for us

Yes, an outer space shot too!

And a shot from Jupiter too!

I'd like to see a pic looking back from the event horizon of a black hole. Can you do this too please, while we are making requests?

Yeah! NASA is planning for space mission then why not go with them and shoot some for us . :P
I want earth photo from sun :D

Could you take a pic from inside a whale? That'd be the true test for the 640xl camera's low light capabilities

Great camera...i have one lumia 640xl..but my lumia 1320 is still my fav

I had a chance to compare 1320 and 640XL side by side. XL is by far a better looking phone. even the screen (despite both being 720p) is so much better in the XL. I don't think there is anything I like in 1320 better than this.

That's why I wanted this over the 640 but It seems like I have to settle for the 640 on tmobile

unlock it from att, it will work

Rich Capture on, because why wouldn't you? Well, perhaps because it'll fill your limited storage in no time at all...?

Great pictures, love Lincoln.

Does anyone know how to set the rich capture to be on as a default setting? I have to turn it on everytime. (Daniel, please don't shoot me for posting here and not on the forums) :D

it is the default setting I guess. Else, you can simply toggle to settings menu in Lumia camera 5. It is rather straightforward to turn it on/off

Better camera than my L730.

It is but its a lot larger phone also :P

i want to buy it but im confusing about the size "5.7" it's pretty big , i don't know microsoft will announce about new mid-range devices in build 2015 or should i buy these

I think u should wait Microsoft will mostly release a flagship(940) & mid range phone mostly 740 at build

I doubt it. They'll wait until 10 is ready Posted via the Windows Phone Central App for Android

5.7" is not too big, 1520 is big.

A selfie stick work with this phone or not

Who takes better photos? I was comparing this to the Lumia 830, I considered both phones solely for the camera. I chose the Lumia 830 because of the screen size, and because it would take a few more weeks to wait for the 640XL. My Lumia 830 is barely a week old. So again did I make the right decision?

830 will, pureview technology and optical image stabilization. 830 is the more premium phone.

W10 runs like crap on it. Im worried because they've been working on this things door months and months and the performance is still not there at all. Yes I know, alpha software. Posted via the Windows Phone Central App for Android

If you know it is alpha/tech preview why be so concerned? W10 runs like crap on everything...it's not done.

Yes you did. Lumia 830 is a great phone. Especially from the design. It looks so beautiful and elegant. If I were you, I'll make the same decision as you did.

No Sunday is complete without a visit to the garden centre.

Nice photos, take em all with a pinch of salt as optimum conditions for photos, need to see low light night shots etc to compare 100%

Not bad at all, it's not 41mpx, but not bad at all, however, I still think this phone is a bit overpriced

Goddammit! I've had enough of the fucking runaround already... Is this phone coming to T-Mobile US or not!?! I WANT THIS PHONE.

Pretty certain it's going to be an ATT exclusive, unfortunately. We'll have to look for a variant that supports T-Mobile and that likely means no Wi-Fi Calling capabilities. I hope they change their minds. Sad times...

I am not in US so don't understand such frustrations. Can you not buy an unlocked phone from a store and insert an AT&T or Verizon of T-mobile sim in it?

Now, Windows Central should have to give us Lumia 640XL vs Lumia 830 comparison... :D

Well i would like to see L735 vs L640XL vs L830 comparison :))

Completely off subject, but are the extra large tiles still available in the latest TP❔

Waiting for the full review :)

Hey guys, I purchased it on vry first day of launch in India and found a bug.....it does not support sd card above 32gb for direct app install on the sd card
...any suggestions to solve this problem guys....pls help

Install on phone and move to sd card,....
And contact your nearest Nokia priority store dealer....

One of the worse comments

Lagdroid Fan Spotted...!!

Microsoft is not for mobile they have taken so many things from Nokia and from google.their own creation is one drive note and office nothing else platform totally borrowed from others and in mobile nobody use their own creations they have failed in tabs computers and now turns to be failed in mobile also. Its going to happen very soon.

Firstly, they created windows. That is still the dominant OS for PCs and seems unchallenged. Then they have created windows for mobile phones and will soon have just one OS for all computing devices, be it a PC tablet or phone. No other company has done that or is even close to doing anything like it. Their outlook is the default mail application for most corporates. Second would be Lotus Notes, I guess MS office is the dominant office suite of applications. So don't say that they simply borrow from others. Yes, they have acquired a lot of companies but so has Google, Apple, Facebook, Yahoo et. all. You grow big both by growing organically as well as in-organically. There is nothing right or wrong about it.

Make camera comparison between Lumia 640,730,640 xl and 830, so that we can decide which has better camera for the price range.

Yummy! Lucky devils who have this phone already. Looking forward to availability here in the US...

Its highly priced according to the features.

Omg. :O I seriously need to upgrade my L1320

The picutres look pretty good, but nothing extraordinary though.

That's some impressive detail for a midrange/low-end smartphone camera. Definitely makes one consider getting this phone, even if only as a backup.

The quality of these pictures does look good. I still need to get my hands on this XL to check out how it feels in the hand. Looks more manageable than the 1320, that felt too big for everyday use..

The pics are pretty good. I'd say the Lumia 640 XL is a pretty good and affordable upgrade from my Lumia 920. For me, the camera and the screen size matter the most, and besides the flagships there isn't much to choose from. The Lumia 1020 has the camera, but not the phablet screen, so I think this should fit perfectly, I just wish they made a yellow version. :/

Does the shutter speed seem faster?

They look great! And that Xbox controller is beautiful.

You should also add the low light images..

Low light images are good as well. Yesterday I took some pictures at low light and they were so good. But I can't say about portrait at low light.

Looks better than my Lumia 920's pictures.

Wow! The camera quality is amazing. It even beats my 1020. The color production is very good.

The color look a bit pale or less saturate?

I would call it more 'natural'. Most other camera phones produce slightly over saturated colours. I really liked the color of flowers and leaves here. This is how they look in real. If you want much 'richer' capture, there is a small tweak required in settings and you can get more saturation or vibrancy in colors.

Does it support wireless charging??

Heard somewhere it might but you'll have to get a cover supporting wireless charging

I have got mine 2 days back in India. Yeah the picture quality is amazing even better than any other phone available in the market with this price range. I will be posting my Images and video. Kindly visit the blog to check the review -->> www.windowsphonewiki.com I got mine at Rs.15,650 , It has smooth touch. Lumia 730 has AMOLED display and better ppi than Lumia 640 XL so I was confused which one to buy. I ended up buying L640XL and I am satisfied with the touch and display of this product.

ugh. that rich capture! i've always wanted it. might buy a 640XL on christmas. lol. i'm fine with my 535 but i wish it's more clearer in lowlight. 535 does a good job on it though, but 'good' isnt enuf. well, it's a low end phone. what do i expect? :)

640 LX - no its not producing natural colors. either dull or too bright. i am using one

I will only change my Lumia 925 when Microsoft launches a high-end mobile like the 930 but only if it has GLANCE screen. :)

Dont see pictures to understand low light performance . Review is not useful..

Here is camera comparison between Lumia 640(not xl) and 730. Lumia 730 is better in low light imaging and also slightly better in video recording. Also front camera much better in 730. But daylight photos are better in Lumia 640. Check this comparison video
http://m.youtube.com/watch?v=q496S5O086k

Impressive, can you demonstrate the Dynamic range? Like a picture where part of the frame is over lit and the rest is dark?

Oh that limited edition Xbox one's joystick!!! Unlucky, it was not available in my country.

http://9gag.com/gag/aRPv1by?ref=fbp They're still bullet proof
We don't need those ithings you put in your pocket and it bends

I do like what I see. The camera and dual SIM is why I am switching my 1320 to a 640XL. I use my Windows Phone when I travel, instead of my HTC One max. Why? Because my old One max is such a good device and mine has a extra bright display, much brighter than any other One max I have ever looked at. 5.9 inches with no on screen buttons. That is why I also like the 1320, but the camera and non back-lit buttons on the 1320 are a major problem. So the 640XL dual SIM is a big upgrade. Perfect when I travel, I can always get a local prepaid SIM if need be. I nearly got mine today, but the dealer send me a 640 by mistake, back it went. Hopefully I will get my 640XL by this weekend. Posted via the Windows Central App for Android

Hi, I have bought the 640XL here in India. However, I have a few questions. How do I change the settings? The general setting gear shows timer, bracketing and option to chose wht happens if you press and hold the camera button (the physical button is not there though!!!). The photo setting just shows option to capture living images (I quite like the Harry potter kind of 'living images' and aspect ratio. Video setting just gives the option of resultion. Camera version is 5.0.2.49 I want to use dynamic Flash, Rich Capture and dynamic HDR etc. where do I get those settings from?
Windows Central Newsletter
Get the best of Windows Central in in your inbox, every day!
Thank you for signing up to Windows Central. You will receive a verification email shortly.
There was a problem. Please refresh the page and try again.