Microsoft prepping major update for this fall; codenamed Mango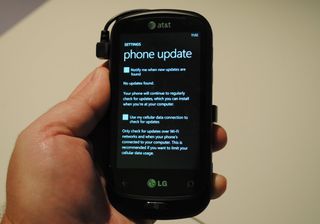 Microsoft watchdog Mary Jo Foley is reporting that Microsoft is prepping a major update to Windows Phone 7 for the fall timeframe. Codenamed Mango, the fall update is rumored to add Silverlight run-time and HTML 5 support as well as additional languages. Foley speculates that Microsoft may ramp up the enterprise functionality with Mango, in particular additional support for Exchange ActiveSync policies that enforce security requirements for mobile devices.
Rumors about the schedule for updates to Windows Phone 7 and what those updates will include have been flying recently. The current best guess is that we are going to see one or two updates in the January/February time frame, quite possible announced or released at CES in January. Many of the talking heads in the industry see that as a likely scenario because the rumored CDMA support would offer carriers like Sprint and Verizon the ability to announce their Windows Phone 7 launch hardware. Microsoft CEO Steve Ballmer is delivering the pre-show keynote on January 5th. One could assume that there would be other minor updates before Mango is released in the fall. Foley also mentioned the possibility of a Windows Phone 8 (codenamed Apollo) launch in late 2012.
Source: ZDnet: All About Microsoft
Windows Central Newsletter
Get the best of Windows Central in in your inbox, every day!
This sorta release schedule is close to what MS wanted to do, or sorta does, with desktop windows, IE, major release followed by a minor then another major. So really it could end up being like this, WP7 2010, 7.5 in 2011, 8.0 in 2012. This seems fine to me though they still have to push out smaller updates between the major ones to fix or fill in any little things that are problems right now. 6 to 8 months for a major update sounds just about right, faster would've been better but if we're talking a 7.5 and not a 7.1 type update then that changes things.

Mango, huh? What's next, Passion Fruit?

Exactly. This is fine as long as there are minor updates between the one in January and the large update reportedly coming in the fall. But only 1-2 updates a year (no matter how large) is not enough at this point in the life cycle.

Completely agree. Minor updates are a necessity year-long while the major updates that bring significantly new functionality can wait for every 6-12 months.

"First they ignore you, then they laugh at you, then they attack you, then you win."

Are they doing fruits, because if windows Phone 7 came with Fruit Ninja OMG I would bye one as soon as I can. JK

At least fruits are healthier than desserts? Really though, I hate codenames. Use numbers pl0x. :-p
Windows Central Newsletter
Thank you for signing up to Windows Central. You will receive a verification email shortly.
There was a problem. Please refresh the page and try again.