Microsoft promotes Cortana in China with actors in the real world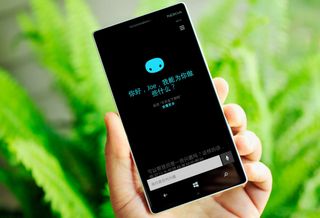 Cortana in China may go by the name "Xiao Na" but Microsoft is bringing the digital assistant for Windows Phone 8.1 to life in a new promotion in the form of both a TV commercial and actors who interact with people in the real world.
The TV ad shows Cortana as appearing in a puff of smoke when someone pushes a big blue button found on a man's backpack. The ad ends with the real version of the digital assistant being used on Windows Phone devices.
In addition, it appears that those same actors are hitting the streets somewhere in China to help promote Windows Phone 8.1 and Cortana.
What do you think of this latest effort by Microsoft to market Windows Phone 8.1 in China?
Source: WindowsblogItalia
It's not going to help much. Chinese people are all iPhone and Android fans. Hardly anyone here uses Windows Phone. That's what I have observed after coming here.

Nice optimistic assumptions there :|

yes, apple and android may be dominating china accrdng to your claim... but at least something was done to promote WP. any attempt is already a good start.

You can't know the future, and at least the actors now know that Windows Phones exist, even that would be slight growth/adoption, so it is not, as you naively claim: The truth.

It is true now. But things will change somewhat when W10 arrives. Windows OS is dominating PC in China. W10 will do well over there and solidify its dominating position. Cortana (Xiao Na) will become a popular companion app to W10. It is a training ground for the little W10 device - WP. With the announcement of W10, you see clearly that WP is a 4"-6" display member of W10 product famitly. The future of WP will be closely tied with the success of W10 and the Universal apps. WP has a unique position to become an important mobile companion to W10 for the long haul, slowly and surely. It is not just in China, it will happen everywhere.

Probably people will jump from iOS to WP :)

Actually in China only the real Nokia fans and geeky guys buy a WP. Most of them but an Xiaomi, Meizu, one plus and those affordable Chinese manufactures' hand set. They are all android phones but even Google Gmail YouTube can't be accessed. tons of people who loves iPhone and owns an iPhone, cause the price tag of that is quite high so people think that's a message to others that" I have lots of money". WP isn't very popular cause most of the people think that in that platform they got like zero apps. Also they all know about the notification on wp8 was very bad. Most of our Chinese people think acquire= bankruptcy. So they are all impressed when I hold a 6 inches Nokia.

That's what she said...6"

If they could somehow convince xiaomi to release a windows phone it would be a greater advertisement than this

Not to mention how widespread knockoffs are lol, and some of them aren't even that bad either.

Good. Get off your ass and keep impressing them.

Two days back I saw three windows phone on the same bus I was traveling in. Most of people in are noob about technology, and Chinese people like to follow the hype. Anywhere I go my 1520 grabs the attention not Iphone coz everyone has an iPhone but few use Nokia 1520. People often ask me what phone is this? How is the battery life, what about camera, what OS is it? At last I leave their mouth wide open by amazement.

IPhone is the new vanilla

+1520 Same happens to me quite often!!

in Vietnam , window phones No.1 :v......... I love WP

Finally! There's at least one country that respects Windows Phone for what it is!

Italy love themselves a Windows Phone too, UK are doing moderately :)

I like Italian food! Just joking (I do) but it's great to hear that Windows Phone is taking off in Europe and Asia.

I'm one of the UK WP users and you're right, it seems to be taking off over here.

That's not true. Im from vietnam but wp is by far the no 1. Iphone is at least 30-40% and wp is around 20-25%. Anyway, most wp devices are manufactured in here, and nokia/ms are really loved in this country.

India also showers love for WP :)

Yes....no turning back to android..it's like going from graduation to 5th grade..

What's the biggest WP community/blog/ news site in Vietnam? Do people still using winphoneviet?

In Poland there are lots of people using wp as well, but mainly because we loved Nokia brand in the past so much :)


My ex is Polish and she hurt me.... She doesn't deserve a Windows Phone *sniff*

Malaysia Chinese walk by... Reply by Lumia 920 ...

And 10 years ago they all had BlackBerry and Motorola things change

I am Chinese. I am using Windows phone, but I don't live in China,so I think I don't count..

I hope people get to know it more, it's awesome after all! :)

Whats that screen they show at the end? Haven't seen it before.

That's why I came to the comments, to see if anyone else knew.

The screen shown at the end is the moment features in wechat. :P

Seems pretty cool. Posted via Windows Phone Central App

They must practice this in India...there are lots of people having no idea what cortana exactly is...and people actually take advertisements and street acts too seriously.

Why no Traditional Chinese?

Only Taiwan, Hong Kong and Macau uses traditional Chinese officially, these markets are too small for MS to care about at this moment.

WP has a really awful Chinese app ecosystem. Poor localisation.

Hehehe... Has me thinking of Tron for a second or two... Hehehe cute.. But I talk to many in China to help understand their culture so I can design apps that will work everywhere including there and many hate iPhone and barely like androids. However many say they will try it windows phones but it is has Been so expensive. But the new phones prices will make a difference. Heck they can't even watch YouTube there they have to use weibo for almost everything or am underground VPN. But cute video. Think I will watch some Tron...

I got a Weibo account just to be a rebel. It took me three days to figure out how to sign in (I know no Chinese) and now..... what do you even post on a Chinese social network??? :P

Kind of like the little face

I wish in America I could use Chinese Cortana, you know, in English?

I thought it was called xaio Na not Cortana

She did mentioned she called xiao na(小娜) too! ;)

Why does the world have to have internet trolls? This better not be a rhetorical question :/

Because trolls desire attention, even if they can only get attention negatively. This may be, but not limited to: Feeling inadequate in real world experiences, bullying, boredom, insecurity, hubris, stress, the security of feeling anonymous on the internet, possible real word problem(s) that they cannot solve, such as a loved one in jail or a hospital, or home problems, such as poverty or abuse.
However, I have no sources, this knowledge is gleaned from years of articles in the news, as well as assumptions, opinions and other probabilities. This response may be illuminated moreover if the said troll retaliates. This applies over the internet.

Why run an ad, they can't get Cortana yet.

What are you talking about, they have a Chinese Cortana!

With the Update 1 to 8.1 they will have Cortana. Weeks away.

Dumbest advertising campaign ever.

And what does it mean for the people that now know about and purchase a Windows Phone? Dumb it may seem, but I'm sure it isn't aiming for pristine, serious intelligent portrayal, if it works, it's good advertisement right?

That's called an opinion and you know what I've said about them before.....

At least they don't have Verizon so they should be able to use Cortana.

Nice ad but I don't understand Chinese

Psychology. Another good move, Microsoft (I hope)

Bing must grow up a lot faster than the current rate, otherwise cortana will be dead soon when siri and google now evolve.

and again is the Spanish languages countries forgotten

Let the 1% of China's population buy WP, it will be more than 10 000 000 devices :)
Windows Central Newsletter
Get the best of Windows Central in in your inbox, every day!
Thank you for signing up to Windows Central. You will receive a verification email shortly.
There was a problem. Please refresh the page and try again.