Microsoft re-releases Windows 8.1 'August update' after fixing bugs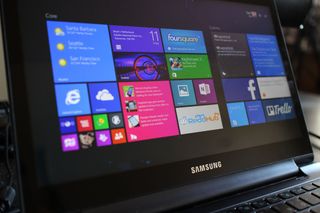 Microsoft has now re-released the "August Update" for Windows 8.1, Windows RT 8.1 and Windows Server 2012 R2 after fixing some bugs that were reported by a few PC users after the files were first made available on August 12.
Microsoft pulled the update from circulation a few days later but today the company confirmed the files are now available again. It added:
Here's a quick reminder of what Microsoft added to Windows 8.1 with the August update:
Precision touchpad improvements – three new end-user settings have been added: Leave touch pad on when a mouse is connected; allow right-clicks on the touchpad; double-tap and drag.
Miracast Receive – exposes a set of Wi-Fi direct APIs for Independent Hardware Vendor (IHV) drivers or OEM drivers to develop Windows 32-bit applications that run on all supported x86-based or x64-based versions of Windows 8.1, enabling the computer as a Miracast receiver.
Minimizing login prompts for SharePoint Online – reduces the number of prompts with federated use in accessing SharePoint Online sites. If you select the "Keep me signed in" check box when you log on for the first time, you will not see prompts for successive access to that SharePoint Online site.
What do you think of Microsoft's efforts to solve these problems with the Windows 8.1 August update?
Source: Windows blog
Windows Central Newsletter
Get the best of Windows Central in in your inbox, every day!
How can I install this? From the website or automatically?

Got mine on automatic updates, it lets me know updates are ready. I just select update and restart.

If only these are the new features, what is the big deal about this update?

Why doesn't M$ make a fix it to remove the 4 bad updates. All 4 are listed as suggested in update list but not in add/remove

You don't generally remove updates, you install new ones. The fixed updates replace the broken ones.

They said in KB last week or so, to remove certain updates

Im sure they whipped up a fixit script for it

Just finished updating. Went smoothly.

Did you remove old updates

Are there more details about the Miracast Receive thing? Could I send my Windows Phone image on my Surface using Miracast? Or send any other device to my Surface?

Sounds like your OEM needs to make the drivers. However potentially a third party could as well.

I guess Microsoft will include it in one of the forthcoming Surface firmware updates.

Are they ever going to fix the issue with the App Marketplace where you can't select apps until you close the app and relaunch it? Or when it tells you there is updates, but when you click updates it tells you there are none?

This is actually pretty weird and has been around for quite a while now. I totally don't understand why they would not fix this. It's so obvious that they must be aware of this issue. And I guarantee you that 90% of Windows 8 users will not know how to force the store to close so that you can open it from scratch afterwards.

Wondering what Paul has to say on that tomorrow when it's time for Windows Weekly :D

Good, resume the cyan update for all dp users, then everybody is happy

This was re-released nearly a week ago was it not?

That's what I was thinking.

I see. I just checked on my 8.1 tablet and there it is at 267kb...if only all MS updates were this small!

the only issue I have seen from my desk top in the last week has been that Chrome freezes, anyone else having this and if you did and fixed it how did you fix it.

I don't have that problem but on my mom's laptop Chrome will, at random times, display a screenshot of the current tab and the address bar tiled in the browsing window. Some of the colors are messed up. She is running 8.1 32-bit with Chrome Stable I think. The only way to fix it is restart Chrome.

Not really, but sometimes. I have more issues with IE now than I used to. Which sucks.

Glance for 930 rectified with this update...... I wish

Well if a PC update fixed your phone that would be impressive indeed

My computer went into an eternal auto repair loop after the update and i can't get out of it... I wanted a new PC but I didn't Microsoft to make that decision for me lol

Metro apps are closing down automatically in windows 8.1, tried every possible solution, but not worked, please help me...

Update just finished. No problems. This on a system that I deleted and reinstalled the KB2975719 update on last week.


How do you remove the botched update on Win RT as per MSFT's instructions?

I don't think you need to remove anything before installing this "new" update. http://support.microsoft.com/kb/2975719/en-us

I think I'm totally pissed that I had to spend 2 hours earlier to fix a out-of-a-sudden "Won't boot because of broken BCD" problem that even Windows Recovery wasn't able to remedy due to a "locked" directory which for some reason seems terribly hard to address by an automatism... So John, what do you think about that?

You definitely haven't read the article! Please read the article again.....and again and again until you understand it.

Or just the title, that should've been enough

I havent had any problems to begin with. All my Windows 8 devices updated smoothly in August.

I wish they would release a fix that would make my surface 2 actually start when the power button is pushed... They admit there's a problem. Posted via Windows Phone Central App

This one broke the search for updates screen (went blank & could not close) had to uninstall ? Also apps would not open

Can anybody tell me how can i use the miracast receiver feature?

I'll update tomorrow. I've noticed my pro wifi takes several minutes to connect when initially powered down. Although not stated, hopefully this update fixes it. Seems to have started this a few weeks ago
Windows Central Newsletter
Thank you for signing up to Windows Central. You will receive a verification email shortly.
There was a problem. Please refresh the page and try again.