Microsoft's Audio update causes crashes on new Lumias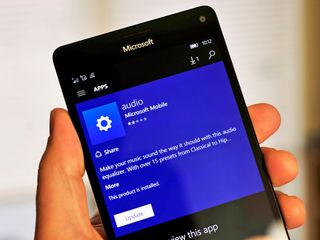 Microsoft has rolled out an update for the Audio settings part of Windows 10 Mobile. This latest release improves the user interface of the settings area, enabling you to manage your sound output and equalizer options in a more unified experience. This seems to be the only major change here, and we're unable to locate any features we deem as new.
The update applies to newer phones too e.g. Lumia 950, however we have been unable to identify changes to a bug on our phone.
That said, we'd also assume there'd be a bug fix or two, perhaps even some optimization included in the update too. If you haven't yet received an update for the extra settings area of your Windows 10 Mobile-powered smartphone, be sure to run the usual manual update checks and give it some time to trickle through.
Unfortunately, on our Lumia 950 post-update the Equalizer area under Settings > Extras now crashes every time, which is not a good sign. Let us know if you experience the same.
Let us know in the comments if you spot anything we've missed!
Download Audio System App for Lumia phones (opens in new tab)
Big thanks to everyone who tipped us!
Rich Edmonds is Senior Editor of PC hardware at Windows Central, covering everything related to PC components and NAS. He's been involved in technology for more than a decade and knows a thing or two about the magic inside a PC chassis. You can follow him over on Twitter at @RichEdmonds.
Equalizer crashing on a brand new device after updating the equalizer app, awesome.

Edit: It's working fine for me on 920, .36, I like the new consolidated layout. But the fact it crashes on a tech writer's new flagship device offers reduced confidence.

Flip to Silence is gone from my 920! Is it still showing up on yours?

I never use it as I keep my phone in pocket and set to vibrate when working, but yes, it is not in the new Equalizer app, formerly Audio app. It was a strange place for such a setting, unless its intended use was for music.

Coding for multiple devices is not easy. There's always risk associated with every update.

Lucky you :) It does crash on mine.

Works like a big ol piece of **** on my 1520. Won't lock any of the sound options.....keeps reveting back to none.

Yay, they finally used my screenshots. :)
Do you guys like the accent color I am using? ;-)

have the same on my lumia 930 black and gold edition <3

The update says Equaliser not Equalizer... Odd

With a Z is American English with a S is British English

With an S is English English. The original variety.

Hope so they update Display too

Do your display settings, glance screen &auto-brightness work... Mine are fkd up for almost a month, is my light sensor dead?? L1520

Yes,my equalizer now crashes on my Lumia 950...

It works just fine on my 950 XL

Works fine on my xl. May take latest build too

Crashes on my XL. Open it and it closes. It's been like that for days.

It crashes on my lumia 950XL and also when connecting with my 3.5mm jacks it messes up my sound balance (right is very weak). My phone heats up too and battery life went down dramatically.

Crashes immediately upon launch on my 950XL ...

No crashes on my 950XL
works fine for me.

If I go to Settings > extras > equalizer it closes immediately and returns back to extras list. This is the behaviour in 950XL without connecting headphones. One good thing noticed after this update (maybe) is the gaana app (Indian music app) started working again on Windows 10 :)

I connected my headphones. Still crashes ...

Yeah. No problem here in my 950XL, with headphones on or off. Equaliser changes also work great.

Works fine for me without headphones on 950XL with .36 update.

Wish to see visualizations in music player...loved old windows media player visualization..that wave form was so beautiful

Oh, I forgot all about that. That WAS really cool. I used it on XP I think. Nostalgia.

Out of box question. Why cant wp have pattern lock for lock screen?

Y not buy an android device for pattern lock screen?

Why not leave a helpful comment?

Maybe because it's a nice and quick feature? Though arguably biometric recognition is probably the future. At least they should bring picture sign-in to phones, PCs already have that.

Yes.. Pic pswd is the thing i want.. Hope it comes SOON

Picture password is a Win8 thing. That team was forced out. We're stuck with 10/10Mobile.

Picture password is still there in Windows 10. And what do you know about who was forced out or who wasn't? Do you think Microsoft swapped out their entire Windows team after Windows 8?

Why they can't copy theirs own OS and give us the Picture Password?

Cz they cant even give us an official update on time.. How can we expect a feature like this soon.. :P

Lol but they have time to add qr code to droid/ios bing app

How about picture password similar to the desktop. Well actually exactly the same

Because they are too lazy to implement it. Biometrics are going to be standard for all high range and some mid range so I guess it's ok not to spend time on it anymore. I love my hello :)

They need to improve a lot on Windows Hello. It's unusable right now.

I use Hello all the time on my Surface Book and 950XL (though it's been hit-or-miss on the phone) and love it. What could be improved so that it isn't unusable for you?

That stinks. Thankfully, on my 950 xl, it's working perfectly. Did you try and go back and retrain it?

I train it once a week in different light conditions and it works great for me!

I wouldn't call it unusable on my 950.

Mine does Hello well around 75% of the time, but isn't perfect. Ferrazza talks about everything WP like it's the second coming.

Mine works very well. Can improve but I've not entered my PIN in the last few days anymore. If you wanted to say that it is unusable for you then ooook.

As unusable as Kinect is...but when I got it, I took several times to Improve the experience and I suggest everyone do the same. If you don't calibrate, how do you expect it to recognize you better? For me I found that my eyes are too "Garfield" and I need to make sure it sees my eyes. =p

Out of habit, i still try to put in my pin when i unlock my phone, however, i generally end up accidentally opening an app on the start screen because Windows Hello unlocks it faster than I can, and its not like i'm a slow typer either. It's not as fast as my PC, but it's definitely not slow. Granted, like 5% of the time, it seems to give up way too quickly (like i unlock it and don't have time to even get it in front of my eyes). So I could see it improving if they fix that, but I definitely wouldn't call it unusable. The only thing I can imagine for those who find it unusable is that maybe they didn't train it enough? I trained it a lot. I can get it to unlock from about 2 feet away from my face at times.

I don't think it's laziness. Android devices are the only ones that natively had this feature. I still see more Android users using a fingerprint reader or passcode to unlock their device. There isn't a security benefit to a pattern unlock over any other traditional input method. I really like Windows Hello too. It would be nice to have a fingerprint reader and an iris scanner in a phone. Unlocking a phone via passcode or iris scan isn't safe in a car

Using your phone in the car isn't safe.

This is true, but I use it for music while I drive. I'm not actively using it. There are times I would like to change a song, and the drop down music controls don't stay there for very long.

Because patterns can be cracked if screen is oily. MS is working on hover gestures to unlock. We may be seeing it in future.

What about Windows 10's picture unlock? The one where you tap on certain places on an image. That would be much safer compared to a PIN or dragging your finger in a pattern as it's more random and it'd be indistinguishable from any other oily tapping marks on the screen. Plus it'd put W10P more in line with its desktop counterpart.

Agreed, they should totally bring that to W10M.

They did ahave a MS Garage app that would enable you to customize the lock screen, but I don't believe a pattern unlock was an option. Biometrics are where things are headed, and since Android is the only OS that uses it, I don't see it being added to Windows 10. Unfortunately you'll have to get an Android device or jailbreak an iPhone to get that.

Biometric is the future dude. Get used to it. If you don't have a new Lumia then buy one. It's better than the pattern lock.

A little off topic but what's going on with the equalizer?

Crashes on 950 after launch since update

They removed "Flip to silence calls" toggle from the app :_( It was so useful to me.

Yepp, I reallly liked the Flip to silence function, too ...

Why do they insist on removing stuff already implemented! Knock that sh** off already Microsoft!

Are you sure they didn't just move it elsewhere..? =s

Nope. I searched all across the Settings app, of course in those areas where it could be.

Works fine on my 735. Cheers MS

My Lumia crash, when open equalizer...

I'm getting crashes too, hopefully they fix soon. I have to say, the sound on my 950 is the best I have ever had

Infact it has changed itself to equaliser

950XL crash...probably having issues pulling the previously saved settings up...

Now cant pin it to the start

950XL crashes, just like everyone else :/

Works perfectly on my 950XL, including my previous Custom settings

Equalizer is crashing for me too even after I restarted my 950 XL. It looks like the EQ setting I chose before the update is still selected. I was able to get a brief glimpse before it crashed.

Same problem with caller blocker

Mine too. Several months.

Equalizer crashes on my Lumia 950XL as soon as you open it

Same here.. Unbelievable!

Windows 10 mobile is just a giant beta clusterfuck OS.

Works much better than 8.1 on my 930.

yeah, you're right. this here is the worst bug in the history of OSes. everyone will remember the day the bell tolled as this day, when the equalizer app stopped working on a portion of the 950 series phones.

Works fine on my Lumia 535.

There should be options for controlling the input sound as well for all primary and secondary microphones. Lumia 930 has secondary microphone problem where input level is too low.

1520. Everyone should have bought one. And they still should go buy one. Best windows phone to date. Don't hesitate. Just got buy :)

I'm sure it's a fine device BUT not everyone will enjoy using an oversized phABLET, especially not those of us with small hands.

1520 having no issues here

Amazing! How can they deploy this? Don't they test it on their brand new phones??

Why when they have us to test it for them?

When is the official update for Lumia phones from 8.1 to windows 10?Day by day only apps for windows 10 phone like 950 nd 950XL gets updated.This meant that 8.1 phones will never get updated to windows 10???

there is no official day yet. if you saw the site yesterday, the initial deployment was pushed back to early 2016.

Right now it sounds like my Icon on 8.1, which runs flawlessly, is better than W10. I'm not in any hurry to upgrade

Am not able to use equalizer even after using earphones in my Lumia 620

Did Microsoft outsource their software divisions to India or China? Satya Nadella laid off a lot of employees and it seems Windows is suffering for it. I remember one guy who was laid off stayed his own YouTube channel. He didn't have a grudge against Microsoft but he had no idea why he was laid off. He speculated it was probably a computer that decided the names. He personally reflected about several employees he knew that burned the midnight oil to make sure Windows shipped on time. They were let go too. Make you wonder what's going on inside Microsoft. The Surface Book debacle sure wasn't a good sign. Personally, I love my Lumia 950, but these bad updates over and over are really inexcusable.

Because gigantic companies never lay off people.

My Lumia 535 got speaker problem

Yup. Same here. Lumia 950 dual sim with latest OS (build 36).

It's working perfectly on my Lumia 1020 unlike APP Gadgets that after upgrading disappeared from my Lumia. It's installed, but I can't find it in the list "All applications" or in "Settings > Extras".

Lumia 925, lost the Dolby digital settings and options. I just have the equalizer and that's it.

It should work if you have earphones/headphones on. I got the same issue, works fine now. No crashing whatsoever.

That's BS, I tried downloading the update twice this morning and I was given an error "only if needed". If you're forcing the update don't qq.

not having any problems on my 950XL dual sim with 10586.0 runs fine - opens OK - cant tell the version or revision of course... fwiw, just got the 10586.29 update notification overnight, but havnt installed it yet.

No crash here o_O Lumia 950 on "official" .29 build (not Insider)

Working fine on L930. Sound on both video and voice recording barely audible. Is this issue unique to me.

AT&T Lumia 950 crashes as well. 586.36

crashing on my 950 XL running stock 10586.0

No problem here. But I do not have the .29 version of the ios.

Updated successfully.... No crashing what so ever

Great work Nadella. Keep it coming.

Can't install on my Lumia 640. Get error. Says that I have my apps set to install on SD card, asks if it is ok to install in internal storage. Click on OK, but the same error results.

Mine seems to work ok on 950. No crashes. Att model with most current insider update.

W10 needs a toggle to turn off updates that Bork working apps.

Can't install on my Lumia 640. Get error. Says that I have my apps set to install on SD card, asks if it is ok to install in internal storage. Click on OK, but the error continued. Tried changing to internal storage and restarting. Downloads file then stops with error. Trying to identify the error causes it to again.

On my 640 I had to go into the Storage app and move the Audio app from my SD card to internal storage, then the update installed okay. A minor drawback is that after a restart the audio app disappeared from Extras.

I see now that the name changed from audio to Equalizer.

That works. Not surprisingly, I couldn't move the app back to the SD card after installing.

Mine is still running, Lumia icon.

My 925's audio gets lowered right down to 0 and is non adjustable until I unplug the headset I had in the audio jack, this never happened before the update.

Reading about W10 on 950 is like watching a Benny Hill show on TV...
MS... Sorry, but you lost me...

My Lumia 1520 at first also cannot open the app under the settings. After a reboot the "audio" is replaced by "equalizer" in the extras, and it works fine.

does work fine on my 920 though (920 on insider, 950 isn't)

it crashes on my 950 XL with build.. 36

Sadly the gong show continues...

Yup equalizer crashing on 950 XL

Where did flip to silence go ?

My guess is that they removed the toggle because they couldn't make it function properly and bug-free on most devices. I haven't been able to get it to work on my Lumia 830 at all since a couple of updates ago...

I found that the Equaliser name in settings was shown as a garbled mess of random characters and would crash when tapped on. A simple soft reset solved the problem ☺

The update is working fine on my 640. But no flip to silence. Please bring back.

Same here, Lumia 930. It doesn't work anymore either.

I have a 950 and it did the same thing. I thought the issue was due to the new push for the insider build. So I reset the phone and now it is working again BUT it is still going through updates as of right now. We will see what happens after that. :/

Crashes on my 950 too (opens then closes immediately) running .36

Equalizer on my L950 is crashing every time

Works fine on my 950XL with 10586.29. But on my 950 with 10586.36 it crashes.

Its nt updating.Error.lumia 520

Works fine on my 950 with .36?

It does crash on my 950xl. 10586.36

Thanks for heads up. I'll avoid that update.

I am still waiting for the day when an update will bring an actual improvement to the table...

Flip to silence - where is it now? Amd not working on my Lumia 930 10586.36. I even tested it. Anybody here find any useful info on this?

Does Lumia 950 have Dolby Audio?

Nice! Crashes on my 950XL 10586.0. But runs fine on my 1520 10586.36, stays on selected mode etc...

It crashed on my 822, But now i believe it was happening because i used the audio.appx from a 950 which then broke after updating from the store. So i had to remove it then reinstall.

Will all the Lumia Phones get the dolby sound or only flagships.

Seems that the equalizer works even if you don't have any headphones connected. Good when you are using cordless speaker/headphones.

Unfortunately not true, at least not for my 830 connected to bluetooth headphones. This was the first thing I tried after updating.

It appears to be working fine on my 635. I have played around with the equalizer and no crashes thus far.

Equalizer is working pretty well on my Lumia 730, does it crashes only on 950?