Microsoft's 'Kin' phones 'crank social up to 11'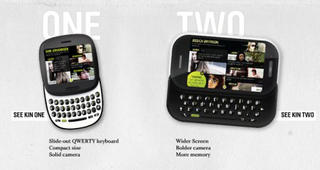 Microsoft just announced its long rumored "Project Pink." The phones remain the same as previously leaked, but it now has an official name -- Kin. As in Kindred spirits. At a small gathering this morning, Microsoft announced Kin One and Kin Two -- "A phone designed to navigate your social life," said Microsoft's Robbie Bach.
The idea is comparable to Motorola's Motoblur on Android -- bringing all of your social networks to one easy-to-use phone in a more focused platform than Windows Phone 7. Said Bach: "Windows Phone 7 is about simplifying your life. Kin is about amplifying your life."
Kin One and Kin Two will be available soon on Verizon. More at kin.com. Full press release after the break. [Verizon (opens in new tab)]
REDMOND, WA — Microsoft Corp. today announced KIN, a new Windows® Phone designed specifically for people who are actively navigating their social lives. Brought to life through partnerships with Verizon Wireless, Vodafone and Sharp Corporation, KIN is designed to be the ultimate social experience that blends the phone, online services and the PC with breakthrough new experiences called the Loop, Spot and Studio. KIN will be exclusively available from Verizon Wireless in the U.S. beginning in May and from Vodafone this autumn in Germany, Italy, Spain and the United Kingdom.
"Working closely with our partners, we saw an opportunity to design a mobile experience just for this social generation – a phone that makes it easy to share your life moment to moment," said Robbie Bach, president of the Entertainment and Devices Division at Microsoft. "We built KIN for people who live to be connected, share, express and relate to their friends and family. This social generation wants and needs more from their phone. KIN is the one place to get the stuff you care about to the people you care about most."
A New Kind of Social Phone
With KIN, social networking is built into the fabric of the phone. KIN has a fun, simple interface, which is designed to help people publish the magazine of their life by making the people and stuff they love the focus rather than menus and icons. The unique hardware design was developed in partnership with Sharp to create a new kind of social phone. There are two models called KIN ONE and KIN TWO. Both phones feature a touch screen and slide-out keyboard. ONE is small and compact, making it a perfect fit for a pocket and to operate with one hand. TWO has a larger screen and keyboard, in addition to more memory, a higher resolution camera, and the ability to record high-definition video. The 5 and 8 megapixel cameras in ONE and TWO, respectively, are designed for use in low light with image stabilization and a bright LumiLED flash.
The New Way to Share
The home screen of the phone is called the KIN Loop, which is always up to date and always on, showing all the things happening in someone's social world. KIN automatically brings together feeds from leading Microsoft and third-party services such as Facebook, MySpace and Twitter all in one place, making it easier to stay connected. Customers can also select their favorite people, and KIN will automatically prioritize their status updates, messages, feeds and photos. Another unique feature, the KIN Spot is a new way for people to share what's going on in their world. It lets them focus first on the people and stuff they want to share rather than the specific application they want to use. Videos, photos, text messages, Web pages, location and status updates are shared by simply dragging them to a single place on the phone called the Spot. Once all the people and content are in the Spot to share, the consumer can choose how to share, and start broadcasting.
Your Phone, on the Web
KIN Studio is your phone online. Almost everything created on the phone is available in the cloud from any Web browser. Photos and videos are freed from the confines of the phone and presented in an online visual timeline so they are easy to view and share. The KIN Studio automatically backs up texts, call history, photos, videos and contacts, and populates a personalized digital journal so it's easy to go back in time to relive a crazy weekend or recent birthday. And the KIN Studio gives customers tons of storage to keep all those photos, videos, contacts and texts so they'll never run out of space on their phone and lose a memory.
Music and More
KIN will be the first Windows Phone to feature a Zune experience – including music, video, FM radio and podcast playback. With a Zune Pass subscription, customers using Zune software on their PC can listen to millions of songs from Zune Marketplace on their KIN while on the go, or load their personal collection. KIN also has other features customers want in a phone including a rich browser with the ability to share pieces of the Web, local and Web search by Bing, and an RSS feed reader to pull down information on people and stories from the Web.
More information and a complete fact sheet on KIN are in the Microsoft News Center at http://www.microsoft.com/presspass/presskits/KIN (opens in new tab).
Founded in 1975, Microsoft (Nasdaq "MSFT") is the worldwide leader in software, services and solutions that help people and businesses realize their full potential.
Get the Windows Central Newsletter
All the latest news, reviews, and guides for Windows and Xbox diehards.
Phil is the father of two beautiful girls and is the Dad behind Modern Dad. Before that he spent seven years at the helm of Android Central. Before that he spent a decade in a newsroom of a two-time Pulitzer Prize-finalist newspaper. Before that — well, we don't talk much about those days. Subscribe to the Modern Dad newsletter!
ok ok.. color me impressed. Some of the items I expected, but the whole thing was very surprising. I love the timeline Kin Studio. That is very cool and unexpected.

"Perfect for sending pictures of your developing breast to all of your friends!" That's what I thought, then I looked at their website and they actually feature that in one of their video. I lol'd.

It's the new sidekick alright. With Everything MS is changing maybe Wmexperts is right anymore. Maybe the site should become MS phone experts cause You guys now have windows phone 7 to cover and this.

Kin = Windows Phone 7 lite. Microsoft's Ros Ho said the 2 platforms will unite. They both claim to be aimed at youth. Both are locked-in to Microsoft services, while excluding others. Both have a Bing Button you can't change to Google. Both forbid you from downloading apps outside of Microsoft's walled garden.

The whole 'Kin' video intro on their site reminds me of the Colbert/Miracle Whip thing aka faux hipster douchebaggery: http://www.eatmedaily.com/2009/10/colbert-mocks-hipster-miracle-whip-com... Other than that, they look decent enough for a certain demographic.

This is a great phone, but it won't sell with VZW current data plans, they are going to need plan between the 25MB and the unlimited for this phone. 25MB (the 9.99 plan) is nowhere near enough for uploading pictures from a 5 or 8MP camera and if you are going to spend 29.99 on a data plan, why not just get a full fledged smartphone?

Great phones great for kids and teens and some adults.I like the demo of it great job ms.
im going to buy this for my kids

I actually want this for myself, ill take this plus the HP-Slate + my laptop. I'm so fed up with my phone which i would gladly replace with the Kin and a tablet.

I like the Kin. I like what MSFT is doing going after a popular niche. The major thing is how they market and sell the device. I think they should not discount the phone heavily, but discount the data plan. So, if they were planning on giving the phone for free, and charging a 30 dollar data plan. I would instead have them sell the phone for 199, with a 20 dollar data plan. I think this niche doesn't care how much the device cost, they care more about how much they pay a month, since they have limited spending money, and allowances. They could recieve the kin as a gift, but the less maintenance is the better. I also think it might be a better to give you kid a kin instead of a blackberry. Phone companies these can easily mess up, like Palm. Also, I think one major mistake going on here is they are only launching on one carrier, this is just annoying and silly. When will companies learn that if they want to win, they must be accessible. They must launch on 2 carriers, not 1. RIM launched the Blackberry Tour on Sprint and Verizon on the same day, and the device sold really quickly that summer. MSFT should sell it on Verizon and T-mobile. Since their legacy sidekick customers are on T-Mobile, this is a major setback for these consumers, abandon the market share you already have.

I think they know this, and are going to try and have some aggressive pricing as far as phones and data plans. The key here is to sell alot, if each makes you a little profit vs alot (like a full smartphone probably does) but you sell 2x more then it's even better. Plus if you get teens on this you can then more easily upsell them a full smartphone. MS has said that the Kin and WP7 will (though not at first, but in time) share things. So I can picture MS having the Kin Studio as a option for WP7 users at some point. That'd be the best way to do it imo.

First iPhone, now MotoBlur. If only Microsoft would copy Android next . . .

Couple things: 1-Myphone exited beta in October (it was in a semiopen beta before then). Motorola announced its first motoblur phone in September. So the backup feature already existed before then. 2-Rumors about Kin (aka Project Pink) were heard as far back as July 2009. So if anything, they were developed at the same time.

Why is this being covered on WMExperts? Yes, it's a Microsoft product, but not related to Windows Mobile/Windows Phone 7...

Believe it or not, the Kin run a version of Windows Phone 7. They're just even more tweaked and locked to a specific target of features (aka a feature phone). So WMExperts covering this does make sense.

Kin and Windows Phone 7 are basically the same thing. The difference is that Kin has no apps at all. While Windows Phone 7 will have a few apps, and Microsoft will only allow you to buy apps from Microsoft's own locked-in Marketplace app store. You will be forbidden from accessing apps from anyone else but MS. Sound good? Ahem.

Doesnt matter where you get your programs from if they are quality programs. The limitations of windows phone 7 are well known, seems to be working for the competition though...

The Marketplace hub lets other app stores connect to it, ie Contoso in all the demos. It's also been said at MiX. Just like other hubs, in time, carriers or OEMs or maybe even others can link their stores through the marketplace hub. Also, and this has said time and again as well, business and enterprise will get a system in place for sideloading their own vertical apps, I hope you're keeping up here. That means they don't have to go through the marketplace, and that's all they care about really. Nothing is wrong with having a central place to get your apps, if the apps are good. This is a non-issue, no matter how hard you try to make it one.

We built KIN for people who live to be connected, share, express and relate to their friends and family. This social generation wants and needs more from their phone. KIN is the one place to get the stuff you care about to the people you care about most.

windows mobile can do all that...and then some.......

wow. operators deleted my comment cause i said this shit was fucken gay, which it is. pathetic. i think i will just take me and my atrocious bad words(and my revenue generating traffic) on over to engadget. they usually get the news sooner anyways. support the free market and freedom of speech ya nazis!

i wonder how many reviews written by the target demographic (12 - 22) we will see in print or in the bloggesphere?

just to let you all know, wmexperts delete comments if they disagree with them

I hope this is not another rumor. rumor comes as no surprise to anyone familiar with MS' mobile division: foneplus (2006), RIM acquisition (2008), zunephone(2009)..

I was little bit aware about this issue.I always feel kin phone sounds like a good fit for those who want a more integrated facebook/twitter experience but don't want the bulk and price of a smartphone..

Aslamo-e-Aliakum Friends, Families and Dear Loved Ones: www.islamicnet.com is a website for all kids, Muslims and Non-Muslims which allows everyone get free Quran lessons for Quran recitation, Tajweed, Translation, be it simple reading and learning or Scholarship programs, Islamicnet is helping everyone learn Quran online at home. Please tell us if you liked your new website? Thank you and Best regards
www.islamicnet.com