Microsoft's upcoming Android Dialer app for India reportedly coming to Windows Phone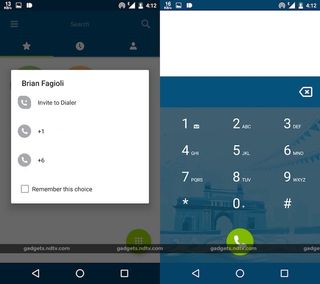 Microsoft is currently engaged in closed beta testing for a new Dialer app for Android devices in India. However, a new report claims that the app will be launched at some point for Windows Phone devices as well.
Gadgets 360 reports that the Android version of the Dialer app was created by Microsoft's Skype team as a replacement for Google's stock phone dialer app. The main purposes of Microsoft's app is to let users call each other on slower 3G and even 2G networks in India. It adds:
The report says that the Android version of Dialer will be officially launched in India in December. However, it adds that a Windows Phone version will also be made available sometime in early 2016. So far, Microsoft has not yet confirmed this report.
Source: Gadgets 360; Via: Neowin
Windows Central Newsletter
Get the best of Windows Central in your inbox, every day!
For some reason I feel they are porting it. :S

Who cares about this dead OS? Posting via windows central app on windows phone.

M hearing the same joke since 2012.
WP is never dead and its never gona die, may be android will die

It's not a joke man, only handful of people use windows phone. And the few friends I recommended wp are fed up with windows phone

So go to Android! see if they satisfies you and your crew. I use both but hate android. Posted via the Windows Central App for Android

I understand.. It is because Android is already feature complete OS.. They already crossed major development period.. But WP is still in its major development period and everything is coming with future updates.. Such big development needs time.. It cannot happen overnight.
If you are not happy you can definitely leave platform. No one is forcing you.

I guess you never heard about europe,did you? Check wp marketshare there.(hint: Comparable to ios)

Also a few of people use Linux or Mac, but these OSs are still alive. Not for majority, but nevertheless.

True its full of limitations ...worst Skype experience, no google apps, no locks for apps,

Google is responsible for the google apps. If you know any limitation, which is stopping Google from making its apps available in WP, please let me know. Infact, Google search is available in Windows store. You can verify.

Only camera doesn't satisfy people.. We need apps, games and background taking and Bluetooth received folder.. There are hundreds of features missing in windows phone

You do! that's why u on here. We understand your frustration tho. Posted via the Windows Central App for Android

The ghost who keeps asking...

Microsoft making every phone a Windows phone.

So Android 1st Windows second!

W10M already got a dialer. Why do you need a replacement?

The current W10M dialer doesn't have any connected features as described in the text such as real time caller identification and an internet phonebook, so why not a replacement that has more features? And whose to say that they won't fold in these features into the standard dialer into the future?

Shut up already. Given how Windows Phanboys scream at sight of even the smallest bugs, I am sure that using Android as a testbed for new projects is a good idea.

Exactly! They want it here 1st then complain about bugs. Posted via the Windows Central App for Android

I thought that's what the Garage was for..? =p

Well you can't port a Windows phone app to Android easily.

Get the baby food, diapers, and bottles out! Cry baby onboard.

Mobile and cloud first... Posted via the Windows Central App for Android

It is not like "android first and windows phone later".. It is because W10M is still not ready. I am sure it will be preinstalled in final W10M build.. So just wait n watch.

We are special that's y. Haha

They have slow internet, we have LTE we do not need this crappy app. New windows dialer is great.

How is internet speed related to a freaking dialer? it works the same on all networks, the extra truecaller like functionality seems to be the main point here, ignore the stupid source ndtv.

They need to emerge so they target us (as we are emerging nation with considerable windows phone base)

Did you read the article? Posted via the Windows Central App for Android

at some point huh? just like Halo Channel.. Halo Guardian is about to be realeased.. still waiting for that app.. I thought it was easy to port apps from Windows 10 store to Windows 10 Mobile store.. I am wondering why they haven't done it

Even they realize we're all aboard a sinking ship.

The ship isn't out in the sea yet. it is still under construction.

@Joshwin, @Jonnie LasVegas. Actually it's in the dry dock undergoing an overhaul.

...because W10M isn't officially out?

Ya but what are they waiting for? So many of us already have Windows 10 Mobile installed on our phones.. the game is about to be released.. they already updated that app on android twice (maybe more).. we dont even get the app.. release it for WP8 if its going to take you this long to release Windows 10.. idk maybe I am asking for too much

When the gameplay allows for it...you can't play Guardians on the phone and streaming isn't anywhere close, so very little reason to =\

What are the advantages over the Windows 10 Mobile dialler (as it is so far)

The only "advantage" I can find is the ability to lookup companies and phone numbers from inside the dialer. Wouldn't be bad to see these integrated into the WM10 dialer.

One nice feature in the Windows 10 Dialler (Also on other platforms, and was on Blackberry a long time ago) is the smart dialling. So if you want find a contact called "Jones" you can type in 56637 and find them from your contact list. If this one lets you search for company numbers online (i.e not in your address book) that would be a nice thing to add into the smart dialler function in Windows 10 Mobile

What about editing the number that you type? I'm mean: I want to call 555-6666 and I type 556-6666, I always need to erase the numbers and type again... Why do we have a dot in the numeric keyboard if it doesn't let us edit the wrong number?

the default phone app has that ability, its just to the right of the dialer...I honestly feel like the dialer on android is an iteration of the new phone app and they are just porting it back as separate for familiarity..? maybe. =p

True caller spam ability built in and local searches built in instead going to web/cortana

Can you read? ". The main purposes of Microsoft's app is to let users call each other on slower 3G and even 2G networks in India."

First of all, calm down. Yes, I can read. This doesn't sound like an advantage over the Windows 10 dialler to me... That was my question, other peoples comments have actually answered the question. There might be a specific reason you can't dial somebody on a 3G network in India, but you can already do that in Windows 10 everywhere else I've used it.

I'm calm. The article states they have slow connections and this app helps. There is 3g and 3g

Man you got to take that frustration out somewhere.

What!!!!! Now also windows developer first make there apps for android. Then windows

Wait what? Microsoft has a dialer app for android? I know they have a launcher for android, but a dialer app? Damn Microsoft!

Android gets a dialer with all functionalities and wp still has no smart dialer

Are you using w10m? If not upgrade, if yes what the hell do you want more?

Upgrade to a beta unstable OS?? Are serious??

Well, then the person should not complain. It is coming.

You don't have to, just know the timeline, w10m is coming out before that app for android, so you will have thee smart dialer before them eather way...

Smart dialer is already integrated in W10M.. So just wait few more time for official release of W10M.. MS will definitely give this as stock dialer in final W10M build..

Microsoft just keeps making it easier to leave Windows altogether.

I did it 3 months ago.....really happy btw.. .

Ok, thn what are you doing here? Go and play with your toy

If you left windows phone why are you still here, if you left then leave or you here to simply tell us you left every six months. Can someone tell me if Modern Mayor is still in the market place, I had it on Windows 10 preview on my 1520, it stop working so I uninstalled it, when I went to reinstalled it it was no long available. when I did find it in the store it said MS is killing it. Posted via Spaceship One

You've been saying that for a long time. Still hanging around..

I know...Just like a jilted lover wanting to see his ex fail. For shame... Posted via the Windows Central App for Android

Big market with slow internet.

What has slow internet got to do with a freaking dialer? Pathetic tech reporting from the source ndtv, A dialer works the same whether you are on 2G, 3G or 4G, this is about replicating Truecaller functionality.

This dialer handles skype calls, that is why. Don't know if it is fake, do you have their source code?

No i don't have their source code, neither did i call it fake, i said " Pathetic tech reporting from the source ndtv" Everyone in India knows that NDTV is not good with tech journalism or any journalism to be frank :) And regarding skype calls, how will it matter which dialer you are using, the VOIP or Skype video call won't go through if you are using 2G network, this dialer app won't and can't make a difference in that situation.

Don't shout.. Few months ago dan or someone else posted an article on WC claiming that Skype team is working on new Skype app for india to work fluently on lower networks.. For calls, texts n video calls..
So now MS integrated Skype in stock massaging app in W10M so these improvements are as obvious coming in stock dialer.

We will see when that happens, as of now there is no proof of this, all we can see is an Android Dialer App with Truecaller like functionality.

I hope it does not lag as androids stock phone app

Huh, haven't noticed any lag in the dialer or any app on my Nexus 6. Posted via the Windows Central App for Android

"Nexus 6" is the key thing to remember. You have a stock Android expirience. He probably has a Samsung or something with a launcher. Lag on cheap Android smartphones was the number one reason I left Android a year ago, and I will probably never go back.

He specifically said the stock Android dialer. Only a few phones use the stock dialer, most have a custom dialer. Posted via the Windows Central App for Android

What's next? Install windows on android?

Made by Skype team, does that mean it does VoIP calls over Skype network?

I assume it does, as just making phone calls, would not matter over 3G or 2G networks.

The only thing that remains for windows users is the day where MS will ask you to buy a feature to remove the ads in WP and provide the same for free to android

Seems MS is doing more R&D on Android and then brining it to Windows platform. we are watching.... atleast release at the same time on all platforms. please.

No, I rather them test out on Android then bring the refined version to WP when it's perfected. Posted via the Windows Central App for Android

W10M is still not ready.. So just calm down.. They'll definitely add it as integrated stock dialer when MS officially launch W10M in December.

Dont worry you will get it SOON as always lol

Dude they are building an android phone. Its so obvious

They already have two perfectly good phones, why would they make another so soon

For next year the Nokia wannabe Android phone was a beta.

What's sad is that this dialer app is esthetically more beautiful. Something we have been giving them feedbacks about. It looks like they are using our feedbacks to make better apps of their core services for android and iOS. Lool.

Beauty is in the eyes of the viewer. I like stylized over colorful for example.

It's for VoIP calls over 2g and 3g. In India 70% people using 2g and low speed 3g in their smart phones.

How can a dialer app affect VOIP calls? If you are on slow 2G network your data speeds will be slow and either VOIP calls won't go through or the call quality will be terrible, replacing dialer app won't improve the situation.

Special and Indian "?? Wow what's a joke ... Yo

Why Microsoft is more interested in making Android apps and leaving behind some Windows phone apps like tetra lock screen,etc. months behind.....

The bridge to somewhere... Posted via the Windows Central App for Android

I chose windows phone over android for a lot of reasons, stable, good battery life and it has everything I need, sure I miss a lot of apps from Android but I think with wp10 will reach maturity and a lot of developers with their apps wp10 will become as good as android it just takes time, using wp8.1 it does remind me my first android device running android 2.1

Nope!! You are just a fanboy Posted via the Windows Central App

Tell me, which app are you missing? I only miss Snapchat. Other than that I have everything.

Its a joke because I'm seeing a commendable growth of lumias in my locality.