MixRadio committed to Windows Phone for the future, iOS and Android private beta emerges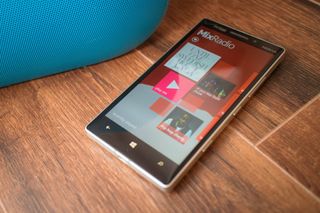 Having been a staple on Windows Phone for some time now the popular music service, MixRadio, is entering into a state of transition as it goes from being a Microsoft property to one owned by Line. Having recently met with the team at Mobile World Congress we're able to confirm that the service will remain on Windows Phone, with development continuing into the future.
Oh, and a little hot off the press news: there's a private beta of a MixRadio app for iOS and Android currently in testing.
It's important to talk the future on Windows Phone for many reasons. MixRadio has a strong following on the platform, and some may have questions over its future given the transition of the company from Microsoft ownership to Line. But after speaking with MixRadio's Dean Pattrick (@deano_42 as you may recognize him), we've learned that the company is being left to continue its good work as a separate entity to Line. And with that it will continue to be pre-loaded on future Lumia devices as well as there being a universal Windows app on the roadmap.
The iOS and Android versions are clearly not final in any way and right now it's in a private testing phase. But Windows Phone certainly isn't going to be left out or become a "second-class citizen," though. The Windows Phone app is slated for an update sometime in the summer with some great new features.
At this point there's no word on exactly when MixRadio for iOS and Android may leave its beta testing phase. It's exciting news for sure, and potentially a whole new world of success for something that rightfully deserves it.
Thanks anon for the tip!
Windows Central Newsletter
Get the best of Windows Central in in your inbox, every day!
Managing Editor - Tech, Reviews
Richard Devine is a Managing Editor at Windows Central with over a decade of experience. A former Project Manager and long-term tech addict, he joined Mobile Nations in 2011 and has been found on Android Central and iMore as well as Windows Central. Currently, you'll find him steering the site's coverage of all manner of PC hardware and reviews. Find him on Mastodon at mstdn.social/@richdevine
The subscription, that's when I'm happy.

+infinity...needing the subscriptions back..

I got an email from the team stating that as I previously had a subscription all of the extra features of that would still be available to me

Needs to come on all Windows phone devices

We need subscription at least for windows 10. We don't have much better alternative in India, and subscriptions are gone feel sad. Btw its difficult to download music with correct ID3 tags and album art other than torrents.

Yeah, but let's be honest, MixRadio's algorithms are kinda cheap. Would have went with Spotify+Student but their app looks nothing like Metro :)

Every app on Windows Phone is available everywhere else. Not the other way round though. Wait till Apple invents live tiles and that's it.

Because like it or not iOS and Android = making a ton of money. Microsoft could have kept MixRadio, but didn't. It sold it. But we still get it, we still get a committed service and we still get some awesome stuff in the future. Hint: Universal app.

Isn't XBOX Music IOS too?

It sucks on iOS though. Much better on WP.

They already did. Didn't you hear❓

Don't worry. Microsoft already files a pattern for their live tile...

They sure did... But, the judge has an iPhone in his robe pocket, and he really would like to see some "Active Icons" on his 6s+.... Lol❗❗
...........
MS shutdown again... SMDH.

Lol❗ .... Yep, they invented iHubs.

If the 6s gets expandable storage then Apple will have invented the iD card.....

This thread seems so hilarious to me.
iTiles
iD
iHubs
iGlance
iBand
iBox
.
.
.
iMicrosoft..?

iSoul...don't be caught dead without it.

Microsoft's into the sewing business now are they : )

Definitely not in the advertising business... Hahahahahahahahahahahaha❗❗

The famous 'Apple iSue Android' don't forget about that now....

Don't the two companies have some sort of a gentleman's agreement where one cannot copy the other?

I think so...... But, then again,, look at iOS7 AKA the complete rip-off of WP.

Actually one can copy the other without patent problems

I hope they don't change the current UI in the future update.. It almost perfect already..

It is a great UI. My only issues are the text size is small, especially if using it as a primary screen while driving, and landscape mode would be a nice addition where text size could increase, for Artist names more specifically.

Yeah the font size should be customizable..

Who cares about ios and android?
Daniel???
This is windows Central, i don't care about ios or android are irrilevant for me
Please

It's irrelevant to you... You. Lol.

You know you're not forced to read the articles that don't interest you personally...

I agree with max... No apple stupidities please, let them read their own stories to bed

Lol❗❗❗❗❗❗❗❗❗❗❗❗❗❗❗❗❗❗❗ Hows that for lifting.

Well Richard did talk about WP version and the update why couldn't he say that mixradio is gonna be multiplatform.

I have left Windows Phone for iPhone but continue to use Microsoft apps and services. I will continue to get my Microsoft news here, so these articles are of great interest to me.


By far my favourite music app. It ain't broke, so don't try to fix it guys.

It does have some issues, but is still my favorite. Used on all my MS devices all day and in the car. I was glad to see the subscription fee waived for current customers while changes are being made and more glad after seeing the next scheduled recurring payment in June or July, meaning it should be sticking around. The news here seems to confirm the service will continue to exist, and grow.

For the future.... Is that foreseeable future❓

As I wrote in the post. Microsoft wants MixRadio preloaded on future Lumia phones. We weren't told how long for which to me means it's open ended.

Yup. Well...until it leaves beta on Android and iOS I'd bet.

Lol.. Damng... That's not to positive, DJCBS.

You'd open an enquiry on what had happened to the real me if it was, confess. ;P

Right... I would call a doctor.

Not true. I'm pretty confident I know what's on their roadmap.

He's gonna be hard to convince...

That's fine. If it all pans out I'll be happy to see his reaction in 12 months time ;)

He switched to Android... He might not even be here by then.. Lol. It's true.

Oh Richard...so naïve lol
I won't have a reaction, really. I was never a big user of MixRadio when it was Nokia Music let alone after that. It's a clever algorithm, sure, but I seldom want to hear random songs so I never found much use to it (I did use to buy the few music I buy digitally from Nokia Music, though.) But there's a pattern lately when it comes to developers and WP and it's not very good for the WP part. Nothing else. And with them already preparing Android and iOS apps, I'm ready to bet development for WP will only be kept on par if Microsoft keeps opening up their purse to pay for it. But we shall see ;)

I don't know why people around here still try to argue with you lol

Lol.... But, how can you disagree with what he just replied❓
.........
The only way you would disagree with that is just for the sake of disagreeing, because what he just said is 1,000,000% true.

Whatever they do, just bring back the unlimited downloads option and subscription. I'm not interested in those mixes. I have a lot of purchased music and can't even download it again.

Microsoft really should have kept this and replaced Xbox Music's radio with it (especially since Spotify stole their old radio engine). MixRadio is an amazing service for discovering new music.

Yeah. Because it's easy to combine two completely different services.

They did it with Skype. And prior to Microsoft's acquisition, Skype used a radically different p2p backend. If they were able to pull that off, then swapping out the current 3rd party music recommendation engine (which they'll have to do soon anyway) for a 1st party one should be much more doable.

This should be an exclusively Windows Phone application, did not like that very much.

Microsoft could have kept it

They should integrate it with xbox music at least.

Don't think the licenses were inter-changeable for integration.

I agree with the integration with Xbox Music

Was only a matter of time

They should make it available for all other windows phone devices first, not just Nokia and then maybe for Android and IOS.

Agreed. I was really disappointed that I couldn't use it after switching from a 635 to a Blu Win HD. Although what I REALLY easy is a SiriusXM app....

Why do Lumia apps need to go non Lumia phones lol I never got that. HTC and Samsung have exclusives. Why don't we get those? Lmao. I like my Lumia exclusive

It's no longer a Lumia app if you couldn't tell by the article

Maybe because Microsoft wants to attract other OEMs to WP? Maybe because Microsoft's long term plan for the Lumia line (assuming MM lasts that long) is very likely to put it into the Surface/Band-scheme of reference-device?

Good point..... And, then you will get a new 1550.

Maybe, 'cause isn't exclusive anymore? Will have it on Android and iOS devices.

It used to be a Nokia service. In addition, they would pay the royalties for the free tier, which is why it doesn't have ads unlike other services. In exchange Nokia limited it to their handsets only.

Hope the update will enable scrobbling. And the desktop app should be able to read files frim network drives as well as automatically sync playlists. This might make it usable.

Shame MS not keeping this and ditching xbox music. It is a solid app and service, good to see they are being left to continue as a separate entity.

Go Tell Satya, it was his decision....He's a guenius you know

Satya has been nothing but an ignoramus since being put at the helm. Things keep backtracking under this ass. Can someone please get someone at the wheel that is worried about the consumers as well as the board?

Just hopes Line Keep MixRadio alive for us

Lol... It's sad you say that..... Just proves how crappy XBM has been for us.

Mix Radio is already a second class service on Windows Phone due to its geographically limited availability, in this instance New Zealand. Whereas this app is likely to go global mode on Android and iOS. Similalry iHeartRadio and Beats apps are not globally available on Windows ecosystem.

They are also actively looking for Xamarin developers, another nod to cross platform options

Xamarin is a fantastic cross-platform mobile app development environment. Being able to share 80% of code across iOS, Android, and Windows, and have device-native from ends is awesome for developers.

Microsoft is so dumb to take their exclusives to other platforms...

Microsoft sold this service.

I've almost completely stopped using this app. It was fantastic with subscriptions. Once they stopped that, goodbye MixRadio and hello iTunes...

In what region did they stop subscriptions?

Recent article said it was going to be stopped everywhere. That means no more downloads.

iTunes is better? I've been using iTunes for 10 years and I'd never have said it was better at anything. Other than connecting your iPod/iPhone too.

Agree My brother always blaming when he plug his device aka iphone to itunes he has some problem with it

So you assumed that I complain when I plug in my device. I never said that. I am more than happy to do so once a week to sync my music.

Better only because I can download music. There are no other legal ways to download music in India, just the pirated one's...

Gaana.com is a good alternative. Their windows apps are very bad though

No option to download international songs...

I am not a iPhone user. Other than the iTunes part, +1 to you

I wish Microsoft was committed to some form of Music and Video appp.

Rodneyej the Tool is at it again. Anyways, good to see it stay on windows phone, obvious move imo. How it will compete with Spotify even further, a big player on all mobile platforms is something I wonder about.

Customizable color options rather than stock colors would be nice, even patterns or loadable images for that matter could be fun

Line is good company for developing apps indeed, Line example slowly but improving

Why exactly wasn't this rolled into Xbox music and placed on the desktop again?

Because there is no leadership. There is four hundred different teams answering to no one. Instead of one guy telling each team that everyone is working together and to get on board or get out, we get everyone doing whatever they want and nothing complimenting the other and many times many teams working on almost identical things that are just redundant forms of each other. Zero leadership.

Just a matter of time now before they ruin this great app with annoying ads! Hope there's a paid version available if that happens.

I stop using MixRadio and move to Spotify

Honestly, if my favorite apps are finding their way to iOS, then I won't have many reasons to stay on WP.

I still thought they were going to roll mixradio into Xbox music... Seems strange to sell it off rather than consolidate. But whatever, I never cared for it.

really should integrate, not like the xbox music as he is

Very nice. I like the app for when I know I might have dropped signal so can save up to 4 mixes for free.

Great so I can download it again.

Off topic........Why MS still not making any mobile payment app?????

How do web know they aren't?

Never heard about it.......

Mix Radio is one of the best apps on WP and like everything that originated with Nokia has a fairly good international coverage unlike apps like Cortana or Xbox music. Pricing of albums download is also reasonable. Hope the app will continue on WP with the ability to purchase tracks or albums . As for IOS and Android , I don't mind those having it , if it helps Mix Radio to become even better .

As long as they keep the updates for WP I don't think I'd care about Android or IOS

We'll know Windows (for mobile) is out of the woods when we can stop talking about the future development of current applications.
I do think we'll get there. And MixRadio is one of the gems of Windows for sure.

T-Mobiles net neutrality violations shut the service out of consideration for many people anyway.

Best news I've read all day!
Windows Phone needs MixRadio!!

This news is far from exciting if there is no option for unlimited downloads. I am a user, but not a very big fan of internet radio services. Even if I was, there are several other apps providing that for free. Some in-country apps (particularly here in India) are actually better when it comes to the radio part of it. My best experience was the ability to quickly download my favorite song and tag it to a playlist, without any hassle. For that I was even paying for the subscription! (we Indians are not fond of 'paying' for apps yet). Ever since that facility has ended, I have not opened my Mix radio app at all. And if there is no confirmation that it is coming back, I might uninstall it altogether.

Nothing else is unique within the windows phone, it's almost time to get out ¬ ¬ Lumia Camera Here Mix Radio Office :(

Awesome.
I am looking forward to the universal app.

Well if Microsoft itself is creating apps for iOS and Android then,why wouldn't the 3rd party apps??? If this continues... How can Microsoft expect to switch users from other platform to wp?? I mean look, they all are getting all the good benefits-with a few exception everyone can live without-of our platform.... Then why would they even want to switch??

Sad to say but..in future there should be a article "Line pulled there Mixradio radio from windows and windowsphone for no reason (which is previously owned by Microsoft)"... :\

Mix Radio monthly renewal of subscription in India is either through Oxigen which is online or through Nokia Priority shops which is like going to the shop and purchasing the music voucher. Sadly though both are no longer operational as of now and this is the status for the past one year.
The only thing that can appeal right now about this awesome app is that it will have to resume the online extension of subscription from within the app. If Line can do this it will be great for the app as well as millions of users globally..

Love the current UI, only text size needs to be increased.
As long as it stays live & is updated, I don't have any issues.

Don't know if everyone is facing this problem, however I feel mix radio doesn't support album art. I tried many music apps but no one has full support of album art except onemusic. So I personally don't like mixradio or Xbox music and fail to understand, how come a company like msft doesn't work on that. I may be wrong so, requesting solution.

Album art works perfectly here too. I used Itunes to edit the ID tags in bulk...

Same here buddy, big name but tasteless cooking, now I know why people love Apple and Google's Android

Fix download issue..Now I cant download any songs.,why..??

Whatever I loved about Nokia is dying with each passing day. Heartbroken, hate you Microsoft and Stephen elop, will ditch my Nokia Lumia soon

Windows exclusive can make their way to android and iOS but their apps will never come to windows ao sad and digusting...

MixRadio no more available at windows store. So sad

Can't login to my account using IE. Still works fine with Google chrome

Great but hey is possible to reinstall the original Nokia Music "MixRadio" app after unwittingly updating it to the current version which doesnt have an option for downloading offline "mixes" for later listening? I have really battled this problem for ages! The only option i was told is to reset the phone and restore the app? Any better suggestions?

i meant, "is it possible to reinstall..." there!

To me mixradio in Chile doesn't exist the best thing that can do is upgrade coverage countries of their service is like amazing in Brazil always gets the best and in Chile do not get mixradio software even in preloaded ways,

MixRadio is my music app of choice on Windows phone. Hopefully it continues for a long while Posted via the Windows Central App

This app is so slow I had to uninstall it. It takes forever to simply change songs and artists. Waste of my time when listening to music at work and I have to wait for it to keep up with me. Shame because it's such a beautiful app.

I'm just glad to read that it's going to continue WP development.
Windows Central Newsletter
Thank you for signing up to Windows Central. You will receive a verification email shortly.
There was a problem. Please refresh the page and try again.