More anti-WP7 retailer bias, a fan responds as does Microsoft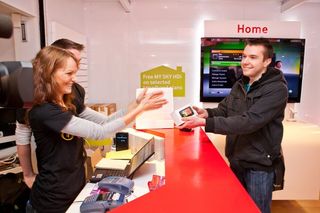 A few days ago we reported on PC Mag's "study" (we use that terms loosely since the sample was so small) on carriers and how they are pushing/not-pushing Windows Phone 7 in the stores, specifically if retail associates were supporting the platform or undermining it. Unfortunately, between their report and your user reports in comments (something we've heard from months too in forums), it seems that the retail associates are far from endorsing the new OS, even to those who are directly asking for it.
Now, two more reporters have run the same tests (more or less) and have had the same results. Jessica Van Sack of the Boston Herald shares her story doing the same experiment:
Likewise, Joe Romaine of International Business Times relates his story going back a few months ago to a T-Mobile store in Manhattan. The salesperson stated: "Windows Phone 7 is very unreliable. Its has many problems. We get complaints all the time from people who bought them from us." and proceeded to try and talk him out of the device.
All of this, while still anecdotal, seems to back up readers' experiences in the stores as well. However, Microsoft has responded to the matter to PC Mag directly. Greg Sullivan, Windows Phone product manager noted:
Sullivan finally concludes with hope that the Nokia deal helps in this regard, noting Nokia's strong retail presence. Also, perhaps disappointingly, Microsoft is not yet prepared to offer cash-incentives for retail associates who successfully push Windows Phone. For us, we're still convinced that we won't see any real 'breaking point' in Windows Phone in terms of marketshare till late 2011. By that time, we hope to see such reports of retail sabotaging on the decline.
For now, you can document your experiences by using this website, Windows Phone Tattletale, started by Robert McLaws (This replaces the earlier OneNote method that we reported on).
Source: PCMag, Boston Herald, International Business Times; Thanks, Brianna, for the heads up on 'Tattletale'
Windows Central Newsletter
Get the best of Windows Central in in your inbox, every day!
Daniel Rubino is the Editor-in-chief of Windows Central, head reviewer, podcast co-host, and analyst. He has been covering Microsoft since 2007 when this site was called WMExperts (and later Windows Phone Central). His interests include Windows, laptops, next-gen computing, and for some reason, watches. Before all this tech stuff, he worked on a Ph.D. in linguistics, watched people sleep (for medical purposes!), and ran the projectors at movie theaters because it was fun.
I've not had direct retail issues and not in the States but I'm in Australia.There have been a couple instances where I couldn't get over the AntiWinPhone campaign that 'seems' to be out there.Firstly a large independant Crazy phone company recently had a large catalogue come out and there was no sign of a WP7 within the pages. Nothing.Secondly that same week I noticed a feature story on a national morning news/variety show 'Sunrise'. The story ran about the security issues of iPhone and Android to do with location and tracking HOWEVER the phones they had in the vision (for the most part), were WP7's!! WTF. I know WP7 looks great, far better than the other OS's but the placement was too coincidently showing the negative aspect of the story for ppl not in the know to associate WP7 with that security problem.These are just two that I've experienced recently. There have been more. There must be some secret anti-campaign against WP7, this great OS, and soon to become better with Mango!

Microsoft needs to really do something about things like that because that is a clear deformation of their product.

I've had that exact same experience at a TMobile store in Chicago. I just purchased an HD7 off ebay and was waiting for it to arrive, but went into the store to play around. The sales associate basically told me it was garbage and tried to sell me an Android handset. I told him no thanks that I already puchased this one and loved it and showed him all the inferior aspects of my Galaxy Tab. I asked him why he thought Android was so great. He shuffled off the line about "hundreds of thousands of Apps." I rolled my eyes. Problem is, most shoppers will heed these jerks recommendations. I am sure that many of these shoppers will tire of Android when there contract expires.

To be honest I believe that overall Microsoft puts out great products, tools, and support (of course there are always some major failures) but this response from Microsoft bothers me on a deep level. I had the same experience when I went to purchase the HTC Arrive (not to mention they only had 5 devices at launch). However, its as if Microsoft doesn't get that they are in a major battle with the iOS and Android platform. Everyday that they fail to address issues with their marketing and sales department is a day in which a smartphone user becomes more entrenched in their current ecosystem (iOS, BB, Android, etc). Now I read that they are putting all of their eggs in the Nokia basket in hopes that it will save them. This still will not stop the problem that is occurring at the retail locations as associates wont say "We love Nokia phones, you should get this one with WP7". Couple this with rumors that the tablet friendly GUI shell of Windows 8 will only run HTML5 apps and you destroy the developer base they currently have on WP7 using Silverlight.Its as if Redmond wants to be the Miami Heat of the tech world. Its getting very hard to continue to MS evangelist when they don't even fully stand behind their products

Believe me they know the battle they are in. But they aren't going to come out and bash all their partners, distributors ect. At least not in public.

I can feel their pain.But still, for WP7 enthusiasts, it's going to be a frustrating battle.I'm telling you, if MS open their own stores (a good bunch of them everywhere), even just for a couple of years, it's problem solved.

this simply will not end until Microsoft gives the sales people the cash for selling their devices. Simple put, why would you push a phone you make nothing on when you can put an iPhone and get upwards of 60 in spiffs????However I will say, I had no issues with my sales rep. He didn't know much about the platform but was in love with the Focus' super led screen and said he had heard nothing but good things!

Until Mango comes out, MS is not going to push real hard. No surprise there. That's the way they always are. They put their new products in the hands of early adopters, get them on board, and then the next major release they move to dominate the market.Nokia + Mango gives them something to market. Until then, don't expect much.

"noting Nokia's strong retail presence". What is he talking about? While that may be true in Asia/Europe, in the US, Nokia's retail presence sucks wind.

Its true,, combined those two continent???? Against USA??? Think think before u say something!!!by Nokia adopting MSFT wp7 they want to make sure that all end users will stay Nokia..

What a convoluted process to add to the website but its doneI have put in my two cents. I live near and AT&T store that still has no signs and you specifically have to ask for the phone because none are on display.Once again, it is sick how much the carriers muck with the process.

I agree, the process on the site is tedious.That being said, I added my local AT&T store to the map. It's certainly a contrast given that the sales rep was a huge WP7 fan and made the experience of purchasing a Windows Phone a great one.

speaking of AT&T, i wonder how does the CEO of the company have the guys to say he was disappointed with wp7's sales when his own stores are not pushing it... thats just wrong

When I shopped the HTC HD7 in mid-November 2010 I went into 2 T-Mobile stores in Boston. Neither store said much about the WP7, but neither dissuaded me from getting it either. I was also considering the T-Mobile G2(?) Android phone at the time so when I asked a sales guy what he'd recommend I got the answer that "WP7 is for people who do more work e-mail and MS office" and "Google [Android] is better if you want to mess around with your phone more". Extremely broad statements, but not entirely inaccurate I suppose.

I'd consider what the sales guy said to be good. What he said were some of the major reasons why I had to cross Android off my list.Microsoft should have a series of ads that seriously zero on what the phone can do out of the box. One feature per ad. And one of those ads should be "fastest growing app store." Heck, I say tick off Apple by using "app store," until they whine, cry, and yet again threaten legal action. Then swap with an identical ad using "Marketplace" instead.

MAYBE sales reps aren't pushing WP7, because they don't feel they are the best phones on the market? Crazy idea right? The reps in the 3 AT&T stores I went to did push Android first, but when I looked at the Focus, they didn't try to talk me out of it, but they did mention there were less apps for that platform (which is true, so you can't blame them for that). I wish they (and myself) had been more informed on the phone though, and then I would've bought an Android phone. First and foremost: NO custom ringtone capability? Are you serious? What were they thinking? Second: NO capability to even send a video message?! Not being able to upload to YouTube is one thing, but no Video Messaging? My 3 yr old EnV2 could do that! Third: No Flash Player support? I shouldn't have to wait for every website to come up with a WP7 app so that I can view all content on their site, it's ridiculous. I don't know how other OS's handle this, but I though the idea was to be BETTER? So maybe, just MAYBE, MS should worry about making their phone worthy of praise, instead of complaining when it's not praised. I like the interface and the performance, but they have a long way to go before I'd recommend my phone to anyone.

Honestly....if I hear "thousands of more apps" one more time I am gonna lose it. Have you looked at these apps? 85% of Android apps are just pure garbage. There is absolutely no quality control. Do I need to bring up the recent issues of Android apps containing malware/spyware? The rest of the con's you listed against WP7 I am sure are being addressed in one way or another. I really don't think video messaging is that in demand therefore I don't think it's high on Microsoft's priority list. As for Flash support, I surf the web on my phone almost more then I do on my PC and haven't ran into any sites that have given me issues yet.

I'd rather not have flash, security holes, lag, battery drainer.

Having used both iphone and Android for years before switching to WP7, I can honestly say that it is wonderful software even without multitasking and custom ringtones (which, by the way, will be a part of every windows phone in just a few months). Also, it really isn't feasible to try and send videos via MMS, they are just way too big to use 3G data. It's better for both people (because of quality) to just use a computer instead. Flash support on devices that support it (android) is iffy at best. Companies don't leave out features just to be evil, there is a reason behind every omission. Android simply makes the mistake of pushing things out BEFORE they are ready, and as a result it will be plagued by choppy and laggy interfaces for a long time. Have you ever used an android phone's flash capabilities? They really aren't much to speak of, even on the most up-to-date androids. Have you ever even owned and used an android phone for an extended period of time? Trust me when I say this: The luster fades quickly. Each time I swap sim back to the android phone (galaxy S, just for some perspective) I never last more than a day on it. The constant forced closures, slow and laggy interfaces, poor battery life, and overall frustration always push me back to WP7. It really is far better software.

Custom ringtones are pure vanity. It doesn't take away from how well the phone works. I admit I was a little surprised it didn't come with that but I don't miss it.You're right in that the phone has a ways to go but that wouldn't keep me from recommending it to someone. I might only tell someone to wait until fall when the preloaded Mango phones are on the shelf. I like the idea of having several integrated features directly in the OS. That removes the need to get 'an app for that'. The more the device can do out of the box, the better it is, IMHO. :)

Its not the os.. Its the carriers fault, why we end users can't send pics when they first came out in Nov 2010, same with ring tones and video uploading,sending. I called tmo att about it, and they said that the network is not yet capable with the os... Until now....u have to remember carriers are the one that sends the videos pics and even ringtones purchases, with mango all this will be added,enjoy ur Google phone..if that's all you want to do.

Odd... we're on T-Mo (USA) and have never had a problem sending photos via MMS. We've been exchanging photos since the day I brought the phones home launch week November 2010.

To start, I said I like the interface and performance on my phone. When Mango comes out I may recommend it to others, but right now here are my responses to above responses:-I never said "thousands more apps", I just said they told me Android had more apps. Granted many of those may be garbage, but there are still ones I'd like to have (voice-to-text, etc) that aren't available yet on WP7.-Custom ringtones may be "pure vanity" to some, but guess what; if I pay good money to buy and use my phone, I want to personalize my ringtones. Even basic phones have been able to do this for years. Coming out with a new platform and not having this at the beginning is PURE ARROGANCE on MS's part. I don't know anyone under 40 that doesn't customize their ringtones, and to think the majority of people will forgive losing that capability is just a bad business decision.-Sending video is also something many phones could do for a long time. I've never had an issue with pics, ejlee, btw. If they want to limit the file size, fine. But at least make it an option using 3G for smaller videos, and any video when you're on Wi-Fi. To say it's not that important is ignorant to many users. And a lot of sites use flashplayer. How you haven't had an issue is a mystery. A lot of news sites I can't see videos with my phone. I'm not saying that WP7 is total **** but with these concerns, you're not going to win over the mainstream consumer. eg, my wife. You know how often I get **** from her, because I talked her into getting an LG Quantum when we swithed from Verizon to AT&T? You know the movie Quantum of Solace? She calls her phone the "Quantum of **** .

I have had the experience of a sales associate trying to detour me away from WP7. His words..."are you sure you want a windows phone". Another, associate I delt with didnt know anything about it and the display was clear in the back. They only had one HD7s when on the release date. But the most disturbing thing was when I called AT&T. The SALES woman didn't know anything about it. I had to show her where it was advertised on their own AT&T website!? Do these people not get any training?! and moreover, do they not care enough about their jobs to do a little research on their own? I've had a BB and Android. Both good for their respective purpose. But, I now have the HD7S, and love it. It has the best of both worlds, and maybe they don't have as many applications...YET. But lets face it, most of the apps that iPhone offer is **** anyway. I mean a flashlight? it just made the screan white to cast light! (my wife had one...not me)

The release of the iPhone 4 and iOS4 offered developers the ability to make a proper Flashlight app that uses the camera LED.I hate to remind you that currently WP7 lacks this ability, and every flashlight app in the Marketplace is that same old 'white screen'

Oopps wrong answer... Trolling...

Is there an HTC phone that doesn't have the HTC LED flashlight app? (If you are one of the few that don't have it, check the HTC section of Marketplace.)

thats not an app, thats a gimmick.

I'm in the same boat, used iPhone for about 6 months on AT&T, gave it up because of dropped calls, switched to a Droid 2 on VZ, and dumped that for my new Trophy (which I was motivated enough to pay full retail for). One thing people also overlook is the radio - Android seems to be far more buggy when it comes to radio management, especially on combo CDMA/GSM devices. My phone would reboot for no reason when in GSM mode, lose data services on GSM routinely (even rebooting wouldn't bring data back), and in general just have sporadic network issues when roaming in a well covered European city (Munich). My droid 2 bluetooth always drops the call when switching to a headset or car adapter. My trophy handles these issues seemlessly. I assume it's because google is new to the game, and doesn't have the experience that Microsoft does when it comes to low level phone programming.

I've been an avid iPhone user since the first one. It was expensive at $400 but what sold me was that each time I went into the AT&T store to convince myself it wasn't worth the money, I'd play with the demo version and get excited again. It was the ability to sit there and thumb through the photo galleries, see how intuitive email was, check out the calendaring app, surf the web, etc. I have a colleague who was a WP7 phone, the Samsung Focus. I think it's actually on par with the iPhone in terms of interface, even if it is lacking some of the features the iPhone finally includes. Smooth, intuitive, not clunky like Android tends to seem. Unfortunately, and I haven't been into a cell phone store in awhile to verify, my other work colleagues say they have yet to see a WP7 phone. The stores don't have test demos, they tell me. If this is truly the case, that you can't test drive a WP7 phone in the store, this would be Marketing 101 failure in the extreme. No phone demos, you may as well not even bother trying to sell it.

Most sell people in store have ZERO product knowledge , they know what they use. i know this from being in a bell store for 2 years selling cells, ive Evan done my `mastery shopper`in other bell store and MOST agents DONT KNOW **** ! , and it sad really .word to the wise: Research before you buy!! and dont listen to sell people. ask on Forums about it. most CLIENTS know more about phones then Agents because they actually USE the phone lol.

lol u did mystery shopping? u should have reported those agents who didnt know anything.

I went out and tried to see how retailers felt about WP7 this past weekend. I recorded my results at http://mobiletechreports.blogspot.com/2011/06/are-carriers-bashing-windo...I'll give you a preview. It's not pretty.

Thank you for investigating and posting. You're right, it's not pretty.Believe it or not, many jurisdictions would count these "salespeople" as committing slander. Unfortunately, Microsoft can't simply call the carriers out on this behavior.

MSFT needs New MSFT stores, spread them out all over the country, put everything in one place, **** the carriers..this is the best marketing of windows phones, until you pay those sales agent they won't give a ahit, we all need to make a living, being a sales agaent is not easy, u have to sell where you make the commissions, store managers will even tell his agents to push androids because there is money there.... The anti wp7 attitude has to stop Period

i dunno where you work , but i can sell an Iphone a BB a Android or Wp7 and i get the SAME cash from them . i only get less cash if i sell a NON smartphone. maybe its different in the USA but in Canada if we sell an Iphone if anything we get LESS commission. the BIG problem i think is that if an AGENT doesn't really know about the phone hes not gona risk trying to sell it because he scarred the client will get pissed and want to return it and cancel ( hence losing your commission) ether way i have NO extra bonus for selling an Iphone but my colleagues still pushit.. PS i push wp7 to EVERY SINGLE CLIENT that wants a SMARTPHONE :) go me :) lol.

Stores are expensive.Apple has high markups, and keeps more of it, and that's how the retail stores are so successful.

Ditto for me. Same as with a WebOS phone. Chose WP7 because I expect it to work with our Windows ecosystem the company is moving to this summer. Dynamics, Outlook (works very well & very easy move) office 365, and my Windows live is already a tile. After several attempts to move me to iPhone or Android, one salesman gave up and left, another one came over and tried, then, because he knew me, said he'd heard good things about them both. I had to ASK if he would order it for me, which he did gladly. He asked if I would bring it in sometime, 'cause he'd never seen one.

I think most here got it right: this is a Microsoft marketing issue, not a conspiracy-wig-nut anti-WP7 issue. If you go back and carefully read Sullivan's original statement, he admits as much."Sullivan finally concludes with hope that the Nokia deal helps in this regard, noting Nokia's strong retail presence." What he actually said according to PCMag was:"One of the things the Nokia relationship will bring is an incredible reach at retail ..." In marketing terms, having "reach" is weaker than and not the same thing as having "presence". Nokia has never had much of a marketing presence in the US, though not for want of trying, and is probably why Sullivan never said that.I think WPCentral needs to stop spinning the words of others (and I refer to WPCentral in it's entirety since Daniel pulled out the royal "we" once again.)

Happened to me when i was available for an upgrade. One (Verizon)sales person even said "Windows Phone 7...we would never carry handsets with that os" i was walking out but were trying there hardest for me to purchase a Thunderbolt or iPhone 4. This is the first time a handset is built to my liking. Merto UI,Xbox & Zune...loving it!

I work at an att authorized retailer in Atlanta, GA and am a windows phone fanboy, but nonetheless I cannot push windows phone over android for the time being. Both windows phone and android give us more commission than an iphone, but when it comes to selling the phone, I can't sell a phone that doesn't have custom ringtones, custom backgrounds no skype and no pandora on it over an Android.I love windows phone and I believe that in time it will be the best phone out there, but we all have to understand that right now, having a windows phone puts you behind the curve. I believe it will change, but most people that walk into an Att store to buy a phone aren't caring about what will be in 1 year, they want to walk out of the store with the coolest phone around. And when you don't have turn by turn nav built-in, no pandora, no skype, no custom wallpapers, no custom ringtones, and a half assed notification system.. you're simply not going to buy a windows phone 7.

Seriously? How many business users do you have returning phones due to lack of custom ring-tones? You sir, are part of the problem. I guess you recommend them to a fragmented, clunky, user-hating Android phone then? If you ever pulled that on me I'd find a new salesman so fast you'd lose commission from me and all my lines.

LMAO! at this post , perfect example of bad sell`s people. i`m a *Business account manager* for bell , i deal ONLY with business clients . custom ring tones ? LMAO ive never evan had a business EVER ask me for that , they dont give a F*****. Skype? lol , gimmick no business cares about unless the Owners KID wants it BAD!! lmao and he adds him on a plan to save cash. and how is Wp7 behind the curve? Evan with the lack of Features is has more potential then most phones.Custom Wall paper? like on the iphone? NOT! your tiles cover MOST of the background any ways. and wp7 notification system is BETTER then the apple and android to the point that APPLE IS GONNA COPY IT FROM wp7 on the Ios5 ( as a previously report on this site ) im sorry but do some research or change jobs....

My phone is due for upgrade this month, so I went into an O2 store today, informing that I had been recommended Windows Phone 7. The first person I asked didn't know anything, and told me it was based on Android??? And pointed me to the iPhone 4. The next person showed me two WP7 devices, but admitted they didn't know much about the operating system, and its features.I gave them a scenario, "I told them I work with OneNote on SkyDrive and asked if it was able to connect to it. They informed me it wasn't possible with the built in phone, but I probably could get an app to do it." Maybe it was a difficult question, but to me, that is an important feature of WP7????They then proceeded to recommend me to the iPhone 4 saying they had personal experience with that.Looks like the operators are not getting the training about WP7 here in the UK. Out of the six stores I visited, only Vodafone was able to help, and only one of their staff had experience and was enthusiastic about the OS.Come on Microsoft, get out there and start training the carrier staff, give them the buzz we all have for WP7!

Here in Colorado it's been a mixed bag. I've been talking with the people at my local Verizon store and I've gotten almost every time "Why would you want a Windows Phone?" So (at the time I had the Quantum on AT&T) I showed them my window Phone and explained that I had switched because I needed a device to develop on. Two of the people I talked to had had the LG Windows Phone 6.5 phone, and hated it. they said that it felt like "The software wasn't built for the hardware." When I told them about Windows phone 7 having a universal h/w spec they sounded surprised. One of them told me that they liked the interface. However, then another man I talked to was obviously Google-biased and said that windows phone just didn't seem very competitive. I told him that he obviously hadn't seen wp7, he said he had, and he hated it. So that's just verizon, though, every other carrier store in my area has been extremely receptive of Windows Phone 7. In the T-Mobile store, I asked if they had an HD7, the lady walked me over, said she admittedly knew very little about the phone, but that she liked the phone, and it was funny because The HD7 attracted a lot of attention. I think I saw at least 15 tweens and teens go over to the phone, and were immediately familiar with it. The AT&T store that I went to and asked about the Quantum, when they first came out, the guy told me that they had sold out. The Store where I had bought my Quantum from was very positive about the phone, and the salesman was very impressed with the phone. Even the Sprint experience was positive. IDK what the deal is, I think that microsoft needs to work extremely hard to talk with the salespeople and explain that Windows Phone 7 is a completely new release. Because a lot of the people I talked to didn't understand what it was, they thought I was talking about Windows Phone 6.5.
Windows Central Newsletter
Thank you for signing up to Windows Central. You will receive a verification email shortly.
There was a problem. Please refresh the page and try again.