myTube for Windows 8.1 arrives in beta for everyone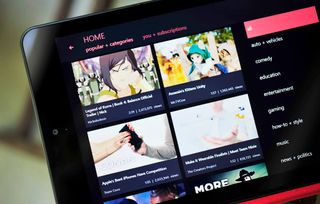 Community favorite YouTube app myTube, is making the jump from Windows Phone to Windows 8.1. A true universal app, myTube for Windows is now in beta, and anyone can join in and test.
Anyone looking to test myTube for Windows 8.1 will first need to download the beta app here, then follow these instructions:
Once the download is complete, extract the .zip file and open the folder its contents were extracted to.
Right click on the file named "Add-AppDevPackage" and click "Run in PowerShell" from the menu.
If you asked to register for a developer license, or any window appears asking for a Microsoft Account, just use the MS account you are currently signed into your PC with.
Once the PowerShell script completes, you should see "myTube Beta" in your applications list.
As with any beta, there are some bugs and rough feature implementations. The developers notes that the current click-and-drag system for moving between screens is in pretty rough shape, though users with precision touchpads on newer devices should be able to change pages by scrolling left and right.
Are you excited for myTube to come to Windows? Let us know in the comments.
Windows Central Newsletter
Get the best of Windows Central in in your inbox, every day!
I can't wait 6tag to become universal app. :)

Sweet, can't wait. Mytube is my favorite YouTube app on WP.

I hope we dont need to buy it again ! I hope i can spend money if I like this app :)

If it's Universal, you don't need to buy again :)

Best YouTube app on any platform

One of the Best W /WP app without any doubt

Somewhat difficult to navigate around on desktops ... But the UI looks amazing

Ohh that's great news ! Pretty cool UI too.

The whole powershell installation is a bit crazy but myTube is great.

I can't download it on my dell venue 8 pro. Downloads a file with nothing to extract.

Hi Aerosmillie, if you open your downloads folder and right click (or tap and hold) on the .zip file that was downloaded, you should see an option to extract it.

Works fine on my venue 8.

First you have to extract it.

Awesome! Will see how it goes against Hyper!
Quick question, will the installation process work on RT?

Yea, you probably right.
I got a weird security warning, so I backed off. Uh well, Hyper it is!
Thanks for replying to me though :)

This is standard practice for side loading development apps not in the store. If compiled, there could also be an ARM version bundled song with an x86/x64 build of the App.

I see. I never tried sideloading apps in Windows 8+ , so I got a cold feet when I saw the warning. Thanks!

Can someone say something Abu what the script warning is?

Yes I have it working on my surface 2

Great! I'll try again. Thanks

It worked on my Surface RT

Great! I'll try again. Thank you

The WP beta should be available for everyone too...

umm... there is no beta for WP, the official full version has been out for quite some time now for everyone! :)

You're wrong. There is a private beta for WP which is awesome. It's a universal app. But I don't know the release.

The beta went through a redesign weeks ago, it was due for the public version as well. It hasn't come yet.

I thought it was a universal app.

It is, with the beta on windows phone. I was already signed in the first time i started it after I installed it.

By far my fav YouTube app!

how can i save offline videos of my tube to OneDrive.??

After instalation i got email from Outlook about Active from Holland (i live in Poland). It didnt make me happy.... ;/ i change my password asap

This is the best YouTube app on any phone. Switched to iPhone and i miss it so much

Awesome!! I wish I could download it on my Surface 2, but my charger melted... I need to buy another one on eBay.

For me MyTube and Tubecast are the best YT apps.

Eh, still happy with MetroTube. Not gonna switch to a beta.

My only issue with MetroTube is it doesn't handle personal Playlists.

Metrotube commenting (for me) is broken, but for most part it works fine. I use Touche for YouTube and.... no commenting, liking, or subbing! But you can download and its real quick.

great app, no logo :/ + hard to scroll using mouse

is this for Surface RT? anyone know

Yep, works on RT as well ;)

Yes this works on rt, I have it my surface 2

How did you installed it on Win RT ?

You have to signup for a developer account and extract files etc.. Did you get a email invite?

Using the instructions that were listed here worked for me on my RT, just had to do it in desktop mode.

Question about that odd installation - Since this is not installed via the Windows Store, when the official app does come out, will this non-Store beta automatically get updated to the official version via the Store.. or will have to uninstall this and go into the Store and re-install it?

The version on the Store will install as a separate copy of the app, so you'll have two myTubes unless you uninstall the beta.

Finally a YouTube app that actually works for Windows 8.1..

Hyper is very good, even plays video in the background, plus has 1080p and 4k options

Like c_john mentioned, Hyper is an amazing YouTube app for Windows 8.1/RT. The best IMHO, and I also have MetroTube. I use myTube on my Lumia device but won't be using the beta version on RT since I'm happy with the full version of Hyper. Maybe the finished product of myTube on RT will be a good competitor. But Hyper really is awesome. I would almost rather have Hyper on my Windows Phone if that were available.

Been waiting for this to be released for a while....... gotta be better than metro tube

I like hyper, but this is persuading especially since I have it paid for Windows Phone.

Guess this is a boon to all those tablet users. Reckon it's useless for those using a PC without touch.

Use the modern interface with my mouse and keyboard just fine. That's the beauty of metro apps. I can easily access my twitter feed, youtube playlists, etc. with a simple click of a sandboxed app instead having it all stored in my browser.

I'm following the link, but the file that downloads hasn't got anything in it to extract! Confused.

This is the direct link from dropbox https://dl.dropboxusercontent.com/u/67357310/myTube%20Packages/myTube%20...

I have a dell venue 8 pro. This isn't working for me. Nothing there to extract.

Try to unzip on a laptop or desktop and then copy the folder on your dell venue.

venue 8 pro is a dull windows pc. No need to copy it over...just installed on my venue 11 pro, no problem.

Oh can anybody help me , i can't update my w8 to w8.1 cuz i can't find the update in the store! I did the wsrest.exe and instal all my windows updates :(

You probably have an enterprise version of Windows.

I have waiting this to my Lumia 2520 but... Meh

Dell venue 8 pro.....HELP

If it's anything like the beta for WP it's not worth installing. Really rough and unfinished.

Thanks vor this App, but there is no download option! - I found it! ;)

wtf, still no 1080p support??? Even for the pc version????

I wish it was for android also. Posted via the Windows Phone Central App for Android

Hyper has a bug where the video stops playing when seeking. I hope MyTube doesnt have this problem. Checking out!

THIS! Most annoyingh bug ever. Seriously breaks the experience, and makes my whole $1000+ Surface Pro 3 look like crap when it can't even play YouTube when friends are using it. Happy to say that this beta is functional, and the seeking works perfectly and fast. Very happy! Now to just get an icon for the start screen :D

So far myTube working great with no issues except it doesnt play in connected standby.

Has been waiting for it since long, finally!!!

I hope Randy can make his Apps in Universal state

I have the beta on my phone and was looking forward to using it on my PC, but a weird warning popped up in powershell. Has this happened to anyone else?

The process of installing this was a little bit more dificult that the one in the article.

Finally, the best YouTube app is going to be Universal.

Mytube is the beat, especially since I got it free!! ;)

myTube has a unique user interface but honestly need some extra features and this app is in beta since I have memory.

I still can't download the phone version ever since it got the big update. With the error code... Any solution for that yet?
Windows Central Newsletter
Thank you for signing up to Windows Central. You will receive a verification email shortly.
There was a problem. Please refresh the page and try again.