National Transportation Safety Board calls for U.S. ban on distracted driving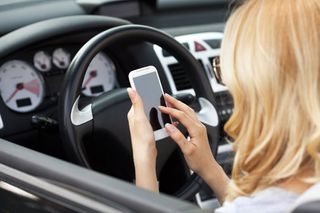 The U.S. National Transportation Safety Board, or NTSB, is advocating the elimination of distractions while in a transportation vehicle. Citing disasters, sometimes fatal, that could have been avoided if the operator of their transport vehicle, whether that's a car, boat, plane, or train, was focused on the task at hand rather than distractions caused by the use of personal electronic devices (PEDs) in the cabin, the NTSB is calling for a nationwide ban on the use of non-essential electronic devices while driving.
"We need to build a social infrastructure that dissuades distracted operations at all times, starting with new and existing drivers who are the agents of change, extending through their family and community support systems to reinforce appropriate behaviors, to the local and regional educational and enforcement to ensure proper guidance and corrections for behaviors," the NTSB said, adding that behavioral change could be achieved through laws and regulations, education, and stronger enforcement.
Though the NTSB isn't writing any new laws, it is calling for change to be implemented. "The United States needs a cultural shift that prioritizes PED-free transportation operations," the organization says. "Such laws and regulations set a tone for what will and will not be tolerated when operating planes, trains, ships, pipelines, and vehicles."
Essentially, it's starting this by calling for drivers to not talk on the phone or text and drive to improve safety on the roadways.
Have you curbed your distractions while operating a car or other motorized vehicle?
Source: NTSB
Windows Central Newsletter
Get the best of Windows Central in your inbox, every day!
Chuong's passion for gadgets began with the humble PDA. Since then, he has covered a range of consumer and enterprise devices, raning from smartphones to tablets, laptops to desktops and everything in between for publications like Pocketnow, Digital Trends, Wareable, Paste Magazine, and TechRadar in the past before joining the awesome team at Windows Central. Based in the San Francisco Bay Area, when not working, he likes exploring the diverse and eclectic food scene, taking short jaunts to wine country, soaking in the sun along California's coast, consuming news, and finding new hiking trails.
Not really. Just need to ban women from driving.

Way to be sexist... *clap clap*

Funny if you're 12 I guess.

Lame. Don't go that way. I bumped onto a woman's car last month so enough with this stupid argument.

Why is the lady touching the blank screen?

Asshole misogynist ! A fist in your face little man.

Just bring back the stick shift. Hard to text and drive when you are manually shifting gears.

You'd be surprised. Back many moons ago, when it was common to send texts without looking at the phone, I did it all the time. You just knew where the buttons were. It's not like you're continuously shifting.

It depends on how it's defined. Carried to it's logical conclusion, it would resemble a car of the 1920's. No radio, no heater, no A/C, no GPS, etc. And to be truly effctive it would mean no children and no nagging spouse.

Single rider only cars! No, wait--ban all cars! That'll guarantee no more traffic deaths!

Or only allow Flintstones-style vehicles

Buses, trains, and shuttles only!

The use of mobile phones whilst driving has been illegal in the UK for years. I'm surprised the U.S. is only just debating a ban now. It's also illegal to eat whilst driving in the UK.

And still you all keep driving on the wrong side of the road... ;-)

@MikkoPaivarinta. I like it. That made me laugh. :D

Same for Canada. Most provinces have laws against cell phones and driving.
It's also a big money maker for the governments as tickets for said offense run into the hundreds of dollars.

I totally agree. It's a big money maker here too in the UK if someone is caught using a mobile phone at the wheel. Therefore I cannot for the life of me understand why so many people still use their phones when driving. I see it all the time and really can't stand it.

The best thing about already having driving mode! Also, people need to stop thinking Bluetooth makes distracted driving safer.

No more dangerous than the radio.

Lets see your facts showing it isn't more dangerous than listening to the radio

It actually is safer. You'd have to legislate people talking to other passengers if you want to take it to that level.

Hands free is not safer than hand held phones. It's the distraction that causes accidents. Don't make excuses for dangerous behaviour. http://www.nsc.org/safety_road/Distracted_Driving/Pages/DDAM.aspx

Nice reference, no wiki garbage...from a lowly Ph.D. candidate

that definitly depends on the type of car your driving mate. Here in the uk, where most of the cars are manual, its definitly more dangerous to try and use a hand held phone while trying to change gear because theyll be no hands on the steering wheel lol

Why is it safer? Because you have two hands on the wheel instead of one? So we should also ban 1-armed people from driving? Please. The conversation is what's distracting you, not the position of your arm.

So you shouldn't have a convo with someone else that's in the car, either? Think before you post.

You should follow your own advice. A conversation is a distraction, regardless of whether it's in person or over the phone. So, yes, it's the same exact thing. The position of your arm during the conversation doesn't change that. If anything, talking to someone in the car is more dangerous because you're more likely to take your eyes off the road to look at them.

Right, so from now on, anyone else in my car I will let them know the new rules. NO TALKING! Lol.... get real.

It's the cognitive distraction that is the problem. I don't have a study at hand but talking in person is less distracting than talking by phone. Unless you are getting into an argument or someone tells a really funny joke, it doesn't compare. Try an experiment, next time you are talking on Bluetooth, count how many red cars you see. You'll find that you are zoned out and driving on "auto pilot". THAT is the problem. SPCDOG is right, the position of your arm is irrelevant. If a car slams on their breaks in front of you, in best case scenario, it takes greater than a football field at highway speeds to stop. You can't protect everyone from every situation but educating people about phone use is realistic. Myth Busters determined that driving drunk is SAFER than driving while on the phone.

"You'll find that you are zoned out and driving on "auto pilot"" I do this even with no one else in the car and the radio off. I'm sure I'm not the only one. Using the "zoning out while on the phone" is not a valid argument.

" If anything, talking to someone in the car is more dangerous because you're more likely to take your eyes off the road to look at them." this is actually very true, bumped a car in front of me on red light because I was arguing with my mom (which can get really hectic at times) while getting closer to the crossroads.. ofc I had to look at her when trying to make my point which meant I didn't notice the car stopping in front of me in time and hit the brakes a little too late :)

IT is a distraction... Why you think they ask people to not talk to the bus driver? because its distracting... and if you really want to argue that a blutooth is crap sound quality and you have to CONCENTRAIT to hear what is said... also when a person is in the car with you you can ignor them for 5 seconds if needed and then answer... a person on the phone will just wonder if you've hung up and try to get your attention... So no... You think before you answer.............

If you look at a screen, you're not looking at the road. Number of hands is irrelevant.

More specifically texting while driving. Taking eyes off the road to type on the keyboard while the car drifts from your lane or while you run into the rear end of me! I've got no issues with hands free alternatives. No more distracting than having a conversation with a passenger in the car.

Actually head sets are safER, not safe, the bulk of the accidents aren't from TALKING on the phone but rather LOOKING at the phone, whether its trying to find a number or actually texting ECT, with a head set my phone never comes out of its case while I drive, I can make calls, take calls listen to any text and respond to a text while never actually touching my phone, I can use my GPS without my screen being on, look, driving is dangerous period, you will never eliminate distractions, whether its the radio, kids being kids, a passenger talking to you or that woman walking down the street, or just thinking about the rotten day you just had, you do what you can to minimize the distraction, no one can claim hands free is SAFE, but neither can you claim its not safe ER, just my two cents

Explain to me how this is hilarious. It's very scary to see people looking down at their phone while driving a 2 ton vehicle at 75 mph. It's pretty obvious we need a behavior change as a society when it comes to our devices. Everyone is an addict!

But you can't stop there. Nav, changing radio stations, touching temperature settings. They are just as distracting.

Any educated driver knows this isn't true marcellotomasella.

On the contrary, my company has banned both cell phone use and the adjustment of sat nav systems while driving. Sensible safety rules to keep minds on the road.

Kids and babies should be banned from cars.

Plus driving with dogs in their laps looking out the window.

Stop taking up server space with your sh*t comments.
Cheers

I bet you're not even old enough to drive...

So naturally, since some people are perpetually worried about what others are doing, we need someone to seize control and make everyone just fall in line, 'cause SAFETY.

And what is supposed to be banned and what not? If someone is texting while driving..... is a cretin, simple as that. But what about people eating, reading, fixing make up etc.? What about people that seems unable to speak with others in the car keeping their head straight and looking ahead?

Exactly, as simple as it sounds to just ban the use of PED while driving its a slippery slope from there.

Some people should not be driving... They just don't know how or refuse to behave sensibly. Eating or having a sip of drink is fine... Makeup, God no. People too easily distracted need to make a conscious effort to focus. If you can't stop fiddling with the radio, shut it off - it's not for you. I've seen jag off's reading as well; and not just when stopped at a light. IMHO the only reason to use a phone in your car (for drivers) is if it is doing Turn-by-Turn Nav. Not even on BlueTooth. Studies show talking to someone over the phone, even via hands free, takes your focus off the road and puts it in the location of the person you are calling. I almost got ran over the other day in the gas station parking lot as a driver threw her car in reverse and gunned it without looking... Yep, she was on the phone. Thankfully she didn't hit me as I jumped out of the way. I've been driving for 35 years. The number of accidents I'VE had to avoid because the other person doesn't mind what they are doing is innumerable. The number of accidents I could not avoid in time due to that other person's inattention? 6. The number I've had that were my fault and not due to weather/horrible conditions I could not avoid traveling in? ZERO. I wonder why MY insurance rates are so high? Lucky us, we all get to share the cost. Not so lucky when you or a loved one is killed/injured and it was oh, so preventable.

And so does talking to people in a car. Which is no different than hands free talking.

There is a difference. When talking on the phone your brain uses its capacity of imagination to fill in the gaps of visual cues that are missing by the person not being physically with you. This adds to the cognitive load and interferes directly with tasks associated with safe driving.

Source. Also, I bet that is subjective based on how much each person requires visual or physical stimulation to carry on a conversation.

Right... The correct person could BlueTooth their mom, chat with friends in the car, adjust the radio, eat a five course dinner, apply makeup, read the entire Wall St. Journal and solve advanced quadratic equations in their head while driving attentively... I've no guarantee which of you qualifies as that person so I do not trust any of you.

IMHO, mom makes it funny and a bonus for double q in quadratic equations... Thx.

A source:
http://www.washingtonpost.com/national/health-science/talking-on-a-cellp...

Number of accidents I've been in while texting or reading on my phone: 0. Accidents I've been in from other people doing it: 0. Number of possible accidents I've avoided because of tech or totally unrelated to tech: Can't keep track. Nevertheless, I've never been in an accident. It isn't just tech that is the problem because there are plenty of stupid people driving like they are the only driver on the road.

Number of accidents you've caused but don't know about as you were too distracted to notice...... Anyone's guess

It's all percentages. Does every drunk driver crash? Doesn't mean because some a-hole does it, it is safe. Talking on cell phones lead to 21% of crashes. Texting accounts for 5%. I doubt any of you are so important to need to be on the phone all the time. If you are that important, you should probably pull over so you don't die. Nsc.org has most these statistics

Why am I not surprised that your story ends with what a perfect driver you are, everyone else is at fault and THEIR lives need to be regulated?

Let's look at it this way... What is so important on your phone that you would risk your own life to see/hear it right now, rather than wait a little while?

If you aren't looking at the road, it's dangerous. People are more likely to be looking at their phones, so it makes total sense to condemn that. And other people can feed you...

Hmmm... Distracted operating could soon be a federal offense in the US? Fine with me...I see the impact on the road everytime we drive in traffic in this area.


so what would banned, and what about the auto pilots that will coming in a few years..

Most autonomous cars can't drive in the rain or navigate easily on roads without lines (like most residential streets). They may have allowed the testing of these vehicles on public roads but we're a long way from humans not being a primary part of the driving of a car.

I just crashed my car while reading this article about crashing cars while reading articles.

I don't see any difference between bluetooth hands free driving and having a passanger in the car who is talking to you. Too much regulation is a bad and potential dangerous thing.. potentially more so than txting while driving itself.. however txting with a phone in your hand is a bad thing but we need to be more innovative in how we address this issue. Regulation is not the answer.. more creative ways to communicate while driving is better and can be accomplished.. let's get creative.. not regulation!!

I tend to agree. Passengers in the car can be as distracting and even much worse than a simple hands free voice call. Even though apparently some people can't even handle a hands free voice call without looking like its their first time behind a wheel. I just dont think we have the best option to "control" this, yet. I'm not one to want regulation first.

http://articles.mcall.com/2012-02-23/news/mc-cellphone-driving-passenger-talk-20120223_1_hands-free-distraction-cellphone-chatter

Although a passenger in the car can adjust their behavior based on road and traffic conditions. They're also a second set of eyes and ears.

Studies show that speaking on the phone, even via hands free, takes your attention out of the car and puts it where the person you are speaking with is at.

Passengers can be aware of your surroundings and help to alert a driver to a potential hazard. Or shut up when a situation arises that requires the driver to concentrate.

Not everyone drives with passengers lol :P.

For distracted driving how about eating and drinking or women applying makeup. Those can be every bit as distracting and dangerous.

Somewhere there is a male mime reading this and doing a fist pump.

More ways for the gov to make money off of us... I do agree that we shouldn't be using phones while driving... What I don't agree with is the ridiculous cost for the tickets... I believe the punishment should be proportional to the infraction. Seriously, most of these tickets prices are blown way out of proportion...

What is for breaking traffic signals???

I'm sure folks in the 70 said the same thing about drunk driving fines. This is really simple: People can simply NOT multitask well, and they definately cannot do it when their manipulating a thousand pound vehicle at any speed. Why is this even a discussion? We ALL KNOW this is true, because we all have had that "oh @#%&!!!" moment because we thought we had things under control when we didn't.

I think it's an issue to people because reading, talking to other people in the car (which is comparable to hands free talking), eating, makeup have all existed before PEDs and only now is there concern and the thing they focus and pick on the most is the PEDs, not the myriad of other distracting things that have been around for decades.

..and then immediately tweet about how we almost died once the crisis was averted.

Life is dangerous. I say we ban it unilaterally.

You realize that's kind of the point -- to make the punishment painful enough that it makes you actually give a shit about following the rule? The penalties should be even more painful IMO. It's not hard to pull over if you just absolutely HAVE to use your phone right that second. People who only care about themselves do not belong on the road.

agreed... but do you notice that sometimes... the punishment for a big infaction is less than the punishment for a small infraction??? it's lopsided...

Translation: I don't give a fuck about the poor people who will invariably be disproportionately impacted by this kind of legislation and might have to make the choice between paying huge fines or feeding their children.

So what price would you put on killing someone because of distracted driving?

LIFE is dangerous. It doesn't matter if you're driving with full attention on the road or sitting quietly on the loo pinching one off. At any moment of any day, you might die from any of a billion possible causes. Deal with it: Life isn't safe. EVER. Legally binding everyone into strictly controlled behaviors won't change that. All it will do is make their lives more full of fear and worry than they already are.

Eh, a recommendation is a long way away from a law. I've made sure I look at my phone less in the car. Just turn on some music and go.

Good luck with that. Unless the states make it a primary driving offence, nothing, and I mean NOTHING will change. Many states have made it a secondary offence and its done little to nothing to curb peoples "addiction".
The bigger problem, IMO, is that folks in America have forgotten that driving is a PRIVILEGE, not a right - yet its treated as the later, not the former. Even with tools in place to limit the way a device is used while in motion, it is still up to the individual to engage these tools - which isn't likely to happen enough to make it habitual.
As a member of the American public, a consumer, and a 15 year employee of one of the largest cellular providers in the US, I think it may be time the industry itself makes a stand to enforce proper cellular usage. We helped create this monster, now it time we train it. And again I'll say, good luck with that.

Sorry, no. You absolutely have a right to drive. The idiotic notion that rights are in fact privileges is precisely what's destroying the very notion of liberty in America.

Driving on your property is still a "right" (the right to use property you purchased for your own purposes without infringing on anyone else's other rights) but driving on state- or federally-funded roads is indeed a privilege that can be revoked.

I think you need to look up the definition of a "right" and get back to us.

Which one? And in what context? You do acknowledge that municipal, state and Federal officials can revoke your license to drive or otherwise prohibit you from conducting a motor vehicle on public roadways, right? Their ability to do so is considered a public safety issue, isn't it? Whether the difference is whether you have the fundamental "right" to drive no matter what, (which can be argued) or not, when that activity can really only be exercised under license from some governing body, then control of that license is essentially the same thing as abridgement of that "right".

How many tax dollars did they waste on this? Government is to big and has lost common sense and this is just more proof...

Best idea I've heard all year. People are idiots with their phones in their cars and it's getting worse by the day.

Opinion, but thanks for playing!

Listen...i get it. But if the government keeps getting involved, eventually I won't be able to tune my radio in my car. We all know what we should do and if we do wrong we should be punished. Just leave it at that.

Too late for the pedestrian that was just run down...

That's life. Every day you live, you take a billion risks, even if all you do is sit alone on a couch in a basement. Life is not SAFE.

True enough. Let's not do anything to make it safer. Let's all die at the ripe old age of 35.

Well of course we have done a great deal to improve lifespans. But some actions have increasingly diminishing returns on "safety" (TSA, anyone?) and folks in power have discovered that, by intimating there is a threat to Americans' precious "safety" they can get away with murder (sometimes literally) so I feel like I must be suspect of any heavy-handed regulations proposed in the name of "safety" or to "protect the children" because it is just as likely a power-grab as it is a legitimate effort to improve people's lives. The most depressing part of all of it (to me) is how few people seem to notice.

Here's the deal: People can make all the well reasoned or impassioned arguments they want, they can rail against Government interference in citizen's lives and an erosion of Liberty... People can state over and over again how responsible they are when they use a device while driving... It will NEVER sway me. It tries to deny the direct experience I have on the roadways, it tries to negate the direct evidence my eyes bring to me; not all people can maintain control of their vehicles at all times when using a cell phone while driving. The number of times I have to maneuver to avoid these people astounds and alarms me. How is the onus on me to avoid someone else's unsafe behavior that can seriously injure me or cause my death? To me it sounds like you are arguing that you never fire your gun randomly in public and as for those that do, no big deal - I should just watch out and duck fast. We are not talking about having a lapse while peddling a tricycle in an empty lot. We are talking about enormous amounts of kinetic energy being controlled. You do the math and figure out how much energy a 2 ton pickup truck going 60 mph imparts to a stationary object the mass of a human being. Don't forget that velocity squared means every doubling of speed equals 4 times the force when mass is a constant. http://www.answers.com/Q/How_much_energy_is_dissipated_to_stop_a_3000_lb... You may be fooling yourself, but you'll never fool me.

So let's not bother looking for a cure for cancer etc then since life is just so dangerous in the first place, eh?

Today cell phones, tomorrow driving while eating. No more drive thru burgers, got to have two hands on the wheel at all times. Sorry.

You absolutely should not be eating while driving.

What if you have a vehicle with AEB?

Here in India, using phone while driving is punishable offence whether using Bluetooth or not.

i will do what I want when I want...period....why dont they just put us all in a box so that we don't hurt ourselves....it is not the job of the government to force me to protect myself....i.e. Wearing seatbelts (which I do anyway)....talking on the phone....eating a cheeseburger....etc....your freedoms are being taking away

Right, it is up to your neighbors to lock you in the basement when you act like a complete tool. I agree, like in Full Metal Jacket, when Pvt. Lawrence can't keep up and they "deal" with him to correct the problem... We definitely should do it that way. Agreed? =/

It's not you they are trying to protect.

The laws aren't trying to protect you. The government is more than happy for you to remove yourself from the gene pool. They're just trying to keep you from taking innocent people with you when you do it, and I fully support that. It's not hard to pull over if your phone call or whatever can't wait.

Right....im not even saying that cell phone use should be condoned in a car....but its getting out of control....if the governement/state didn't care if 'i took myself out of the gene pool' as you say.....then they wouldn't care if I wore a helmet when riding a motorcycle....should you ? Yes....but should you be penalized for not....no....should they be able to force you to wear a seatbelt....no. Talking on a cell phone is just like talking to somebody in your car for most....it is the idiots that have no ability to multitask whatsoever that cause the rest of us to suffer through dumb laws. Next they will maindate that you cant change the volume of your radio....you can't eat....cant do you makeup (for those ladies out there)....pretty soon you will all not be able to do a damn thing that you want....so you agree all you'd like with the laws that force you to conform to whatever they want you to conform to....and soon we will all be in a world of government control. I dont text often in my vehicle....or talk on the phone....and when I do I have Bluetooth ways of doing both....however....thats cause have a sense of self preservation built into me....but to force people to have that is exactly what I dont believe in....like you said....if they want to remove themselves from the gene pool then so be it....but law after law is not the way to do it

Agree completely. This whole guilty until proven innocent mentality the US has is disgusting.

Again, its not about you. You have to wear a motorcycle helmet because when you scramble your brains, you end up needing an emergency responders, who WE ALL pay for, and now cannot atoe a rape, or save a heart attack victim, because you decided you like the feel of wind in your hair. Then, you go on the public dole, for medical, and as you can't work anymore, probably financial assistance, and after no longer a productive member of the workforce, so we get to pay for your arrogance again, and again. And of you truly ride motorcycles, like I do, then you should be livid that people text and drive, and drive distractedly! I have been run out of my lane, and sometimes nearly off the road completely, many times on my bikes, and the worst part is, NOT ONE of the a-holes, every when looked up from their devices, to check on why the horn was honking, or I was revving my pipes, or of they had killed someone, when they served into another lane! You're crazy, if you don't think THIS needs regulation! It's not a "slippery slope," you Libertarian nut bags! IT'S A MATTER OF LIFE OR DEATH, out here! Everyday! People who don't agree, are sick, sociopaths. You don't have to SHARE the road, all of a sudden, because you want to text that you'll be bringing the six pack of Stag, to the party??? People are DOING, for folks being just that trivial. I don't give a FLYING F**K, that your sister just sent you a pic of your adorable niece, when your piloting a missile, down I-55! You should be fined $1,000,000, for not giving a shit about my LIFE, for anything as trivial, as what can be communicated, over a cellular signal. Stop arguing that your right to kill is more important than my right to live, or my children's, or your children/loved ones, for that matter! All this selfish rhetoric, is nauseating! I work for the largest telecom giant, in America, and the company is pledged to help make you aware, that people are killing, and doing, out here, and lives, are forever being changed, because some can't wait to check out the latest gossip, or tell someone how much they miss them. Have a great, and get a clue!

http://www.itcanwait.com/videos

Though I know at least one person who would say otherwise, I feel that I have limited any such use of my devices while driving and tried adamantly to encourage others to do likewise. It is getting very bad when people make excuses and act like they can do whatever they like, when it is very much the responsibility of each and every one of us to remain vigilant and treat these heavy vehicles that are quite deadly in the wrong hands very carefully. DEADLY. If you wanna walk into traffic staring at your phone? By all means but you obviously endanger many more when you do so behind the wheel... =[

Not to mention many do that whilst listening to music so loud it is audible from several feet away. When I'm crossing the road I either pause my music or take one ear bud out. Some Cyclists are the worst, as they cut red lights, get onto the pavement at speed, don't even have anything to alert you thus expect you to get out of the way when they are less than inch from you. Not to mention music blaring so loud they wouldn't hear a heavy duty truck if it sounded the horn right next to them.


Make it simple. If you are doing anything while driving that's not part of driving, you pay a fine of $200. Do it again, pay $500. Do it 3rd time, lose the license. Driving is not a right, it's a privilege.

Conflict of interest. If you lose your license, the government loses money -- tickets, registration fees, fuel taxes, taxes on new car sales... the list goes on and on. And then businesses lose money (oil companies, etc.) and lobby against the government. Plus people have become far too accustomed to doing whatever the hell they want, regardless of how it affects others around them, so the backlash would be incredible.

"far too accustomed to doing whatever they want". Yeah, who ever thought freedom or rights were a good idea? Fucking idiots.

You should check out "The Tragedy of the Commons" by Garrett Hardin if you want to see the problems associated with unbridled "freedom" in dealing with a shared resource.

The problem is that no one wants to find a middle ground anymore. Sure what is described in Hardin's book can be bad, but so can an utterly-nerfed society. I think my problem is that i have been developing an allergic reaction to "safety", thanks to the overdose of bullshit fed to me by my government and I am consequently suspicious of any regulatory agency's action at this point. For guys like me, society is breaking down because of all the hand-wringing over "safety".

I agree, but the middle ground doesn't include the "freedom" to operate a two-ton death machine without paying attention on roadways that virtually everyone uses. I think you are referring to more grey-area things like outlawing giant sodas. The girl that was driving right toward me with two wheels and 1/4 of her car over the yellow line while staring straight into her lap definitely needs to be nerfed.

Well I feel like I should point out that I'm not in favor of using devices while driving and I try really hard to avoid doing so or modeling that behavior for my kids. I will have a brief voice call and listen to my text messages but I can do that from the buttons on my steering wheel and my voice and that's the only even remotely "safe" way. You know what bothers me most about it? The increase in traffic stops it will afford. I feel like more and more when police and the public come into contact with enforcement activity, the people get the shaft. Like the seatbelt stop, this is a great opportunity for cops to profile likely candidates, pull em over and see what shakes out in a search. I have a couple of garden tools in the back of my truck that could get me a free ride in a patrol car if a cop wanted to be a dick, I'm sure. We are pretty far down an uncertain path already.

If you kill someone, they lost not only that revenue from you, but from everyone you hurt... Don't be a butt... http://www.itcanwait.com/videos

Sounds like the US is starting to catch up with South Africa... Over here you'll be fined if you are texting or making a call while driving. Of course, headsets can be used instead... Hands on the wheel and eyes on the road, or be fined :)

Just make voice activated Bluetooth mandatory in vehicles.

This is a farce, and most you sheep are buying it hook line and sinker. According to national data crash fatally has gone down 26% from 2005 http://www.nhtsa.gov/NCSA
And there is no hard data on cellphone ownership but ill bet my life savings that cellphone ownership from 2005 to now is way higher then 26%..

Education about the dangers of using your phone while driving is also on a very fast increase... You've got to connect all the dots to get the whole picture.

Oh then if that's what causing it to go down which I doubt. Then the government does not need to make a stupid law or regulation....right...right

It's a suggestion that points out how far we still need to go... Is there no one in your area driving like an idiot on prescription cough syrup because they are distracted by their device? Tell me where. I wanna visit and see.

Ahhh so idiot drivers just started when cell phones came in the picture

Cell phones have not made the idiot drivers any smarter or helped them focus better... Surely you are not saying that cell phones have no impact on vehicle safety? A vehicle can kill quite easily. Shall we arm all the idiots and jump out of bushes at them yelling "Boogah Boogah Boogah" and see if that impacts the number of fatalities?

Do cellphone have an impact yes but no where near the perceived threat that government and activist say. If that's the case then to stop " distractive driving" there should be no radios in car take eyes off road to push a button on said radio. Also no passengers in car. Don't want to talk and drive at same time to them like a cellphone.

I don't adjust my radio for twenty seven minutes non-stop... It's a case of personal convience vs public safety. Guess which one will get the greater priority? I understand that cell phones have made "instant response" an almost mandatory thing in a lot of people's lives. I know that a high percentage of those using their phones on the road are not updating twitter or something equally banal, but feel they are being productive, getting work related things accomplished and that their employers actually demand that amount of throughput that practically requires them to multitask in the car... Understood it is not all idiocy and childishness. But again, personal convenience will not get as high a priority as public safety, Sorry, society is supposed to help every person survive, not ensure that one person can call their office.

Well if you want public safety then mandate speed limits in car to 25mph and wrap ever one in bubble wrap..it boils down to government wanting to control every part of our lives. With needless rules and regulations. But today society has lost one thing personal responsibility.

Oh I agree about people shirking personal resposibility. Like the jerk who smashes into me while on the phone shrugging it off. Their insurance will foot the bill and both our rates go up. And government regulates it so the insurance companies can keep raking in the dough re mi.. Something needs to be fixed, but just letting a huge security risk continue isn't it. It's clear you'll do what you do until... I hope not all those you share the road with are so cavalier.

So let's ban cough syrup as well. And allergy pills. And alcohol. And sugar, because it makes some people sleepy and others hyper. Let's ban music in cars because it's a distraction. Let's make it mandatory that all cars have only one seat and block all inbound or outbound communication. Come on, now, you want safety? Let's go ALL THE WAY.

Actually, use of alcohol and driving is regulated. You want to see it as a slippery slope and an infringement on your Liberty. I get that. But as adamant as you are from your side, I am from mine. Let's call it a day. I got other places to be.

You are right alcohol is regulated. But people still drink way to much and drive. Which is wrong but for "safety" it needs to be banned that way no more driving while drunk hell lets ban cars no more crashes

Well if your going to Ban cars, might as well ban alchol too stop all the alchol induced violence :p. All though driving is regulate & so drink driving, people will continue to drive without licenses and / or drive drunk. There is unfortunately no solid middle ground when comes to drink driving & driving without a license just massive grey area as personal responsibility & respect for another is not where it was several decades ago. The only solution I see is to make cars smarter, like forcing drivers to take a breath test before they can even start a car and if they fail.. car does not start. For drink driving whilst in transit, car smells alchol / excessive alchol in the car - alerts police :P (could also be applied to drug use), same with the license where the driver has to scan the license to even start the car. The problem is that may solve one crime but it increases another - GBH (Grievous Bodily Harm) & potentially murder as thieves instead of stealing car fobs & swipes would be going for the wallet. Which also starts a domino effect of other problems once in the house they may go for other belongings and the other downside is that the police will need greater resources than currently allocated to make the system work.

New York state did a study and found that distracted driving has increased threefold from 2006 to 2013.

Its impossible to link cellphone usage to car deaths because pretty much everyone denies using cell phones when they caused an accident. So instead, they rely on fatal accidents, witness reports and just general research tests. Its not as easy as linking deaths to alcohol, drug use.

Well, will GPS be on the list? I think getting lost and make last second turns or lane changes is more dangerous, but that's me.

The problem is that older people don't know how to text well in the first place, although they are good drivers. And young people can't drive worth crap whether they are on the phone or not. How about training courses or suggestions on possibly acceptable times to use a device--i.e. at a stop light, or no traffic? I realize this post will get tons of flames but think about it--why don't we make driving under the influence a zero-tolerance offence? In other words, you don't get thrown in jail if you a blow a low enough number, even though you do have alcohol in your system. The reason is because you can still drive reasonably well with a little alcohol on board. The same with using electronic devices--you can drive well if you're using it a little or occasionally. With Swype or WordFlow or voice dictation/replay I get a lot accomplished and still feel like I'm not endangering myself or others. Begin the stoning....now.

Well here in the UK, the police already do that and I'm surprised this even being discussed as I thought the US had a similar law. Given that it is illegal to even Jay walk :P (currently legal here in the UK).

Unless you're the person who can do three things AT ONCE while driving, you shouldn't be doing anything while behind the wheel....this needs to happen. :)

I haven't really cut back on distracted driving too much. I now talk to people through hands free if needed. I wouldn't talk and drive if couldn't handle it as well as talking to someone in the car, but fortunately can. I don't text and drive because that would fall in too dangerous for me to do. I change the podcast I'm listening to when it ends, check email subjects, change navigation options generally at stop lights. Occasionally change the podcast or navigation on the expressway if there isn't much traffic. Almost every state already has laws that would cover the general distracted driving. Personally I think you should only be nailed on it when it's obviously affecting your driving (swerving, driving too fast, driving too slow) or when you have caused the accident and that the penalties should be much higher in the latter case. It also always causes me pain when people say driving is a privilege and not a right, but that's a slightly off topic political discussion for other venues.

I can talk hands free on my phone and drive. When I need full attention, I excuse myself from the call; this quote from the NTSB is so filled with jargon and meaningless verbiage, I just wanted to throw up. Ah, you want a ban on talking or texting on the cell phone, so just say so. Thank you Nanny Government.

Oh, you are right that driving is a privilege but most drivers vote so it amounts to being a right.

How am I suppose to read the latest Kim Kardashian news to and from work with this ban??

More nanny state bs. You cannot legislate against stupidity. Instead of new laws we need a return to personal responsibility. Parents need to teach by example - simply get off the dang phone and drive.

I believe parents should be allowed to raise their kids with a use of a leather belt, but apparently now it's child abuse.

You don't need anything to discipline a child other than your tone of voice.. jeez. If someone needs anything more than that.. then one should start questioning their parenting skills.

I was just looking at that pic, and said I hope that's not a iPhone. But look like Wpc is on point.

Bill boards are distracting. Cops sirens are distracting and at night sometimes blinding. Plus cops have giant laptops in their cars.. Those are very distracting.

Terrible, I perform "distracted" driving tasks everyday, and I assess the road ahead know when its safe to text, make a call, check email, etc, etc. Besides random chance, it is poor judgement of individual drivers that causes crashes due to "distracted" driving. New drivers should be taught when and how to do these tasks properly, not out right ban the practice.

Banning PED because they are a distraction. Get it. Then ban switching radio stations and radios in general. Then ban billboards. Then ban kids in the car. Then ban passengers. Also ban navigation systems. All of the above - Distractions. What we need is common sense, not bans. The mindset of people needs to change and laws will not really help doing that. People need to understand that one doesn't have to look at the phone every 3 seconds or at every beep it makes.

I agree, but that doesn't stop dick heads killing ppl... There's no such thing as common sense anymore, we are all monkeys these days apparently... I can't see how someone will spin out of control and kill someone sitting at a set of lights, texting someone saying "I'll call back soon, driving" though...

No, what we are is a bunch of whining cowards too afraid to face the fact that LIFE is unsafe at every moment of every day, no matter what you're doing. America hasn't been"home of the brave" since 9/11/01. The terrorists won: We're all so terrified of our shadows that we're looking for the nearest Big Brother to come and assure us we're safe, oblivious to the fact that true, complete safety is a fantasy.

This is a pretty good point. The problem with standing on one's principles is that one is often forced to defend folks who act nearly indefensibly-- e.g. if you want true free speech then you have to fight for the skinheads' right to demonstrate and other unsavory causes-- so as much sense as it makes to want to ban devices in cars it's destined to be just another freedom we dont have anymore, added to the already-gigantic pile of lost freedoms that has been growing out of control since 2001. Somehow, somewhere, we are going to have to draw a line. Safety can NEVER be guaranteed, and just like you should suspect a financial advisor who guarantees a specific investment return, you should be suspect of a government that promises you safety.

Yep, the law has forced the courts to implement these changes due to people suing other people... Now it is out of control... Their answer in the end will be don't go outside because there is a 70% rise in chance of injury if you leave home, or some rubbish like that! Every obstacle in a workplace is now painted yellow, tomorrow every car sold will need to be yellow! It goes on and on...
We need control for our own protection and to be given a greater chance of quality of life, we also need to have a quality life worth protecting though.

Agree that it's about balancing safety and quality of life. Too many folks lose sight of that.

I'm with you. The fact is people in general have become to dumb for life itself. You can't save everybody. And we all know what can happen by getting into a vehicle. Or just by being by a road for that matter. If I want to talk on my phone I will. It's as simple as that.

I know this sounds harsh but... Natures natural selection of the dumber die off and the smarter prosper is gone... Now our society finds itself supporting the dumb and disadvantaging the smart! In my eyes it will only lead to more dumb people!

This comment has a lot of truth in it, but what I would add is that we could take all of those things away in an effort to creat a perfect, distraction-free driving experience, and I'd be willing to be that it wouldn't appreciably impact highway fatality rates. Some people are just idiots and will do idiotic things and other people get hurt as a result. Taking away freedoms is often just adding another bad thing on top of the first.

This won't do much. What we need is better driver training and a stricter driver's test. Never going to happen, though...not with all the idiots in the government.

This. A hundred times over. I think anybody who fails a drivers exam twice should not be allowed to get tested again for at least a year.

Get a grip. In the UK its illegal to hold your phone while driving because your are supposed to be driving not holding anything else including food. Innocent People die because of idiots thinking a text is so important they can risk it. If you cause an accident while a phone is in your hand and someone dies as a result you will be jailed for manslaughter in the UK that's 10 years. This has nothing to do with a nanny state but responsible actions. Life is way more important than your stupid txt msg. Fix your priorities seriously

Same here in Aus, but it needs further clarification... Being on facebook while your phone is fixed in a cradle/holder is just wrong but changing music tracks should be fine... It is difficult to enforce this sort of restrictions of use though... Maybe a mobile wireless firewall should be installed in all new cars that restrict websites? That way streaming music could still be possible?

The ones who crash are the ones that completely take their eyes off the road. I've seen people looking straight down while their cars are moving. When its bumper to bumper traffic the phone helps me stay awake lol.

Not a problem in my Volt. The car allows me to answer my phone from the steering wheel and talk hands free. I can also get my text messages read aloud. I can even reply, but I've never done this before. The only thing I need to do is pull out the phone to change the music. Windows Phone makes this pretty easy. Maybe with luck getting Cyan will eliminate this need as well. Currently my attempts at changing music from the steering wheel button have failed.

My Territory Titanium uses the seek (radio) button on the steering wheel to skip tracks strangely... Found it by accident..

Every modern car has Bluetooth capability, but majority of people don't use it.

I though it was a news about "Windows Auto"

I do alot of long distance driving in Australia, it is a proven fact that being on the phone while driving long distance helps keep people alert! Although being on the phone while in city streets, towns etc it is a distraction... It is illegal to operate an electronic device while driving if its not fixed to the vehicle in some way over here... Which is complete BS for my profession considering I'm driving for 12-14 hrs per day, constantly! My vehicle is my office and without constantly dealing with emails, text and phone calls, my business could not operate full stop.... I think there needs to be consideration for professional drivers in this area. Someone who drives so much is obviously more capable than someone who only drives half hour to work and back each day! There does need to be restrictions in place though, I see some people doing pretty crazy, dangerous stuff in my workplace!

interesting I read an article recently where pro Airline pilots 20,000 hours experience were given the task of multitasking with personal devices while flying a simulator. None of the experienced pilots were able to effectively fly a plane safely while being distracted with their devices.

Were they flying on uninterrupted dual lane freeway in a straight line for 9 hrs? Edit; on cruise?

Good points they were tested extensively.. The main driver of the point is we can't efficiently multitask. If pro pilots are having difficulty operating a vehicle while distracted that says something of everyday Joe or jane driving on the roads.

Totally agree with the multitasking, quality of something always suffers when attempting it in some way.. But if many of the usual tasks are removed from a situation, (ie, interstate highway driving at 3am compared to about town, peak hour traffic driving) then surely they can be replaced by another small task without effect... I'm not talking about sitting on facebook or playing games, but short basic text/email or holding the phone during a call.

I must add, I do use Cortana wherever I can and can't wait for "hey Cortana" ;)
Just to note... 20,000hrs in my profession can be clocked up in around 4 years... Hardly experienced, actually barely qualified in most industries... I'm talking 10-20 years, well matured, beyond experienced people, should not be tarred with the same brush as a person who just got their license! Seems silly to me...

Seems like a good plan for an even safer cause (:

I'm more distracted by the damn billboards of advertisement everywhere!

I'm gonna lose my license and probably go to jail if they take any more abilities from me. I will always use my phone if I feel like it. I don't care anymore. To many people are butt hurt and soft.

You sir are completely ignorant !

You must be one of the butt hurt. You get into a vehicle you know what can happen. Deal with it.

Tell that to the 5 year old girl you might kill while you are texting.

Never said I do or don't text. But if I want to talk on my phone I certainly will.

Wow, I didn't even know there were any country's left where it was legal to use you phone whilst driving.

I saw someone the other day eating a bowl of cereal while driving at 75mph. I see way too many drivers focused on everything but driving. When you or a family member dies or gets crippled from a knucklehead driver who has serious ADD with a phone or whatever else is" more important" the words sorry is a tough one to simply accept and forgive. The law and personal freedom is a fence walk for sure. However operating a 2 ton vehicle safely is considerably more significant than texting back a booty call or putting your eyeliner on. It's really that simple.

As someone who now has chronic back pain as a result of a texting driver, I fully support this.

Already illegal in New Zealand!

Nope, I don't even drive, but it's true someone needs to set the pace to reduce dastardly acts by irresponsible people.

Meh, I only text at stoplights (usually to say that I'm driving) and talk hands free on the phone anyway.

I wouldn't say having two arms on the wheel is irrelevant. If you manage to react in time, two hands on the wheel will give you better control of the vehicle. Also, passengers are usually aware of your traffic situation and are able to adapt and sometimes even be of help in a completely different way than your counterpart on a phone call. But yeah, I agree, the distraction is the culprit so handsfree is marginally safer than manually operating the phone. At least that's what I have gathered from studies as well. So I'd have to approve of this, regulating the use of phones etc. whilw operating a vehicle is probably a good idea.

All legislation needs to start with the driver's behavior. Eyes on the road, hands on the wheel. Hands free tech helps us, but not fidgeting with it on the go. Pull over. Take care of business. Ride.

I'm driving by a high school every morning on the way to work. 75% of teen drivers are texting while driving. Since most of them drive older cars without Bluetooth, so it's obvious they are not paying much attention to the road.

Windows Phone Driving Mode is your friend. Use it. I started using it the day it was released and haven't looked back. I actually look forward to not being distracted during my commute. It's my me time, when I listen to podcasts.

Driving mode on Windows phone is a zero in the right direction. I use it must of the time when I am driving (except at 5:45 am when driving Leeds than the millers to my commuter train).

While I agree that no texting should be allowed by a driver, the idea that they can't be used to take a phone call with a blue tooth headset by pressing a button once is rediculous. If thats the case all buttons on the dash anywhere should be banned. All cars should be required to be either voice or sight controlled except for steering wheel, gas and brake pedals. Gotta love people that think swating the perverbial house fly with something 10 times more powerful is the answer to everything.

The jokes on her. That phone isn't even on.

Sorry bud, but in its basic definition a "right" is a given - like the right to speak ones mind. A "right" cannot be taken away. A "privilege" is something given with responsibility, and can be taken away - hence why people need a drivers license.

Yup, that's true. People with a driving license should know that there are dos and don'ts when driving or riding.

Is there a 3rd party car stereo that supports windows phone? Preferably with full size deck not 1/2 size.

Surprised this is not even illegal in the US lol...in the UK you face getting a hefty fine and penalty points on your license if you are caught holding your phone - texting / in a call whilst driving. Of course you can use a handsfree or a bluetooth hands free kit. However even that is not safe as people get too distracted and involved in their conversation therefore unaware of other drivers.

Say no to BIG government.

Just ban all the idiots who buy iPhones from driving. 99 % of the morons I pass on the highway texting and driving are iPhone users. The reason I call them idiots is because they can't figure out their phone has voice to text.

This is just a way for government to tax you indirectly with more traffic laws that don't actually do anything but generate income for politicians and law enforcement. Distracted driving cannot be eliminated through this way. There were CB radios and car phones before cell phones. I don't k NJ ow about you but I don't have any trouble walking and talking at the same time.

Indonesia had already this law rules: don't do call and texting when driving or riding, though many people here won't care about this, even with Rp. 1 million fine :(