New BBM for Windows Phone beta now available!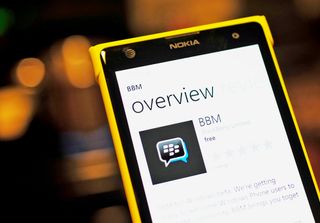 If you're part of the BBM beta for Windows Phone, you'll want to go ahead and get yourself updated. BlackBerry has now rolled out v120.0.0.1 and it's packed full of bug fixes, features additions but alas, as it is a beta there's also some things to be aware of before you hop right into it. Luckily, BlackBerry has provided a full change log for everyone to look through so you can decide for yourself if you want to run a beta.
In This Build
Notification Improvements
Providing impactful notifications to users has long been one of the aspects of BBM that our users love. We're taking that a step further in improving the BBM for Windows :
BBM for Windows will now see message details as part of the notification without having to open the app
BBM users that send their BBM for Windows Phone friends a message will now see a "D" even if their Windows Phone friend doesn't have BBM running
The new notification number displayed will now indicate the number of new chats (previously displayed the total number of new messages)
Even More Features
Since the last BBM v1 for Windows Phone beta build, we've also introduced:
People you know suggestions now appear full screen during setup
Invitation screen updates
Long press to move contact into category
UI treatment to make groups stand out in contact list
Implemented Contacts pinning from Homepage
Groups invite improvements
Support for new emoticons
Barcode scanner/view finder display
Software Quality Improvements
The story for this updated version of BBM for Windows Phone doesn't end with the new features. We've carefully pursued through issues that you've raised on the discussions forums and other feedback tools to target software quality improvements for this release too. The most notable software fixes are below:
Selecting BBM contact crashes app after changing BBID password
BBM stops responding when using emoticons
Portion of BBM screen gets black for some time while selecting contacts to invite to a group after it has been created
Chats - Share location- Map not displaying the accurate location when tapped on the chat bubble
User is taken to the sent invitation tab on hitting back after opening an email invite
Invitation: Scanning barcode seen in scanning device screen become stretched
Invites: Contact is not adding directly to the users contact
Feeds: Text 'No updates' displayed instead of 'No new items'
Known Issues
Notifications for received location are not received on the home screen; only after opening BBM
Notifications for received pictures do not handle the HQ automatic request
Notification not received when a user leaves multi-chat. Only after open BBM the notification is received
No notifications when users join a group
Group picture comment top notification has no content after the colon
Existing contacts show on the list of "Find friends" and "Add, Invite to BBM"
After 3 notifications (3 chats) subsequent notifications are not received, sometimes no notifications at all
Only 4 notifications for voice note received out of 7
The notification number indicator is out of sync with the notification on the top of the screen
If you're already in the beta and feel like doing some more beta testing, you can head on over to the Windows Phone Store and download the latest release.
Windows Central Newsletter
Get the best of Windows Central in in your inbox, every day!
And what happened with BBM without beta ???

they release it to beta first gather the feedback, if it runs well they'll push it to everyone

Exactly, it's just like the Facebook beta app.

Yeah, like, every developer/app has its own beta program. Some are open, some are closed; BBM beta is the latter.

Anyone can sign up for the BBM beta through betazone, that's how I got into the beta. So, closed, yes but it's not restricted in any other way.

What's Windows Phone beta? Shouldn't it be BBM beta for Windows Phone? What's going on here, it's like the twilight zone?

LOL. It can be read both ways.

Thats nice too see BBM updating

Great, already updated Posted via Windows Phone Central App

Just got the email. I hope this means the BBM without beta will be updated soon

When are the flagship WPs coming ??

when is NHL going to expand by adding 2 more teams?

Where did Barry Bonds acquire his steroids?

after iPhone 10 is announced,.

watsapp is still lazy to update.

Been waiting 4 a whatsapp update sooooo long! Its slow, notifications are out of sync and late, and it just lacks features...

notifications work fine for me. watsapp doesn't crash at all for me. but not updating it at regular intervals makes it slow to use.

My notifications are usually spot on; after the Cyan update, it became quite smoother, but there's still MUCH to do until we have the same experience as the competition. For instance, when I tap a message on the notification, I'd like to be redirected STRAIGHT to the conversation, not land on whatever page I was last at; and it has to be seamless, no more "Resuming..." please. Now is that so hard??

Anyone else have the problem in which after closing WhatsApp, the tile still shows the no. of unread messages the user had before opening the app?

Yes. Sometimes. The same with WPCentral app too. 'Sometimes'

It's happen when you get a bad signal....

WhatsApp works,better for me then my iPhone friends. On 1520.

Yay finally, hope the regular store version will get those bug fixing as well, cause I'm losing lots of my message atm.

can bbm be available as universal app in future? development will happen so fast then for windows apps as whole

Soo tempted to get that Passport toy...

I personally find BlackBerry Passport innovative in terms of design. If only it was a Windows phone, not a BlackBerry I'd definitely buy it.

Agreed. I think the form factor and keyboard that doubles as touchpad is a godsend for Office...finally the battery life rules'em all. I know I'd miss the tiles though :/

Huge update, gg blackberry

I have both BBM BETA and normal BBM is that ok? Can I keep both or will it conflict?

Turn of the background agent of one of them

Because when a message will arrive both BBMs will sho notification for same message. Just for your comfort.

i scared that watsapp doesn't get replaced with fb messenger.

WhatsApp people are busy in counting $ 19 billion.

You donr have permission to download :"0

Are you part of the BBM beta through the betazone?

I'm getting the same message too :(, thing is I am registerd for beta and I've downloaded it before, but version 1.2 I cant. anyone know the issue here?

Lol... why are authors using the Blackberry Blog title??? It makes it sound like windows phone is the Beta :P. http://blogs.blackberry.com/2014/07/bbm-window-phone-beta/ Going back on topic, hopefully they have addressed the message lag. I stopped getting alerts since the last update, to add insult to injury I haven't been able to sign back in after I flashed Cyan on my 920.. got stuck on the setting up BBM screen. Updating now hopefully will now able to get past that.

Its - "New BBM BETA for Windows Phone". WP IS NOT BETA. FACEPALM.

That is a huge change log....

It says u dont have permissin to download this app..why??

still no voice calling and other advanced features. Disappointed!

Dont hve permission to download??

Downloading or should I say updating

Epic, although it says nothing about the draining battery it does..which disappointing, but wth it should be good

Wow, seems faster is quite an understatement here. Remarkable improvement. Kudos BBM for WP team.

I think the app update isn't good enough, can't find all my previous chats, seems like beginning again, anyone with same experience before I report bug on official channel, wanna be sure it's not my data network

Still doesn't work properly, when you open the app it just hangs. Infact its worse now on the beta than on the live!

Same with me, needs a quick fix update

Have they worked out whats wrong with it on wifi(on nokia devices)

so when the final update?

Never? Software is never final unless it's dead.

Very glad to have real notifications now. Thanks!

I can't even open it. Stuck at slash screen then force closed. Very very bad app. I've feel sorry for myself because I lost all of my message history for this update, but nothing has been improved! Even uninstall and reinstall doesn't changes anything..

Unable to sign in, after enter my email its keep loading... Any idea ?

I cannot even download this app. What a waste.

So how does the ID work pls? A new one assigned when BBM is installed on WP? Can it be carried over from another device? Can it be used on more than one device? And simultaneously perhaps? Thanks

Even BlackBerry is providing updates more than Instagram BETA! And Instagram isn't even trying to compete with WP!

Already running the beta but get this... You don't have the required permissions to download this app. ...when trying to install the latest release. Solution, anyone?

crash alot on L625.. when not crashed, works better than previous version
Windows Central Newsletter
Thank you for signing up to Windows Central. You will receive a verification email shortly.
There was a problem. Please refresh the page and try again.