New content update for Master Chief Collection adds Spartan Ops and improves matchmaking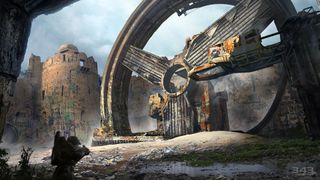 343 Industries has just released the latest content update for Halo: The Master Chief Collection on Xbox One. Today's update continues to improve the matchmaking experience for players. The best part of today's update? Matches will only start when the teams are even. We're also getting Halo 4's Spartan Ops mode in today's update! Can I get a hallelujah?
Here's the full and complete changelog for the latest update to The Master Chief Collection:
Spartan Ops:
Added the entirety of Halo 4's Spartan Ops mode
Matchmaking:
Made an update to make sure a match only starts when teams are even.
Players will now receive a 'loss' when disconnecting before a round has ended.
Made an update to include all split screen players in vote tally.
Resolved an issue that caused players to become stuck "Joining Session."
Resolved an issue where players could be dropped from matchmaking after disconnecting their controller.
General Multiplayer Updates:
Made additional improvements to Halo: CE hit registration.
Made an update to the "Halo 2: Anniversary Career Progress" page to ensure achievements are correctly tracked.
Fixed an issue where it took a long time to join players that are in a Multiplayer lobby.
General UI/Menu Updates:
Made additional improvements to Roster update times.
Fixed Halo 3 game type text when viewing saved data in "My Files".
Halo 2: Anniversary Campaign:
Fixed an issue where the 'Black Eye Skull' incorrectly prevented players from reaching checkpoints.
Campaign Playlists:
Fixed an issue where cross-game playlists could fail to progress to the next level.
Made several fixes to Campaign Playlist Carnage Reports.
Fixed an issue where Halo 3 Cooperative Playlist progress would not save correctly when completing a mission.
Made changes to ensure that Competitive Scoring and Timing are tracked correctly in Halo CE and Halo 2 Campaign Playlists.
Stats & Medals:
Made updates to improve stat tracking.
Fixed an issue where the "Steaktacular" medal would not be correctly awarded in Halo 3.
Fixed an issue where the "Supercombine" medal would be incorrectly awarded in the Halo 4 Campaign.
Achievements:
Made an update to ensure that the "Flaming Ninja Anniversary" achievement unlocks when prerequisites are met.
Control Layouts:
Updated the Halo 2 "Boxer" Button Layout.
Updated the Halo 4 "Legacy" Thumbstick Layout.
General Stability:
Made several updates to improve overall game stability.
The biggest addition to today's update is a tie between even teams and the addition of the Spartan Ops mode. I'm personally more excited that teams will be even going forward. After the past few updates to The Master Chief Collection we should hopefully see a smoother experience.
Grab today's update and let us know what you think! Don't forget that 343 Industries promised a few things for those who put up with the launch pains of The Master Chief Collection. We'll be getting Halo 3: ODST, a new Halo 2: Anniversary map and more as part of a collection of freebies for all their mistakes.
Source: 343 Industrires
Finally a campaign playlist fix!...tried 3 times on different playlists only to get stuck at one of the missions with no progression

"Improvements" is such a subjective term theses days

Still no walkie talkie button layout

Don't know when I will play this again. Someday I will :)

That's how I feel. It's sad cause I love Halo, but the game shipped unplayable. Campaign still is having issues. I hope ODST works right out of the gate.

I never got around to playing Halo 4, what exactly is Spartan ops

Basically episodic co-op. Pretty fun. Didn't get a chance to finish it on 360. Excited they added it.

Fudge the halo 5 beta ended... A little warning might of been great

The Halo 5 beta that was going on was scheduled to end last night. It was just for Xbox dashboard preview members. Halo 5 beta will resume for three weeks or so starting around the 28th-ish (can't remember when exactly) of December.

Spartan Ops was a side story to halo 4 with I think 10 episodes, each with 5 mission. Pretty fun and added depth to the halo 4 story line

Only on the Windows apps.

Downloading right now :). The problem is they freebies the promised us should have come regardless of what we have had to deal with. lol.Everyone wants firefight to, so they better release it eventually.

Even with issues, I still think 4 halo games for the price of one is a pretty good deal.

No. A game with issue is not a good deal

No... those games were all $20 and under for over a year lol.

"We're also getting Halo 4's Spartan Ops mode in today's update!" Maybe spend a few sentences explaining what Spartan Ops mode is?

Anyone who cares either: 1. Knows it from Halo 4. or 2. Can type it into a search engine.

1. Not everyone who owns Halo: MCC played Halo 4 2. Journalism 101: if your reader has to go elsewhere for a basic description of one of the main points of your article, you've failed.

Then again, when your readers use every article to nitpick and complain, why bother putting in serious work to get complained at anyway?

Because it's their job. This isn't a book club. Furthermore, expecting one of the main topics of an article to be properly explained in that article isn't "nitpicking". It's literally one of the most basic tenets of journalism.

I still cannot play any of the Halo 2 Anniversary or Halo 4 gametypes online without lagging out of control. Am I the only one?

It is most likely your internet, I have not had any problems since the previous update. But I also pay for 50mb down and 5mb up so I it could be you internet.

I have played every single halo game on this same internet and my NAT type is open. Even the Halo 5 beta works smoothly. I played the original Halo 4 on this internet and now i can't play it in the collection.

How do one open the Nat ?

"Made an update to make sure a match only starts when teams are even." LOL, the first match I played after the update was a 5-v-3 Team Slayer BR game.

Anyone know how big the download is?

I loved the Spartan Ops in Halo 4. Really good episodic story.

Still the biggest disappointment of the century....

At this rate it might make sense to wait for the inevitable Halo: Master Chief Collection Game of the Year Edition so you get all the fixes and content, lol.

Amazing!! Cant wait to get Spartan Ops.

Finally getting matches consistently

........And no new chievo's.......Why should I touch Spartan ops then. F U 343i
Windows Central Newsletter
Thank you for signing up to Windows Central. You will receive a verification email shortly.
There was a problem. Please refresh the page and try again.