Halo: The Master Chief Collection offers freebies to make up for mistakes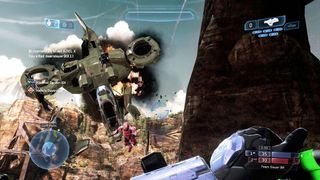 After encountering bugs and hiccups at launch, Halo is making it up to loyal gamers with some freebies. For those who have played Halo: The Master Chief Collection since launch through today, December 19, a number of in-app goodies will be given for free along with a 1-month Xbox Live Gold membership.
343 Industries says that if you've been a loyal gamer since launch, you'll get:
1 Month of Xbox Live Gold
Exclusive In-Game Nameplate
Exclusive In-Game Avatar
Additionally, Halo will also give out:
Halo 3: ODST Campaign – Development has just started on the campaign for Halo 3: ODST, which will be available within Halo: The Master Chief Collection, and upgraded to 1080p resolution, running at 60fps. It will be available for free to anyone who has played Halo: The Master Chief Collection since launch (11.11.14) through today (12.19.14).* Thanks to our friends at Bungie for creating the original "Halo 3: ODST" campaign.
"Relic" Halo 2: Anniversary Multiplayer Map – Available via a free content update to Halo: The Master Chief Collection, we will reimagine the fan-favorite map "Relic," fully remastered and running at 1080p resolution and 60fps. We chose this map based on its suitability for Slayer and Objective modes and its ability to support teams of varying sizes. And you can trust that Certain Affinity will tune and tweak the map to make it even better than you remember.
343 Industries will rollout a content release update soon that will add 10 episodes of Spartan Ops for Halo 4 as well as fix other lingering issues.
Source: Xbox (opens in new tab)
Chuong's passion for gadgets began with the humble PDA. Since then, he has covered a range of consumer and enterprise devices, raning from smartphones to tablets, laptops to desktops and everything in between for publications like Pocketnow, Digital Trends, Wareable, Paste Magazine, and TechRadar in the past before joining the awesome team at Windows Central. Based in the San Francisco Bay Area, when not working, he likes exploring the diverse and eclectic food scene, taking short jaunts to wine country, soaking in the sun along California's coast, consuming news, and finding new hiking trails.
Campaign infers the Campaign-side experience you can purchase on 360, which includes firefight.

Implies, not infers ;-)
The FAQs say no Firefight: https://www.halowaypoint.com/en-us/community/blog-posts/halo-the-master-...

Awesome! Wonder when that'll be ready?

That was the only Halo game I haven't played. Looks like I will now.

It's a great game man. Be ready to feel fear the first time you melee something. Posted via Windows Phone Central App

So how do they qualify a 'loyal' gamer? I've been playing campaign but avoided multiplayer because of the issues. Do I miss out just because I didn't bother with something I paid for and they failed to deliver?

More than likely it counts because you were online while you were playing. Unless you've been playing the campaign while not connected to Live....

Personally I would still have an issue even if I wasn't playing it. I paid for it and it wasn't up to standard, so why should I not be compensated even if I stopped playing? Ubisoft gave compensation to everyone who bought Unity whether it not they played it -- even as much as giving an entire AAA game from their collection if you bought the season pass -- whereas 343 are using the ambiguous term of 'loyal gamers' which is totally up to their discretion.

Agreed. I looked through all the menus but haven't play anything. I decided to play other games and wait for fixes, rather than get aggravated and pissed off. I paid full pop. Do I miss out for not playing a broken game?

As long as you were signed into the game while your console was also connected to the Internet for at least 1 millisecond between launch and tonight, you'll get credit.

Pretty much this. The moment you have the game running and you are online, regardless if you played or not, it's registered under your ganertag/console, whatever.

That's cool -- I guess that's the only way to tell if you didn't buy it digitally.

I wonder if I qualify... I beat halo 1 and 2

I read the original article and any day from launch thru today you played online counts. Glad I played at least two games online now!

I can understand the badge, nameplate and free month of Gold being only for people who struggled with online play. It's recognition for the stress they went through. And it's nice that the new multiplayer map is for everyone, regardless of online play.
I'm quite upset that the ODST campaign is only for online players. Even people who chose not to play online had a diminished experience. One of the largest draw cards for Halo MCC was the online play, and many of us decided that it wasn't worth trying until they fixed it. We don't all have hours to wait in the day for a few matches. Matchmaking still has issues today, not to mention that the campaign had its own share of problems too.
So where is our compensation?
Edit: As an example of the matchmaking issues that persist, I went to play online just in case today still counted for the free items. I spent 25 minutes in matchmaking with it constantly saying 'Found Players' and 'Joining Session' before giving up and trying another game mode. I waiting a further ten minutes for matchmaking before calling it and quitting the game. So people are still experiencing matchmaking issues -- even if they buy the game today, or tomorrow, or get it for Christmas -- but many of them will not be compensated.

You are misinterpreting the eligibility requirements. Anyone who played the game at all while being connected to Xbox Live will get the freebies. You didn't have to play an online multiplayer match. You just had to be signed in: All online users that have played "Halo: The Master Chief Collection" between Nov. 11, 2014 and Dec. 19, 2014 will be eligible

It's probably if you played at all

Engadget's article said you had to play multiplayer at least once to quality. That is total BS, as I played only campaigns and avoided multiplayer due to the reported problems, figuring I'd get to it later. I preordered Halo MCC, which should be plenty to qualify me as a "loyal customer" deserving to get the free perks. Instead of making up for the mistakes, they are pissing more people off. Remember these are simply remakes of OLD games - don't sour the whole Halo experience for folks by doing this....

Totally agree. Not to mention that matchmaking is still broken, so even people who buy it now or in the future should be compensated until they fix it.

Engadget is wrong, then. The eligibility requirements do not specify anything about multiplayer, just about being online (otherwise, they couldn't verify you): All online users that have played "Halo: The Master Chief Collection" between Nov. 11, 2014 and Dec. 19, 2014 will be eligible

Hopefully that is the case. 'Online Users' sounds like 'people playing multiplayer' in the context of buggy matchmaking. Very happy to be proven wrong though.

If only my xb1 was working. Ever since I started using update preview(in oct.) I haven't been able to play a game on it just only able to boot apps. & the mods. are useless on the forum they just say will submit the report to the developer when its not the problem with the games but the bootloader for games

The risk you take for doing the preview, dude.

I haven't had any issues at all with the preview since the program came out

Actually no -- the preview doesn't void your warranty. In fact it extends it as long as you're in the programme. If you're having issues then you can organise a repair on xbox.com.

Nik is right. Looks like you didn't read what Microsoft wrote you before pressing the accept button. This should be a lesson to read before accepting agreements.

Why don't you try resetting to 'factory' to see if that helps?

Well nothing beats the Black Screen of Death(after the green Xbox One logo splash screen) the local tech here needed to use the USB restore stuff to make it work, re-Downloaded/Installed my games again... Thank God for The Cloud though, saved games are alright. #worstbugever

Halo is much better than the previous halos. I'm a multiplayer noob in halo as in about 2 months and I got first place in h5

Sweet. I feel bad for everyone getting it for X-Mas they are going to miss out.

But they get a fully functioning game. Seems fair.
I hope I'm included in this group. Only played random campaign single player since I bought it, didn't ever go online. School got on the way tbh.

Luckily for me I got to play it a bunch logged into my own account on a friends xbox so I guess I'm considered loyal haha, + I am getting halo for Christmas. Best of both worlds haha :).

Matchmaking still has serious issues even today.

Great news, and thanks for Relic! Ranking for all playlists would seal the deal for me..

I've been waiting it out until everything is stable. Now, I wish I bought it yesterday :-)

I'm quite happy with this. Although I Find that I rarely play my Xbox One nowadays. I'm playing Skyrim on the 360 again.

I would rebuy Skyrim again on the Xbox one and sink even more of my life into that game. So much replayability!

So glad I played this on release day now! =D

As in played the game every day? Or at least played it a few times between then and now?

Played online one day in that time period.

This is pretty sweet. Im happy that we get an entire extra game for free.

Make it free? Plzzzzz I'm poor

Oh my. Microsoft is doing an apology right!

What I'd like to see? Microsoft to leverage their Xbox brand a bit with their new Nokia business. I'm thinking Halo themed feature phones.

Lol yes because a $400 console is definitely the kind of brand to attract $20 feature phone users

Fun is fun. Why don't you want the world to be more fun? You scrooge. XP (kidding)

Actually seems quite possible now. Its not like they just suddenly decided to make odst and it would be weird to leave 1 game out.

Yeah. What's a loyal customer? I have all the original games with the biggest editions available, but I was never able to get into an online match. I'm loyal!

You literally have to have tried to join one multiplayer map for 1 millisecond.

They better not anger the gamer community with this one. I bought the game via pre-order for a pretty penny but the issues broke my interest and assassins creed won me over.

Well done 343 halo odst well stoked

Well, damn. I've had the game for weeks, but havn't got around to starting it yet due to Sunset Overdrive. Wish I would've started the game at least briefly :D

Matchmaking still doesn't work properly :/

Glad I got the game in time for this free stuff! :)

How or where do I get this free stuff?? Can somebody help me?

They are not available yet. Development on ODST has just started as per the article. If you sign into Halo or reach majornelson.com you should be kept up to date.

Thanks 343 really appreciated.

Question, achievements that I got on Xbox 360 for halo games. Do I have to achieve them again on Xone? Or only the ones i didnt got yet?

Yup, fresh achievements so have at it!

we need firefighter again... an at least they giving something

I daresay that Firefight will be delivered later (possibly if/when they do Reach).

WHEN ARE WE GETTING OUR FREEBIES?

I would rather see reach over odst!

ODST!!! Ahh, so psyched! I was hoping that it would come, I didn't even know they could do that!!! Woot, Love you 343! <3

I just Downloaded it on 12/18. Does that mean I get it free?
Windows Central Newsletter
Thank you for signing up to Windows Central. You will receive a verification email shortly.
There was a problem. Please refresh the page and try again.