Tom Clancy's The Division delayed until early 2016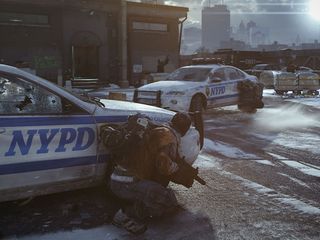 Ubisoft has once again delayed the release of its highly anticipated open world RPG shooter Tom Clancy's The Division. The game will now be coming out in the first quarter of 2016, rather than sometime in 2015, for the Xbox One, PC and PlayStation 4 platforms.
Ubisoft revealed the delay via a statement posted on the game's official website. It didn't go into details about why the launch date was changed, saying only that Ubisoft and its development teams "want to ensure the game not only meets our high expectations but also those of our fans and players alike." The Division was first announced at E3 in June 2013 for a planned release in 2014. Ubisoft later decided to push the release date into 2015 before today's announcement.
Ubisoft also mentioned the new release date for The Division in its quarterly financial statements today, adding that the first quarter of 2016 will also see the launch of a currently unnamed "new triple-A title."
Source: Tom Clancy's The Division, Ubisoft
Windows Central Newsletter
Get the best of Windows Central in your inbox, every day!
Yet another delay, though I still want it so badly.

It could be a good thing, it helped Watchdogs, that could have sucked if it came out earlier. I'm eager for the division too, ever since I saw that gameplay trailer where they did a hostage reduce mission.

Agreed. I truly hope they take their time with this game. I dont want it if it's rushed in any way. Not for Next-Gen.

We really want to create the best game possible! :)

I hope this really doesnt turn out to be another Watch Dogs even after a delay.

Performance wise Watch_Dogs was a pile of crap. The delays did not help that game at all. However, maybe Ubisoft has learned from that and therefore pushed out another delay on this one. Just maybe..

lol helped watchdogs, huh?

I was really looking forward to this game http://www.nooooooooooooooo.com/

#wontbeoutuntilholiday2016

They can delay this all the want.. As long as the final product is a masterpiece. I am sold on the game and I want it to be great.

Thank you for having a great idea and for trying to turn it into a videogame that I am sure will impress lots of people. I'm now going to watch that epic trailer again and try to pass as much positive energy to you as I can! #TheDivision

In the meantime can you please, please, please convince Ubisoft to port Child of Eden to Xbox One with updated Kinect 2 controls. Child of Eden on Xbox 360 is one of the greatest Kinect games ever and it deserves an upgrade. We need this.

I take it you are on the dev team. Try not to screw up the PC version :)

The PC version won't be a port, but a full-fledged, optimized version with performance and fidelity worthy of the PC platform!

I'm sure the game will look good everywhere. I'll be grabbing it on the Xbox One myself. Literally can't wait.

The Division will be top quality every credit to ubisoft for not being rushed, and wanting to put out any old product.Just think how good the Xbox one could have been had it not been rushed out, also more thought gone into it on the gaming side.

You sir just made my day!

That's great to hear! Looking really forward to it then!

Oooo ooo....is this gonna be direct x 12 optimized???? Please please please!

Im so damn tired of these companies giving a time frame or a release date like more than half a year away. Dont say when a game will be released until its 3 months or less from being complete. Stop with these bs delays.

Ever developed a AAA game? No? Show yourself out and pay some respect to the guy. He didn't have to come here and explain himself.

You're the reason these big companies keep getting away with all their bs delays, broken games, season passes, cutting out content from games

I don't support publishers, I support developers. Learn the difference.

Noooooooooooooooooooooooo

Saw this coming the minute I saw they added a fourth international development team. SMH....block buster movies advertise a year in advance...block buster games...three years. Don't show it publishers, in 2013, if you can't ship it until 2016....how very old Microsoft of you Ubisoft. Bums!

I would rather delay a game to make it right, than release a broken one.

Or how about dont announce a release date for a game until less than 3 months of it being complete?? Then they wont have to delay or release a broken game?? That's way better

I wrote an article on this today itself. Seems like I'll have to change the release date in it :D

Yet I bet it will still be full of bugs at launch and require a patch.

Happens to almost any game these days. There's so much hardware that this is just inevitable. However, if it runs pretty well and does not really have tons and tons of bugs, that would be pretty awesome

"there's just so much hardware that this is just inevitable" They could literally cover 60% of their user base with only two kinds of hardware.

accepting settling for less than perfection is what we're not going to do. Do their job right and do what they get paid to do and that problem wont exist.

That was my first thought (and hope) as well!

Me too, I think, that they are waiting for DX12 and release a competitive game

Wait, people haven't learned to not trust Ubisoft yet?

I think they are following others in slowly understanding that they should do it right instead of fast. Not saying this will be pushed out under perfect conditions, but in time I think they'll try more than they did before

They can take as long as they need, as long as it doesn't run out of funds(starcraft ghost). I'd rather them take it slow then rush it like Activision.

I agree 100%. Take your time but launch the title (Ghost) andlaunch a great game.

I know delays sound bad, bit they did say that they want to make it within their high expectations. So, we will have to wait a bit longer. Be patient.

@$&#*%$& i knew i bought the Xbox One to early...oh well tough to beat best buy $50 gift card plus 3 games included... This game is going to kick ass once it finally comes out!

There is a ton coming out this year from Microsoft. I am good with this.

Just like Project CARS. With its delays, the developers took their time to make it great and it is. Ubisoft is heading the same way, so this fame could be VERY good when it comes out.

Exactly, with tomb raider, fable legends, halo, forza, elite dangerous, AC, nah go ahead and take time on this one, I will be busy. Lol

Don't forget Forza horizon 2 AKA Top gear on vacation

Don't forget the bat batter battest.. I ordered the batmobile edition. Can't wait.

Take your time... still playing Rogue Spear

That excuse translates to in English, the game is rubbish and a lot of reworking is needed. Always the same with long delays

Really looking forward to this game, but this game should have never been demo'ed at XBOX One & PS4 pre-release events. If I'm not mistaken, the game wasn't even in development stages at that point.

Wait.. not in development stages but with a demo? That's not exactly a good combination there mate. It was in development and it obviously has been in development for quite some time before that too

At least we still have rainbow six to look forward to this year

better to delay it than releasing another Unity

Or Watch_Dogs or Far Cry 4, etc etc

I hope the delay is to polish it more and not because they ate focusing more on there Assassins Creed franchise.

Yet another delay. Hopefully this game will actually come out, and hopefully lives up to the expectations

Pretty confident this one will actually be a good release. But please for the love of turtles, do NOT use UPlay!!! We all know what's gonna happen on launch when UPlay is used for the game.

Not much of a gamer, but the game looks pretty cool. I really want to see this plot hands-on and how it shapes the post disaster New York..

Fine with me. Still have games to play

Really hoping this gets full DX12 implementation.

Im definitely disappointed, but I'm glad they want it to be 100% complete at launch

:'( Why, why, why... I want to play this so badly. Sigh. All I can say is that this game better deliver with all these delays. I expect nothing short of spectacular-ness.

Darn...it... Saw it coming... :\

I saw this coming, many shooters like this from the Tom Clancy series such as Rainbow Six and Ghost Recon usually ship I early Spring

Nicey nice ill be out surfing

Tom Clancy's: Duke Division Forever

The only reason Assassin's Creed Syndicate was announced today was to cushion the blow ubisoft would take for having this game delayed

Another delay.... I really hope that they fix everything that's wrong with this game because it look amazing.