New Lumia 950 XL macro sample will blow you away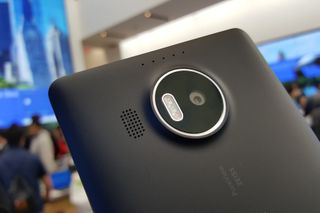 In just a few weeks, the Microsoft Lumia 950 XL and Lumia 950 are expected to go on sale. One area where we have high hopes for the high-end Windows Phone is in regards to its 20MP camera. Indeed, yesterday we had a chance to play around with the 950 XL's new shooter and were very impressed both with its speed and incredible quality.
Juha Alakarhu, who is the lead on Microsoft's camera technology, posted a new photo on his Instagram from the Lumia 950 XL. The photo seen below is a macro of droplets on a leaf and it sure is impressive. Between the color, detail and sharpness the photo looks like it came from a DSLR instead of a smartphone.
Lumia 950 and 950 XL camera highlights
20-megapixel
F/1.9 aperture
1/2.4-inch sensor
1.12-micron pixel size
ISO up to 12800
Zeiss optics
5th generation Optical Image Stabilization
Triple LED natural flash
4K video recording
Rich Capture automatically chooses the best camera mode
Completely new color processing algorithm
Microsoft is currently putting the finishing touches on all aspects of the software for the new Lumias. The Lumia 950 is expected for AT&T later in November with a European rollout out for it and the Lumia 950 XL expected in December.
Needless to say, we can't wait to try out the final version. Follow the source link to see Juha's original Instagram image.
Source: Jalakarhu (Instagram); via: Reddit
Daniel Rubino is the Executive Editor of Windows Central, head reviewer, podcast co-host, and analyst. He has been covering Microsoft here since 2007, back when this site was called WMExperts (and later Windows Phone Central). His interests include Windows, Microsoft Surface, laptops, next-gen computing, and arguing with people on the internet.
Thank goodness they aren't dropping the ball on imaging superiority. Everyone else has definitely caught up but I'm glad to see they are doing all they can to keep up, maybe even surpass. For sitting it out so long my 929 still holds up pretty well except on video(since Denim it's really dark) and speed.

Yeah! At least they didn't sacrifice the image quality on these new Lumia, its even better. I also saw that these new flagships also shoots way faster. I hope we will have an in-depth comparison to iPhone and Galaxy S6 camera performance to see how these new 950 and 950 XL competes. I hope its as instantenous as the iPhone.

The problem is, and always will be, that they will not optimize the camera app to the camera hardware, because it is different across all the phones. A perfect example of this is how the incredibly awesome camera in the ICON was reduced to crap through application "upgrades" to consolidate and bring feature parity. All that happened was that the ICONs capabilities were restricted to those of the 500 series. If you saw a photo from when I got this phone compared to now you would barf. The same will happen with the 950. At launch, the app will be optimized for it in order to promote it, but they will switch back as the new lines of low end handsets are introduced.

That kinda makes sense, but really they should be able to restrict the downloads of a particular version to the proper phone. I think we've all been denied a download or two because the device didn't have a certain piece of hardware. Well, ok I'm sure you are right but...

All we need is a better app (current app is not even close to Lumia Camera on win10 dp). plus features like smart sequence

That is very nice. It's as if you almost can't go wrong with the cameras on new flagship phones these days.

Yes! This is very nice....
......
Now, if they could just release the current 1520 with these new cameras, screen, processors, and ram, then I'd be getting one... Seriously, that would be awesome....
......
But, I don't see any cameras on the market this good.. MS has SApple beat again.

You had chance to get hold of an xl unit yet? I know the step down in size will be noticeable at first, but it might be ok.

I'm not really talking about size here.. Mainly design, and color choices... Of course I totally want a larger screen, but there's also more not to like.. Lol.
......
Nevertheless, I've held plenty of 5.7" devices right next to my 1520, and yes you can tell a big difference... It's a definite noticeable decrease in size, which is disappointing to some..

Had to switch to a one plus one from 1520 because of speaker and mic issues, so sad and annoying for my fat fingers lol. What's worse is I have to keep my puny iPhone 5 around for a banking app. That thing feels like I need a microscope for it now. Posted via the Windows Central App for Android

That's not too hard of a repair w/ a 12-$16.00 part.

I'm not understanding this comment.

Oh ok LOL I don't remember what it said but I was just staring at it thinking I was missing the joke!

Yup me too, I hate the OnScreen Buttons there. Loved the hardware buttons with high sensitivity.
Some times I press the back button without physically touching the button at all

Exactly... The 1520 appears to be higher end. Can't wait to get my hands on the 950 for fair comparison.... After that I'm free to dog the shit out if it.

Even Motorola is trying to catch up. And they're not doing a terrible job of it.

Actually the droid turbo 21mp cam is horrible!! I mean wow so I'm not sure what you mean "they're not doing a terrible job of it".

Motorola has two phones in the top 10 according to DxOMark. They aren't doing too bad. It will be interesting if these new Lumias are able to compete. http://www.dxomark.com/Mobiles/Column-right/Mobile-rating Posted via the Windows Central App for Android

Unless you buy a Motorola, an HTC or an Xperia, you can't.

Xperia has better camera and after Lumia .

Samsung is pretty good as of late.

Xperia has more mega pixels not a better camera.

We sure a few short weeks? What date?

Exactly!⤴ waiting waiting waiting

Release in Norway is 3rd December.

Just yesterday got Note 5 and already regreting it....Anyways 950XL is there to heal me!

Oh man, I deal with dropped 4G on that Note 5 all day long. Try it out for a few days but PLEASE don't wait til your return period is up. Look at the reception in dBm under Settings and compare it to another device. If it's in the -100s AND the others aren't, take it back and wait for the Lumia. I get that complaint every day but they all have had it for just over the return period and there is nothing I can do for them. Please evaluate it carefully. It isn't just about apps. More on topic. I really want to buy this phone, just can't switch carriers. Really sucks. I just hope that something comes to Verizon in the next 6 months. If it's this phone, I'll take it.

I hate how the carriers/ mobile phone services operate in the states, feel sorry for you guys. I don't see why they don't just let you buy an unlocked phone and pick a carrier and plan. Here in NZ you can buy a phone on contract, if it doesn't work for you you pay the difference to buy the phone outright after a few months and throw in whatever sim you want. Posted via the Windows Central App for Android

I got a Note 5 and stuck on Verizon with no way to get this phone.. Posted via the Windows Central App for Android

Im leaving Verizon after 10 year. This phone will work with T-Mobile wifi calling and free wifi is everywhere now. I will be able to get surface book i7 with 1TB drive every year just with the money I'll be saving.

I believe it needs to have t-mobile specific firmware for their Wi-Fi calling to work. My non t-mobile branded phones don't have Wi-Fi calling and the app cannot downloaded to them.

DCPaul, is that your dog in your profile picture? He/she's too cute!

Lumia is known for their camera capabilities. I'm glad to see they haven't changed that and still is the best at that

Wow. Impressed. They have to keep building phones woth great cameras. One of trade points.

I'm still thinking that there must be a different camera for the non-XL but I can't find the difference.

They don't look the same, physically.

The 950 has a thicker metal rim in the lens.

I'm guessing late November. The wait continues...

Cool stuff! Great work by Juha and his team on image processing.

That's an amazing level of detail, cant wait to try out my XL when it arrives. Time to start some novice photography.

That's awesome! I'm curious though, I have a 1020 and a 1520, and I travel to many exotic places for my work.....including the 950xl, which one do you think is the best all around shooter? I want to travel with just one phone...any thoughts?

Oh....and I am traveling to Machu Picchu next...looking forward to taking some awesome pics there

The Lumia 950 and its XL counterpart have the best imaging hardware of any Lumias ever, so you should get the one that best suits you.

You mean "best imaging software". The best imaging hardware is still on the Lumia 1020.

More mega pixels does not mean better imaging hardware.

I think you mean the "most" pixels which does not mean the best hardware. Not all pixels are created equal. The sensor in these things are several generations improved from the 1020. I am looking forward to the RGB flash as this could make a big difference when shooting with flash when the background has a much lower color temperature.

I love the portability of the 1020 though...and the camera grip is great..

I really hope someone comes out with a camera grip for these phones.

And even if one isn't produced commercially, perhaps some of the budding 3D designers in our midst can post a design for 3D printing... :-)

That would be awesome....i am actually having my wife explore the possibility of 3d printing one..

Neither of these phones will be able to take the spot of the 1020. If I were you, I'd still take the Nokia 1020.

No way, I have a1020 and a 1520, and the 1520 is better. The lens flair and ghosting on the 1020 is quite bad, and the color and wb is not all that great either. It's slow, and it doesn't focus as close as the 1520. The only thing I miss from the 1020 is the resolution, but the 1520 camera is better in every other way.

Quite honestly...that doesn't describe AT ALL the performance of my 1020 apart from the speed which IS expected. Sorry (and I too have the 930 which has the same camera as the 1520). The 1020 is miles better.

Disagree. My 1020 looks pretty poor these days. Remember the tech is 2.5yrs old. Agree w comment above that software has done something to an otherwise great piece of hardware

The speed doesn't really bother me that much. I tend to take my time when I take pics...making sure the levels are good, nicely framed in the screen...and I mostly do city and landscape shots

The 930's image quality is nowhere near the 1020's. I know, as I have used both phones - my 930 was a replacement for a faulty display on my 1020. If you are viewing at 5Mp you probably can't tell the difference, but crop in a bit and the 1020 definitely reveals way more details. In lowlight the difference is even greater due to the aperture size and larger sensor. Having said that, the 930 is wayyyy faster than the 1020, and frankly, that makes it quite hard to go back to the 1020. At the same time, being so used to the camera output from the 1020 (and the 808 before this), it is quite hard getting used to anything leser (even though the 930 is pretty good). So either way, we're kind of stuck. Which is why I really look forward to this 950.

these phones will give the 1020 a good run for the money, dont be surprised even if they better the 1020 in most cases.

I have the 1020 and though I agree the 1020 takes amazing shots -- the new ones win me over in the amount of detail and speed that you can take photos. Sad to say goodbye to my 1020 but... it's unfortunate that they never dedicated any time to improve the 1020 speed or algorithm like we were promised. :(

I highly highly doubt that. Often the 1020 couldn't beat the 808, I highly doubt these phones will do better than those 2.

If these phones can't do better than the 1020 or 808, then they will be a disappointment. Microsoft needs to get them in the top 10 at least. http://www.dxomark.com/Mobiles/Column-right/Mobile-rating Posted via the Windows Central App for Android

Yes they could there better just because it say Microsoft and not shitty ass Nokia on them

Best __all around shooter__? Not having seen any real 950XL reviews and only based on the samples and the hands on videos: the 950XL, without any doubt.

While the 1020 still has awesome capabilities it is severely hampered (and to a degree always has been) by the older dual core S4. The shots are beautiful but they are slow... Really slow compared to modern hardware.

Juha Alakarhu, designer of L1020 camera, has answered your question. He has claimed that the L950/L950XL camera is the best camera his team has ever made.

All around, I'd say the 950/XL will be the best shooter. The 1020 will probably be the better camera, simply due to having more than double the number of megapixels, but it will also be much slower. The higher detail will be especially evident when utilizing digital zoom, as is likely with travel photography. Still, the 950/XL has newer image processing algorithms and hardware, plus expandable storage, which should make up at least some of the difference in raw megapixels. As the 950/XL and Windows 10 Mobile are not yet on the market, this is all of course pending final reviews and comparisons. In terms of camera, I would rate the 1520 lowest, then 950/XL, and 1020 the highest. That said, I would personally take the 950/XL as my primary phone and point-and-shoot camera, and then augment it with a DSL-R for those far away locales where I was willing to carry such a heavy piece. Currently, I am using a Canon IS200SX as a compromise between a compact camera, and one that has manual controls. This is another option available to you in modern cameras such as the Canon SX610HS or Panasonic Lumix DMC-ZS45K, which can be had for $200-$300. They have impressive levels of optical zoom and great macro modes for minimum investment. As my camera is getting a little long-in-the-tooth now, I am now considering something like the Panasonic Lumix DMC-LX100S, Canon G9 X, or Sony RX100 IV to replace it. These are about three times the cost of the cameras listed in the previous paragraph because they have much larger CMOS sensors and even more manual control, but at the expense of most of the zoom capabilities. However, they are still cheaper than a DSL-R, especially when you factor in the removable lens investment.

I like the compact size of the 1020. I am not a photographer by any means, but I do end up taking thousands of pics during my travel. I take my time to take the pics and shoot what ever interests me. The problem is I go to a lot of hot humid tropical countries....like Malaysia, Philippines, and I even stay in an indigenous village in Borneo last year. I want my next shooter to be light, portable, take excellent shots to document my time in these places. Right now when I travel I bring my 1020..and 1520, although I find it a little awkward to shoot with 1520 sometimes...I'm always scared I will drop it.

Has it been confirmed that AT&T will have a period of exclusivity for the 950 in the US prior to Microsoft selling it? I want this phone yesterday!

I spotted one grey hair, Dan... :D

Impressive. Just wish the phones looked more stylish. .

Just get a Mozo backreplacement then http://www.mozoaccessories.com/shop/index.php/default/device/lumia-950-xl

3rd-party is great but there is no excuse the default looks of 950 and 950 XL to be generic. Everytime I see the back of those phones, it resembles alot from generic cheap Android mid-range phones from unknown brands.

Yes there is, most people just buy cases and backs as soon as they get a phone. So why should MS waste resources when a 3rd party creates them anyway. At the end of the day this is a good business move as hopefully MS is starting to create a eco-system to encourage accessories that's endorsed by them.

That's great and all but, with out Verizon getting it...I guess dont really care...

F Verizon! Unless that's the only carrier in your area. Smh

Dan, did u say the XL will be out only in Dec? Or the Euro version in Dec....not very clear.

Just Euro version; unsure about a US release.

Crossing fingers for November release of XL. My 1520 has been going crazy with phantom touch, and at times is just unusable. My screen just goes nuts like someone keeps pressing buttons. I went to MS store to see what could be done, but they don't make 1520s anymore. I could use its value to apply towards a 950XL, but my warranty is over on December 1st.

Reflexx, my 1520 does the same as yours

I have a broken charging port on my Lumia Icon, thankfully i bought it from the Microsoft Store. They dont make the Icon anymore, and have no stock, so i can get a new 950xl back for it (I think it will cost me like 100-200$ to do so because its a warrenty replacement. I am so happy i went with MS Store, and their insurance instead of going through Verizon. If i bought it from Verizon, id be stuck with a HTC One and it's shitty camera as a replacement.

If MS has any sense about them at all, they'll make sure that at least pre-orders are up and running for Black Friday shoppers. If they don't, they are likely to miss out on that many more people that don't have the patience to wait on an unknown, epsecially when deals will abound elsewhere. IIRC, it seems that in years past new Lumias hit right before Thanksgiving. I think I got my 920 around that time. I can't remember when I sangged my 1020.

I hope they do more with that living image thing. I tried it on my W10 laptop with photos of his sister, did really wow me (the effect, not his sister). Seemed to jump from first to last in a weird way.

Daniel, does it focus faster than the 930? Slow focus overall on the 930 (and focus hunting for macro when the flash is off) are two things I'm hoping the 950 will address.

My 930 sucks when it comes to zoom in after the picture is shot.. :/

I'll become a Photographer!! OMG *--*

Wow. The 1520 camera was great but 2 years old now so it's good to see they took steps forward not back... prior Lumias were really spotty 1020 horrid white balance & macro, 920 meh, 830 good but limited by no-Denim, etc.

Wait.. XL release is December now? What happened to both releasing in November?

Mmm... Lumia 950 XL in December for Europe? Didn't heard about that. I was thinking about a November release for both in Europe too but I guess I just missed something. And sice Microsoft is being vague about the launch dates (the still keep saying 'coming soon' on their websites. I always thought the two devices would release at the same time (per regio/country). But we'll see! Edit: I can now pre-order from the Dutch website and it say's they'll be shipped before november 30th! Still vague but hey, we have a launch window for my country haha!

In Portugal both phones were pushed back to 1st December.

I really have a dilemma... 950 or 950 XL...?

I'm going with the 950. I think it's just a better size if you're someone that moves around a lot and wants a phone that's easier to navigate with one hand.

Since you can scale the text and apps to smaller size, the L950 can be made to look like a phablet. If you select L950, you are in fact get a 5.2" XL.

One thing that puzzles me, the 930 and 950 both have 20MP sensors. Does anyone know why the lens area on the back of the 950XL is so huge compared to the 930?

They said in a previous post that it was purely a design decision, only aesthetics ;)

The sensor is also slightly larger on the 950/xl

Damn, i was already impressed with the photo's i was taking with my 1520. But it seems the 950's camera is like an order of magnitude better. Really wish it was march 2016 already (that's when my 1520's contract will run out), so i can sell my 1520 and get a 950XL :D

Just ask ATT, they will definitely upgrade without asking any questions..

Now let's see the low light sample.

Heard the 950XL just went on sale in Belgium Netherlands.... As per WMPoweruser.com. I hope that's true

It's true they are on sale, but false that you can get one, lol. It's a mistake.

More upset than happy on the subject. Mainly because I will be forced to leave Verizon for AT&T if I want to continue my support for an updated Flagship since my Icon.. Verizon is better in my area, I can't believe they are blocking this phone from being fully unlocked like the Nexus phones... Which I also support. I've stuck with the hope Microsoft could bring Windows 10 Mobile everywhere, but this is very frustrating. Android continues to support my main apps but I very much want MS to succeed, tough times. Forcing a carrier change to stay up with them might end my support.

but its verizon that are forcing the change. They wont allow the MEID on their network. MS are selling unlocked through their online store. Take your complaint to verizon.

Trust me I've been following and know there's a lot to blame Verizon over on this one. It's the entire situation that's frustrating and not wanting to change carriers just to follow Microsofts' latest flagship. I'm definitely not the only one.

i feel your pain i work for Vodafone in australia, and it doesnt look like we will be ranging it on plans, meaning outright is the only option cos changing carrier is seriously frowned upon lol

Verizon can not refuse any phone that wants to use them to use them because of rules on the C block spectrum. Many other manufacturers have put all in one modems that have all of Verizons bands to it so Microsoft could have had they wanted to. You can go, get Nexus 6 and pop your Verizon sim in it and it will work just fine. So no, for all of Verizon's fault, this one is on Microsoft.

Not impressive with a screen to barely matches camera resolution

Any chance we will get a slow motion capture?

Chance is slim since fps is 30

FPS is 60
http://2.bp.blogspot.com/-iBGZBbrIGs8/VhVox4MLHwI/AAAAAAAABJk/PkWm6U31h4...

ive heard that 950xl will have slowmo but maybe via software/firmware update

It may come with an update. The Windows Camera app on the HTC One M8 for Windows has options for 120FPS and 90FPS at 1080p. Both settings crash the app so they are not ready to be used. Somebody had to code those options so we should see them in the future.

Actually a $300 trade in deal for my Lumia 830 and a release date would blow me away!

I wish they would demonstrate a low light photo.

Dan, when will review 950's be available? Would love to read the WC review before deciding to go 950 or 950 XL.

Microsoft has not distributed review devices yet cause the OS is not finished.

Looks like I could plan buying this instead of Nikon 5100 ! Lol

It will blow all those other smartphone cameras away , I already know the business, this is what I've been waiting for.

I'll wait a couple or a few months for the 950XL price to drop a little bit. And buy an open box or some from eBay. Maybe for $400-$500

Well I was looking forward to replacing my 1520 but I don't really like the 950xl design and £550 for a better camera doesn't make sense to me..regrettably not impressed enough to change...sad but honest..sorry Microsoft not this one..

Given that the imaging hardware seems to be identical in the 950, I expect the results to be similar. I doubt that the difference between the 808 and 810 is enough to hamper it.

I'd rather 120fps film than a 4k film...

You can, at 720P. everyone thinks that just because the iphone can do 120fps its the best camera... Fact is, its only a 720p screen and right now I think 120fps on a phone is only capable in that resolution. That's y 1080p in 60fps, and 4K in 30fps and so on

Hopefully, Microsoft really lushes this like Apple did for photography.

*Spits Coffee on phone* HOLY FUCK

Thought this was going to be an article about being able to record macros on your phone!

Very very nice. Hey Dan did they have the Lumia 950 as well at the New York Microsoft store?

Made me want to try to get water droplets on a leaf type macro shot using my Lumia 640. Sigh. It's just not the same. Still, my shot made my neighbor who has an iPhone rather envious. :D I'd love to have one of those 950XL phones.

Where is the link to the original photo??? Is better to inspect with the original photo / file than this.

Awwww i need it. The photos look sooooo well

Does anyone know the minum focus distance of these beasts?


Beginning of November... Later in November... ...

I can't wait to get my hands on the 950xl. It and my 1020? So sweet

There is nothing right now that I desire more than this phone, but I have to wait at leas until next year when the carriers of my country bring them here and I can buy it. Is soo annoying have to wait always months after the USA release to have the opportunity to buy this kind of things, is like if your money were less than the others, even when you have to pay higher prices.

The macro is better that SLR, at least in one aspect. You can see things more than a razor thin strip, without doing focus stacking.

February next year is when this phone will probably launch in South Africa

Dear Dan, can you please tell us how the speaker performs...

Lumia=the photography-king period.

I can't wait to get the Lumia 950XL!

Very nice! I'm due for contract renewal Mid January and am strongly considering this (still liking my 1020, but am tempted and would like a bigger screen)

Woah.. Looks awesome. Wish I could take those in my 930..

Has there been any news on high fps for videos? Would be nice to shot in 60 fps

I need that color processing algorithm for my 930! :3

So the demo units are back in the stores?

After update my lumia720 camera will be like that :v

Can you make folders and move photos around without an extra app?

I can probably take this with a grain of salt, but an AT&T employee told me that they were told their store will have the 950 and 950XL. It'd be nice, but I don't think it's going to happen.

I am beginning to think that the 950 & 950 XL will be the turning point that Windows phone has been looking since the last 3 to 4 years.

Microsoft is taking the camera part to a next level I believe !!

Looks promising, but I would likely to see the original! Looking forward to my mid-January upgrade.

Are the 950 and 950xl exactly the same in camera performance?

So cool! Waiting for December is going to last an eternity.

I'm guessing that picture was taken without an external lens.

That's good news, Microsoft should be comparing their phones with the best DSLR cameras on the maket.And by doing so, they will always be on top of the game in this area.Microsoft should think of comparing the lumia 950 with sony Z5 because it's the Camera phone DXO mark have tested with 87 points. Does lumia 950 Xl have optical zoom?

in all its 640x640 social media glory, obviously..

As a former 930 user ie seems like more of the same. The designs of the new phones are very similar to the old and as before, they have great cameras. But the problem is the OS. Nobody likes Windows Mobile as an operating system and there is also still the lack of apps issue. Personally I much preferred Windows Phone 8/8.1 to Windows 10. It was far smoother, elegant and beautiful. Windows 10 copies the iOS design trend of thin, bland, colourless, hard to read fonts and UI elements. And whereas the.controls were all within easy reach on the bottom, they're all stuck way up top in a hamburger. I sold my 930 while I could still get something worthwhile for it, and got an Android phone. And honsetly, Android is so well designed on Lollipop now that it's actually an awesome OS. Just blows away all other OS's out there. And with the majority of people using Android, I can't see any incentive for them to switch to Windows Mobile. I reckon the new phones are dead in the water in the West. Only hope is that in poor countries people will buy them for Continuum, and maybe those sales will be enough. But I doubt it.
Windows Central Newsletter
Get the best of Windows Central in in your inbox, every day!
Thank you for signing up to Windows Central. You will receive a verification email shortly.
There was a problem. Please refresh the page and try again.