New patent shows how the Surface Duo camera could work
The Surface Duo might have a single camera that can be used for selfies and regular photos.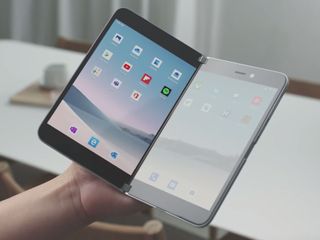 (Image credit: Microsoft)
What you need to know
A new patent shares details on how the camera might work on the Surface Duo.
The patent implies that an upcoming dual-screen device could have a single camera.
According to the patent, the device could show what the camera was capturing on one or both displays.
A new patent shows how the camera could work on the Surface Duo (via WindowsUnited). US Patent No: US 10,440,632 B2 includes several details about how a dual-screen device from Microsoft could work. If certain aspects of the patent were used on the Surface Duo, the device might have a single camera that can be used for either selfies or rear-facing photos.
The patent was applied for by Microsoft Technology Licensing LLC. It was originally filed on June 19, 2017. It shows off several ways that a folding device with multiple displays could work. Many of which seem similar to what we saw in the Surface Duo at the recent October Surface Event.
Sheets 3-12 of the patent have images or text describing a camera system for a dual-screen device. At one point, the patent reads,
According to this text, the Surface Duo could have a single camera unit that can be used for front or rear-facing images. The device could show what is being captured on one or both displays depending on the orientation of the device.
As with all patents, these technologies could be used on an upcoming device on the Surface Duo, or they may never see the light of day. In our analysis of if the Surface Duo will have a rear-facing camera, we pointed out what appears to be a spot for a camera on the back of the device. That would be different than what this new patent covers.
The Surface Duo will likely have some sort of camera setup, but until Microsoft unveils more details, we can't confirm how that setup would look or work.
News Writer and apps editor
Sean Endicott brings nearly a decade of experience covering Microsoft and Windows news to Windows Central. He joined our team in 2017 as an app reviewer and now heads up our day-to-day news coverage. If you have a news tip or an app to review, hit him up at sean.endicott@futurenet.com (opens in new tab).
Single camera is the best option.

The single camera solution would make the most sense. Primarily because I don't know of too many people who'd want to take pictures with this thing fully folded out. Microsoft has to focus on the qualify of this thing. It doesn't need to be 42mp, it just needs to be great. The cameras on current Surface devices just aren't that good. Windows Phone fans are used to being spoiled by a great camera. We're going to expect the same thing out of this thing. Since WP fans will likely be the early adopters of this product, it's crucial that MSFT get's this right.

Considering that the screens are on the inside of the device one camera makes perfect sense, but in my opinion either way Microsoft have a huge problem. Having to unfold your phone just to take a picture is a non-starter for any number of people who need to be able to take a phone out of their pocket and snap a picture in a reasonable amount of time. But maybe their implementation of everything else will be so good that it will be a worthwhile sacrifice. Time will tell.

And the possibility of leaving the phone folded could be a solution too, assuming one isn't worried about the glass getting scratched/damaged.

I'm ok with a single camera that could fold with 2nd screen to snap either front or back, as long as it's as good as modern cell phone cameras.

Interesting take, a single camera will certainly minimize on idle power draws and when in use. Therefore maximizing power savings further. Curious to see how they figure out variation of the eye lines with the duo given it's running Android so they won't have the benefit of reusing the same code used for the SQ1. Which still is quite creepy lol... subtly changing a person's eye line... I just hope no one figures out how to add random facial features or completely inverting someones face etc using that eye line adjustment feature lol.

Microsoft has two options
1) provide single best possible camera at front which works for both ways thanks to 360 degree hinge & second screen.
But the problem with this setup is that surface duo is 4.8 mm thin. Realistically Microsoft can put 1/3inch size camera sensor in duo which means same camera sensor size as lumia 920. 2) if Microsoft succeed in pulling off their patented idea about split camera hardware setup then we can expect surface duo to have 2 cameras & possible 3 visible lenses. One for Dedicated selfie & one for back camera which only works when duo will be in 360 degree folded mode so that split camera hardware present in both halfs of surface duo matches its position and works as single camera. 2nd option promises better camera quality because Microsoft has total 9.6 mm space for design a bigger sensor compared to 1st option where it is only 4.8 mm.

Well, there is a third option, which also explains Panos' Duo pic.
The camera(s) is at front, but it has the protrusion on the back to accommodate better hardware. To close flat the phone with both screens outside, there is a matching indent on the other half's back. As on Panos' picture. Then, one has not full 9.6 mm, but, minus screen thickness, lets say, 7-8 mm.

Is that a black Surface Due in the last picture?

Yes that's black surface duo.

now..if they made it flip up like the original star trek communicator device.... that might make an interesting phone... could hsve people walling around looking like they are talking to a makeup case,,,

Wonder if the can put the camera on one side but place the image on both sides. that way your subject can aim themselves for better pics...
Windows Central Newsletter
Thank you for signing up to Windows Central. You will receive a verification email shortly.
There was a problem. Please refresh the page and try again.