New report says Windows Phone 8.1 is now on a majority of Windows Phone devices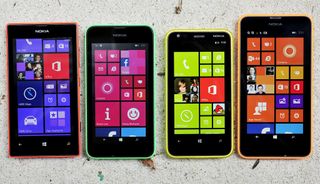 The latest Windows Phone ecosystem statistics from the mobile ad provider AdDuplex show that Windows Phone 8.1, which succeeded Windows Phone 8.0 in October, is now installed on 50.8% of all Windows Phone devices worldwide. That puts 8.1 in the majority!
The new numbers for the Windows Phone market were generated by data gathered from 5,005 Windows Phone apps running AdDuplex's SDK v.2 on November 24. Worldwide, the Lumia 520 remains the the single most used Windows Phone device. The 520 represented 26.3 percent of users in November, down just slightly from 26.9 percent in October.
However, the newer Lumia 630 is slowly but surely is gaining some ground in the market worldwide. In the US, the smartphone is close to overtaking the Lumia 520 for the second place spot, and its sister the Lumia 635 is not far behind.
Along with the known Windows Phone devices, AdDuplex's report also showed four currently unreleased hardware products running on the OS, all of which have the Microsoft or Nokia branding, which means they are all under the Microsoft Lumia brand:
Microsoft/Nokia RM-1069, RM-1070, RM-1071 – This one is a low-end 480x800, 4" phone seen mostly in Asia. Based on the resolution this looks like something with actual (non-software) buttons
Microsoft/Nokia RM-1072, RM-1075 – something mid-range with 5" 720p seen mostly in Finland;
Nokia RM-1078–480x854 (unknown screen size), seen exclusively on Sprint in the US
Microsoft/Nokia RM-1062, RM-1063, RM-1064, RM-1065 – that's a new 5.7" phablet and judging by the spread it isn't far from release. We've seen it in Finland, US (AT&T) and some Asian countries. But if you are waiting for a new flagship phablet you will most likely be disappointed. This one sports a 720p screen which makes it a likely follow-up to the Lumia 1320, not 1520.
Which Windows Phone device do you currently own?
Source: AdDuplex (Slideshare)
When Verizon releases cyan, then we'll have 100%. (not really on Verizon)

Htc's windows phones don't have the update yet too

VZW's HTC One M8 came with Windows 8.1 out the door ;)

Htc's 8x and 8s still on wp8.0

Use preview for developers. It's stable enough!

My poor 8XT can't download 8.1 via the Preview for Developers. Update is supposedly coming next month but I'll believe that when I've updated my phone. I've been playing around with a 920 on retail Cyan and it's making me notice what I'm missing on the 8XT (wordflow keyboard or whatever they call the swipe keyboard is the big one: it's so much more ergonomic, not to mention apps that are only on 8.1 like Fitbit).

I have an HTC 8x on Dev Prev and no issues. In fact, it runs better and more storage space.

Apparently that's the only way anyone will ever get 8.1 from Verizon. Good luck getting any future upgrades.

It has so many bugs, the best idea is to NOT install these updates if you will get them.

I was joking, guys. I'm on a Lumia 635

How do you get the Preview?

Search article on Windows Central about your questions. There plenty of articles that can help you. Basically, you just need to register first as "app developer" eventhough you are not a real app developer, then download the app from windows store "preview for developers", then enable the "preview" on the app and your good to go. Just check phone updates from your settings. More details on the articles here on WC.

Nope... I'm never updating :)

See my trick was to upgrade to another device and keep my old one. I've got 8.0 and 8.1. I like 8.1 better even though music and games are SO VERY different.

I have 8.1 on my ATIV SE...it freezes my phone up to 3x a day, but 8.0 is so behind the times. I refuse to use it now.

Except for Verizon customers

Yeah.....it's gotta be soon. I'm shooting for mid-December.

Verizon takes the title of last place from T Mobile. Very impressive. I still don't know what changed with the cyan update though. I see absolutely nothing different in both features and performance. I assume it just allows it to be compatible with certain apps/devices.

I heard the Verizon apps had issues with 8.1

nope they work fine on the HTC M8 for windows. You heard a bad PR move to prevent people like me from switching to AT&T, but I switched anyway.

If I could run a 1520 on Verizon....le sigh. GSM gets all the cool phones. Patiently waiting for VZW only because I love their network and the price plan I have for my ATIV SE. We are the "Others"! One of us! One of us! ;) *crickets*

Verizon's expensive though compared to AT&T...

@ least their lte phones are unlocked

I'm 100% sold on GSM. Screw verizon and sprint.

Next step: Worldwide domination

Code Name is Windows 10 lol

Defeating world leader iPhones :D

Lol,world leader is android not iPhones

When is gdr update 2 with denim coming on Lumia 1320??? And what happens to vlc on windows phone?

They said the app submitted has been rejected

But recently they said fault is from MS , that's why vlc is not submitted

Somehow I doubt VLC getting rejected is Microsoft's fault.

Wish someday we would read news as "Windows phone is the majority used phone"

It will happen, maybe it will take more time but here in india more and more people are buying windows phone

Let Nokia vanish and then see.

Hopefully MS wise and invest in India rather than China.

almost everyone said the same about Android when it came out... no one knows what will happen on tech world

When we gonna get #WP 8.1.1/ Denim update???

Middle / end of January, but if seeing more reasonably -after the brutal fackap and amateurism MS did in 3 times in a row since the Amber- middle / end of April 2015 the majority of WP owners will still run cyan and not denim. Have the bets gentlemen...!

No time soon. I just bought a 800. With the metro design and the hubs still intact, it is in a lot of ways a better experience than the 8.1. Plus the hardware is top notch.

I still have a WP7.8 phone lying around. When I boot it up it seems archaic.

Yep. My Lumia 900 is on a shelf, and I occasionaly boot it up to let my son play a game or two. It is like going back to the stone age compared to 8.1 on my 1020. The notification screen is a godsend compared to 7.8's "hope you saw it, because it's gone forever" aproach. Calendar is improved with multiple views. Background images are available, as well as 3-wide layouts. Integration with Microsoft services such as their news reader, weather tracker, and cloud server are great. The battery, data, storage and file sense utilities are the bomb - so much more control over the contents of the phone. Kid's profile is a nice addition. And of course there is much more app availability. It's better in every conceivable way.

I own Lumia 630. It's awesome for starters.

Soon Windows 10 talk and excitement will be in full swing and then, as a minor footnote, Verizon will push the old, crusty 8.1 out to some phones on its network ...

Replace it with Lumia 535

Actually, don't. Get a 630 instead, or 735 if you want to go mid-range. 735 is great. 630 is far better than 535 imho, the smoothness of sd400 overcomes the lack of front facing camera and flash

The 1GB of RAM in the 535 means smoother performance than the 630. Not only that, there is a 5 inch screen.

Thanks for the advice I appreciate it, but I think I would probably take the 535 as it's probably more affordable, 1GB RAM is definitely what I need and a 5MP front facing camera is just cool

Also 535 is quad core 1.2ghz. I don't think there be performance issues.

535 is just perfect for me, I'm not looking for a mid-range or high end phones right now, just something simple but able to perform most is the tasks of a high-end phone

I reported on this since yesterday.... It flew under da radar I take it...lol.. I'm hoping for a 1320 successor. Though if the screen is smaller I may just skip it...

A Effing Verizon missing the party and soon me.

Poor people that has Windows phone 8

nah, not that poor... 8.1 is an upgrade, but it also has some drawbacks compared to 8.0

And the people that have generic touch screens and can't get the original, needs 8.0 for the panel works!

Running wp8.1 update on the preview on my Lumia 1020

Who are these 7 holdouts? People who have refused to buy a new phone for 3 years? They practically give away the 520/521/635 that will get you 8.0!

There are life outside the US, did you know? Phones are not free in many countries.

Phones aren't free here in the states either. That and this are two different things. Things like a 15% holdover from a long unsupported OS leads to Android levels of fragmentation. I don't want that for my platform of choice. At the least I want everybody to have a 520 and dev preview! .....dreams

My mother is using my old Omnia 7. We tried offering her something more up to date but she refuses. For texting, calls and "practicing having a smartphone" and "getting used to touch screen" it's perfect. Should I bring down a sledgehammer on either the Omnia or my mother for you to be happy? The device is working, just because it's old it doesn't deserve to be discarded. When it dies she will get a new Lumia. Until then, well, 7.8 will live on!

Tell your mother happy Thanksgiving, but that Omnia and that OS should die with fire. :)

I rock a Lumia 900 and 920. Only time I am ever going to replace my cyan colour 900 is when a similar looking cyan colour mid to high range Windows 10 device hits India. I am sure that we won't see such a device for Windows 8.x.

I've still got a Lumia 800 with WP7.8. In March I will have had it for 3 years and I will look at getting a new phone, though I might just wait for WP10 at this point. Reasons I still have the phone: I love the size Still get 2-3 days battery life for my normal use cases Don't care about that many apps as I am in front of a computer all day anyway People Hub!!! Can't justify spending money to replace something that is still functional. Family trumps gadgets every time. I wish I could have the latest and greatest phone all the time, but my practicallity and frugality always win out and convince me that a new phone won't make me any happier that I am now.

8.1 is something you should have if you can especially those of us coming from the 7 days. Yes there are some changes that are frustrating but the speed and up-to-date OS functionalities make making the jump worth it. Plus the apps you do use, are more than likely better in 8.x If the cost is low, I encourage you to jump to a newer device. The holidays are a perfect time to upgrade with little or no cost! Come join the fun were having! You don't want to be on that side of the pie chart!

I will fully admit that I wish I had a phone with WP8.1 right now. But until get one I will continue to use whatever justifications I need to keep myself content.

for people like me, that prefer the hardware keyboard, zune music, and not having issues with all the newer versions. thats who.

Maybe some people who are just fine and content with their phones? Not everyone has a throwaway lifestyle when new stuff comes out.

920 here with latest Developer Preview :)

Microsoft should do like apple and force the 33% of wp8 users to upgrade to wp8.1 by stopping app updates and whenever they try to update an app, a message comes up that you need to update to wp8.1

The problem is that most apps don't have the API for 8.1 so they can't do it.

How can you force users to upgrade when 8.1 isn't even available from their cell provider?

I'm not on 8.0 because I want to be. Its because Samsung or Sprint hasn't released an update. I thought OS updates weren't going to be an issue on WP but I sometimes regret my decision of leaving my Android Nexus device life behind. Samsung says its Sprint and Sprint says its Samsung. I think its god damned annoying.

So my phone experience should continue to worsen as not only am I not getting the Windows Phone 8.1 update anytime soon, but now my apps will continue to be outdated too. It's not a wonder why WP8 hasn't significantly picked up market share with practices like that and users who insult other users.

Seriously, we should not be abusing one another, the ones we need to attack are the carrier and the uncaring OEM partner! Please unite users, for WE ARE WINDOWS PHONE! @-@

Lumia 930 and proud owner of it. :)

Except for the Lumia Icon.

All WP news are useless. No one new about WP 10 for phones, no rumors.Nothing about what we need for our phones platform.
If MS wants to have high share in market ,I mean phones market, it should be more and more fast in developing its platform.
Ugly setting menu, no innovation
So classic apps menu
Ugly notification center
I have watched some concepts for next WP 10 for phones and all are nice concepts , because these concepts know what we need.
I think my English language is not so good as it must , try to understand me.

I know what are you trying to say and you're right. We just need to wait until 10 version will come out and hoping all lacking of 8.1 will be fixed or changed.

I want the original concept of Hubs return as well as the older version of Me tile :-(

Lumia 830 and contrary to a lot of comments it's worth the price! It looks premium, feels premium and performs admirably. More than happy with it. I'm glad I didn't defer to the HTC M8. Saved some cash.. :-)

I own a Yellow Lumia 1520 already updated to Windows 8.1.....but Desperately looking to own the Lumia 1520 Green (The Hulk) which is not available in Mumbai, India :( :( :(

Hopefully, this will mean an onslaught of app updates soon to WinRT 8.1, or Silverlight 8.1 apps.

Has anyone noticed slow and laggy the Skype app is recently? I have old 8x

Don't even get me started on this again.

L930 & waiting eagerly for denim update.

Lumia 925 with the latest pd

What happend to Denim update? I was hoping to recive update this year as they promissed but it's strangly quet. Is possible they skip denim update and go straight to Windows 10?

mine Lumia 720 with a lot of bugs 8.1 os :/

They shouldn't count Developer Preview if they are. That's misleading.

Why? It matters for developers. They need to know how many people can install 8.1 apps

Nothing for High End Users for another year. Bleah!

So can more developers start targeting WP8.1 functionality, if not out right converting to WinRT model whenever possible ?

Problem is, not all functionality is present in all APIs; 8.0, 8.1 & WinRT all have a different set of functionality, so updating is not always an option (which is really annoying if you want to keep old functionality while integrating new ones).

FAIL FAIL
FAIL FAIL
FAIL
FAIL That's what I read with the new device descriptions.

1330 successor is welcome, the others feel pointless.

I just don't care :D I'm waiting for W10 news

Okay now begin with the final 8.1 GDR version OR ELSE THE WHOLE WINDOWS SHIT SUCKS

Finally signed-up to WC. Took a lot of time.WC should do something about the login/signup system. The sign up button hangs on taping it.

I own a Lumia 620. Still surprised that some people still use it and I'm not the only one.

The poor lonely Icon on Verizon. You had such potential. You thought you were the flagship of the Windows Phone eco system and that you'd soon have Windows 8.1. Ahh, but little did you know that Verizon was going to undermine your reign at the top by dragging their feet on the 8.1 release and then comes the HTC One that has 8.1 already installed? What the hell? And then Verizon sends the update back to Microsoft and says "Fix this so it works with our stuff!" And your like "I thought it worked the other way around!" You thought Verizon has to fix their stuff to work on 8.1. Now you sit on the outside looking on at the other phones running 8.1 and wish you could do all those cool things it can do with Cortana. Sigh...someday maybe Icon...some day..

Ok so we have the IPhone 2,3,4,5,6. Galaxy S2,3,4,5. Then we have Stephen Elop's Lumia 520, 521, 620, 625, 630, 635, 710, 720, 800, 810, 822, 920, 925, 928, Icon, 1020, 1520. Not too confusing!

Go home buddy, you're drunk.

You are missing like 5 iPhones, and about 200 Galaxy -phones from your list.


Still in the minority here on my 928...thank you again Verizon.

A Lumia on Sprint... It's like my dream have come true. Now the waiting game.

Does this mean that we will finally get an updated Twitter app?

50.8% means majority? By this same chart 49.2% of all Windows Phones are on WP8 and below.

Lumia 710 with 7.8 and 620 with 8.1.1

Ms we need recent history in people hub .great me tile.come on don't downgrade wp.

Samsung ATIV S with XME CSC still on 8!

Nokia Lumia 1320, wp 8.1.....

Doesn't take long to 'survey' the 12 people using a Windows Phone device ;-)

These jokes are so stale omg. Try harder?

I take it you're one of 'the 12'...? lol

Yes, indeed, I'm #11. Now go and don't come back until you've tried harder.

...and are you thinking you achieved cleverness? Think again, but thanks for trying... ;-)

Not at all. I merely point it out when I see a lack thereof. And I wasn't trying... I'm genuinely concerned. :(

With time and professional help, you'll get over it ;-) lol

Finally ;-) lol -- thanks for stopping by

You're most welcome! Consider it my public service announcement of the day. :)

We believe that you believe ;-)

Wow I never knew my Lumia 521 is the best selling windows phone :)..

Yeah makes the whole statistics look a little suspect..

Whoever I see using a Windows Phone, they are still on 8.0

I had the Lumia 920 for almost two years, and just recently upgraded/side-graded to the Lumia 830 (love it!). Also have a backup 520, though haven't touched it in a while.

Lumia 800 ,Lumia 900 released just before WP8(premium then) are holding some people back.Some people are not tech savvy and prefer not cash in every now and then.They are happy with calls,texts and IE7.sigh!!!old people..no offence.

So, if I understand correctly, the icon is still running wp 8.0 and still hasn't got the Cyan firmware update whereas the 930 (identical hardware) is on wp 8.1.1 and came with cyan out of the box?

My NL930, what has happen, it not in the picture.

Lumia 630 rocks solid here

I wonder how the chart would look like when all OSes were split up into their updates (GDR 1, 2, 3, ...)

Have a Lumia 920 that wants desperately to update to 8.1 but I'm worried I'll miss all the hub functionality etc. and am sticking with 8.0. Wrong decision?

my decision too and i love it :)

I have an older HTC 8s with 8.1 Preview and it runs so much better than it ever did with Win 8. I love that apps can be installed on an SD card. I still have a decent amount of free space left over now where I was always running out of space before the update.

Actually in a upgrade sense its 60% wp8.1 the chart shown is for devs..

Should be fully 8.1 covered from 8.0 in the market now

funny, L830 Denim not listed. 830 Black

When on earth is the update for Lumia 920 and 1520 to create folders coming to UK?

Lumia Icon still on 8.0 :-(

Now just imagine how high the numbers would be if Verizon and Sprint stopped delaying the update. I'm impressed/saddened by all the WP7 users. Microsoft just needs to come up with some promotion to get those stragglers to upgrade.

my lumia 625 was i think one of the first that could have been upgraded to 8.1 however I couldnt w8 till my 2 days of holiday are over to get home and get sweet 8.0 back...i just couldnt use to separated fb/text messages
Windows Central Newsletter
Get the best of Windows Central in in your inbox, every day!
Thank you for signing up to Windows Central. You will receive a verification email shortly.
There was a problem. Please refresh the page and try again.