Nextgen Reader for Windows 10 is free for the next day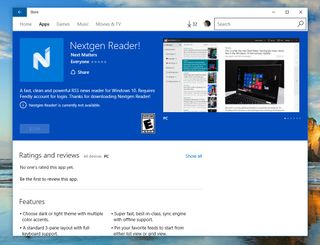 Nextgen reader, a solid RSS reader app for Windows 10, is currently free on the Windows Store. The temporary sale is a drop from the app's usual $3.99 price tag, and is set to last through November 16 (via Reddit.
If you're unfamiliar with Nextgen Reader, the app allows you to easily keep up with your favorite online publications with a simple and attractive interface. The dedicated universal Windows 10 version of the app was launched earlier in 2016, and includes a transparent Live Tile, full-screen mode, both light and dark themes, and much more.
If you're on the lookout for a new RSS app, be sure to grab Nextgen Reader for free while you can. Also let us know what you think of the app in the comments!
Download Nextgen Reader from the Windows Store (opens in new tab)
Dan Thorp-Lancaster is the former Editor-in-Chief of Windows Central. He began working with Windows Central, Android Central, and iMore as a news writer in 2014 and is obsessed with tech of all sorts. You can follow Dan on Twitter @DthorpL and Instagram @heyitsdtl.
I used this for years with pleasure, but it hasn't been updated in ages. And my most requested feature, marking as read while scrolling won't ever come. I moved to FeedLab, it's amazing.

So you would say that Feedlab is better? Haven't tried them since 8.1. I think I will still take a chance on this though.

Yes they just released a w10 app. It's smooth as butter. You can mark articles as reas while scrollen: Essential when you have almost 1000 headlines per day. And it has many other handy features.. Try it!

while lack of updates yes but it works fine... don't blame him for wanting to charge differently for windows 10 uwp.... how else can you make some $? I've been so comfortable with nextgen... guess I should try feedlab .... tried newsflow when WC posted about it but i couldn't get some of my feeds to work properly in it

Yea nextgen reader was well worth its money. Good developers should get paid. I hate ads.

I tried newsflow when WC posted also, forgot about it and never used it. But then I kept seeing newsflow_background_task host using up 30% or more of my cpu frequently and quite randomly (on surface pro 3). Had to uninstall it because I was tired of my cpu fan kicking because of that app.

Notably, this is one of those UWP apps that hasn't enabled Windows Phone support. No idea what the holdup is!

The developer has health issues I've heard.

Yeah, I bought both versions to support the developer, but the lack of a W10M port saddens me. If ever an app begged to be used on Continuum, it was NexGen. I wonder if we'll ever see that support with W10M evaporating to almost nothing in the consumer space.

on hold waiting for for surface phone apparently... https://twitter.com/ngreader/status/797037545712283653

I don't have much simpathy for the developers... They made this new UWP app adding the "!" sign at the end instead of updating the old one, which is there in the store too. It is OK to support the 8.1 userbase, but the ones that purchased the old one had to pay again for the UWP app. Greedy move.
And yeah no mobile versión yet...

FeedLab is the ideal app for following the news of your favorite RSS feeds.
FeedLab has more features, is free and is a true UWP app for mobile, tablet and PC. Just try and compare: https://www.windowscentral.com/e?link=https2F%2Fclick.linksynergy.co... ;)

um... after 30seconds.... wow! But maybe not the nicest thing to do jumping in on some other developer's promotion :) You should have asked WC to get your app featured instead.... other people mentioning your app is different though

We have already contacted WC from the first version of FeedLab on WP8.1, but unfortunatally after 2 years and differents messages, no article on FeedLab on Windows Central. I don't know the reason. We don't denigrate the quality of NextGen Reader, we just suggest the users to try and compare ;)

Well that's unfortunate. A reply would be nice for sure... I understand they can't probably respond to all messages, but would be nice if one was acknowledged...

I think WC wants to see money for an article about your app. But don't worry, your app is good enough to do without marketing. Please keep up the development, I love your app.

The app is amazing and full of features but the UI could use more polish. There's a lot of customization but some things like removing pictures from the left pane of articles would be nice. Also when clicking an article on the left the right side has a really loud color for the title instead of being more clean like for nextgen. So far definitely feedlab has more features and settings but going through both to compare.

Thanks Krystianpants for your feedbacks. To remove the pictures from the list of articles, you can change the template (click on '...' on the bottom bar to see the options). Yes, it's on our roadmap to accelerate this animation between 2 articles. Thanks

Sweet thanks! This has the potential to become one of the best readers no doubt.

cool, I'm still using the windows 8.1 version I bought.... aww too bad the uwp version is not avail for mobile

I never install windows 10 apps... so this is frustrating the one time that I do. Can't log in to it... have tried both google account and fb account, just get a "authentication error" message. Sigh.... I'm not surprised

I logged in fine, you know you need a Feedly account right?

I'm trying to create a new account but I'm getting that error

Maybe goto feedly.com and create it there first. You need to use feedly to set up all the news feeds you want anyways. Nextgen is just a tool for you view newsfeeds you set up on feedly.com

Yep I did that... still unable to log in. Maybe my work is blocking it but I don't know of anything else they block... if anything

sorry I'm out of ideas :(

Tried all others, always come back to Nextgen reader.

I downloaded this because free. But on aparently it only works on Windows 10 desktop. I couldn't download it on my phone.

I have acquired a couple of apps this way and in many cases after a year or so I am told that my free trial has ended and that I'm required to pay to own it fully eg Cal

Your article says it's for free... But the link at the bottom doesn't work (opens only the browser) and in the store it's $1.99 or a free trial??????

I think only the pc one is free. The mobile one is the 8.1 version.

It's Nextgen Reader UWP, there are two versions of it in the Store, the "UWP" one is free.

The UWP one is for $1.19 and classic one for $2.39 for me.

I'm seeing same.
UWP is $1.19 (76% off for next 19 hours) and normally $4.89. No free app in AUS? :(

Waiting for mobile compatible version

I have tried many feed viewers. This one is nice. But I have yet to find anything that beats feedly.com itself. No app to install. Available in any browser.

Yea, was using this one when Weave dried up on Windows Phone.... too bad Weave was the best News Reader ever..... and I already own it...

Make Mobile version free.

I must be really unfamiliar with this thing...I just tried to install it on my L950!

I've not tried many other feed viewers, but I use Nextgen reader almost every single day (multiple times) on my surface, phone and desktop and find it awesome. I've used it for several years now.
Windows Central Newsletter
Thank you for signing up to Windows Central. You will receive a verification email shortly.
There was a problem. Please refresh the page and try again.