The Nokia 230 and Nokia 230 Dual SIM are Microsoft's latest feature phones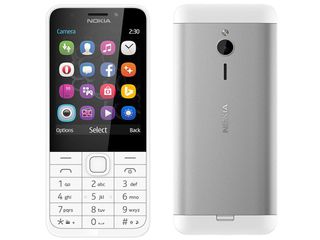 Microsoft may have restructured its phone division, but the company is still launching new feature phones that have some interesting features. The latest such devices are the Nokia 230 and Nokia 230 Dual SIM, which will go on sale first in India, Asia, and the Middle East in December for $55.
Microsoft talks about the cameras in the phones in their press announcements:
The Nokia 230 phones will also have a 2.8-inch touchscreen, which owners can use to access Bing Search and the Opera Mini Browser. It will also have a microSD card slot that supports up to 32GB of storage, which will allow users to store and play games, watch videos and listen to MP3 tunes. Talk time is up to 23 hours for both phones, with standby time for up to 23 days. The Nokia 230 phones will be available in other parts of the world in 2016.
Under their current agreement, Microsoft still has the rights to make feature phones using the Nokia brand name until the fourth quarter of 2016.
Source: Microsoft
Screw the 950, I want this thing!

950/950XL are being released as dual sim variants in India. http://www.microsoft.com/en-in/mobile/phone/lumia950-dual-sim/ http://www.microsoft.com/en-in/mobile/phone/lumia950-xl-dual-sim/

It looks good. If it has wifi, its worth buying. Whatsapp should work on this...
Opera appstore is one thing i didnt like.. Ovi / Nokia had more quality apps.

Yeah, Microsoft has intentionally underpowered these devices in software. These probably don't run Symbian S40 where you install a lot of apps like Oper Mini, UC Browser, many small types of games and even some old school emulators. Definitely disappointed with the way Microsoft is handling feature phones.

Opera Mini Browser 4.4 - can read emails in Outlook.com but not compose - way to go MS :/
There's no email client which would make the world of difference (esp. if you could share a photo via email - imagine!)

You can buy ten of these for the price of one 950. Was the 4gb Lumia 530 with Windows Phone 8.1 that was intro'd last year too much of a smartphone for India? IIRC it is in or near the same price range for this one.

That thing is dead in the water though. It was even lesser in terms of specs than the Lumia 520! You can forget about any support for that phone now since it has only 4 GB internal storage.

Same reaction here. The ppl who designed this have done great.

Who designs the nokia branded phones? Ask him to design the Lumias from now.

Seriously. I liked the Nokia designs better than Microsoft's now. The 550, 640, and 950 basically all look the same besides the size of the camera on the back

i agree with u. i think designer make good designs only on a Nokia name?

This what comes to my mind having the Nokia 230 design to Lumia 950. http://i.imgur.com/mlEKFuZ.png With front stereo speakers: http://i.imgur.com/sX8KkvA.png

Microsoft should release this in Japan since the majority of Japanese continue to use flip-phones

Those flip-phones as powerful as smartphones back in a day, also they have smartphones for a long time already. Only Windows Phone is unfortunately non-existent over there.

Yeah, me too, this is dual sim brah!!!

You have a point though, its better designed

Why don't the cancel that trash and sell the 550 instead.

For a lot of people living in poverty, they cannot even afford this $50 phone so getting them to buy anything more is unreasonable

Seems like they could sell a cheap windows phone for the same price like a 530 or anything. Walmart has a 9.89 LG android in usa.

That doesn't applies to those emerging countries. 530 is still little expensive on those markets which is the point of these phones. I think Microsoft can really make one but this is where the OEMs comes in, to fill the gap on entry-level market on those countries where they can sell cheap yet decent smartphones locally.

I don't know why but I feel like getting 230. Posted via the Lenovo K900

The awkward moment when entry level phone looks better then the flagship. LOL

I want this also in Europe! Amazing low budget phone!

Does it support Bluetooth tethering?

Nice aluminum backs too. ;) AND front facing flash. :)

Did somebody say premium? Ohh can't be!

It's rather expensive if comparing to Lumia 630, it's $55.

It does seem kind of expensive in comparison; you can even get a Lumia 640 for $59.99. When Microsoft announced these 230s maybe a year ago, they were supposed to be $20.

the 640 can only be bought in the USA and only on ATT for that price ... they are slashing it to sell through unwanted inventory ... it sells for $100-$200 in the rest of the world

Yeah, that will be comparing the phones in the US. But I think they will set the relatively high price to convince people in the US to buy 630/640 or lower smartphones rather this 'dumb phone'.

In Canada and Mexico, Lumia 640 = $189 Lumia 640XL = $250

640XL is $339 Canadian dollars..... Or $255 U.S. dollars at todays exchange rate

Back looks more premium than the 950/xl :( Posted via the Windows Central App for Android

I actually think he's right. At least in photos it looks more premium

Stop telling everyone their opinion is wrong, 'Double M'. You're clearly in the minority here.

Lol Posted via the Windows Central App for Android

I'm the god. I say what I wanna say

I too share the same sentiment

Lol yes 100% Posted via the Windows Central App for Android

I felt the same, dude... that back... made me want it more than 950... oh wait, 230 doesn't have Windows Hello.

It's feature phone I think

S40 probably. Symbian is dead Posted via the Windows Central App for Android

Symbian is still alive man

Honestly, Microsoft should make two categories of windows phones: Ones with windows 10 mobile and one with Symbian but an optimized version of Symbian. The question I have is, does the Symbian app store if it has one have more apps than windows phone currently does? If so, does it have instagram and the other apps people complain about? If so, they should just port those apps to windows 10 mobile.

No sense, why putting a dead os on a phone?? Every hardware today can run win10, so nosense to put something else without future

Symbian still gets updates for Nokia Here....

Very few people use it. One of the best OS on earth Posted via the Windows Central App for Android

What's the meaning of S on S40 ?

S40 = Series 40 - Not a Symbian(may be java)
S60 = Series 60 - Symbian

S stand for series. S30,s40 are java feature phones while s60 and above are Symbian smartphones.

I am going to bet it is Series 30. Symbian S40 at least had a good app store and could run many java apps. Look at Series 30 and you're seriously screwed for buying this. Microsoft has trampled all over the good old feature packed budget Nokia devices.

That time I checked Symbian has more marletshare than Blackberry Posted via the Windows Central App for Android

Same question I had. Shldn't MSFT have just put in a forked minimalistic version of windows 10 mobile. Would have helped in getting pple introduced to win 10 mobile

Kin had a totally different idea than windows phone 7, 8, and 10. It was pure social that lures dependent on apps like current phones are.

It's s30+, the OS, not Symbian, Symbian phones were s60, it's not even a java phone, s40 were java phones that ultimately became the Asha OS, s30 were the basic cheap phones, I think the '+' indicates its GPRS enabled because earlier s30 phones were not maybe its java enabled now, Anyway this one is very basic last time I checked for my colleague who wanted a standby phone there was no Whatsapp or metadata display for the mp3 in the music player or WiFi,but damn the design is good. I really think s40 was a better OS with lots of extra java apps, but nowadays all basic phones Nokia/Microsoft are s30+,maybe they fired all s40 staffs and the upkeep of sustaining s30 is cheaper.

Indeed. I really hate what Microsoft have done with these Nokia feature phones. As cheap as they were, they were never bad in quality. My father replaced his Nokia X1 (a pretty good feature phone with bells and whistles like radio without headphone) with a Nokia 200 (under Microsoft Mobile). That thing had seriously bad keyboard and some of its keys barely depress anymore. The Series 30+ installed on those phones seriously sucks. S40 at least had a sizable number of apps that could be installed. Hell, I even saw an NES emulator.

Asha.. Haven't heard that mention in a long time!!!

No it's s30+, apparently developed by MediaTek, doesn't support java. Apps are in .vpx format, and so as to include an IM(as there are none for s30+) Microsoft has included Group Me, out of the box.

If they would just put in more bands, I would get one. Red​920

Back looks a like back of cancelled McLaren.

Are you sure? It's almost the same. http://cdn1.knowyourmobile.com/sites/knowyourmobilecom/files/styles/arti...

the cancelled phone is ugly. This aint.

Beauty is in eyes of watcher, but you can't deny that this phone looks like it got it's design inspiration from McLaren.

Not a bad little phone...

Front facing flash! Is Symbian still being developed?

There's an intentionally missing m there =)

You are wrong most of the time!

And now, ALL of the time!

Except when I'm right, which is ask the time

My comment was for Double M, (the M&M:s) . . .and NOT for You, Kirsutin!

I had my N8 with Symbian. It was a dream phone for me.

Dusted off my N8 yesterday. Surprised how snappy it is compared to my Lumia 625.

That is one sexy phone. Now if they would just bring it to the US, I would definitely get one for a backup phone for camping/hunting trips.

Buy a cheap Lumia instead

I bet battery life on that one crushes every Lumia out there

Yes but if you have a Lumia 640 on battery saver, only for hiking it can lasts 3-4 days. And more. I believe a whole week. Plus better camera, works with gloves etc

My 640 doesn't work with gloves like 920 does =/ but yea, you can increase the battery life immensely by turning on battery saver. You still can send and receive phone calls/sms

And it still wouldn't last a week, let alone 3

You have to enable it to work with gloves ;)

Still the NOKIA branding ???

Yes. That was in the deal

"Microsoft still has the rights to make feature phones using the Nokia brand name until the fourth quarter of 2016." I thought the deal said something like they could use the Nokia name till like 2019. Anyway, they should've made the homescreen icons square, like tiles, rather than round, like iOS/Android.

That does look a bit "toyish"

No, they shouldn't made them square! Now they are (Symbian) squircles, just like the ones on my Nokia 808. Nice!

I had n8, I can feel you bro!

Umm, Symbian has had those since the beginning. It's ios who copied. Lol.

If I remember correctly it was for 10 years (lisence for Nokia brand on feature phones). What ends Q4 2016 is non-compete on smartphones. Lisence for Nokia brand on smartphones is already expired I think.

That's what I thought, which means the article is wrong.

This is not a smartphone, so what's your point?

Interesting to see it named "Nokia"

Wow, not bad for a feature phone. Not bad. I am shocked by it having a front camera though. Whoa.

funny resemblance with this year old lumia 1530 concept. Pretty sure many readers have seen this one... http://i1-news.softpedia-static.com/images/news2/Lumia-1530-Concept-Micr...

Who cares? This is not the right thread?

That concept looks so mind blowing! I hope that the UI too matures to become like that shown in the render.

I hope not, just to piss you off :)

Yes! Tiles should be available in: Small, medium, large, wide, tall and HUGE

Looking awesome,specially the back...such sexy back...more premium looking than 950s back... Posted via the Windows Central App for Android

It reminds me Lumia 640 XL back

this looks like a tiny htc one m8 from the back :D couldnt they have used this aluminium on the 950 :/ I really want to buy the 950..only its simplistic look is making me think twice :(

Only if you were born after 2000. I can text with this without even looking at it.

Oh.. loved typing on my Nokia 5200 without looking at it...

Looks far better than 950. Nokia, please come back. Save WP

Nokias designers are on Microsoft now. So stop posting shit

Nokia designers are with Nokia. MS did not buy Nokia.

But they bought the phone divsion. Phone designers and all.

Microsoft bought the whole phone division. The only thing they had left was the HERE division (which is now sold), the NSN (Nokia Siemens Networks now branded as Nokia Solutions and Networks) division and their copyrighted patents. They don't have the design/ phone team anymore!

Yeah, and fired them all.

Every phone this fast including the 950 series are Nokia's. They're actually the ones who chose to attack the lower end market as well which I don't think worked because at least here in the US, people wavy high-end devices with great design. Even the deal with Mozo for the replacement backs is a deal Nokia started. While I will buy one of I decide to get the 950XL, I honestly don't think I should have to or the majority of people don't really want to spend and extra $50 dollars to make their phones look premium. Microsoft should have not put so much faith in Nokia after the Lumia 899/900/920 didn't spike purchasing like Nokia thought it would; they should have simply stated designing their own design at least 3 years ago......

I believe 3 of those lower-end phones were originally meant to be Android phones before MS repurposed them. So Nokia didn't really mean to target the low end more than usual. The bad SoC in the 830 was entirely Nokia's fault though (although if WP supported 6XX-series maybe we would have seen that).

Coming soon. But it will be with Android.

I'm going to hold out for the 230 XL with 6" screen!

No redtube on the bathroom?

Doesn't support java like its predecessor

Yes because they are only S30 instead of S40. Bummer. No Whatsapp and Here Maps then neither.

Any problem if i uninstall extras+info???

You will just not get extras, nor infos!

I want one for the fun of it

My God...
What A Sexy Back Look It Has..
Fell In Love At The 1st Look Itself...
& Front Look is Similar to Nokia C Series Devices..
Surely I'll postpone Buying 950xl & Will Surely be the 1st to Grab this Darling Nokia..
Yeah... #Nokia_Still_Alive..

In a way these dumb phones are smarter than wp8/w10m. I miss the good old times when sharing photos or status was so easy with wp7. W10m might be a good OS, but WP was truly a smartphone.

People crying for updated phones, new phones, modern phones... Then there is you.

Touch control!? Like Nokia E6?

@Double M I see ain't busy today. So many comments. Lol

Its a pain in the eyes reading his comments

Does it support WhatsApp???

No it doesnt. Its an S30+ phone, not s40.

Does WhatsApp work on it ?? I have a Nokia 6670.. But I doubt WhatsApp works on it ... Anyone has any idea

When prices have dropped so low for the Lumia 530 ($9.99) and 640 ($39.99), why would you even consider these devices. Like who prefers dark age texting with the number keys?

Some people do, though you have a point.

the 640 costs 40 bucks in the U.S. only, mate. The unlocked versions cost far more elsewhere in the world. The 640 retails at nearly 120 bucks in India. For those people, this is the device to buy!

640 Germany is 129 euro (euro is stronger then dollar. 630 is 88 euro. And under 50 they will never be.

I do.. Hate typing on touch screens where you'll always have to keep an eye on the keyboard..

Still a better design than 950s

From Back it looks better than the new flagships,my opinion though

This is a nice replacement phone for my mom just in case.

I thought they can use the Nokia brand on feature phones for ten years and only for Lumias to the end of 2016.

...and it looks more premium than the flagship 950.

Wow even such cheap phones have a front facing camera and a flash and my Lumia 630 doesn't.

it wud b a grt low segment phone if it supports whatsapp.

Back looks like reminiscent of Nokia C5.

Interesting how even in a feaure phone the design kinda imitates the iPhone. Personally I'd expect better of Nokia. But Nokia isn't Nokia anymore.

Only thing Nokia is brand. Real Nokia will design and brand smartphones starting next year.

Nokia is not gonna get in the phone business anymore. They are going to license their brand name to chinese vendors who will do all the hard work.

Nokia will still design the devices and (attempt to) control quality. Although even that is in question since the head of Nokia board pretty much straight out said they didn't have much interest in the field anymore. If you want to claim this phone as a copy, at least say it copies HTC.