Lumia 520 continues to dominate Windows Phone, while Nokia crosses 90% threshold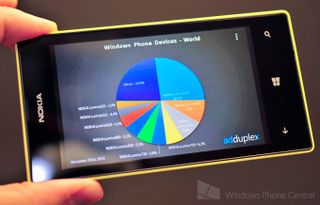 Latest data from AdDuplex shows the Lumia 520 continuing to dominate. While at the same time Windows Phone 7.x concedes more market share to Windows Phone 8. Nokia finally reaches 90% dominance with Windows Phone.
What's the current Windows Phone landscape look like? There's really no better way to tell than by looking at the data from AdDuplex. The cross-promotion network for both Windows Phone and Windows 8 gives us insight that we might not get from places like IDC or comScore. We've got the report for this month and so far the biggest trend for this month is that the Lumia 520 continues to dominate.
Let's check out the rest of the data below.
The little engine that could
For a moment forget about 41 megapixels, optical image stabilization, quad-core processors and high-resolution displays. In fact, let's forget all about the high-end Windows Phone devices out there and instead focus our attention on the Nokia Lumia 520. This device has probably done more for the platform than any other device. It's incredibly important for Windows Phone to have flagship devices like the Lumia 920, 1020, and 1520. However, it's the Lumia 520 that may be the single factor for platform growth this year.
Data from AdDuplex shows the Lumia 520 up 3.3% in terms of market share for Windows Phone devices. It now commands 26.5% of the pie, but could be as high as 29.9% if you group it with the Lumia 521 on T-Mobile US (which for all intents and purposes is the same device). That's means nearly 30% of all Windows Phone devices currently in use are part of the Lumia 520(1) family.
Nokia domination
It finally happened. Recently we looked at some data from IDC that showed Nokia as shipping 93.2% of Windows Phone devices in Q3 2013. However, that's just one quarter and data from AdDuplex gives us an overall picture of Windows Phone that includes past devices from previous quarters. The past few months we've seen Nokia inching towards 90% of market share in the data from AdDuplex, but it finally happened this past month.
Nokia now owns 90% of all Windows Phone devices out there. HTC is in second place with 7.0% of the market, while Samsung and Huawei cling to 1.8% and 1.3% respectively. Microsoft is in the final stages of acquiring Nokia's handset division. Is it any guess why they'd go after that particular OEM?
Windows Phone 7.x won't die
Despite Microsoft's wishes (and ours), Windows Phone 7.x is still out there in fairly massive numbers. We'd love to see everyone get on board with Windows Phone 8 devices, but we understand that's not entirely too feasible in the world of two-year contracts and/or expensive devices. Windows Phone 7.x is still on 24.7% of all Windows Phone devices, while Windows Phone 8 is on 75.3%.
Why? Both the Lumia 710 and 800 are out there in fairly large numbers/percentages. We've got 6.2% of all Windows Phone devices still being the Lumia 710, while the Lumia 800 is on 5.1% of devices. Combine the two with the Lumia 610 (4.0%) and you're looking at 15.3% of all Windows Phone devices used this past month still running Windows Phone 7.x.
Country by country
It's always fun to see which devices are popular in particular countries. AdDuplex pulls data from a handful of given countries each month and will sometimes mix it up with a new country or two. We'll look at the United States, United Kingdom, and India today. The full AdDuplex report will be available on their blog tomorrow and you'll see additional information for Germany, France, Italy, Mexico, Australia and Vietnam.
Surprise. The Nokia Lumia 520 is still the most popular device in the United States. Followed by the Lumia 822 and the Lumia 920. The most popular carriers for Windows Phone are AT&T (31.7%), Verizon (27.5%), T-Mobile (20.6%) and MetroPCS (8.4%). Both AT&T, Verizon, and T-Mobile slightly lost Windows Phone market share to MetroPCS, which is up 1.6% this month from 6.8%.
Over in the United Kingdom, the Lumia 520 reigns supreme. Is there a country where the Lumia 520 isn't on top of the hill? Yes and that's in Germany. But back to the UK and we see the Lumia 520 on top with the Lumia 800 in second with 11.6% of the market. That's not too surprising if you recall how hard the Lumia 800 was pushed in the UK and that most people are locked into contracts with the device. We'll see how the Windows Phone landscape shapes up in the UK over the coming months as the majority of those two-year contracts begin to expire.
India is home to over one billion people and is ready for explosive growth in mobile. Which is exactly why phones like the Lumia 520 exist, to become incredibly popular smartphone options for those in emerging markets that might be more sensitive to the overall pricing of a device. So, it's again, no surprise that the Lumia 520 is the most popular Windows Phone device in India. It controls nearly half the market at 43.4%. In second place is the Lumia 720 at 12.7%. Another device that's popular for its features to price ratio for a smartphone.
Looking ahead
The data we just looked at came from a one day period on November 22nd. As you know, that was the day the Nokia Lumia 1520 launched, so we're not going to see it really make an impact on these AdDuplex reports for at least a month or two. However, it did manage to sneak into the 19th position for Windows Phone devices. AdDuplex recognizes 21 Windows Phone 8 devices in their data and the Lumia 1520 slipped ahead of both the Samsung ATIV S Neo and Huawei W2.
We've heard rumors of Nokia working on a successor to the wildly popular Lumia 520 called the Lumia 525. We don't know much about the device yet in terms of specs or features, but if it's building upon the same foundation and principles from the Lumia 520 it's sure to be a success. No word on availability for that device, but we suspect it'll rock future AdDuplex reports.
The holidays are coming and we can't wait to see how Black Friday deals and Christmas gifts shape the Windows Phone landscape. What are your predictions?
Be sure to check out the AdDuplex blog tomorrow for the full report.
Get the Windows Central Newsletter
All the latest news, reviews, and guides for Windows and Xbox diehards.