Lumia 520 continues to dominate Windows Phone, while Nokia crosses 90% threshold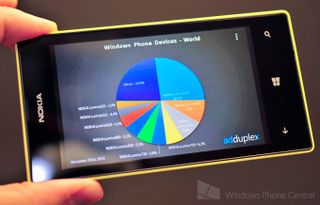 Latest data from AdDuplex shows the Lumia 520 continuing to dominate. While at the same time Windows Phone 7.x concedes more market share to Windows Phone 8. Nokia finally reaches 90% dominance with Windows Phone.
What's the current Windows Phone landscape look like? There's really no better way to tell than by looking at the data from AdDuplex. The cross-promotion network for both Windows Phone and Windows 8 gives us insight that we might not get from places like IDC or comScore. We've got the report for this month and so far the biggest trend for this month is that the Lumia 520 continues to dominate.
Let's check out the rest of the data below.
The little engine that could
For a moment forget about 41 megapixels, optical image stabilization, quad-core processors and high-resolution displays. In fact, let's forget all about the high-end Windows Phone devices out there and instead focus our attention on the Nokia Lumia 520. This device has probably done more for the platform than any other device. It's incredibly important for Windows Phone to have flagship devices like the Lumia 920, 1020, and 1520. However, it's the Lumia 520 that may be the single factor for platform growth this year.
Data from AdDuplex shows the Lumia 520 up 3.3% in terms of market share for Windows Phone devices. It now commands 26.5% of the pie, but could be as high as 29.9% if you group it with the Lumia 521 on T-Mobile US (which for all intents and purposes is the same device). That's means nearly 30% of all Windows Phone devices currently in use are part of the Lumia 520(1) family.
Nokia domination
It finally happened. Recently we looked at some data from IDC that showed Nokia as shipping 93.2% of Windows Phone devices in Q3 2013. However, that's just one quarter and data from AdDuplex gives us an overall picture of Windows Phone that includes past devices from previous quarters. The past few months we've seen Nokia inching towards 90% of market share in the data from AdDuplex, but it finally happened this past month.
Nokia now owns 90% of all Windows Phone devices out there. HTC is in second place with 7.0% of the market, while Samsung and Huawei cling to 1.8% and 1.3% respectively. Microsoft is in the final stages of acquiring Nokia's handset division. Is it any guess why they'd go after that particular OEM?
Windows Phone 7.x won't die
Despite Microsoft's wishes (and ours), Windows Phone 7.x is still out there in fairly massive numbers. We'd love to see everyone get on board with Windows Phone 8 devices, but we understand that's not entirely too feasible in the world of two-year contracts and/or expensive devices. Windows Phone 7.x is still on 24.7% of all Windows Phone devices, while Windows Phone 8 is on 75.3%.
Why? Both the Lumia 710 and 800 are out there in fairly large numbers/percentages. We've got 6.2% of all Windows Phone devices still being the Lumia 710, while the Lumia 800 is on 5.1% of devices. Combine the two with the Lumia 610 (4.0%) and you're looking at 15.3% of all Windows Phone devices used this past month still running Windows Phone 7.x.
Country by country
It's always fun to see which devices are popular in particular countries. AdDuplex pulls data from a handful of given countries each month and will sometimes mix it up with a new country or two. We'll look at the United States, United Kingdom, and India today. The full AdDuplex report will be available on their blog tomorrow and you'll see additional information for Germany, France, Italy, Mexico, Australia and Vietnam.
Surprise. The Nokia Lumia 520 is still the most popular device in the United States. Followed by the Lumia 822 and the Lumia 920. The most popular carriers for Windows Phone are AT&T (31.7%), Verizon (27.5%), T-Mobile (20.6%) and MetroPCS (8.4%). Both AT&T, Verizon, and T-Mobile slightly lost Windows Phone market share to MetroPCS, which is up 1.6% this month from 6.8%.
Over in the United Kingdom, the Lumia 520 reigns supreme. Is there a country where the Lumia 520 isn't on top of the hill? Yes and that's in Germany. But back to the UK and we see the Lumia 520 on top with the Lumia 800 in second with 11.6% of the market. That's not too surprising if you recall how hard the Lumia 800 was pushed in the UK and that most people are locked into contracts with the device. We'll see how the Windows Phone landscape shapes up in the UK over the coming months as the majority of those two-year contracts begin to expire.
India is home to over one billion people and is ready for explosive growth in mobile. Which is exactly why phones like the Lumia 520 exist, to become incredibly popular smartphone options for those in emerging markets that might be more sensitive to the overall pricing of a device. So, it's again, no surprise that the Lumia 520 is the most popular Windows Phone device in India. It controls nearly half the market at 43.4%. In second place is the Lumia 720 at 12.7%. Another device that's popular for its features to price ratio for a smartphone.
Looking ahead
The data we just looked at came from a one day period on November 22nd. As you know, that was the day the Nokia Lumia 1520 launched, so we're not going to see it really make an impact on these AdDuplex reports for at least a month or two. However, it did manage to sneak into the 19th position for Windows Phone devices. AdDuplex recognizes 21 Windows Phone 8 devices in their data and the Lumia 1520 slipped ahead of both the Samsung ATIV S Neo and Huawei W2.
We've heard rumors of Nokia working on a successor to the wildly popular Lumia 520 called the Lumia 525. We don't know much about the device yet in terms of specs or features, but if it's building upon the same foundation and principles from the Lumia 520 it's sure to be a success. No word on availability for that device, but we suspect it'll rock future AdDuplex reports.
The holidays are coming and we can't wait to see how Black Friday deals and Christmas gifts shape the Windows Phone landscape. What are your predictions?
Be sure to check out the AdDuplex blog tomorrow for the full report.
Windows Central Newsletter
Get the best of Windows Central in in your inbox, every day!
Didn't know you can still buy a windows 7 phone

This is phone usage over a certain period, not percent of phones bought.

In any case, WP7 devices are still widely available.

Nokia 52x on VZW/Sprint...the end of Windows 7. I know plenty still on HTC's Win 7s...but haven't upgraded due to price.

Im an HTC 8x owner who will probably switch to a Nokia for my next windows phone, I just wish Nokia would release a phone that is as sexy and thin as the 8x. The Nokia phones I've seen all seem to be pretty boxy

Agreed. Recent Lumia's are pretty plain compared to that of the 8X, or Note III or Moto X. And the upcoming elusive Lumia 929 looks completely void of any styling.

Well it's variant of a much more selling global versions. They get that that throw out there design.

I wish HTC would even hint at producing wp8 devices in future after all they were the pioneers of windows mobile...

HTC is struggling enough on Android, where they sell much more, let alone being concerned with WP, a market where they can't compete with Nokia and even less when Nokia's gone and Microsoft takes total controle of the OS. I doubt they will even bother. Same with Samsung, though for different reasons.

Tell MS to cut them a deal like Nokia. I wish they would.

Well it's variant of a much more selling global versions. They get that that throw out there design.
Problem was HTC had absolutely nothing to bring to the tablet other than hardware manufacturing. Also Nokia's brand is naturally way more than what HTC has ever been. You can argue was lumia 920 or HTC 8X better in its generation, but it didn't matter in the end as all it needed was a Nokia brand.

Nokia's brand was dead in the US and dying globally with the rise of iOS and Android. At the time HTC's brand was much stronger and was getting Google backing while Nokia was mainly remembered for the N9 classic phones, plus HTC was the only OEM seriously propping up WM. Nokia's strength at the time was NOT it's branding, design or hardware, it was the patents that MS wanted to control. Now that MS DOES control those patents, I wish they would give HTC a Nokia like deal.

Yes, not "branding, design or hardware", when the 800 came along it just accidentally kill off the competition, NOT intentionally.

Lol! HTC had zilch to ofer Microsoft - no great designs, no global/sentimental brand recognition, no innovation, and no IP worth anything (and they stil don't).

The Lumia 1520 is thinner than the 8X (8.7 mm vs 10.1 mm), and substantially sexier IMO. Everyone I know who switched from an 8X to a Lumia has not regretted it.

My wife's Verizon 8X is same thickness as my 928. The 8X is a better looking phone but I still prefer my 928.

The 720 and 925 aren't as sexy and thin as the 8X? Even so, I think Nokia will bring an amazing array of devices with their refresh. I expect to see more slimmer devices.

No phone can ever be as sexy as the 8x...

If Microsoft is now part of the design, you will have the most awesome design ever. I personally find Microsoft are amongst the best designers ever. That it should be software or hardware, what they do is magnificent. So be thankful that they bought nokia ;)

No Nokia phones are boxy it sounds as if you only seen pictures of Nokia phones the 520 even feels good in your hand

HTC need to release the HTC One with the WP8 os. Watch the sales fly out with that.

And the 520 gets better and better everyday I use it. Minus the storage issue. Still, love it.

I, so far, have bought two 520s, one 8x, two 920s and one 1020 for my family. :)

I'm wondering if the data isn't a bit skewed. People buying higher end phones might also be buying apps instead of using free ad-supported ones. How is this information collected?

Yeah I'd love to get rid of my HTC trophy but I never see a windows phone 8 available for less than $150 off contract so I just stick it out. I'd love to upgrade even a 520.

The 520/521 is well under $100 in the USA off contract...how much are you seeing it for?

I'm on Verizon. We don't get the 520

Microsoft's FB page states that the 520 for att is $49 outright

You can probably pick up a Lumia 822 off of eBay for that amount. Or you can go for a Lumia 928 in the $200 to $250 range...

928 available for 200? I'll have to look into that.

It's not brand new, but I got one barely used for $255 with some accessories.

I just picked mine up the day before the $20 credits started going out (still got a code, though). I'm going to see how WP8 works for me as a prepaid "house" phone. If I like it enough, I might eventually get a 929 (if it's real) to replace my Verizon Galaxy SIII.

I got mine in July and still got the $20 credit.

Where the 1020 on this chart? Seems like it didn't have as much of an impact as I'd hoped

The 1020 is just a bigger camera 920. Not a reason for many to upgrade from a 920.

The 1020 just launched last month in a lot of countries. There was a really big delay between US release and the rest of the world for some inexplicable reason. That said, I don't really think it will have that big of an impact either way, I just hope it's enough for them to release a new iteration of it next year.

What I'd love to see is this compared to other phone OS's in these regions

There are people who just use a phone which happens to be a wp7, they don't care what they are using and may not even know the name of the device because they simply don't care, these people will always exist keeping old hardware alive without giving two shits about our little tech world... Lol

Do you realize that in countries like India 520 is 50% costlier than 510. I bought the 510 recently and dont regret it. It is a lot of value for money really...

Lol I didn't mean to reply to you...

You can always delete the comments.

There are people who just use a phone which happens to be a wp7, they don't care what they are using and may not even know the name of the device because they simply don't care, these people will always exist

I just hope people with the 800 will go to wp8. I have a lot of friends that are sick to death of the dodgy nokia 800, plagued with battery, ie, phone, messaging problems and will never touch a wp again :(

It is 90% now. 10% to go, Microsoft will become another Apple.

No, no, no, no, no!!! I love choice!!!

Agreed. 100% Nokia-Microsoft will never has a chance to make a major impact on Android. Just look what has happened to iOS globally. The big difference is that iOS doesn't have low cost devices. I do expect Windows Phone to pass iOS globally in the next couple of years because of this. Microsoft needs continue support from OEMs if they hope to capture a much larger market share.

I wonder with the Moto g coming soon, what happens in 2014 since it is in the lower end market with the Lumia 520/521/525

Still too expensive for the prepaid market.

Not much of anything I think. Moto G is cheap in US, not elsewhere. I'm not sure if it even ships in Asia? Motorola hasn't been selling in much of Europe past 5 years.

True, very hard to find any Moto phone in Malaysia

Germans - always buying highend.

Some providers, like Sprint, have a subpar WP8 selection. Some might find the WP7 toting HTC Arrive to be better in some ways (onboard storage, slider keyboard).

Love my 520 I have yellow just like in the picture thinking of going red or cyan soon

You can buy battery covers for $5-6 on eBay.

WP7 devices are impressive. It can get internet connection from USB and have the ability to share it. If my 710 not stolen, i'll still rockin it(and saving for a blue device).

Eu faço parte dessa estatística lumia 520 Brasil..!

The 520 is a great phone to let new costumers to know about WP. I bought my 520 in July, I decided for this one because I didn't knew much about WP8, so I didn't wanted to spend much money on something that I might not like it. In October I bought more two 520 for my parents, and what I thought would be a waste of money because they wouldn't use it much, but I was wrong. My mom constantly watches TV on it, and my dad plays a lot of Dominoes. As for me, this month I bought one 920 for me, and I had two friends that also bought a 920 and a 520 because they liked the experience when I show to them my previous 520. So, 520 is really a very good phone to gain new costumers. For about 130-140€ you can buy it unlocked in Europe and it rock against the competitors. More storage (8gb expandable), much faster, easy to use, great offline GPS (Here Maps) and the lack of apps are starting to be less and less noticed, thank you Rudy Huyn, and to all the developers that contribute to this. I believe that Nokia had setup a good strategy against a market full of Android and the premium Iphone. I cann't forget once I was comparing my 520 to an Iphone and the guy really upset to make shore that is Iphone was better, and was stunning when I told him the price of the 520. We couldn't believe that such phone would have a much better GPS, be equally fast in some tasks, and be like 1/6 the price of the Iphone... xD

+520. It's all I have to give. But it's a good one!

Rocking 710.. Would upgrade directly to new gen wp8.1 devices in July-Aug timeframe

With last spring's TMo merger with MetroPCS, we could say TMo owns second place at 29.0%. If TMo actually did a respectable job of advertising WP they could snatch the lead from AT&T.

That WP 7.X figure? Blame it on mexican carriers and Nokia Mexico. They're still selling old phones for quite a price. The Lumia 900 is still up to $10,500 pesos (about $800 dollars). The nerve of some companies.

What about my beloved Nokia Lumia 720 ? Lumia 720 is giving tough competition to others especially in mid range, it has a best design ever in Lumia series. Nokia Lumia 1520 copied design of Nokia Lumia 720 !

520 remains an incredible value for money. Apart from the Nexus line, you can't get this kind of hw value with any other product.

I use a 520, just got my wife's 520 in the mail today, and have it ready to go for her, and the 520 for my mother-in-law should be here tomorrow. Love this device!

Have it too it serves me soooo well

I was thinking all day today that for 1/5th the cost of an iPhone the 520 does about 95% of the more expensive device does. Outside the US and the Western European countries the cost of the device is is a big deal since most likely you have to pay upfront for the device - there is no such thing as a subsidy. So if you were to do a cost x functionality comparison between the 520 and the iPhone 5c, I beleive the 520 would win by a landslide. I think WP has the potential to grow like cazy in Asia, Africa, Latin America and Eastern Europe with a competitive device like the 520. Of course the 1020, 1520 etc are needed to help WP grow in the developed nations and help keep the developers busy in making quality apps for the platform. One other thought was that the WP flagship devices a year later sell for quite cheap on Ebay and even the WPCentral marketplace - case in point Lumia 810, Lumia 822, Lumia 820, HTC 8X are all available for about $85-$150. And a lot of buyers for these devices are in Asia and Latin America based on some of the threads in the Forums here. This is a good way of getting people in those countries to upgrade to a device with more bells and whistles than the Lumia 520 but at about the same entry point from a cost basis. The whole argument about apps, apps and apps especially on site like TheVerge is a bit hollow outside the developed world. Farmers get weather forecasts and market prices for their crops using the old Nokia phones in Asia and Africa. Mobile banking using SMS is huge in developing countries. So I believe that the next revolution in apps will come from folks using the WP devices in these countries where they can figure out some really meaningful apps that help the masses rather than just creating an entertainment consumption device which is what people do in the US for the most part with their smartphone. Sorry for the long post. I believe WP has the right momentum, now the 525 better kick the Moto G's rear!

I love my 520... Still saving for the 1020 though. ;)

The highest sold WP is the L520 but strangely, it's the phone with the least number of supported apps. Leave the apps. Even all the features in other Lumia phones are not supported in it. Specially the glance screen and the equaliser facilities. I admit it is a budget phone, meaning use of budget hardware and compromising with features. But the basic demands won't be satisfied, that's not expected from Nokia. At least i do expect more. L520 is a decent phone with many attractive features, like HERE services, IE Mobile, etc., but when asked for the glance screen and equaliser, Nokia surrenders speaking of less display memory and inefficient hardware to have equalisers. Ya, may be Nokia is right and they have a point. But can't they think about their customers and introduce these two features in the 520s- glance screen that'll work with the lesser display memory of L520 and the equaliser? Please Nokia, do something about this...

Talk about geeks! Are you guys really comparing phones in sexy looks now? really? This is the new thing to argue about? Let me ask you this: how many of you guys really showed the phone to your girlfriend in the bedroom and say: Ain't it sexy? Don't you just want to make sugar-crazy love while looking at it? I have an 8x, bought this year. Love it, not for the sex appeal of it, but for the fact that it had the same specs like 920 at a lower price. One week after I bought it, I burried the phone in an otter defender case ( those things are awesome when it comes to protection) and been there since, only taken out for 5 min to be cleaned of residual dust every 2 months or so. I hate the lack of interest in WP from HTC but I love that the 8x is always among the first smartphones to get an update. Now all the Nokians will find a motive to throw an air-fist, but I am just telling my personal opinion. I don't care about the weight form or size of the phone that much, I care about what it can do. And since skydrive, hotmail, other microsoft services and I, we go back for some years now, I am perfectly fine with my phone and most likely my next one will be a 1520...need bigger pockets :))

I wouldn't show it to my girlfriend, then again, I wouldn't have a playboy model stand in the bed room either. Doesn't mean I don't like looking at them myself.

There you have a point, but it's a long way from saying that phone looks nice to it's a sexy phone.

No Lumia 1020 anywhere?? Is it being misidentified or just not in use at all? That just seems incredibly weird.
Windows Central Newsletter
Thank you for signing up to Windows Central. You will receive a verification email shortly.
There was a problem. Please refresh the page and try again.