Nokia's HERE Maps arrives for Windows 8, but only for Lumia tablets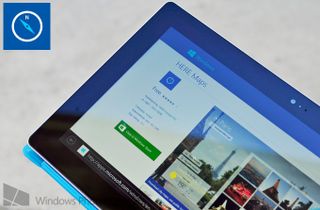 Like other Nokia software releases, this morning also saw the arrival of their HERE Maps application for Windows 8. The Windows Store app, meant for their RT-based Lumia 2520, is their first mapping app for the desktop/tablet.
That's the good news, but the bad news that it is only for their Lumia tablets. That means that once again, users can see the listing in the Store but if they try to click the Store link, they will be met with an error that this app is not mean for their device. It also means that the Lumia 2520 is getting close to release.
Nokia's HERE Maps for Windows is no trivial thing, as the app has a robust set of features that would make any Microsoft user envious. Nokia appears to be leveraging their success on the Windows Phone platform by having an 'exclusive' Store by which they can reward their customers through unique and sophisticated apps. The downside to such a strategy of course leads to some alienation amongst users and it's not clear how such a strategy will work once Microsoft acquires Nokia (though the HERE division will not be going along).
So what is in the feature list for HERE Maps? Read on, but only if you don't mind being teased. HERE Maps looks to be quite the killer app on their Lumia 2520:
Features
Download maps to your tablet and use them for free when abroad or whenever there is no available Wi-Fi or data connection
With dedicated city pages, you can download city maps, see public transit lines and find out about the best local places
Use street level to see panoramic views of places you're interested in and look around to explore, just as you would if you were already there*
Get walking, driving and public transit directions
Save your favorite places in your own private collections. Add personal notes and cover photos and sync everything with other HERE apps and here.com
Pin your favorite collections to your start screen and see them with just one tap
Tilt the map to see cities and buildings in 3D
Pick the map view you want: satellite, public transit, local traffic, street level or regular street map
Discover and find the top places nearby and see photos, reviews and contact info
Share places with friends via email, Facebook and other social networks
*Available in more than 140 cities worldwide.
Back in Abu Dhabi, we managed to get a brief tour of HERE Maps for Windows 8 and you can see that in the video above.
We wish we could toss this app no our Surface, but no es bueno. This raises the question: how many of you will consider the Lumia 2520 because of exclusive apps like HERE Maps?
Source: Microsoft Store (opens in new tab); Thanks, @faalil, for the tip
Daniel Rubino is the Editor-in-chief of Windows Central, head reviewer, podcast co-host, and analyst. He has been here covering Microsoft since 2007 when this site was called WMExperts (and later Windows Phone Central). His interests include Windows, Microsoft Surface, laptops, next-gen computing, and for some reason, watches. Before all this tech stuff, he worked on a Ph.D. in linguistics and ran the projectors at movie theaters, which has done absolutely nothing for his career.
Nokia's doing well this fine morning!

Thankfully, Nokia will die in a couple of months and this app will be available to everyone.

For what benefit? What other Windows 8 tablets have a GPS?

Lol, look like you shut him up

Microsoft has confirmed the new CEO You can see his Genius face here http://ow.ly/qPsLd

I wonder why it is a shortened link. Will a virus form, or get all my personal information? Yeah not clicking that. No one is that dumb.

I tried to expand the link with longurl.org and got: *Removed* I just remembered why put the URL here so I took it. I am not going to click on that since its not image hosting site I know of.

I can think of several benefits, one being that you have full access to your Here collections on your Win8 tablet. Had Nokia not been so late to the party this app would have swayed me from the Surface 2, however, due to circumstances beyond my control I needed to upgrade from the Surface now rather than when the 2520 becomes available.

The asus Transfomer tablet does I think, as does the Lenovo Miix. I'm sure there are others.

And you can buy gps dongles to plug in the usb ports on tablet form pcs running w8pro

The Lenovo ThinkPad Tablet 2. Would surely love HERE maps with downloadable maps on it. Currently using gmapcatcher.

Actually Nokia will not die and Here maps are/will be available for any company interested in buying the service.

Nokia the device-maker will no longer exist after the acquisition but Nokia HERE will live on.. Sadly, it appears that due to the exclusive license that Microsoft will have with Nokia, HERE will exist on Microsoft Lumia and Surface devices but other OEMs will have to pay Nokia for the previlige. It's not in Microsoft's hands to decide..!

Really hoping for Nokia Windows Pro tablet. Need a new tablet/laptop replacement soon. Come on Nokia, I can't wait forever

Does this mean the Nokia tablets will have GPS built in?

They have 4G LTE and a Snapdragon 800 chipset, so definitely.

Idiotic stragey. I guess Microsoft wants the fragmentation of Android, without the openness of Android. Keep up the good work.

My guess is that when MS acquires Nokia, hopefully early next year, MS will obviously release this app for all windows devices.

I hope that's the case, but Microsoft aren't buying Nokia's HERE division so who knows how it'll play out

They should just buy out all of Nokia. Doesn't make sense to have all of the patents at Nokia. What are they really buying with this deal? Just Nokia resources, who over time MAY flee msft. Intellectual property and nokia brand is where its at...not the resources, because msft is competent in making great hardware without Nokia.

The Nokia patents portfolio is way to expensive for MSFT and probably worth more than the company as a whole.

This is from Wall Street Journal

After that aborted meeting, Nokia declined to have more formal deal talks with Microsoft unless it agreed to a handful of preconditions, including a commitment to set up a source of financing for Nokia. Nokia also made it clear that it had no intention of parting ways with a mapping service called Here, which Microsoft wanted as part of the deal. Microsoft had to come to peace with that, Nokia executives said.

Nokia was unwilling to sell HERE Maps.. I'm not sure how MS could have bought it. Microsoft now has access to the same mapping Data as HERE, they can build their own up if they wanted to.

They aren't buying it outright, no. But I do belive the terms of the contract involve a long term ten year lease or something. The point being, Ballmer knew MS needed nokias mapping, but Nokia wanted to keep something to make their remaining company viable. In the end im pretty sure they figured out a compromise which fulfills both companies wishes. We may not see what the final product is until the deal finalizes, but im willing to be all this silliness with separate Bing maps on windows 8 and Nokia maps on phone will end.

This is Nokia doing this, not Microsoft. And how is it idiotic, how does it differ to ANY OEM who has over the years bundled exclusive software with their PCs? The only difference I see is that unlike all those apps that come with our PCs, this might actually be something useful and worth keeping (except maybe some IBM/Lenovo security features that business users required). So it is a sensible and well utilisied policy that Nokia are following here. That said I think they should offer this for a price in the store for people who don't get Nokia tablets; and I imagine that's what they will do once their hardware division is bought up by MS.

Thank you ! Exclusive apps ( bloatware too ) has always been with us , it makes no sense for one company to spend time and money to develop an app and make it available for devices of competing companies. i don't understand why people can't get this simple theory .

Exactly, most OEM's bundle crap / bloatware and every device needs a USP to sell especially in a rather crowded market. Therefore with Nokia going the exclusive route they are show casing multiple USPs in order differentiate themselve from the competition. Furthermore by having all your products free on other OEMs just doesn't make sense especially if your competiting in the same market as the aforesaid OEMs. The best way round this would to utilise what they did WP8, the plus suite is exclusive for the Lumia tablets and release it as a paid license for other devices but that is only viable if more OEMs start including GPS with more or less all their tablets. Having said that you still can go to Here.com and use it that way.

I would buy Here Drive+ for my Surface. They could shut up and take my money.

Here Drive+ for Surface, which does not have GPS, are u serious?

You do know you can download the maps and use them in offline mode? So yeah, he's quite serious.

And just guess where you are? Or even better, manually scroll the map while you're driving until something looks familiar. I agree data connectivity is not necessary, but GPS seems somewhat of a requirmeent for a Navigation app.

It's an requirement for turn by turn directions.

You didn't get my point. Here Drive+(or any other turn-by-turn navigation app) uses GPS to determine your current location, and only by getting your location will it be able to actually navigate for you. Surface does not have a GPS chip built in, so even if Here Drive+ can be loaded on Surface, it is not going to work.

It's an requirement for turn by turn directions.
I see your point with turn by turn.

So you want to be able to view the map without regard to your current location...?

Why not? For planning purposes this is great. We're taking a family vacation to Florida this Christmas and I've been able to create collections of POI's that are relevant to us using my desktop computer and the here website. These collections are automatically synced to my Windows Phone which _does_ have GPS and allows me to plot routes directly to our resort in the keys from Disneyworld. Sure, I could have done it all using my phone, but all the prepwork has definitely been easier on my PC. Had it been available on my Surface I could have done it using a full experience, must like on my PC, but from the comfort of my couch while watching TV. Just because you do not see a valid use-scenario for an app like this doesn't mean they do not exist! Also, I could pair a bluetooth GPS dongle to my Surface if I really wanted to use it for actual navigation.

No you can't. Surface doesn't support GPS over Bluetooth nor do any GPS dongles support Surface.

That's all you took from my post? Wow, just wow.

No, it was the only incorrect thing in your post.

Actually you can. I've used three different Bluetooth GPS devices with the original Surface Pro. You need to use a Win 7 driver hook but it works fine on full Windows 8/8.1 it doesn't work on Windows RT though so Surface RT and Surface 2 RT won't work. You can get drivers by doing a google search for the turbo irc gps win7 driver. It should be the first result. You have to install it in compatibility mode I think. I've used it though a few times with Google Earth on a Surface Pro and with the Win 8 Metro Maps app etc. I've successfully used it on a Delorme Bluetooth GPS and Global Sat BT-338 and a QStarz Q-1000XT. If your bluetooth GPS supports NMEA across Bluetooth Serial it should work with the Turbo IRC GPS driver. Takes a bit but I assure that GPS works fine on Surface Pro across Bluetooth. It's not as smooth as built-in (sometimes I have to reset the Bluetooth Dongle and resync), but it's great that it supports external Bluetooth GPS.

He wrote "Surface", which is MS new name for the RT variant. I know the Pro can do it, RT cannot.

It's a requirement to pinpoint your exact location, cell triangulation is nowhere near precise or fast enough to do that for navigation. Of course, you could always add a GPS dongle to your Surface Pro.

Would the exclusivity ever end?

Meanwhile, iPad users can download here maps and w8 users can't
Smh

Seems right to me (sarcasm)

It is going to be in stores 4th of Dec. in Finland

At what price? We don't have a release for Sweden yet, maybe I should get it from Finland. Which 4G frequencies does the Finnish version have?

Seems like 649 euros. LTE 3, 7, 20.

One of the advantages of having a Windows computer used to be that you could install anything you wanted on any Windows PC. Sure, some software titles used to be exclusive on some bundles, however, that didn't mean you couldn't buy the exact same software for a computer from a different manufacturer. This artificial "divide and conquer" is alienating a lot of people! Now I not only have to make sure that my PC (desktop, laptop, tablet) meets the needed hardware specification but I now also have to make sure that that PC is from the right manufacturer. Otherwise, I may not get the apps I need. This alone makes me want to downgrade to Windows 7 again. :(

Because you're making zero sense? If you buy Surface 2 your money goes to Microsoft, likewise if you buy al Lumia tablet your money goes to Nokia.. Nokia does not benefit from you if you don't patronize their device, why should they spend time and money to develop and make it available for you when they're not benefiting from you ?

Likewise, you make no sense either! With your logic, nobody should be allowed to buy Microsoft's Office or their operating system if they don't have a computer made by Microsoft! Exclusive apps on a PC simply don't make sense nor do they add any value for the consumer. Instead, you create confusion for the consumer because the hardware he bought would be fully capable of running that app, yet, he can't get it (commercially or not)! Most people are already confused about the differences about x86 and Windows RT. Now split it iff even further with exclusive apps and the average joe most likely will get an iPad over anything Windows because he doesn't have to worry about such things.

So you mean the exclusive desktop application ( bloatwares) on Asus , Dell, HP etc is causing confusion among consumers ? And btw do you also know that some apps are limited to specificgeographical locations ? You need logic lessons my friend.

No, I mean that "exclusive desktop application" ( bloatwares) on Asus , Dell, HP etc, I can buy on any other computer if I want to or, if I find the installer on my HP, I can take it and install it on a non-HP. You need some logic too! This has nothing to do with localized applications at all.

That doesn't mean it's never going to be available for the Surface 2. Look at the Windows Phone section of the forums, you can use a proxy to install Nokia apps on HTC/Samsung devices and HTC/Samsung apps on Nokia devices. I don't see why that wouldn't work for WinRT as long as someone sets up such proxy...

I bet all those iPad users moan about the same thing compared to their Apple OSX devices...

What does that have to do with it? We're not talking about different operating systems here but Windows 8 on tablets! I didn't say Nokia shouldn't provide this as a free extra to their tablets but why this artifical divide? Why not offering it for a couple of $$$ to people with tablets from a different manufacturer?

Because it's not always about the money .. I'm sure Apple will get a lot of money if they sell iMovie, Garage band and their other apps to windows phone and android but they don't because at the end of the day they stand to benefit more from making it exclusive to their platform than making it available to everyone. It doesn't matter if it the same or OS or the a different OS , the effects are the same.

So, if it isn't always about the money, why not give HERE Maps to non-Nokia tablet users. After all, this raises brand awareness. And just to give you something else to chew on: How about your cable provider would come out with their own TV, telling you to dump your good 1080p Samsung for a 720p of theirs - either that or no cable for you. How would you feel?

No where near the same thing. Apple OSX and iOS is separate, so what what they have to complain about. A windows 8.X machine can do everything a Windows RT tablet can do, AND legacy programs. OSX and iOS != Windows 8.x and Windows RT.

MS decided to bring as much of the Windows experience to all devices as possible, but to meet battery and power needs, using an x86 CPU and OS was not goig to achieve that...why do Apple not release OSX for iPad? Why do Apple reviewers never say that...yet many Windows tablet reviewers and those who comment on them, complain that Microsoft didn't do it either. I'd like to bet that many would moan about the performance of Windows 8.1 on a 'low spec, long battery life tablet'...

'low spec, long battery life'...yeah i remember those, they were called netbooks and everybody loved them

Yeah, exactly my point...if they released Windows 8.1 full on a 'low spec' tablet (which face it, compared to x86 chips, Surface RT is low spec) it would run like a dog and everyone would hate it. Personally I wish they'd ditched the 'desktop' mode of Windows 8 RT completely, I'd even go so far as saying it should have been ditched from all versions of Windows 8.

Wtf are you talking about? I don't think you are following this conversation properly.

Nobody has said that it won't be available to buy for other computers yet, that's a very loose assumption. Considering the Lumia tablet isn't out yet, maybe they just want to wait for that before release to the store in general. And even if they did keep it exclusive, what's wrong with that, surely the main selling point for an OEM is their value-add - otherwise why buy from them? But sure, give yourself no choice at all on Windows Store apps and downgrade - hope you were joking there.

As of now, it is not an assumption but a fact! And just to give you an example of what is wrong with it: If this "exclusive" madness on tablets and other Windows PCs progresses and succeeds, we soon will need to buy a multitude of tablets, one for each task! Word processing? Buy a Surface RT! Need navigation? Buy a Lumia tablet! Document scanning on the go? Get a Vaio! Up to now, you'll have to show me that KILLER APP on Windows 8 that makes it worth having it! Which of all those apps in the store are essential to everyday computing that you can't live without? I am not talking about performance increase or startup times here, just focusing on your last sentense.

Don't be too emotional...they have every right to do whatever they want to do with their app/software...not even MS can force them to provide it to everyone...but have patience and this will come to other Windows devices as well.

Nah, I am not emotional at all. Might come across that way since English isn't my first language. However, I see the upcoming danger on the horizon: in future, desktop software will become exclusive to manufacturers. No longer will you have the choice of hardware but you have to pick the device that actually comes with the software you need - nice future, isn't it?

Couldn't we just change the proxy and make the store think we're on a Nokia device? ;)

Not a user of navigation on my tablets when I have my Lumia with me all the time. They can keep their RT app, not going to save that platform with devices like the Dell Venue 8 Pro soon for under $299

I wonder if the WiFi trick to get Nokia apps on Samsung / HTC phones will work on tablets.

I've never understood why the exclusive apps on Windows Phone (from all parties, even HTC and Samsung had some decent ones originally) couldn't just be sold to those on other devices. I'd have quite happily paid for HERE Drive for my 8X before they released it for free. Same thing here, especially for those people buying the new 8" mini tablets. I'd be happy to pay for the service on a non-Nokia device. Surely it's better to make some money from people on other devices too? Ah well, the app looks awesome at least!

I'm not a fan of exclusives myself. I can only speak for myself, but having apps only available on certain devices isn't incentive enough for me to switch if I already have another piece of hardware running the same OS. If I were a new customer, maybe, but I certainly wouldn't switch.

I don't really like exclusives either, but as time has gone on and we've seen how much value add Nokia has brought to WP I and I think a lot of people have decided we wouldn't buy any WP phone but a Nokia. Given they have 90% of the market (I know there are other reasons) that seems to be working. If they can work that magic with Windows (assuming Drive is just the start) then before long people will be buying Nokia devices over any others. Though of course Microsoft will gobble them up before that happens and then exclusives will be off-the-table as MS couldn't sell their own hardware with exclusives without pissing off the other OEMs even further than just competing with them on hardware with the Surface.

When I bought the 8X I didn't see the big draw of the exclusive apps. When I switched over to the Lumia, I did see the value and now I will more than likely stick with the Lumia line....or where ever those exclusive apps end up. With WP8 still lacking a lot of "wow" factor apps, the Nokia apps make it a more pleasant expereince on WP. I understand that isn't a b ig deal to everyone, but for me it is. Also, the camera apps are the best on Nokia, and that is the most important factor for me.

Hope it comes to Surface soon!

I hope the Lumia tablets make it to Canada.

This is a big selling point for Lumia tablets. This would make a great big GPS for the car. Use split screen with movie running on other half while doing 80 on the highway. Wait, that sounds dangerous but it is an option.

Question: If I want the Nokia 2520 but do not want to pay for LTE, so use it WiFi only, will the GPS still work? My understanding is that the GPS in the 2520 is the type that uses cell towers to figure out where you are. Also, once Nokia and Microsoft merge, there will be 0 reason for Here exclusivity. Yes, Here isn't going, but Here is not going to care if it is exclusive to some Microsoft devices and not others, and Microsoft would have no reason to make it exclusive. But, as others have pointed out, Surface nor Surface 2 have GPS. The Surface Pro's do, I believe, so maybe there it would make sense. Of course, I have on occasion used Maps on my Surface to find places near other places, a task for which GPS is not needed.

Lmfao I always get a kick out of people complaining about Nokia exclusives not coming to non Nokia devices.

I dont see much benefit to having Here on my Surface. Its better suited for a handheld device like my Lumia 920 anyway. However Here is much better then Bing's offer. So is Nokia keeping ownership of Here is it included in the MS/Nokia deal? Microsoft could certainly use such a designated GPS service as part of their ecosystem.

Here will stay with Nokia, but MS might license the Here services for a four year contract at a time, if the deal goes through.

Why???? And i still waiting nokia trailers App for w8

After MS takes over they should release HERE for all Windows 8 PCs ASAP. That is if MS is really serious in improving Win 8 uptake.

Im selling my surface pro 2 getting a Lumia tablet woohooo

i agree, i want this now on my surface pro and would even pay for it.the here apps are sooo powerful and they "just work". give me just a touch friendly app of www.here.com. for searching stuff its also good enough without gps

Now we have this exclusive BS in the Windows Store? What if my tablet has GPS? Not liking this at all. One of the reason why I am not getting Windows Phone 8. One WP device gets more attention than the others.

Then blame HTC and Samsung for not doing their part. Nokia does get preferential treatment and they do deserve so because without them this OS certainly wouldn't be as popular as it is.
Windows Central Newsletter
Thank you for signing up to Windows Central. You will receive a verification email shortly.
There was a problem. Please refresh the page and try again.